How To Make Pan Roasted Broccoli ? Or How To Roast Broccoli In A Pan?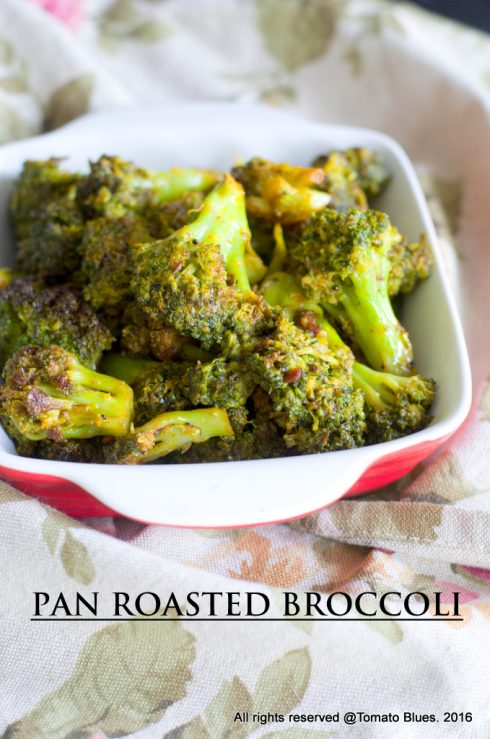 Pan Roasted Broccoli is a family favorite here. When i say family favorite, it includes Lil A too. She likes her broccoli spicy and crunchy, straight from the pan. You give her steamed broccoli and you are sure to see her screw up her nose. Now, this girl sure knows how to eat her broccoli, doesn't she? Before i start off with the recipe, there is one thing that is key to making the perfect pan roasted broccoli. The first step is to blanch the broccoli properly. There is one more step. It may seem insignificant but once you blanch the broccoli, it is really important that you drain every bit of water from it before you begin making the perfect pan roasted broccoli. If you want to learn how to blanch broccoli, then check out this post. 
This pan roasted broccoli recipe is basically a south Indian version of a fry or a varuval in which blanched broccoli florets are cooked in a pan on medium flame until roasted to perfection. Like all varuval or fry recipes, this pan roasted broccoli tends to lose a little bit of the crunch once cool but tastes fantastic nevertheless. This pan roasted broccoli recipe calls for minimal ingredients that are easily available in your pantry and some patience. When you combine both, i assure you, you will fall in love with this simple yet mouthwatering pan roasted broccoli.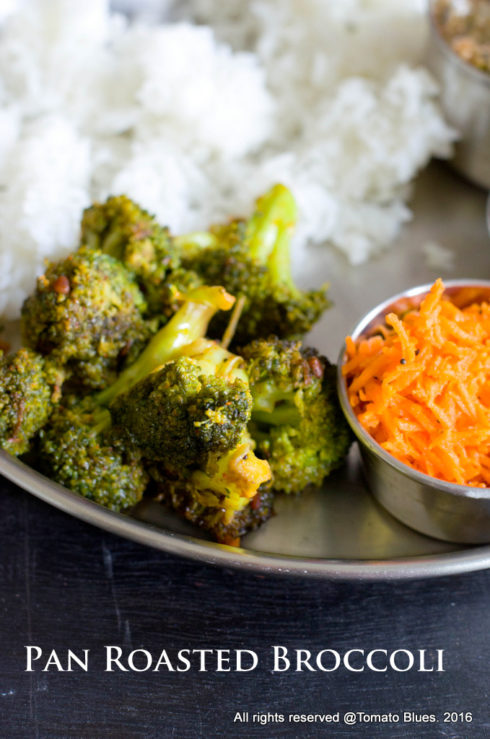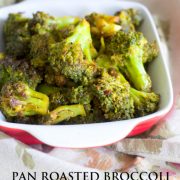 Print Recipe
Pan Roasted Broccoli Recipe
Broccoli florets blanched and roasted on medium flame and tossed with minimal spices
Ingredients
Broccoli florets 2 cups blanched

Red chili powder 1 tsp

Coriander powder 1 tsp

Turmeric powder 1 tsp

Grated ginger 1 tsp

Curry leaves a sprig

Urad dal 1 tsp

Mustard seeds 1 tsp

Vegetable oil 2 tbsp

Salt to taste
Instructions
Heat a deep pan with about 3 cups of water.

Once the water comes to a rolling boil, switch off the flame. Place the broccoli florets in the hot water. Make sure all of the florets are covered completely in water.

Cover with a lid and let sit for 3 to 5 mins.

Once done, remove lid and drain water completely. Please note that this step is key to making good pan roasted broccoli.

Heat a pan with 2 tbsp of oil.

Once hot, pop the mustard.

Quickly toss in the curry leaves, urad dal, ginger and turmeric powder.

Reduce flame to medium.

Once the dal turns brown, add the blanched broccoli florets to the pan and stir gently making sure that oil coats the florets evenly.

Now let the florets roast slowly on medium flame. This may take anywhere between 7 to 8 mins.

Make sure you keep stirring and tossing them in between to avoid burning.

Once the florets turn golden, add the chili powder, coriander powder and salt and give a good but gentle mix.

Take off flame and serve hot with rice and rasam.
For Instant Pot & Air Fryer Recipes
Instant Pot timings may vary based on your geographic location. Air fryer settings and timings may vary based on the capacity and the model of the Air fryer.
Disclaimer
Nutrition values are provided here as a courtesy and are only a rough guide. Please consult a health care provider if you have any concerns.
If you love broccoli and are interested in more broccoli recipes, then please take the time to check out these recipes too.