How To Make Vazhakkai Podimas?
Vazhakkai Podimas, Vegan And Gluten Free Dry Curry Prepared With Raw Plantains.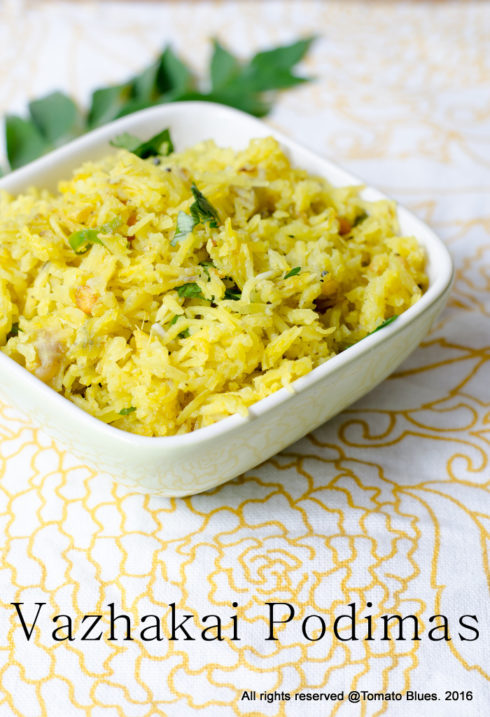 Vazhakkai Podimas, also called as Vazhakkai Puttu, is a dry curry made with raw plantains. I make this when i m not in a mood to fry up some vazhakkai varuval. This vazhakkai podimas tastes delicious with mor kuzhambu or brinjal kara kuzhambu and hot rice. The key to making non mushy vazhakkai podimas lies in choosing the right kind of plantain. Make sure that your plantains are raw. Plantains that are beginning to ripe wont work well here in this recipe. Similarly, don't cook the plantains more than the time mentioned and i assure you the ticket to the perfect coarse crumbly vazhakkai podimas.
Needless to say, i love cooking with raw plantains and like to experiment with them whenever i can get my hands on raw plantains. While i used to live in India, i never used to get the right kind of plantain for cooking south Indian dishes like this vazhakkai podimas. But Singapore is a different story. They have just the right kind of plantains apt for south Indian cooking and whenever i visit my Indian vegetable store, i make sure i come back with some drumsticks, a big fat Indian yam and a couple of raw plantains. Mr. P carries roti and subzi along with a salad for his lunch, which obviously becomes my lunch too. So on weekdays, i never get to cook anything extensive. Which is why i go way overboard when weekends arrive. That is when blissful things like Vazhakkai podimas happen.The picture below is a typical meal that i cook on weekends. This thali has kathirikai murungakkai kara kuzhambu, simple everyday rasam, vazhakkai podimas, home made yogurt, puli inji and rice. I m sure that you will also enjoy this simple vazhakkai podimas made with minimal ingredients.
If you try this recipe or any other recipe from this website, make sure you post a pic on Instagram with the hash tag #tomatobluesblog. Seeing your pics is the happiest thing ever for me. For more such thali ideas and inspiration, follow me on Instagram using my handle tomatoblues.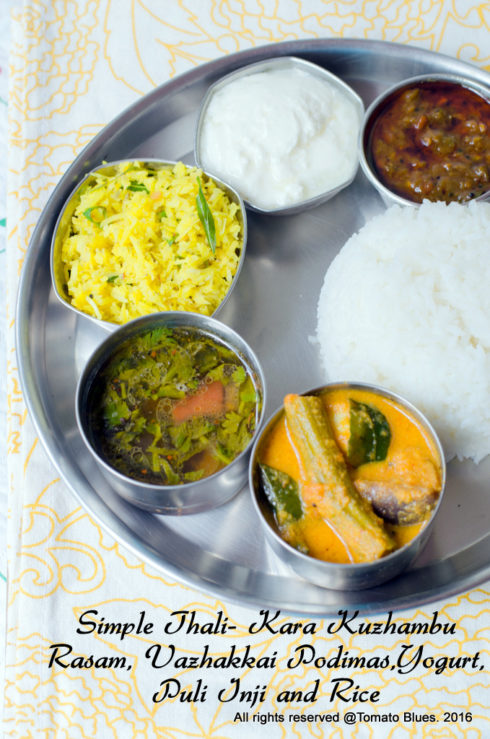 Recipe For Vazhakkai Podimas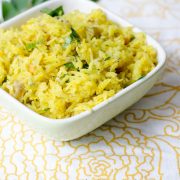 Print Recipe
Vazhakkai Podimas Recipe
Vazhakkai Podimas is a vegan dry curry made with raw plantains. Tastes great with any kuzhambu and hot rice
Ingredients
Raw Plantains 1 large

Green chilies 2 minced finely

Ginger 1/2" peeled and grated

Freshly grated coconut 2 tbsp

Curry leaves a sprig

Turmeric powder 3/4 tsp

Salt to taste

Mustard seeds 1 tsp

Urad dal 1 tsp

Curry leaves a sprig

Lemon juice 2 tbsp

Oil 1 tbsp
Instructions
Heat a wide pan with water enough to immerse the plantain.

Cut the plantain into two pieces and cook in the water till the peel turns blackish brown and the plantain is fork tender. If you are not sure, insert a fork through the plantain. It should be firm yet cooked. A fork must easily pierce the plantain.

Immediately remove the plantain from the hot water and let cool.

Once cool, remove the peel and grate the plantain using a grater.

Set aside.

Heat a pan with 1 tbsp oil.

Pop the mustard and add the urad dal and curry leaves.

Now add green chilies and turmeric powder.

Add the grated plantain along with the salt and mix well.

Cook covered for about 3 mins on medium flame.

Once done,Switch off flame and add grated coconut and lemon juice.

Mix well.

Serve hot with rice and any kuzhambu or rasam
Notes
1. Please follow the steps to cook the plantain correctly. If you over cook the plantain, you will have a mushy podimas.
2. Desiccated coconut doesnt work well in this recipe.
3. Frozen fresh coconut can be used after thawing.
4. Lemon juice is a must. Dont skip it .
For Instant Pot & Air Fryer Recipes
Instant Pot timings may vary based on your geographic location. Air fryer settings and timings may vary based on the capacity and the model of the Air fryer.
Disclaimer
Nutrition values are provided here as a courtesy and are only a rough guide. Please consult a health care provider if you have any concerns.