HOW TO MAKE VEGAN COFFEE BANANA SMOOTHIE?
Coffee Banana Smoothie- A filling breakfast smoothie with the goodness of coffee. Vegan and gluten-free.
This post includes affiliate links to products we love. We may earn a small commission when you click and buy through these links. This is not a sponsored post.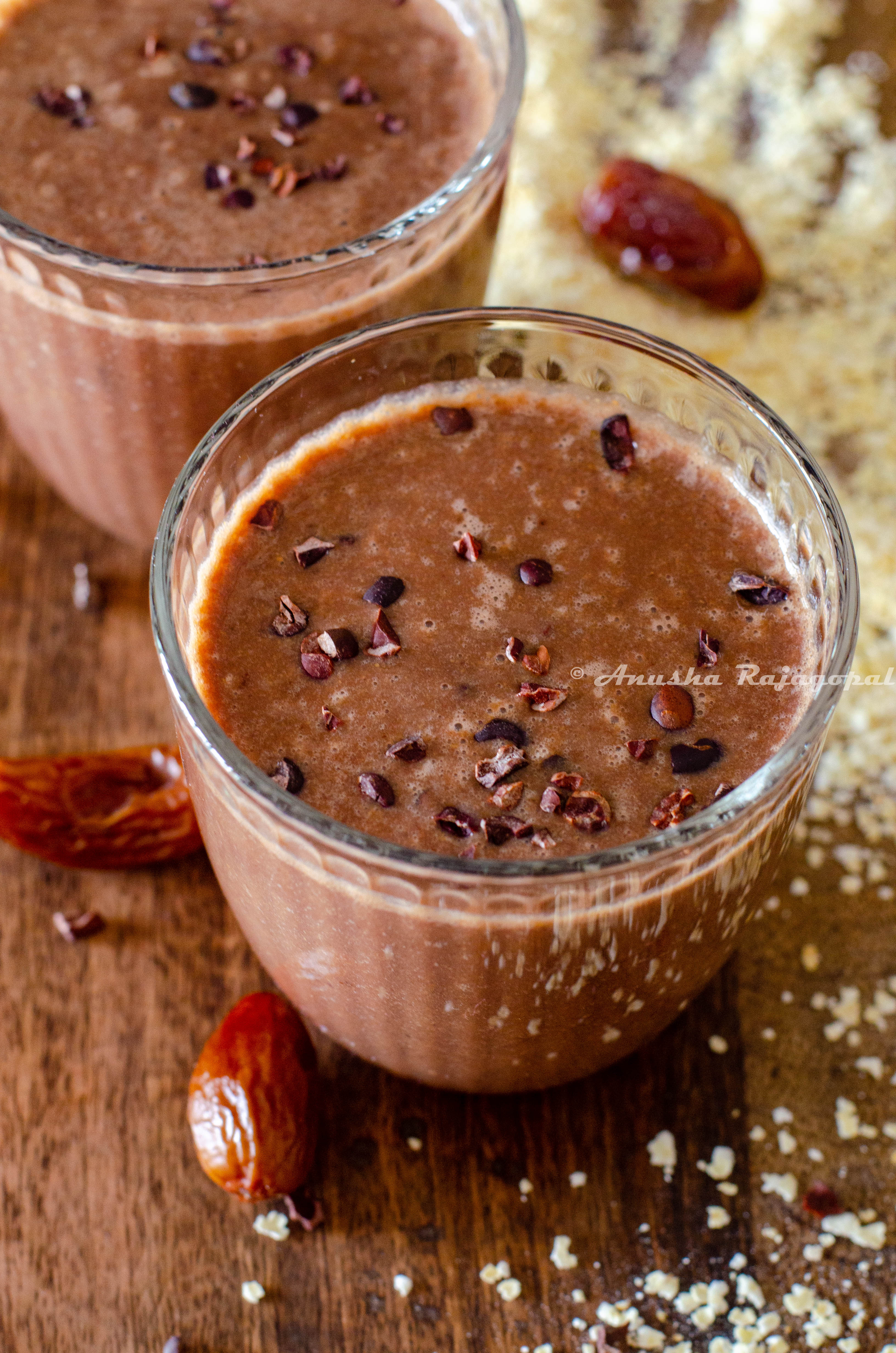 Why should you try this Coffee Banana Smoothie?
✓ Coffee- I mean that's what we love waking up to, right?
✓ This smoothie is vegan and gluten-free. And it s also nut-free!
✓ If you are looking for a smoothie to keep you full, then your search ends here. 
Jump to:
Smoothies and Smoothie Bowls for Breakfast
A couple of years back, smoothie bowls became a huge trend on the internet. I remember them taking over Instagram like a huge wave. They came in all colors and flavors. And that is when I got hooked to the idea of having a smoothie or smoothie bowl for breakfast.
Ever since then, there has been no looking back. A smoothie bowl breakfast is a routine thing in my house. It is just that I don't bother sharing the recipes unless I make an incredibly good smoothie. 
And this coffee banana smoothie is just that. It has got all good things, so good to keep you chipper through the day.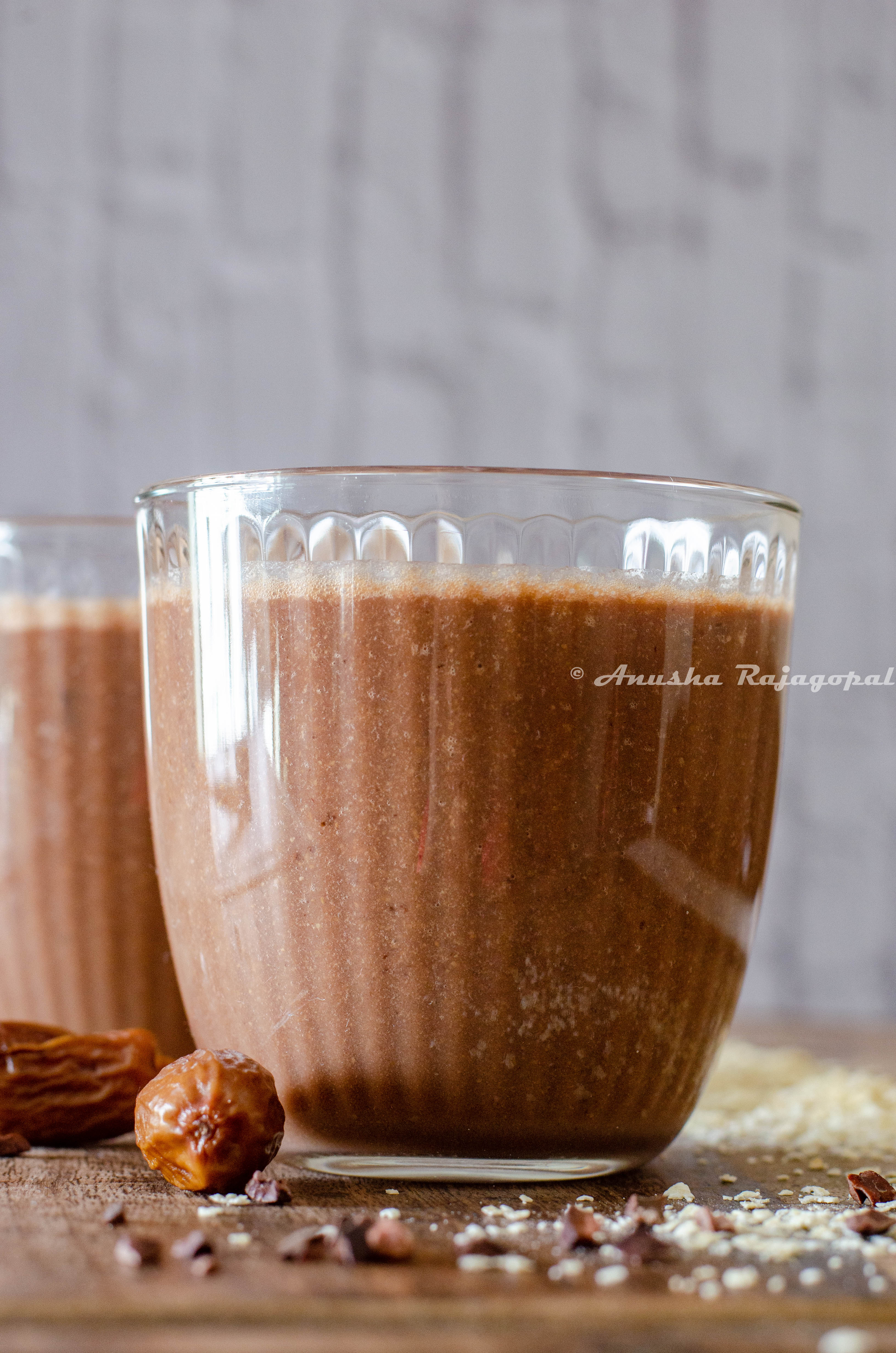 Ingredients- Substitutes and Replacements
When I began my smoothie bowl journey, I learned two things. One, almost all smoothies had some ingredient that was way too expensive. Think collagen, protein powders etc. Two, most smoothie recipes call for ingredients that are not easily available. Stuff like Acai powder, Maca, baobab, algae fall in this category.
And this is exactly why smoothie making can be difficult for people. But smoothies are not and should not be an expensive inaccessible affair. This vegan coffee banana smoothie calls for basic pantry ingredients and yet, checks all boxes in terms of a healthy breakfast idea.
Ingredient checklist
✓ Coffee- I have used instant coffee granules for this recipe. But you can also use freshly brewed coffee to make this smoothie.
✓ Millet Flakes- While most smoothies call for oats, I have used millet flakes. Any kind of millet flakes will work here. If you cannot source millet flakes, you can substitute this with quick-cooking rolled oats. Steel-cut oats and regular rolled oats will not work well in this smoothie.
✓ Hot water– Using hot water is recommended to soften the millet flakes and also enhance the coffee flavor.
✓ Dates- Not only do they add sweetness but they also improve the texture of the smoothie. You can use any soft variety of dates. It s not necessary to use Medjool. Make sure to pit the dates and chop them into small pieces.
✓ Maple syrup- Since my bananas were not sweet enough, I added maple syrup. You can skip this completely if your bananas are sweet. 
✓ Oat milk- We love oat milk! Especially with coffee, oat milk is such a game-changer. You can also use any nut milk or coconut milk instead of oat milk in this smoothie.
✓ Cocoa- Combining cocoa with coffee is such a fab idea for a chocolate cake recipe. But why should we restrict this just to a cake? Why not extend this to a smoothie? Right?
✓ Cacao Nibs- Raw cacao nibs are the purest form of chocolate. And they don't taste anything like a bar of chocolate. Yet, this is loaded with nutrients. This is optional but highly recommended.
Meal Planning and Prep Work
Meal Planning
Like all smoothies, this recipe works well as a part of the meal planning routine. You can make this ahead and keep it refrigerated for up to 3 days. You can also freeze this smoothie and make them into coffee banana smoothie pops.
Prep Work
The only prep work involved in this recipe is soaking the millet flakes. But for that, you can just add all the ingredients to a blender and blend smoothly.
Which blender to use for Smoothie Making?
Any high-powered blender will work for making smoothies. But a blender that is made just for smoothies does wonders. I have used my blending attachment that came with my food processor to make this smoothie. You can also use Vitamix, Thermomix or Blendtec blenders to make smoothies.
Sourcing Ingredients for Vegan Coffee Banana Smoothie
If you are looking to buy a good smoothie blender, you can check this one out-
Our favorite smoothie maker
If you are looking for millet flakes, then check this out- 
If you are living in Singapore you can find millet flakes and Oat milk on Redmart Lazada
More Smoothies and Smoothie Bowls
Coffee Banana Smoothie Step By Step
Prepping the millet flakes
Add the coffee and the hot water to a bowl. Mix well to dissolve the coffee. Now add the millet flakes and dates. Stir to combine. Keep covered and let stand for 5 mins.
Blending the smoothie
To a blender, add the bananas, coffee-soaked dates+millet flakes mixture, cocoa powder, oat milk, maple syrup and blend until smooth and creamy.
When blended, pour into glasses. Top with the raw cacao nibs and serve immediately.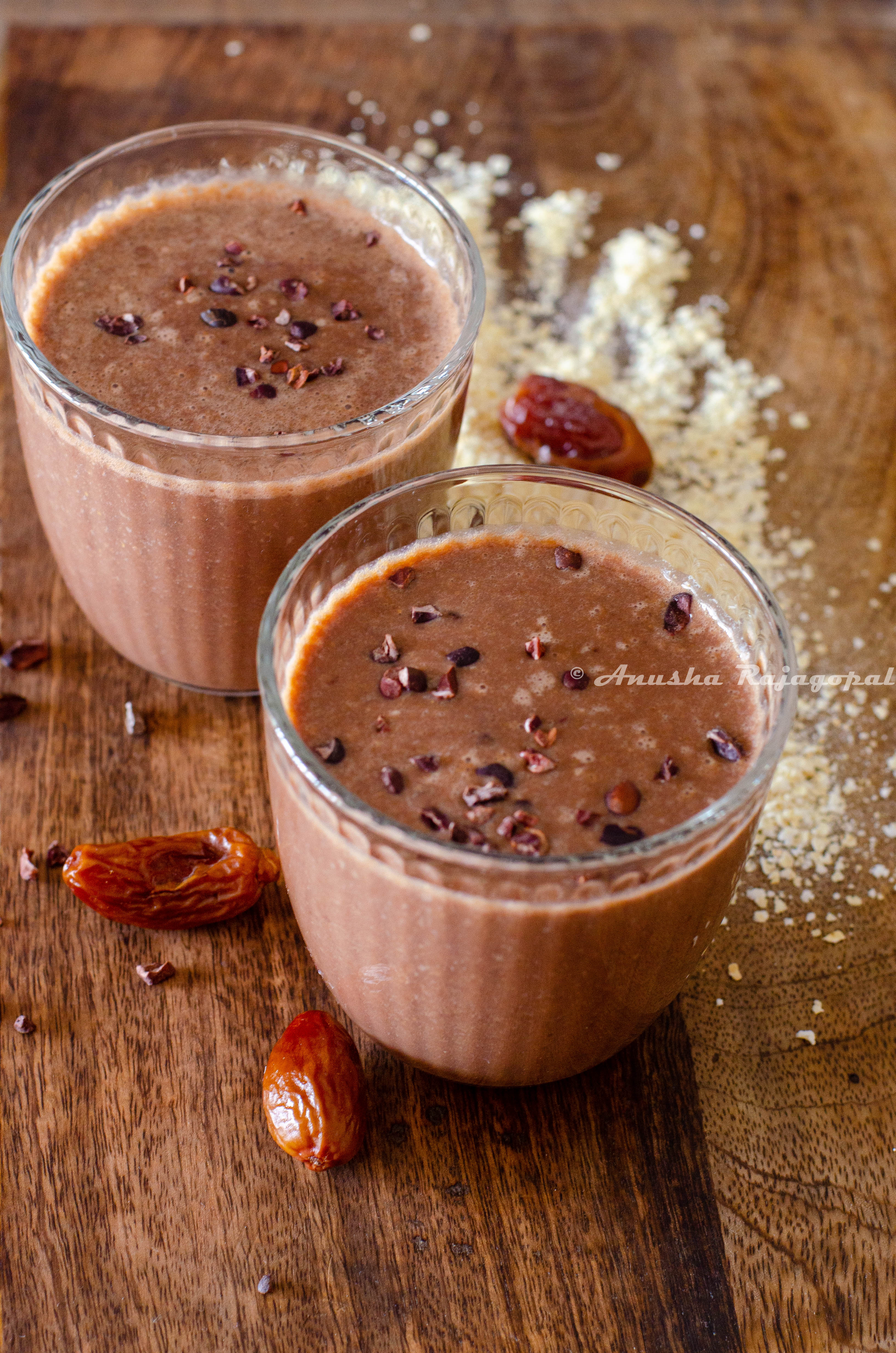 Follow me on Instagram or Facebook for regular cooking updates and short videos. Find us on  Pinterest for delicious content. Made our Coffee Banana Smoothie? We value your thoughts and comments! Leave a comment and tell us how it worked for you.
In case you have any questions regarding this recipe, leave a comment or write to anusapraj@gmail.com and I'll respond at the earliest possible. If you tried this recipe and enjoyed it, click a picture and share it on Instagram by tagging us @tomatoblues.
Recipe Card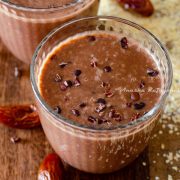 Print Recipe
Coffee Banana Smoothie
Breakfast smoothie with coffee and banana- just what you need to wake up to. This breakfast coffee banana smoothie is vegan and gluten free.
Ingredients
1

tsp

Instant coffee powder

1/2

c

Hot water

1/2

c

Millet flakes

4

pitted

Dates

Any soft variety will work

2

largish

Ripe bananas

2

c

Chilled Oat milk or any nut milk of choice

2

tbsp

Maple syrup

2

tsp

Cocoa

1

tbsp

Cacao nibs
Instructions
Prepping the millet flakes
Add the coffee and hot water to a bowl.

Mix well until dissolved.

Now, add millet flakes and mix well.

Add the pitted dates to this mixture.

Cover and let it sit for 5 mins.
Blending the smoothie
Add the bananas, milk, maple syrup, cocoa powder and the soaked millet flakes coffee mixture to a blender.

Let it blend till smooth and well blended.

Top with cacao nibs and enjoy.
Notes
You can use any millet flakes for this recipe. 
I have used oat milk to make this smoothie but you can use any nut milk or coconut milk too. Personally, I love this smoothie with oat milk or almond milk. 
This smoothie tastes great hot, cold or at room temperature.
For Instant Pot & Air Fryer Recipes
Instant Pot timings may vary based on your geographic location. Air fryer settings and timings may vary based on the capacity and the model of the Air fryer.
Disclaimer
Nutrition values are provided here as a courtesy and are only a rough guide. Please consult a health care provider if you have any concerns.
Most Recent Recipes