This nutrient dense mango spinach smoothie is definitely what you want for breakfast, today, tomorrow and every day. Make this easy vegan smoothie a part of your healthy eating routine because it keeps you full and energetic. If you have ever wondered how spinach tastes in a smoothie, you cannot taste the spinach at all. 
Come join us on Pinterest to find delicious pins.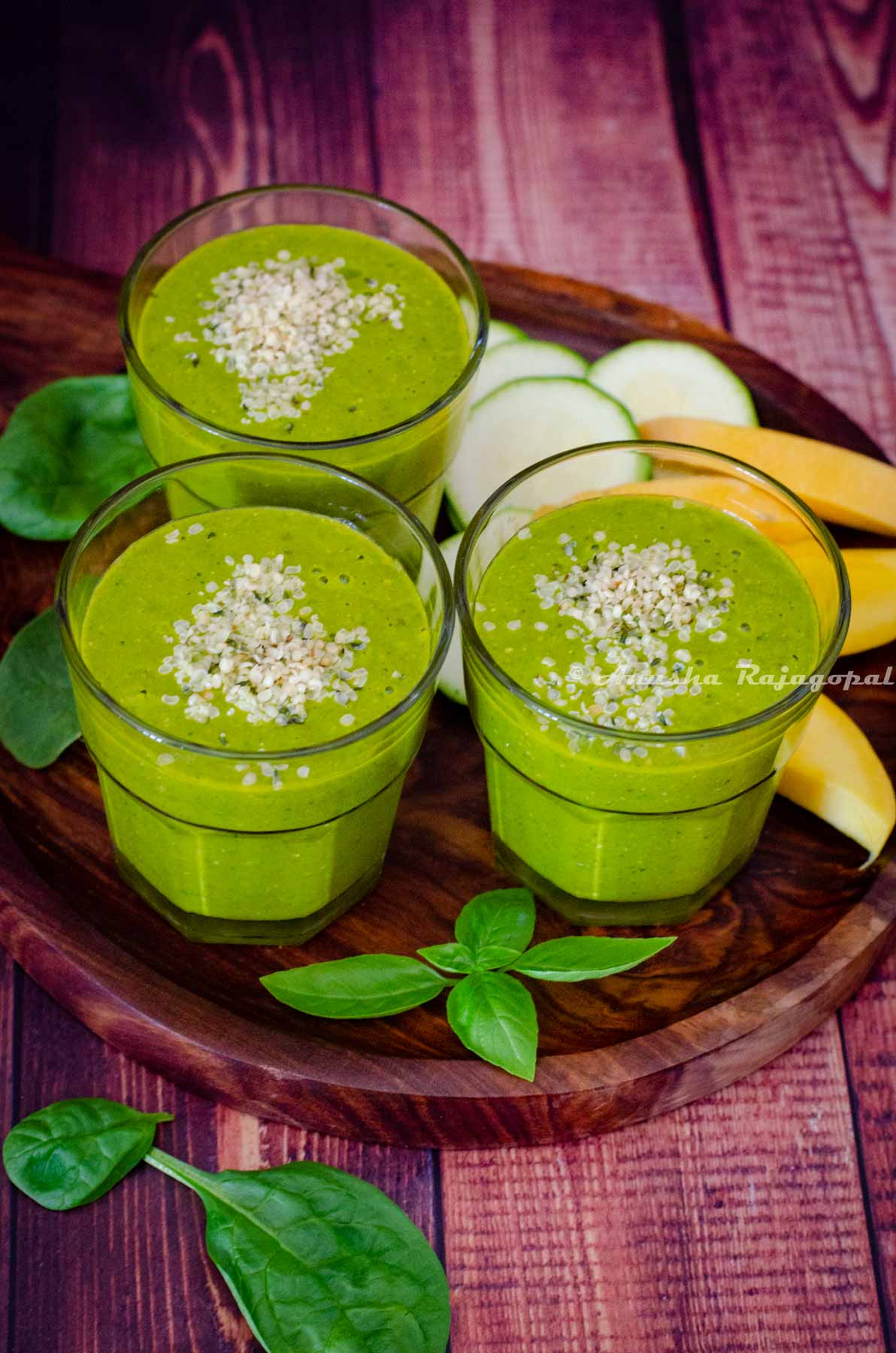 A few years back, if someone had asked me to add spinach to a smoothie, I would have probably run a mile. In my thirties, I m welcome to the idea of making all my meals not only delicious but also nutritious. Over the years, my smoothie making experience has made me wiser and more knowledgeable about nutrient values. 
Now I know that a mango green smoothie can be made just as delicious as any other smoothie.
You will love this mango green smoothie because
It s creamy and sweet but has no banana.
how can one ever say no to a

green glow smoothie

that is a fantastic mid-morning post gym pick-me-up?
This smoothie is

vegan and gluten-free

.
you can make this a part of your meal-plans.

sweet mangoes, plant milk and herbs

are an insanely delicious way to kick start the morning.
protein rules in this smoothie.
This has

no refined sugar and can easily be made sugar-free.
Jump to:
Have I convinced you enough? Shall we talk more about getting that green smoothie right?
Building blocks of a green smoothie
If you ever thought that a green smoothie can be made only in one or two ways, I m here to change that. There are so many fruits, herbs, veggies and greens that can work together to make some of the best green smoothies ever.
Fruits that work well in a green smoothie-
Apart from the humble yet healthy banana that not many people love these days, fruits like pineapple, kiwi, pears, berries and mangoes are great in green smoothies. Since mangoes and zucchini are in season, I chose these two. A few chunks of pineapple or some cored pears work in this smoothie just as well.
Greens that you can add to a smoothie-
Very often, when people think of green smoothies, they only think of baby spinach or romaine lettuce. But greens include herbs too. Kale is fantastic in a smoothie as well.
Herbs that make a smoothie amazing include sweet basil, parsley and arugula. You have to try our Pear Arugula Smoothie to believe this!
Substitutes for banana in a smoothie-
Well, there was a time when banana ruled the smoothie game but not anymore. For the most part, bananas are healthy and a fantastic source of fiber. They are not preferred by some because its not ideal for low calorie diets.
So, what else can be added instead? Zucchini, pineapple, cucumber, roasted sweet potatoes are perfect replacements for bananas. They add body to the smoothie and also a rich source of fiber.
Protein rich smoothies-
I have never bought the idea of a protein supplement, not even when I was pregnant. The upside to being a vegan or vegetarian means you are always looking for creative ways to make your food protein rich.
Flax seeds, hemp hearts and chia seeds along with nut butter can be included in any smoothie recipe to make it protein-dense. Seeds and nut butters are not only rich in protein but also a good source of Omega 3 fatty acids.
Fun fact- hemp hearts are a whole protein. Include them in your smoothies, soups or top your avocado toasts with these.
Amp up the fiber-
Smoothies are excellent ways to improve your fiber intake. Other than fruits, you can also add gluten free oats or millet flakes for a fiber rich smoothie.
Grain-free smoothies-
Since I have added gluten-free rolled oats in this recipe, it is not grain free. You can easily make this a grain-free green smoothie by adding millet flakes or coconut flour or almond flour. The easiest way to a grain-free smoothie is to skip the oats. Use a banana or roasted sweet potato instead.
Spices in smoothies-
Yes, you heard me right. Ground spices add a nice earthy flavor to smoothies. Ginger, cinnamon and Ashwanganda (Indian Ginseng) are potent spices to add to your smoothies.
Liquids for a smoothie-
All plant based milk are great for this smoothie. But if you are not a fan of non-dairy milk, consider making this smoothie with just water or switch to chilled coconut water. This is true for all smoothies and not for just this one.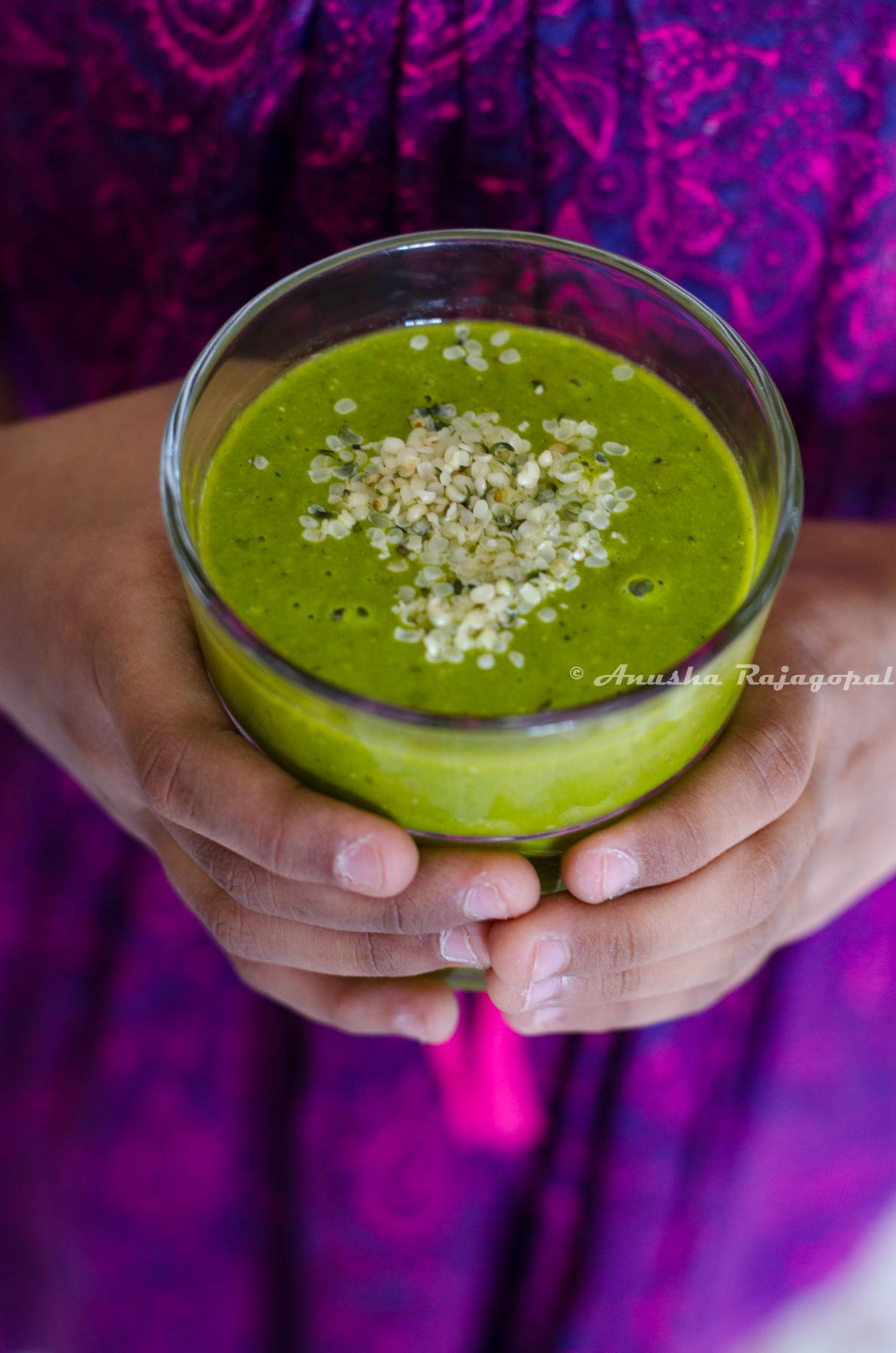 Variations
For a different green smoothie, use 1 cup kale instead of baby spinach.
You can easily

make this a no-sugar added smoothie

. Just choose the sweetest mangoes possible. Natural sugars in mango are more than enough to sweeten this up.
Use other non-dairy milk instead of oat milk. Almond milk and pistachio milk are great choices.
Include other dried fruit like apricots, figs or prunes. Just soak them in hot water for 10 mins before adding them to the blender. This helps in smooth blending.
Make a banana mango spinach smoothie by adding 1 cup peeled and chopped banana instead of the zucchini for a classic mango banana green smoothie.
To make this healthy mango smoothie with spinach healthier, add soaked nuts or nut butter.
Get inspired by this pineapple turmeric smoothie and blend some

mango pineapple spinach smoothie

. Add that turmeric and take the ginger up a notch for a zesty and flavor packed breakfast drink.
Make a mango spinach smoothie bowl by emptying this smoothie into a bowl and topping it with coconut flakes, hemp hearts, roasted nuts and other fruits. A scoop of peanut butter or almond butter is good too!
Ingredients- substitutes
For the complete ingredient list, refer the recipe card. Here is a list of substitutes for the ingredients in this recipe.
Mangoes- I have used Thai mangoes for this smoothie. You can use any mango. Use frozen mango chunks if you cannot find fresh mangoes.
Spinach- organic baby spinach or salad spinach is my favorite greens to add to a green smoothie. You can substitute this with kale or romaine lettuce.
Oat milk- I have used organic oat milk. You can make this healthy mango smoothie with almond milk too. Choose unsweetened almond milk to skip the added sugars.
Maple syrup– The mangoes that I added were not too sweet. So I had to use maple syrup. You can also add monk syrup, agave nectar or skip the sweetener altogether.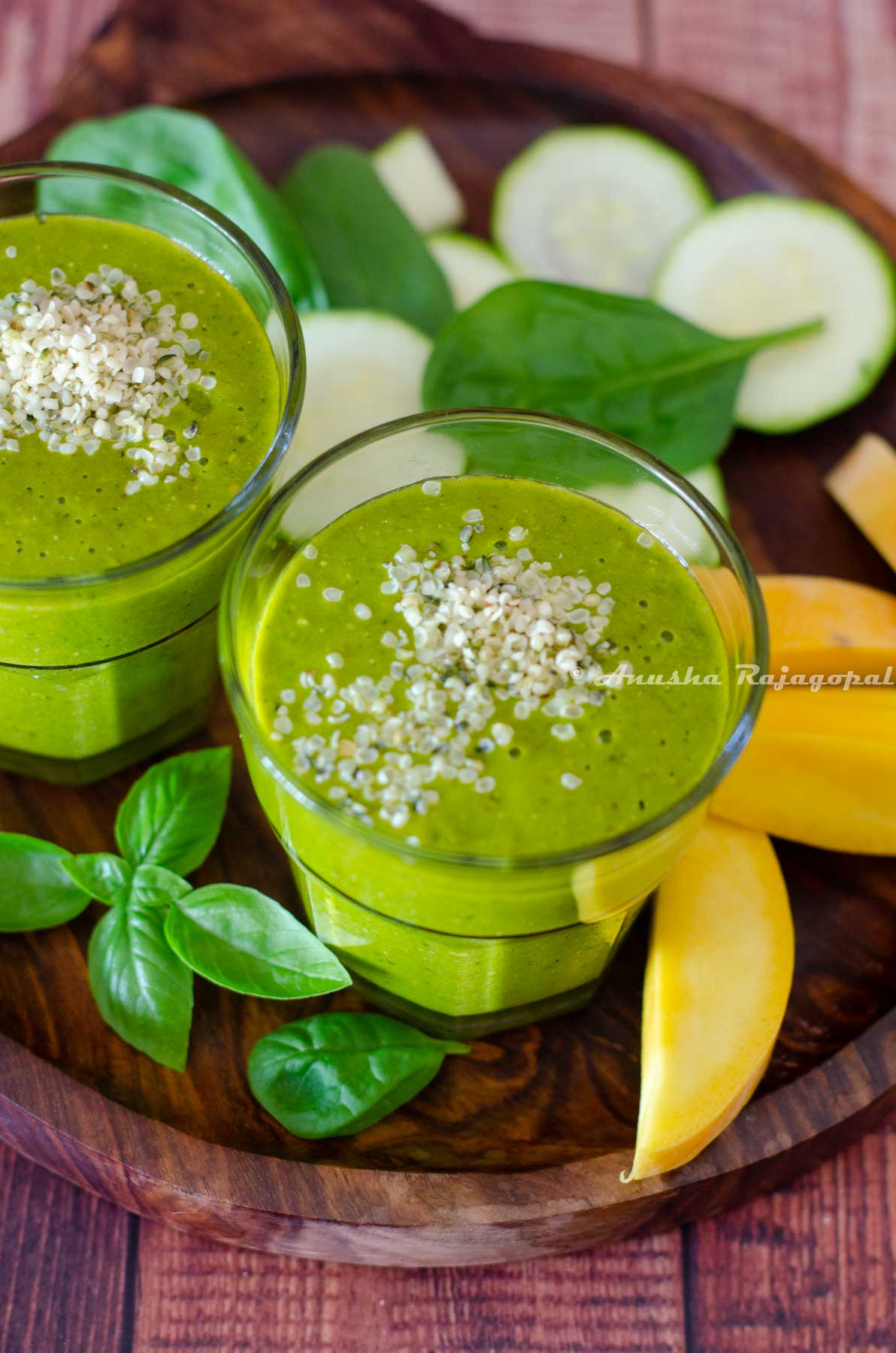 Follow me on Instagram or Facebook for regular cooking updates and short videos. Find us on Pinterest for delicious content. Tried this vegan green smoothie with mango? We would love to hear any feedback! Please leave a recipe rating and tell us how it worked for you. Email us your questions to anusapraj@gmail.com if you need any guidance in making this recipe.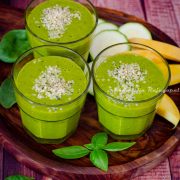 Print Recipe
Mango Spinach Smoothie
Delicious, filling and vegan green smoothie with sweet, tart mangoes and baby spinach. No banana breakfast smoothie that is perfect for meal planning.
Ingredients
1

cup

oat milk

1

cup

chopped mango cubes

1

cup

chopped zucchini

1

cup

baby spinach

1

tbsp

finely chopped sweet basil

2

dates

1/8

cup

rolled oats

1

tsp

chia seeds

2

tsp

hemp hearts

1

tbsp

maple syrup

1/2

tsp

ground ginger

1/2

cup

ice cubes
Toppings
3

tsp

hemp hearts

1 tsp each for every glass of smoothie
Instructions
Add the oat milk and ice cubes to a high speed blender.

Tip in all the other ingredients except the hemp hearts meant for topping.

Pour into 3 tall glasses.

Top with 1 tsp each hemp hearts and serve immediately.
For Instant Pot & Air Fryer Recipes
Instant Pot timings may vary based on your geographic location. Air fryer settings and timings may vary based on the capacity and the model of the Air fryer.
Disclaimer
Nutrition values are provided here as a courtesy and are only a rough guide. Please consult a health care provider if you have any concerns.
Nutrition
Calories:
185
kcal
|
Carbohydrates:
29
g
|
Protein:
6
g
|
Fat:
6
g
|
Saturated Fat:
1
g
|
Polyunsaturated Fat:
3
g
|
Monounsaturated Fat:
1
g
|
Trans Fat:
1
g
|
Sodium:
53
mg
|
Potassium:
365
mg
|
Fiber:
4
g
|
Sugar:
22
g
|
Vitamin A:
1859
IU
|
Vitamin C:
30
mg
|
Calcium:
171
mg
|
Iron:
3
mg
More Smoothies
Whether you are making your way into whole foods or trying to be a breakfast person, a healthy smoothie is a good place to begin with. Here are some delicious morning pick-me-ups.