How To Make Dragon Fruit Smoothie Bowl?
Dragon Fruit Smoothie Bowl- A delicious trropical dragon fruit smoothie topped with super foods and nuts. Vegan. GF.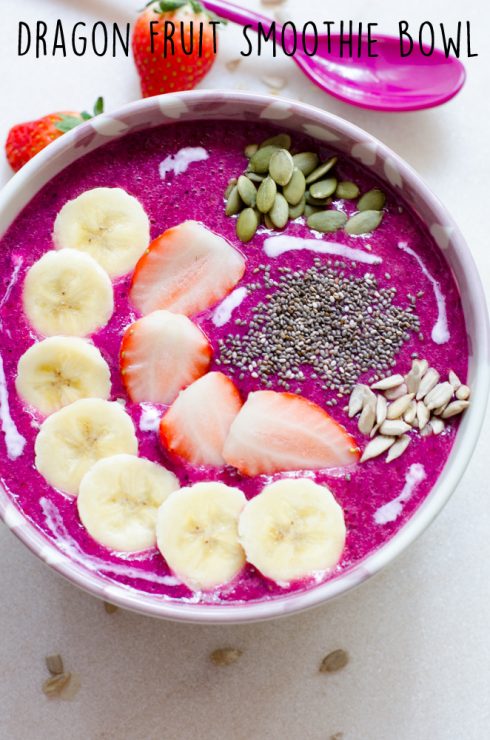 Before i tell you all what is this dragon fruit smoothie bowl, let me talk about a smoothie bowl first. Okay? So, this smoothie bowl is kind of a food trend that became viral somewhere by the beginning of 2014 on instagram. Suddenly it seemed like people were really just not content drinking a glass of smoothie. They wanted more. I really dont know who started it. But then it began and i must say it is such a brilliant idea. So what exactly is a smoothie bowl? Well, it is a really thick smoothie that is poured into a bowl and topped with your choice of fruits , nuts and seeds. The most common toppings are chia, pepita, sunflower seeds, nuts and sliced fruits. Many add berries for a splash of color. But the smoothie bowl has come a long way since then and nothing really surprises me if it is a smoothie bowl. People add everything that is considered a super food to their smoothie bowls and this falls between the ranges of spirulina powder to maca powder. The basic concept of a smoothie bowl is that you eat it with a spoon and not drink it with a straw. That is it. From there on, you can let your imagination go wild and experiment with a number of fruits and other ingredients. This dragon fruit smoothie bowl is my first smoothie bowl recipe here on the blog. I admit. I am a smoothie bowl addict. Because it is so convenient to just blitz up a couple of my favorite fruits in the blender, sprinkle whatever comes into my mind over the bowl of smoothie and begin digging in. Mr. P never eats breakfast at home and i m not a person who ll make the effort to make an elaborate breakfast for me. And so, smoothie bowls come to the rescue. So, we ll get on with our dragon fruit smoothie bowl here, shall we?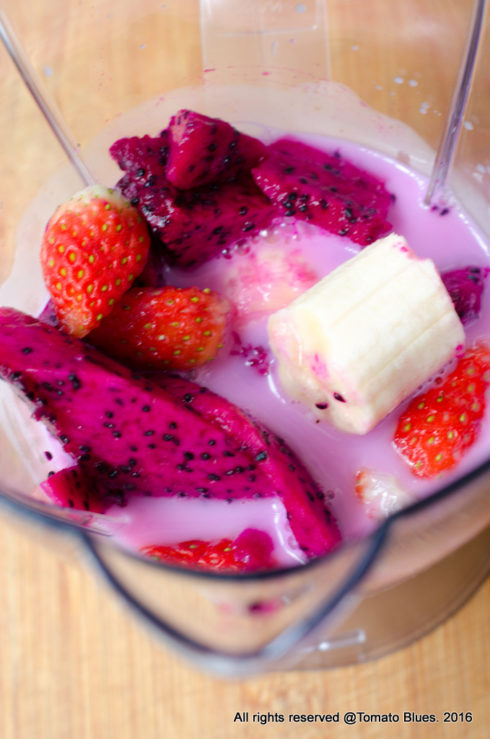 If you live in Asian countries, the chances are that you may have come across this beautiful fruit called dragon fruit. Dragon fruit is also called as Pitaya and is immensely popular in South East Asian countries. We get dragon fruits very easily here in Singapore and i m smitten by the purple color of the fruit. Psst.. purple and blue are my favorite colors after grey. Yes, i like grey. Now, stop staring! Back to the dragon fruit smoothie bowl. If you ask me to describe how a dragon fruit tastes, i would say it is rather tasteless and flavorless. But i love the texture of the fruit and the way it lends body to a smoothie. To this dragon fruit smoothie bowl, i added the flesh of one purple dragon fruit, one banana and some strawberries. I also used a variety of toppings including chia seeds and pepita. So, here s the recipe for this dragon fruit smoothie bowl.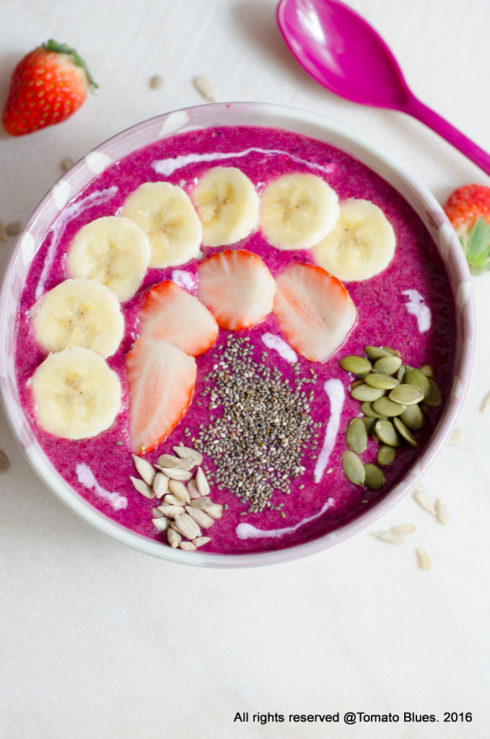 Recipe For Dragon Fruit Smoothie Bowl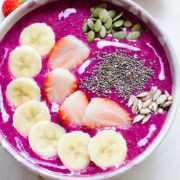 Print Recipe
Dragon Fruit Smoothie Bowl Aka Pitaya Smoothie Bowl
Dragon Fruit Smoothie Bowl- A delicious thick dragon fruit smoothie topped with fruits and nuts.Vegan.
Ingredients
Purple dragon fruit 1 peeled and cubed

Strawberries 4 to 5 hulled

Banana 1 medium

Vanilla extract 2 drops

Lemon juice 1 tsp

Chilled Almond milk 1/2 cup

Choice of sweetener 1 tbsp

optional

Topping:

Banana 1 sliced

Strawberries 2 to 3 hulled and sliced

Pepita

pumpkin seeds 1 tbsp

Sunflower seeds 1 tbsp

Chia seeds 1 tbsp

Coconut milk 2 tbsp
Instructions
In a blender, combine almond milk, banana, dragon fruit, strawberries, vanilla and lemon juice and blend till smooth.

Pour into a deep bowl.

Top with the sliced banana, strawberries, pepita, chia and sunflower seeds.

Drizzle coconut milk on the smoothie

Serve immediately.
For Instant Pot & Air Fryer Recipes
Instant Pot timings may vary based on your geographic location. Air fryer settings and timings may vary based on the capacity and the model of the Air fryer.
Disclaimer
Nutrition values are provided here as a courtesy and are only a rough guide. Please consult a health care provider if you have any concerns.