Sweet potato smoothie is this delicious vegan breakfast treat that you must absolutely try. Make this power packed smoothie a part of your breakfast meal prep. Like any other smoothie, this is a fantastic base for a smoothie bowl. Use any toppings of choice.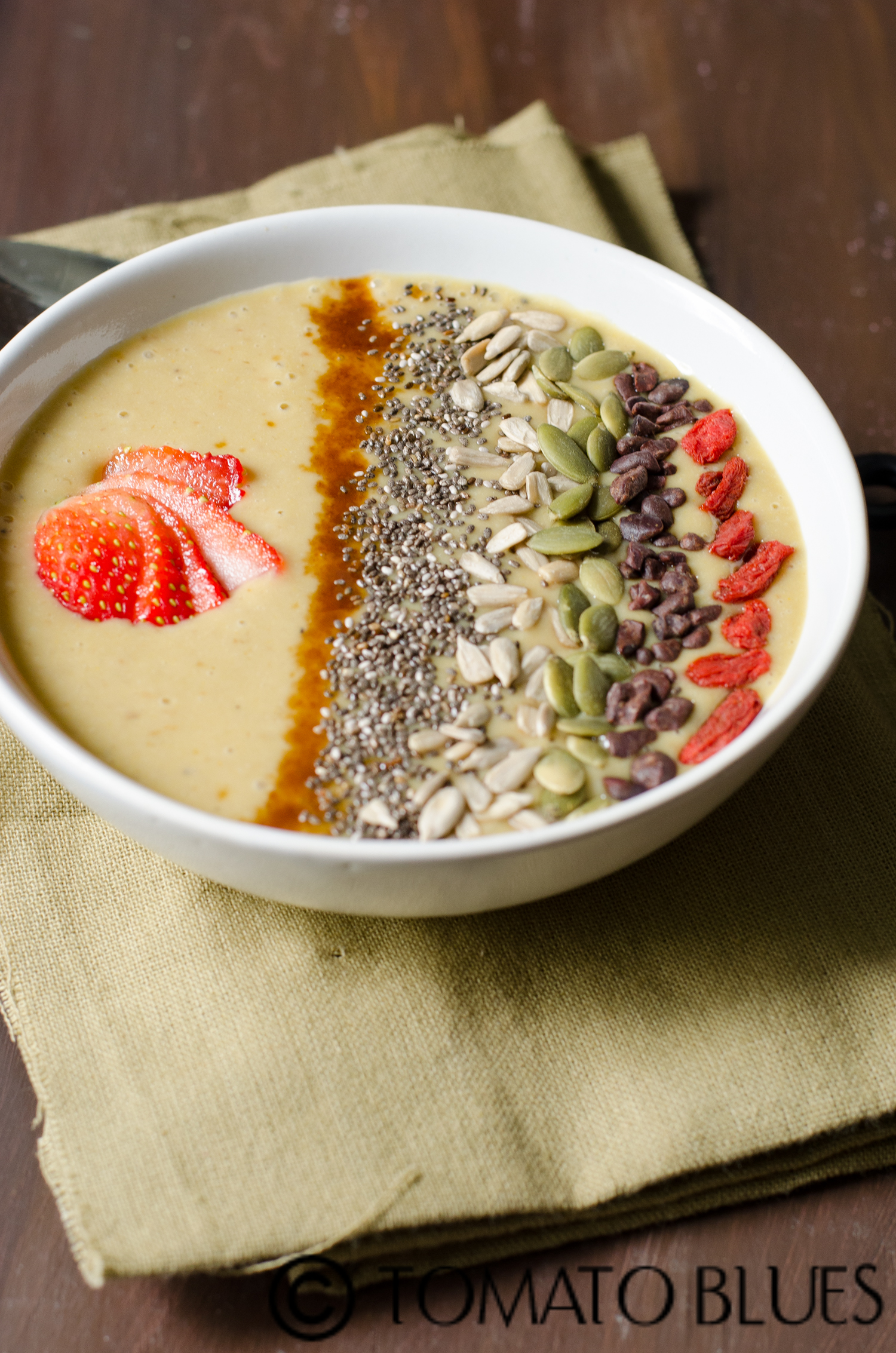 Sweet potato smoothie bowl- Okay! i hear ya. Sweet potato in a smoothie, eh? Yes, you read right and before you begin wondering if I m sane, just give this smoothie bowl a chance, okay? A couple of weeks ago, I bought some Japanese sweet potatoes because the last time i made this sweet potato poriyal, Lil A loved it to bits.
So I was really hoping that she would enjoy a cup of pureed roasted sweet potato. But the little monkey proved me wrong. While she did enjoy the spicy curry, she was not even ready to take a whiff of the roasted sweet potato puree.
And I definitely did not want to waste that because i had taken the effort to prep my oven and roast it. And also because i was fasting that day and I needed some meal that would boost calories for me. That is exactly when this sweet potato smoothie bowl was born.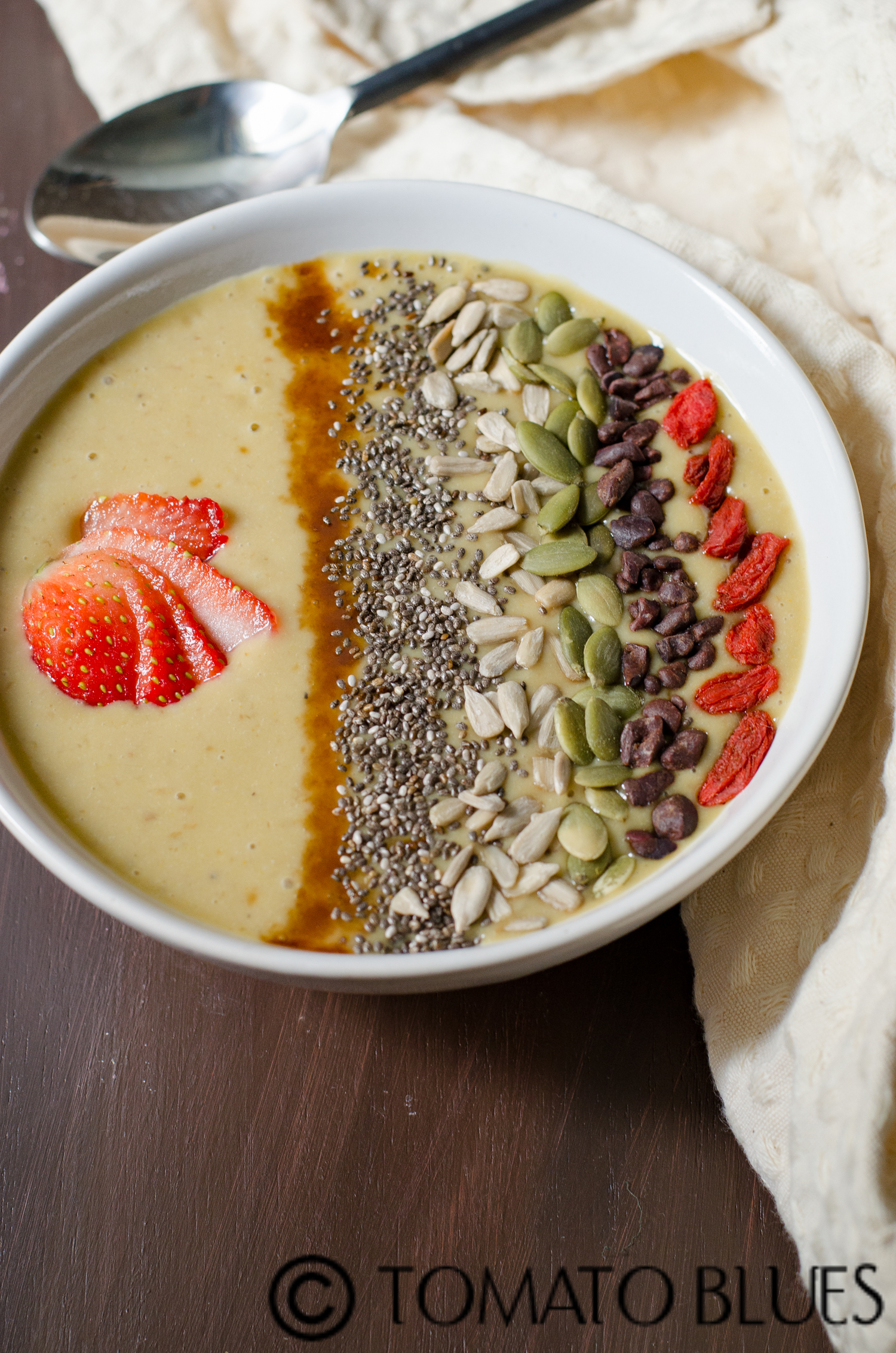 Ok, so not everyone blitzes up sweet potatoes into a smoothie, i admit. But i have come across recipes for sweet potato kheer. This is what became the inspiration behind this sweet potato smoothie bowl. I love roasted sweet potato more than the boiled version even though it takes more time.
But the wait is worth it because the flavors are so much better. I combined all things deemed healthy in this sweet potato smoothie bowl and notched up the health quotient one more mile up by topping it with berries, coco sugar and raw cacao nibs.
Raw cacao nibs are the purest form of chocolate. They are actually chocolate beans that are crushed to bite sized pieces and work wonderfully well in all things that require some chocolate. I used Almond milk to make this sweet potato smoothie bowl because i wanted some nuttiness in my smoothie.
Almond milk is a wonderful non dairy substitute that can add depth of flavor to any smoothie.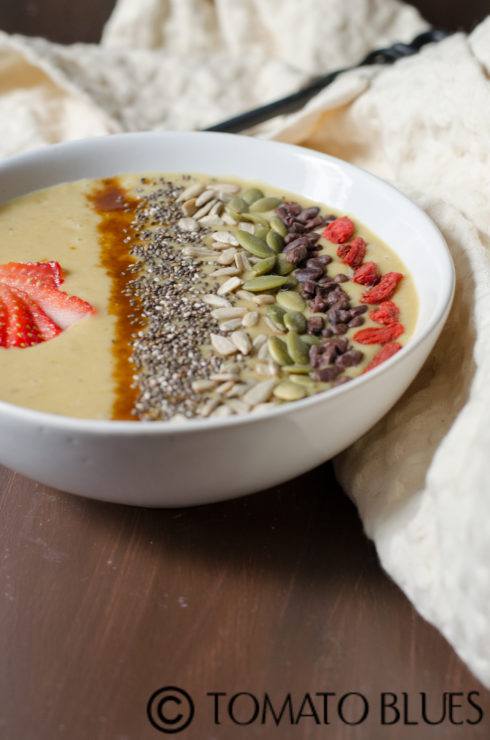 Like with any smoothie bowl, this sweet potato smoothie bowl too offers a myriad of options. You can use pretty much any fruit along with the roasted sweet potato but berries and grapes don't work well. The best bets are orange, mangoes and banana. You can even add some roasted carrots to this to make it vibrant. The almond milk can be substituted with soy milk or any other milk of choice. I did not use any sweetener in this recipe but you may do so if required. My latest discovery in the smoothie bowl niche is the coconut sugar and i m pretty much using it in everything these days. It is such a revelation in terms of flavor, texture and feel when compared to the regular evil white sugar. You can also use canned sweet potato puree here but i would not recommend that unless you are really desperate. I suggest roasting the sweet potato previously and refrigerating it.  And as always, the toppings are completely your choice. So, shall we check out how to make some sweet potato smoothie bowl?
Recipe For Sweet Potato Smoothie Bowl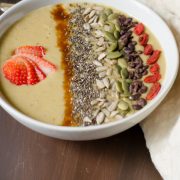 Print Recipe
Sweet Potato Smoothie Bowl
Sweet Potato Smoothie Bowl- a nutrient dense anti-inflammatory smoothie bowl using roasted sweet potatoes and natural sweeteners. Vegan. GF.
Ingredients
Japanese sweet potato 1 largish

Chilled Almond milk 1 cup

Medjool dates 2 pitted

Banana 1 medium peeled and sliced

Cinnamon powder 1/2 tsp

Ginger powder 1/4 tsp

Turmeric powder 1/2 tsp

Flax meal powder 1 tbsp

Chia seeds 1 tbsp

Goji berries/ Wolf berries 1 tbsp

Raw cacao nibs 1 tbsp

Pumpkin seeds 1 tbsp

Sunflower seeds 1 tbsp

Coconut sugar 1 tbsp

Strawberry 1 sliced

optional
Instructions
Preheat oven to 200 C.

Wash the sweet potato thoroughly, pat dry and slightly grease with any neutral flavored oil.

Wrap the sweet potato in foil and roast until tender for about 40 mins in the preheated oven.

Once done, let cool and peel.

Place the roasted sweet potato, banana, almond milk, dates, turmeric, ginger powder, cinnamon powder and flax meal in a high speed blender and blend till smooth.

Pour into a bowl.

Top with chia, pumpkin and sunflower seeds, goji berries, cacao nibs, strawberries and coconut sugar.

Serve immediately.
For Instant Pot & Air Fryer Recipes
Instant Pot timings may vary based on your geographic location. Air fryer settings and timings may vary based on the capacity and the model of the Air fryer.
Disclaimer
Nutrition values are provided here as a courtesy and are only a rough guide. Please consult a health care provider if you have any concerns.