HOW TO MAKE MANGO PEACH SMOOTHIE?
Mango Peach smoothie- a filling breakfast smoothie using two amazing stone fruits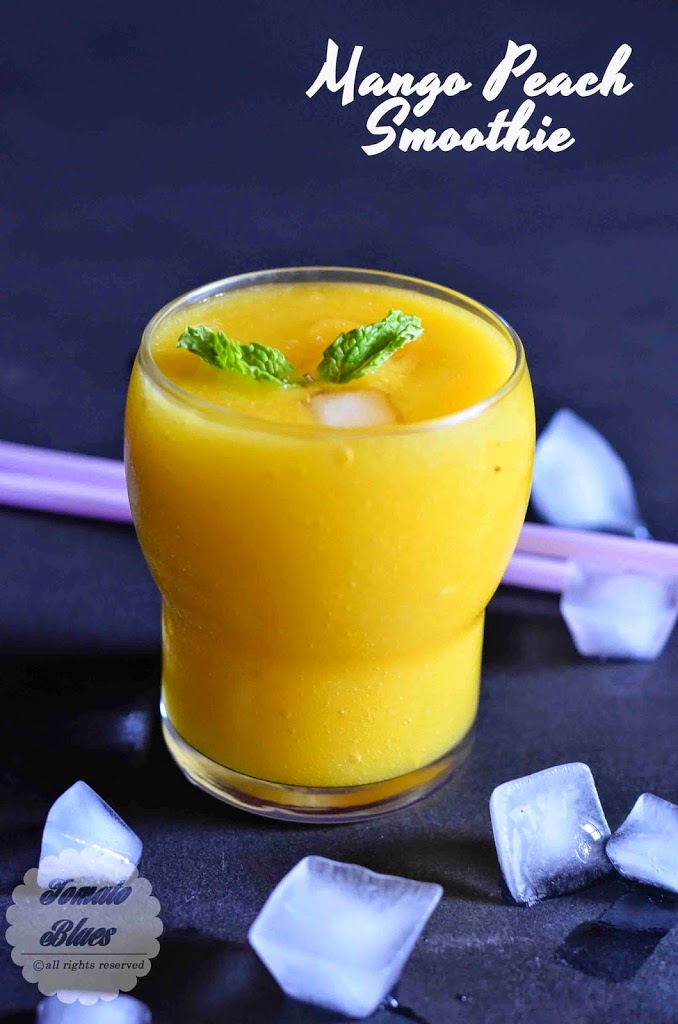 Stone fruit. Equals bliss. Devour the fruit and spit the pit out with fervor and passion. Then, you will know what i m talking about. I love Summers for the abundance of fruits in the market. Or rather, my favorite fruits in the market. Peaches, mangoes, litchis and cherries ( although they dont strike my fancy in that order). My fridge is groaning under the weight of some juicy peaches, deep dark red cherries and mangoes. When i had had enough of mango milkshakes and peach lemonade, i decided to go a bit overboard and make this smoothie.
What Mangoes to use?
Choose sweet mangoes for this recipe. I won't recommend using tineed mango puree as they tend to contain sweeteners. This is a no added sweetener smoothie that solely depends on the sweetness of the mangoes.
Orange Juice in Mango Peach Smoothie
Both freshly squeezed and store-bought Orange juice works perfectly for this smoothie. However, if you are going to use a store-bought one, choose something that does not have any sugar added.
Variations to Vegan Peach Mango Smoothie
We love adding herbs to our smoothies. They bring a flavor burst to it without any extra effort. This smoothie recipe uses fresh mint. You can also use fresh sweet basil in this smoothie. Mango and basil, as I have discovered, are just amazing!
I have used plain chilled water. In case you want something fancier, replace the plain water with tender coconut water or coconut water. 
Meal Planning and Prep Work
Meal Planning
You can peel and chop the mangoes and place them in the freezer over the weekend. Also, stone the peaches, chop them into pieces and freeze them. Freezing the fruits means you can even skip the ice cubes.
Prep Work
In case you have not prepped the fruits beforehand, you can always use them fresh along with ice cubes. The only prep involved is peeling and stoning the mangoes and the peaches. 
More Smoothie Recipes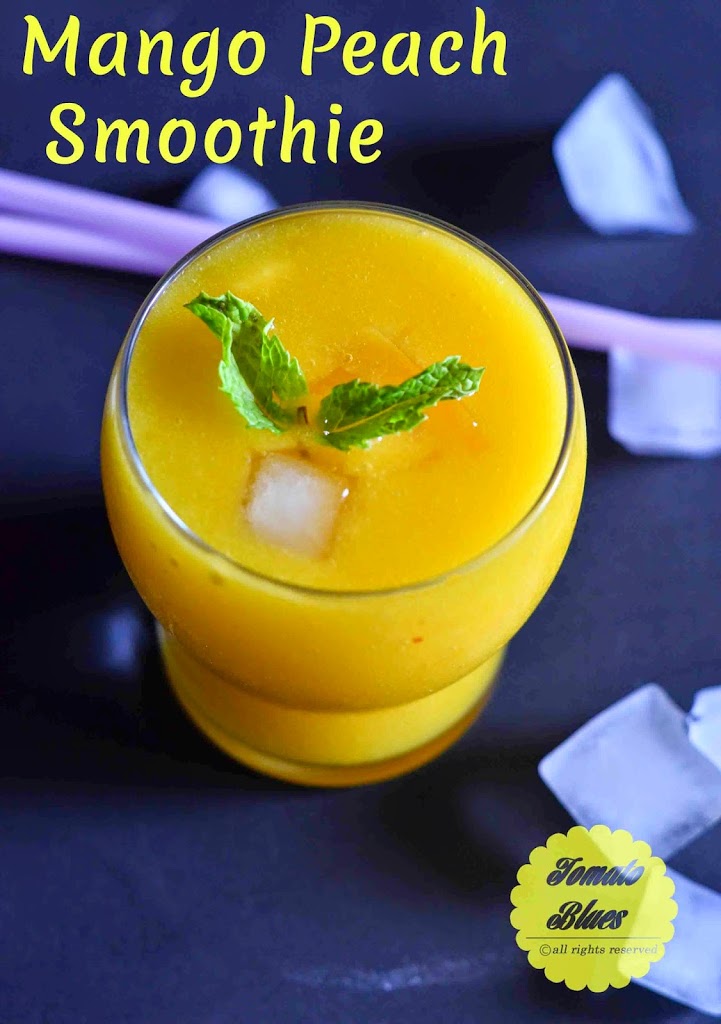 Follow me on Instagram or Facebook for regular cooking updates and short videos. Find us on  Pinterest for delicious content. Tried Moroccan Red Lentil Soup? We value your thoughts and comments! Leave a comment and tell us how it worked for you. Email us your questions to anusapraj@gmail.com if you need any guidance in making this soup.
Vegan Mango Peach Smoothie Recipe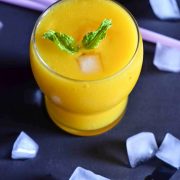 Print Recipe
Mango Peach Smoothie
A delectable combination of peach, mangoes and mint. Makes a fabulous breakfast smoothie
Ingredients
1/2

c

peeled and cubed Mangoes

1

c

peeled

pitted and chopped peach

5

mint leaves

1/2

c

Orange juice 1/2 c

1

tbspLemon juice 1 tbsp

2/3

c

Chilled Water

10

Ice cubes
Instructions
In a blender, combine mango, mint, peach and ice cubes and blend till smooth.

Now, add orange juice, water and lemon juice and blend once again till smooth.

Serve chilled.
Notes
I have not used any sweeteners in this recipe because my fruits were sweet enough on their own. Feel free to use maple syrup or agave if you want a sweeter smoothie.
For Instant Pot & Air Fryer Recipes
Instant Pot timings may vary based on your geographic location. Air fryer settings and timings may vary based on the capacity and the model of the Air fryer.
Disclaimer
Nutrition values are provided here as a courtesy and are only a rough guide. Please consult a health care provider if you have any concerns.