In a few days, I m sure we will all be groaning just thinking about cooking or entering the kitchen. Summer means less time in the kitchen. And it is also a great time to enjoy a cold breakfast. Here is a list of 10 easy smoothie recipes that you can try this.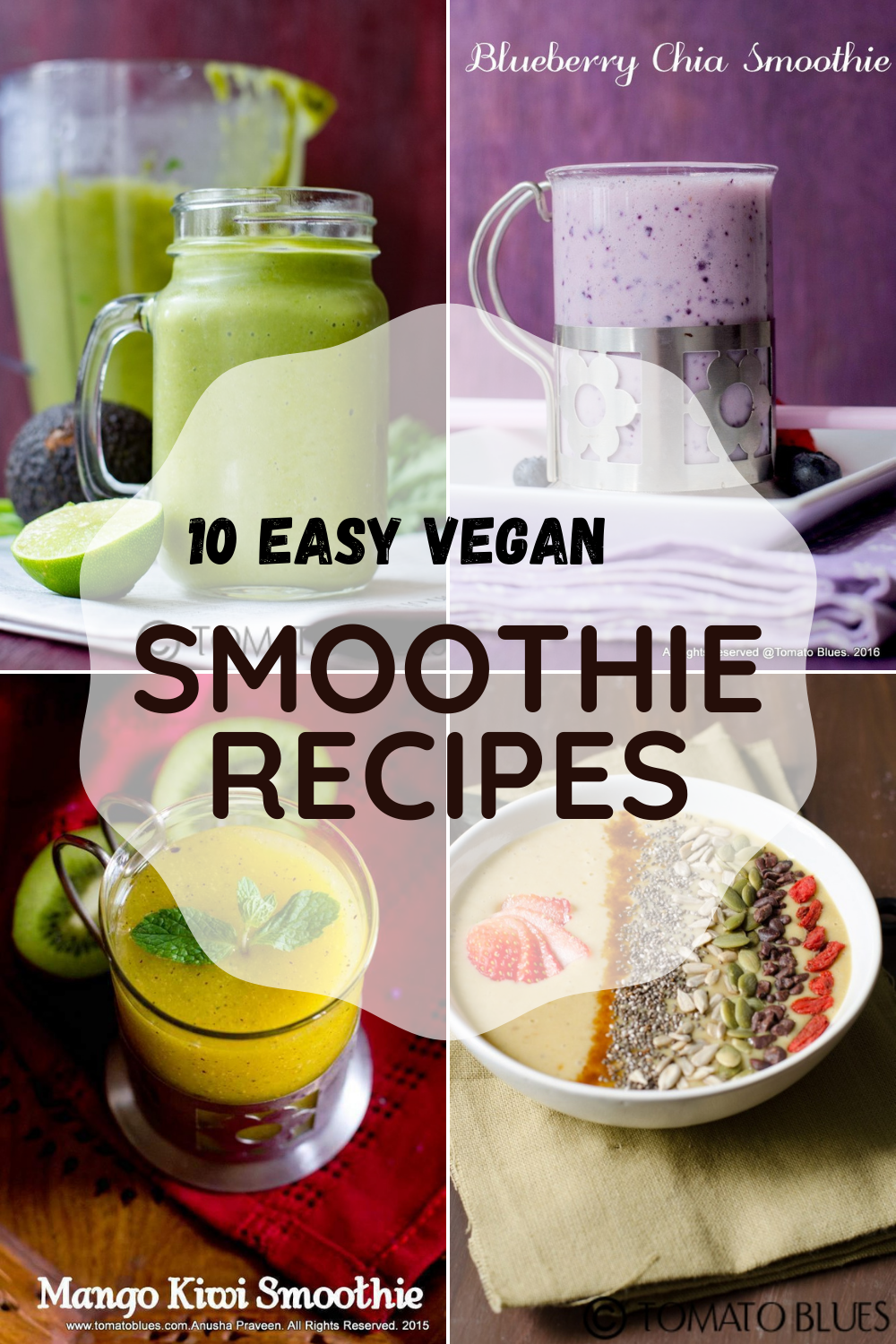 How to make a better smoothie?
Many times, people assume that a smoothie is either bland or is just about fruit. Let me share a few tips and tricks to make your morning smoothies interesting.
Use frozen fruits
Yep! This is a thing. I have a bag of frozen bananas or berries in my fridge almost always. Not only does this improve the mouth feel of the smoothie but also eliminates the need to add ice cubes or chilled milk.
Choose the right liquids
We love oat milk and almond milk smoothies. But nut milk or even dairy milk may not be the right liquid for all smoothies. Try just plain water or even coconut water. Believe me, coconut water is a game changer.
Invest in a good quality blender
This may sound like a very duh thing. But we are talking about a really quick breakfast here. And blending frozen fruit means your blender should be really good. Invest in a high quality blender. Make sure the motor is at least 600W. 
Fancy that smoothie up
Why should a smoothie always be served in a glass or mason jar? Make a smoothie bowl, top it up with a good amount of nuts, seeds or even edible flowers and you will have a very pretty breakfast smoothie bowl.
A quicker and better breakfast with smoothie kits
Before you order that smoothie kit online, pause. And hear me out. All you need are some ziploc bags and fruit to make a smoothie kit at home. 20 mins, some ziploc bags, an episode of Nadiya Bakes and you will have built your own smoothie kit.
To make your own smoothie kit, chop up fruits of your choice and add them to a ziploc bag. You can also include spinach, cucmbers and even roasted veggies like carrots and beets to the smoothie kit. Try zucchini or even grated cauliflower for a change. Shove it in the freezer. 
Whenever you feel like a smoothie, grab a bag, transfer all the frozen fruits and blend it to a smoothie by adding in a liquid of your choice.
Choosing a base for smoothie recipes
Now, for a creamy dreamy smoothie, we need to pick our smoothie base right. What exactly is a smoothie base? It is that ingredient which adds volume to our smoothie.
While bananas are your best bet, roasted sweet potatoes, apples, carrots all work well too.
10 delicious smoothie recipes to try this Summer
Follow me on Instagram or Facebook for regular cooking updates and short videos. Find us on  Pinterest for delicious content. If you tried one of these recipes, then please leave a comment, rate our recipe and tell us how it worked for you. Email us your questions to anusapraj@gmail.com if you need any guidance in making this soup.
If you liked these Smoothie recipes, then do check out some interesting Salad recipes from our archives.
Salad Recipes