Mango Kiwi Smoothie Recipe- Vegan. Gluten Free.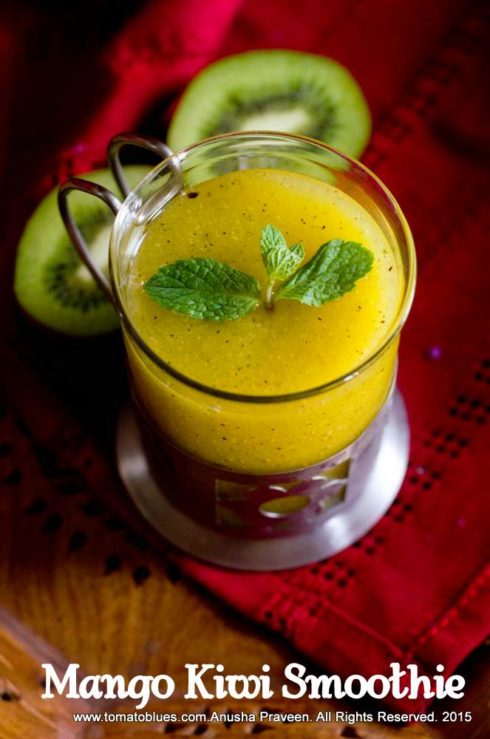 Mango Kiwi Smoothie is a delicious combination of mangoes, kiwi and mint. Being a vegan and gluten free smoothie, it makes a great breakfast and a snack option. It is the season of mangoes here in India. I guess it is the season pretty much every where in the tropical countries. Contrary to popular belief, the Alphonso mangoes are not the most desired or bought variety in India. While a lot of Alphonso is available, the best of them are exported and the residual lots are very pricey. But there are about 100 other varieties in the market that will leave you confused. The last time i entered my fresh fruit market, i was greeted by that warm mango fragrance from almost every corner. I hardly found other fruits. Every shop had crates of mangoes stacked to the ceiling and they were selling them in the blink of an eye. Like you all know by now, we are only three in the house. Well, little A does not even figure in the count. But just saying. You know, the math. Well, so i was buying mangoes from a vendor in this market. I asked him for a kg of Badami mangoes and a kg of Kesar mangoes, both of which are famous here locally. The Badami kind makes fine milkshakes and Kesar is great to eat as is. Just when i had finished dropping the fruits into my bag, a man walks up and asks the vendor, how much for one crate of Badami. One crate has about 10 kg of mangoes, you see. And i immediately felt so small and embarrassed. I quickly made an exit. You get the point, right?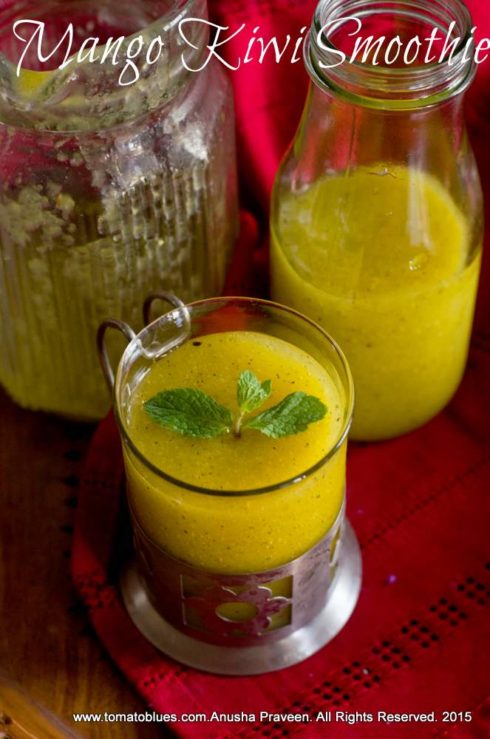 Well coming to the smoothie, you all should make this. I insist because it is so many things all at once in a glass. It is filling. It is vegan. It has Kiwi. And above all else, it has mango. So, don't you want more reason to enjoy this Mango Kiwi Smoothie Recipe?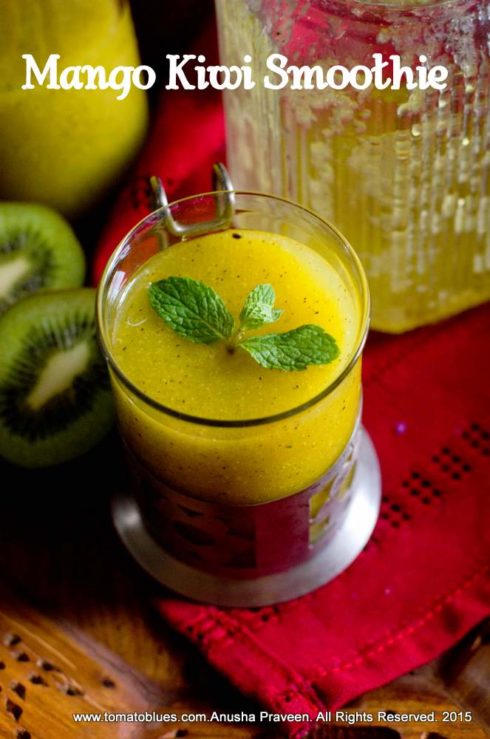 Recipe For Vegan And Gluten Free Mango Kiwi Smoothie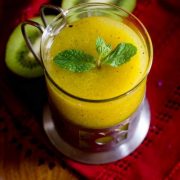 Print Recipe
Mango Kiwi Smoothie
A cool, refreshing and filling smoothie with mangoes and kiwi. Vegan. Gluten free. Can be made ahead and chilled.
Ingredients
Mango 1 large peeled and cubed

Kiwi 1 medium

Sugar 2 tbsp

Mint leaves 4 to 5

Cold water 1/2 c

Ice cubes to serve
Instructions
Halve the kiwi.

Scoop the flesh out using a spoon.

Chop the kiwi into chunks.

Place the kiwi, sugar, mango and mint leaves along with the water in a blender.

Blend to a smooth puree.

Add ice cubes.

Serve immediately.
Notes
I added 1/2 c of water because i felt that the smoothie was too thick for my taste. Which is why i added sugar too.
In case your mango and kiwi are sweet, skip the sugar completely.
For Instant Pot & Air Fryer Recipes
Instant Pot timings may vary based on your geographic location. Air fryer settings and timings may vary based on the capacity and the model of the Air fryer.
Disclaimer
Nutrition values are provided here as a courtesy and are only a rough guide. Please consult a health care provider if you have any concerns.