Any one who knows me well will tell that i love smoothies and if its a smoothie for breakfast, i ll be more than happy. Fruit always delights me in any form any time. And i have this fetish for pineapples. I must say that the fruit has grown on me only in the recent past. My mouth used to itch in a strange way whenever i ate pineapples as a kid. So that sort of put me off the fruit. But post marriage, my mouth also changed along with a sundry other things and since then pine apples have a special place in my heart.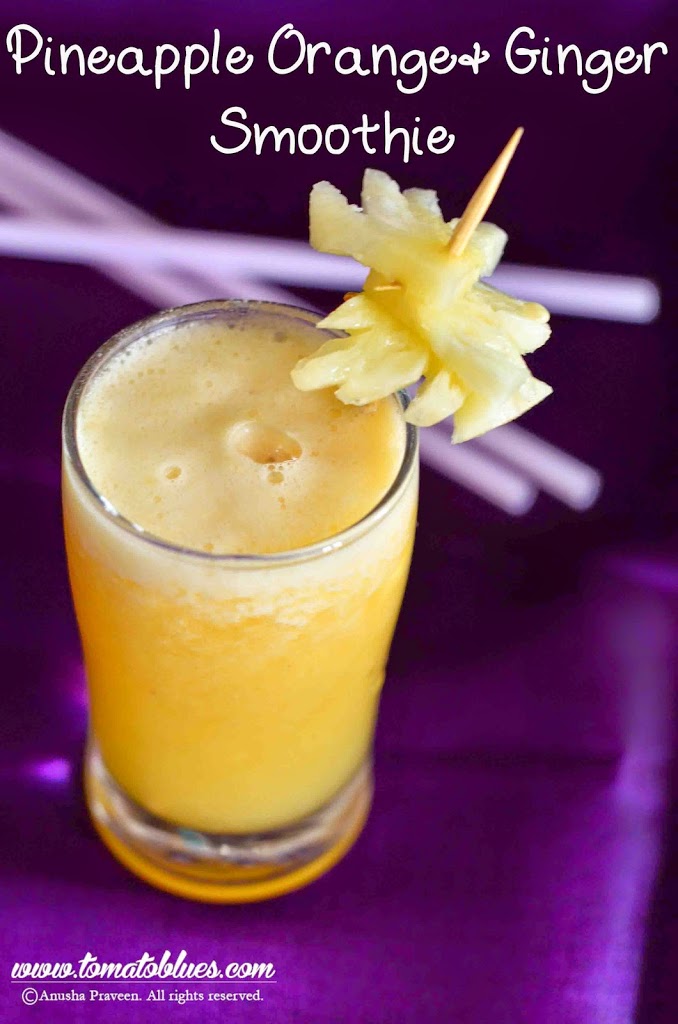 Its such a versatile fruit that can be used up in savory and sweet dishes alike. The only downside to a pineapple is the process of cutting it. But there seems to be a fancy pansy gadget to do even that these days.
Please dont get me started on cutting and chopping gadgets. I love my knives and i simply dont see the point of buying a specific tool for cutting a specific fruit, least of all a banana. I mean a banana slicer is like so blah! Pineapple, i can still understand.
By the way, i dont own a pineapple cutter or whatever that is called. I get mine chopped from the vendor for an extra 5 bucks. Ah! There now, go feel jealous and regret spending that 1000 odd plus on your gadget ( buwahaha )
This smoothie happened with some leftover pineapple after pineapple rasam and pineapple kesari.
I used whatever fruit i had on hand that day. ( Read i was scavenging my fridge for bits and chunks of fruit). Pineapple is a very good antacid and ginger is a great digestive. So this smoothie will get all those pepsin going in your stomach. Make this smoothie the night before and enjoy it cold the next morning for breakfast and i m sure you will be a happy camper the whole day.
Recipe For Pineapple Orange and Ginger Smoothie
( Learn how to make Pineapple, orange and ginger smoothie with fresh pineapples, grated ginger and tangy oranges)
Serving Suggestions: Mint Chutney Cheese Sandwich along with a tall glass of this smoothie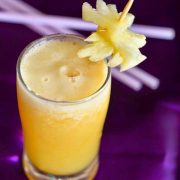 Print Recipe
Pineapple Orange and Ginger Smoothie
Refreshing flavors of orange and ginger combined with chunky pineapple makes for this fabulous immunity boosting smoothie
Ingredients
1.5

cubed

Pineapple

1.5

c

Orange juice

See notes

1

tsp

Grated ginger

Salt a pinch

1

tbsp

Powdered sugar

1.5

c

Chilled water
Instructions
In a blender add the pineapple, grated ginger and sugar and blend to a smooth paste.

To this, add orange juice, salt and chilled water and blend again.

Sieve through a colander and discard the pulp.

Serve cold.
For Instant Pot & Air Fryer Recipes
Instant Pot timings may vary based on your geographic location. Air fryer settings and timings may vary based on the capacity and the model of the Air fryer.
Disclaimer
Nutrition values are provided here as a courtesy and are only a rough guide. Please consult a health care provider if you have any concerns.