How To Make Blueberry Chia Smoothie, A Healthy Breakfast Smoothie?
Vegan.Gluten Free.Nut Free Blueberry Chia Smoothie.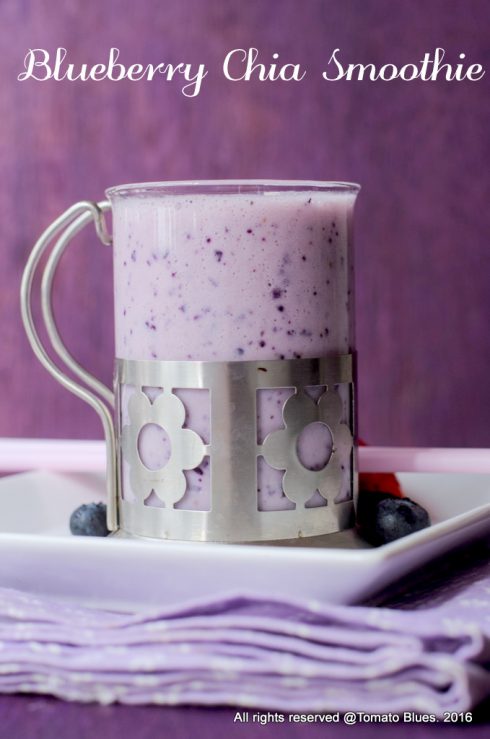 Blueberry Chia Smoothie is a simple and healthy breakfast smoothie. It can be made the night before and enjoyed the next morning. This smoothie happened on a whim. I was prepping a salad for Mr.P s lunch box and was left with a few blueberries and couple of strawberries. I instantly thought of making a smoothie for my breakfast the next morning. I decided on adding chia in order to give it some texture and nutrient oomph. This smoothie is the first in terms of using almond milk. I bought Almond Breeze recently and tried it as it is. Let's just say i did not take to the taste instantly. So i thought of masking its flavor by adding it to a smoothie in place of regular dairy product. And ever since then, i have been using only Almond milk in place of regular milk in all my smoothies. You can use regular milk in place of almond milk in this blueberry chia smoothie too. The taste will be different but good. I have tried both versions of this blueberry chia smoothie, with regular milk and almond milk. And my favorite will always be the blueberry chia smoothie with almond milk. Guess you have a convert here. 😎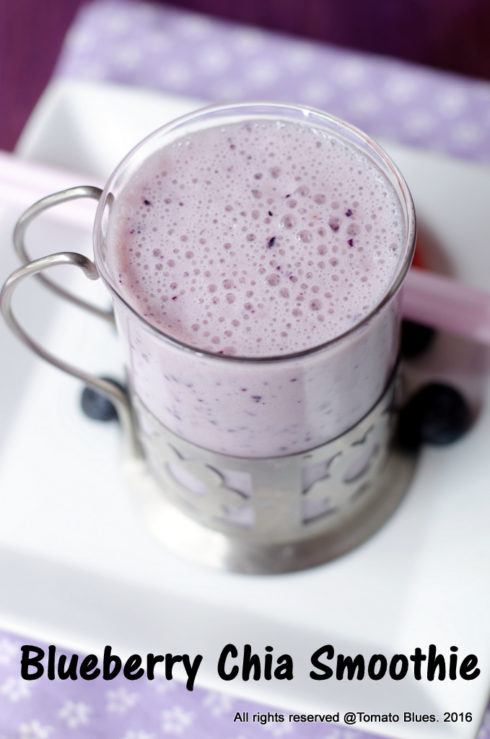 Recipe For Blueberry Chia Smoothie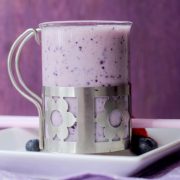 Print Recipe
Blueberry Chia Smoothie
Blueberry chia smoothie is a healthy nutrient packed smoothie with blueberries, almond milk and chia seeds. This is vegan, gluten free and can be made ahead
Ingredients
Blueberries 1/4 c

Strawberries 3 to 4

Chia seeds 1 tbsp

Sugar 2 tbsp

see notes

Vanilla extract 1/2 tsp

Almond Milk 1 c
Instructions
Place the chia seeds in a blender along with sugar and berries and give a blitz.

To this add the almond milk and vanilla and blend till smooth.

Chill in the refrigerator for an hour or two.

Serve cold.
Notes
1. I used regular white sugar here. You can also use any other sweetener of your choice ranging from stevia to maple syrup.
2. Almond milk can be replaced with regular milk.
For Instant Pot & Air Fryer Recipes
Instant Pot timings may vary based on your geographic location. Air fryer settings and timings may vary based on the capacity and the model of the Air fryer.
Disclaimer
Nutrition values are provided here as a courtesy and are only a rough guide. Please consult a health care provider if you have any concerns.