During my initial days in Singapore, weekly meal planning on Sunday is what kept me sane during the whole week. A new place, zero help and a baby around is like a recipe for disaster. The minimum that I could to have some control over my life was to plan all my meals.
So, every Sunday, I used to painstakingly chop all the veggies, cook lentils in bulk, soak the beans and prep the smoothie combinations for the week ahead.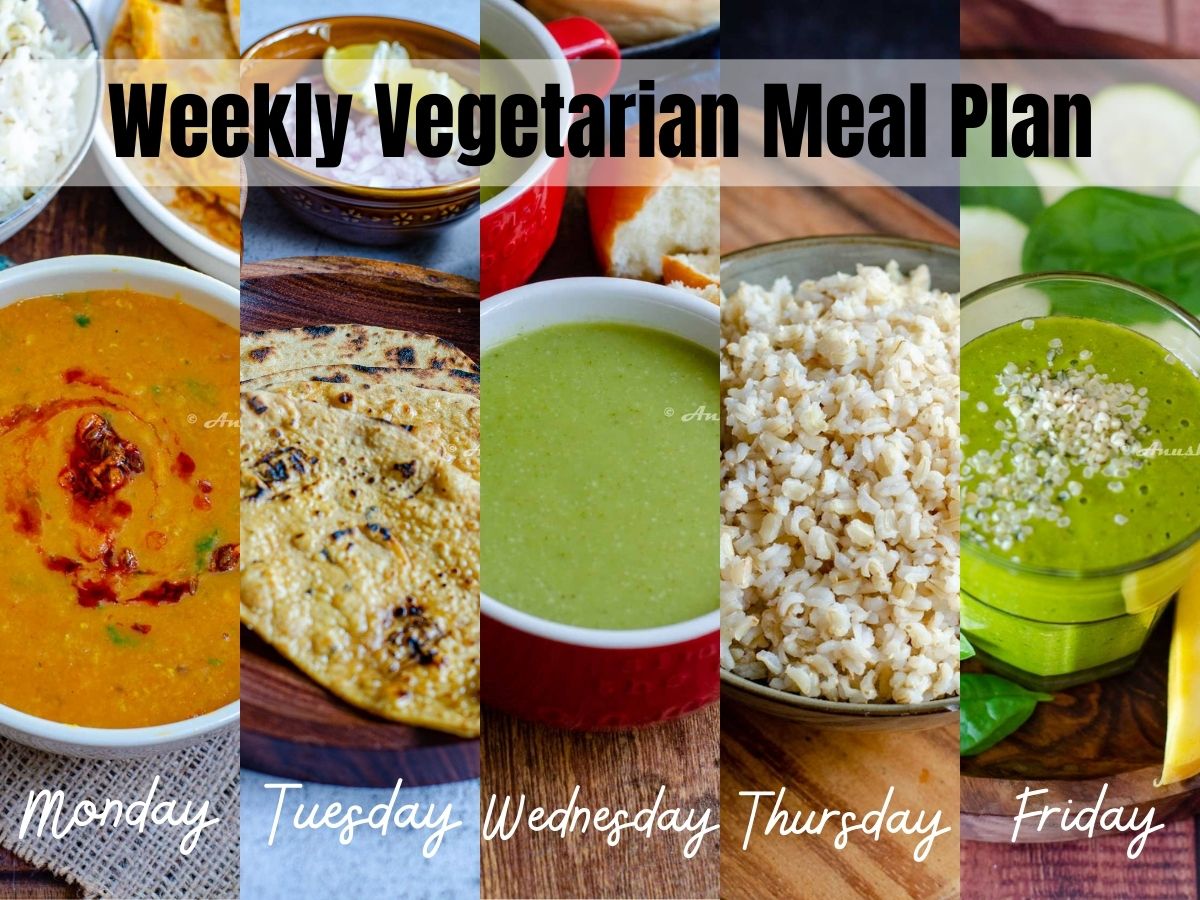 Having done that for a very long time, I have become wiser and more confident than I have ever been when it comes to meal prep. Last week, I spoke with my friend Mitra on an Instagram Live session about meal planning. I even shared a few tips there. Check out the video here.
While weekly meal prep and I are inseparable, recording each meal plan in the form of a blog post is a tad tedious, considering that life always seems to happen over the weekend. I had some free time yesterday and decided to share this week's meal plan.
Among other things, the recipe for cooking short grained brown rice, a creamy vegan Dahl and a hearty broccoli soup feature on this meal plan. Zucchini is our star vegetable this week. So, now you have enough ideas for that summer zucchini.
Jump to:
This week's meal plan
Monday
Breakfast- A slice of vegan zucchini bread+ green tea 
Lunch- Jeera rice and vegan red lentil dal
Dinner- Summer pasta salad
Tuesday
Breakfast- Mixed berry overnight oats
Lunch- Whole wheat kulchas and Paneer Taka Tak
Dinner- Singapore Noodles
Wednesday
Breakfast- Hard boiled eggs topped with Chimichurri, toast and coffee
Lunch- Rotis and Bhindi Do Pyasa
Dinner- Instant Pot Broccoli Almond Soup
Thursday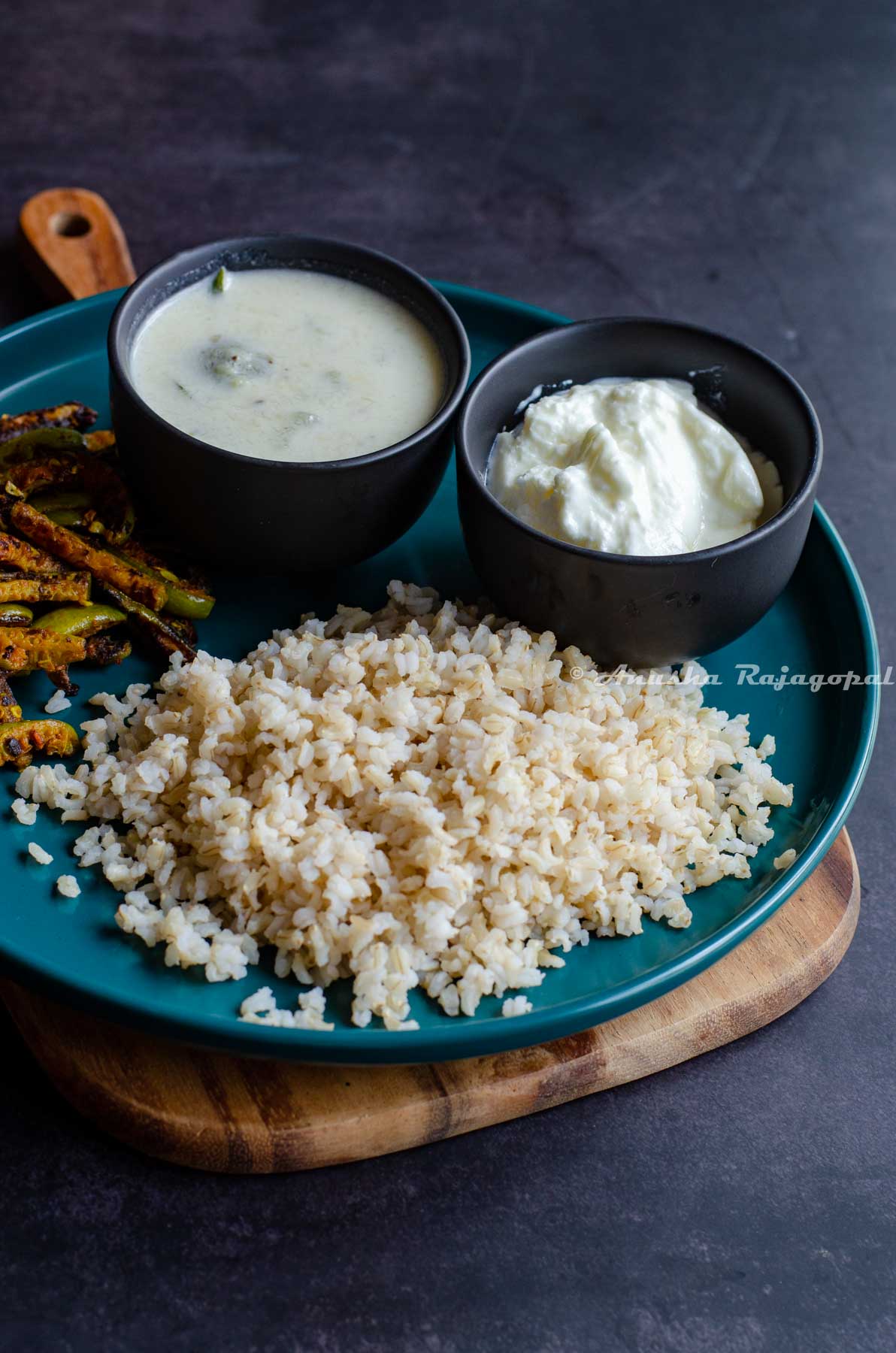 Breakfast- Carrot milk and toast
Lunch- Instant Pot Zucchini Stew and Brown Sona Masoori Rice
Dinner- Rava Kichdi + Yogurt
Friday
Breakfast- Mango green smoothie
Lunch- Rice, lemon Rasam and Field beans curry
Dinner- Moong Dal Cheela
Prep work
On Sunday evening, 
freeze fruits for smoothie- Combine mango, zucchini and spinach in a freezer-safe silicon bag. Freeze till ready to use.
hard-boil eggs, allow them to cool and store them unpeeled in the fridge.
make the dressing for the pasta salad.
bake the zucchini bread, allow it to cool, slice and store them in an air tight container in the fridge.
blend the Chimichurri sauce and store in a clean sterilized glass jar.
On Monday night,
prep the overnight oats.
make Kulcha dough, wrap in cling wrap and place in an air-tight container. Store in the fridge.
Chop all veggies for the noodles except the onions and garlic.
On Tuesday night,
knead dough for Rotis.
chop broccoli and okra.
On Wednesday night,
Make the carrot milk and chill in the fridge.
chop zucchini and veggies for Kichadi.
On Thursday night,
Soak for Moong Dal Cheela and grind the batter. Refrigerate.
Chop the field beans.
Printable Meal Plan+ Grocery List
Get your printable copy of this week's meal plan and the grocery list here.
Meal plans from the past