How To Make Chettinad Avarakkai Poriyal, A Simple Stir Fry With Indian Broad Beans?
Chettinad Avarakkai Poriyal, as the name suggests, is an easy stir fry made with Indian broad beans. Poriyal Recipes. Vegan.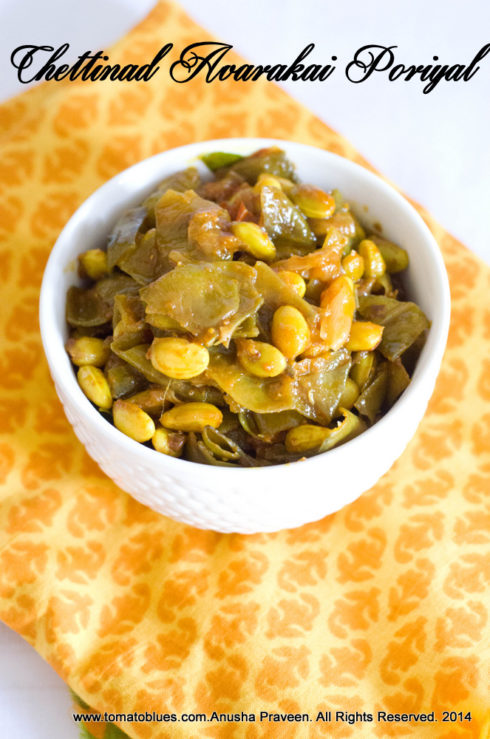 Chettinad Avarakkai Poriyal is a simple no fuss stir fry made with Indian broad beans, garlic and homemade sambar powder. This semi dry curry which is vegan and gluten free tastes great with rasam and rice and even goes well with roti. While i usually make this no onion no garlic avarakkai poriyal, this chettinad style avarakkai poriyal is reserved for days when i have not made any kuzhambu and the meal will only be a simple thugayal, rasam, curry and rice. This poriyal is very forgiving and the true essence of it lies in the tempering. I picked up this version from my mom's neighbor who is fondly known as aachi in our neighborhood. I wont be exaggerating when i say that i have learnt most chettinad style recipes from her and that she is an accomplished cook who makes the best vella paniyaram.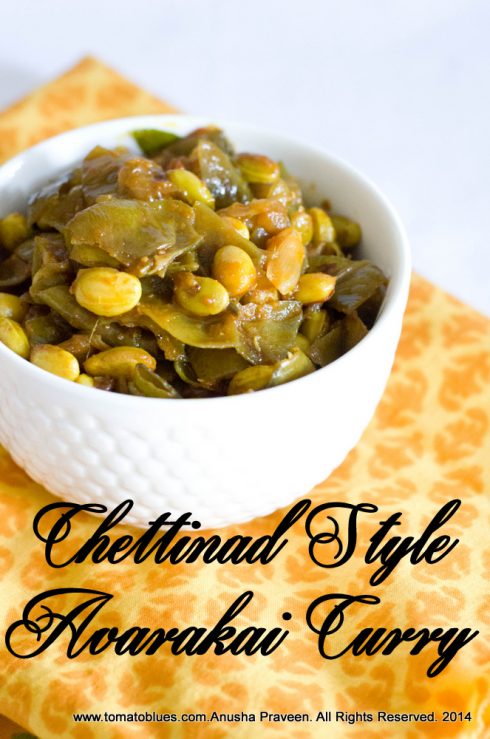 Coming back to this Chettinad Avarakkai Poriyal, i have used sambar powder but you may use kuzhambu thool or kuzhambu powder if you have some. The garlic is optional but highly recommended. I made this curry with small Indian broad beans called as papdi, which was the only version of avarakkai that i could source while i lived in Vadodara. But if you are lucky, use the south Indian avarakkai which are really broad and make sure you tear them up into bits after removing the stalks for this chettinad avarakkai poriyal.
Recipe For Chettinad Avarakkai Poriyal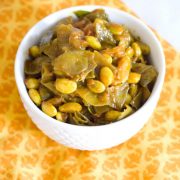 Print Recipe
Chettinad Avarakkai Poriyal Recipe
Chettinad Avarakkai Poriyal is a vegan stir fry made using Indian flat beans aka Indian broad beans. This goes well with rice and rasam or with plain rotis
Ingredients
Avarakkai

Indian broad beans 20 stalks removed, stemmed and cut into small pieces.

Garlic cloves 3 to 4 crushed along with peel

Fennel seeds 1 tsp

Mustard seeds 1 tsp

Urad dal 1 tsp

Curry leaves a sprig

Sambar powder 1 tsp

Dry red chili 1 torn

Turmeric powder 1/2 tsp

Salt to taste

Oil 2 tsp
Instructions
Place the chopped beans in the microwave along with 2 cups of water and cook till fork tender.

This takes 7 to 8 mins on high.

Once done, remove and drain the water completely.

Heat a pan with oil and pop the mustard seeds.

Tip in the urad dal, fennel seeds, garlic and dry red chili along with the curry leaves.

Add the turmeric powder once the garlic begins to brown.

Now, add the cooked beans and salt and mix well.

Serve hot with rice and rasam
For Instant Pot & Air Fryer Recipes
Instant Pot timings may vary based on your geographic location. Air fryer settings and timings may vary based on the capacity and the model of the Air fryer.
Disclaimer
Nutrition values are provided here as a courtesy and are only a rough guide. Please consult a health care provider if you have any concerns.