Indian meal plans, ideas for meal planning for the week, and healthy recipes. 
What is meal planning?
Have you ever wondered why cooking on a daily basis can be so stressful? Yes, I mean it. In an average Indian family, we cook almost 3 meals a day and most are from scratch. Smoothies, toasts and cereal are a very recent development. It is still unheard of, in many homes.
Let me tell you a secret. The fact that you do not know what to cook is more stressful than the cooking process. Just imagine- you open the fridge and veggies stare at you. But you do not know what to cook or where to start? This is one of the most frustrating moments, especially for working people.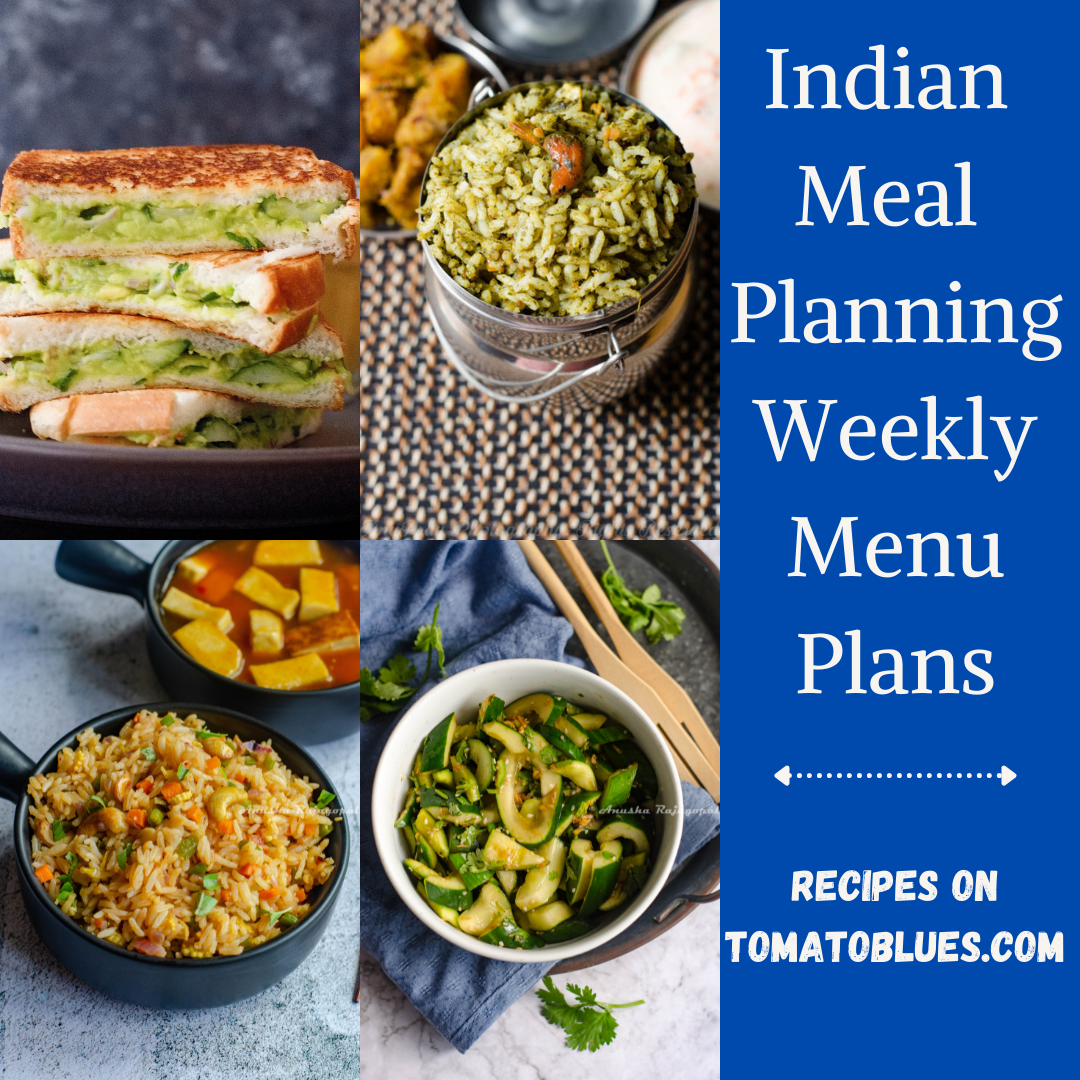 Enter meal planning. You buy your grocery, fruits and veggies on Saturday. And decide on the week's menu on Sunday morning. This way, you will have lots of time to prepare for the weekly meals. Small things, when prepped ahead, can make a huge difference. 
Not only does meal planning help save time but it also helps minimize food waste. When you have a clear idea of what to buy and what is in stock, every week, this helps to understand how much has to be restocked and what has to be refilled.
Tips to make meal planning a breeze
Cooking meals at home from scratch is not only economical but also a healthy lifestyle. We know what goes into our meals. This also means we can cut down on snacking and eat healthier. Healthy eating definitely means happy living.
Here is a list of things that you can keep handy in your pantry or fridge to save time over the week:
Ginger garlic paste
Tamarind paste 
Chapati dough ( keeps well for 2 days when you wrap it in cling wrap and store it in a pyrex)
Some chutneys to eat with Idli and Dosa
Prep Work
If you are someone who prefers planning the menu for the next day the previous night, even then this will work for you. I prefer chopping veggies over the weekend and storing them in the fridge. Idli dosa batter is also something I grind on Sunday. Apart from this, a little work the previous night can make your life easier.
For this week, I have already made my batter and tomato thokku. 
Prep work on previous nights
On Sunday Night
Roast peanuts.
Chop zucchini.
Make watermelon juice and refrigerate.
Knead the dough for Rotis.
On Monday night
Clean and prep curry leaves.
Set yogurt.
Shred carrots.
Make Palak Paratha dough, wrap in cling wrap and place it in a fridge-safe box. Refrigerate.
On Tuesday night 
Prep the overnight oats, transfer to a jar and refrigerate.
Make the dressing for the salad and refrigerate.
Chop veggies except onion& garlic for the fried rice.
Cook rice for fried rice.
Set yogurt if needed.
Make the instant mango pickle.
On Wednesday night 
Shred and freeze coconut for the Ragi Puttu
Chop all veggies except onions for upma.
On Thursday Night
Soak for Adai.
Wash drumstick, carrots and beans.
On Friday Night
Sit back and relax. Make sure to recharge yourself on Saturday too before you begin work for the next day.
Please remember that these meal plans are only a guide. You need not follow it to the T. This is just like a rough menu idea for the week. There are bound to be some hitches or it may even turn out that you may have to eat out.  Use this meal plan and tweak it as you see fit to make it work for you.
Get this week's meal plan here-
Follow me on Instagram or Facebook for regular cooking updates and short videos. Find us on Pinterest for delicious content. Did you use our Indian meal plans for the week? We value your thoughts and comments! Leave a comment and tell us how it worked for you. Email us your questions to anusapraj@gmail.com if you need any guidance in making this.