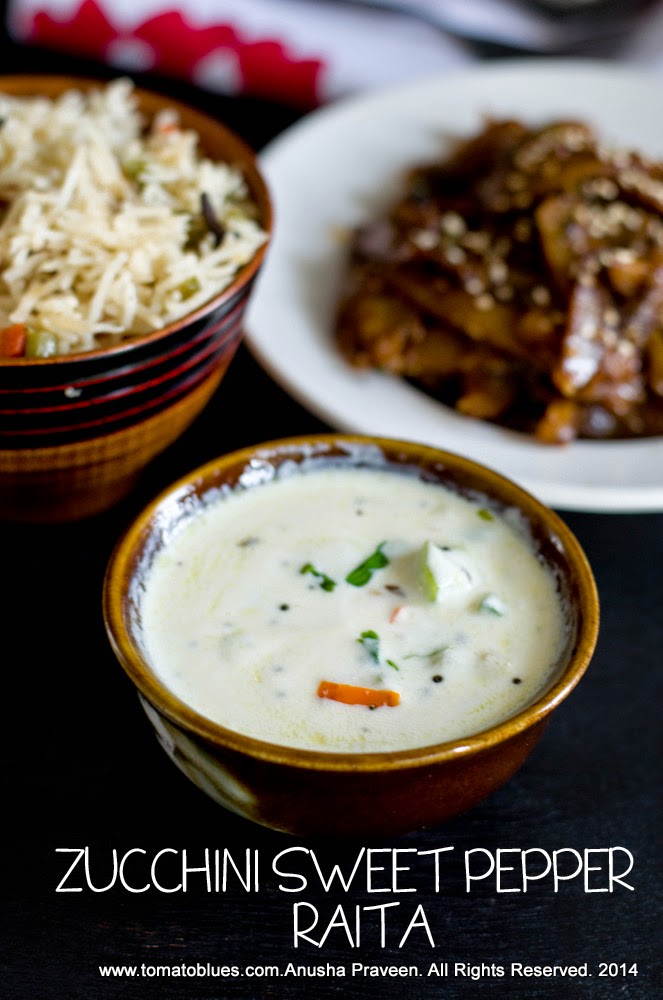 Zucchini and sweet pepper raita is the perfect summer's delight. A combination of crunchy zucchini, mellow sweet peppers and smoothly whisked fresh curd cannot go wrong, isn't it? A few vegetables like broccoli, baby corn and zucchini never fail to score with me. While zucchini tastes very similar to the ridge gourd in India, its slightly crunchier and also comes in yellow and green colors. This raita happened way before Summer kicked in. Nevertheless, we enjoyed it thoroughly with some 
Vegetable Pulao
  and it made an amazing side dish, even though ridiculously simple. Ever since then, i have made this time and again and any one who ever ate it has always been a happy camper. So, let s hop on to the recipe, shall we?
Recipe for Zucchini Sweet Pepper Raita
( Learn how to make Zucchini  Sweet Pepper Raita, a yogurt dip with zucchini and sweet peppers tempered in the Indian style)
Prep Time: 10 mins
Cook Time: 5 mins
Serves 2 generously 
Allergy Info: Gluten free, Soy free and Nut free
Category: Raita, Dip, Accompaniment
Cuisine: Indian
Ingredients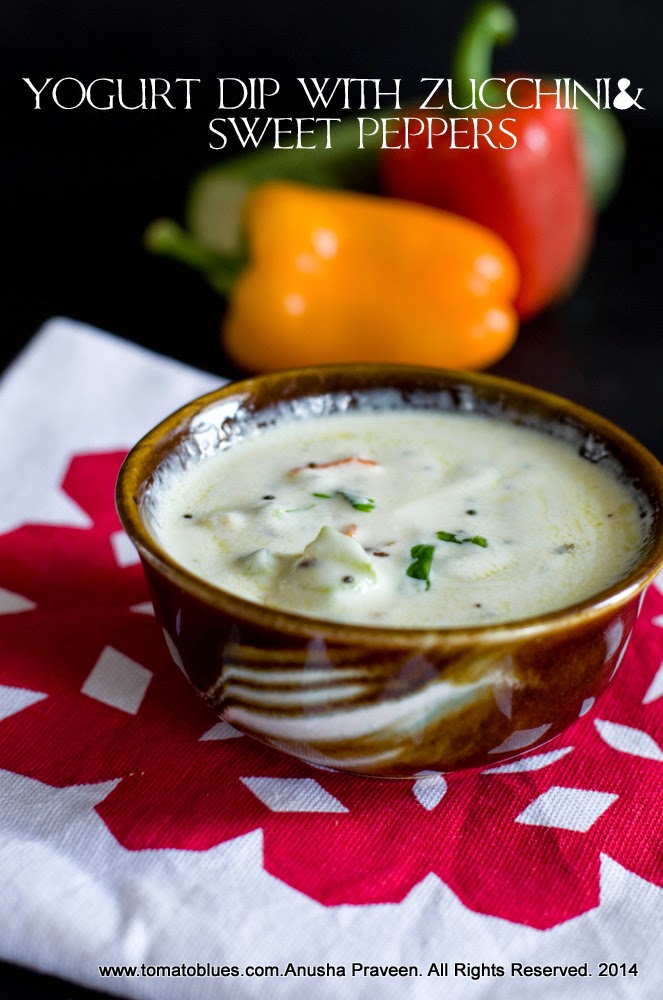 Zucchini 1 med peeled and cubed
Sweet peppers 5 to 6 sliced
Ginger 1 tsp grated
Fresh 
Yogurt
 1 cup smoothly whisked
Salt to taste
Oil 2 tsp
To Temper
Oil 1 tsp
Mustard seeds 1 tsp
Cumin seeds 1 tsp
Urad dal 1tsp
Curry leaves a sprig
Notes:
1. You can skip using sweet peppers if you dont have them on hand. Try tossing in some bell peppers instead.
2. You can also use greek yogurt in place of regular yogurt.
3. This raita also tastes great when served cold. So it makes for a fabulous make ahead option.
Directions
Heat oil in a pan.
Add ginger sweet peppers and saute for a min.
Immediately toss in the zucchini and saute till it becomes fork tender. Takes 3 to 4 mins on high flame but make sure you keep stirring or it may burn.
Once done, let cool.
To the whisked yogurt, add the sauteed zucchini and peppers along with salt.
Mix well.
Heat 1 tsp of oil in a pan.
Add mustard seeds and once they crackle, tip in the cumin seeds, urad dal and curry leaves.
Once the dal turns light brown, add this mixture to the yogurt.
Mix well.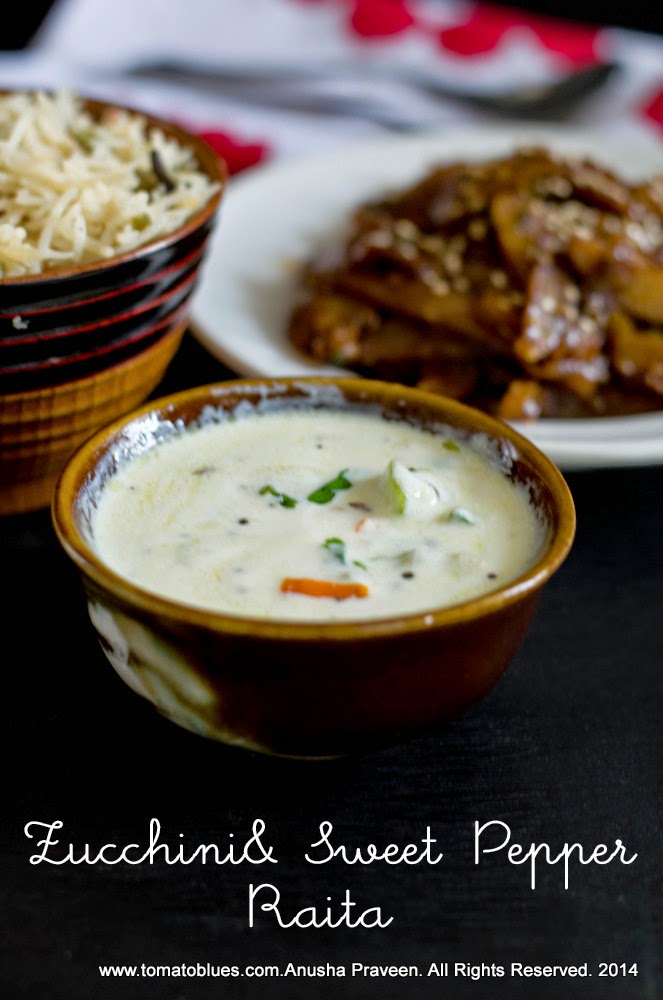 Serve immediately.