HOW TO MAKE CURD SEMIYA?
Curd Semiya- Vermicelli in chilled yogurt, tempered and garnished with nuts and fruits.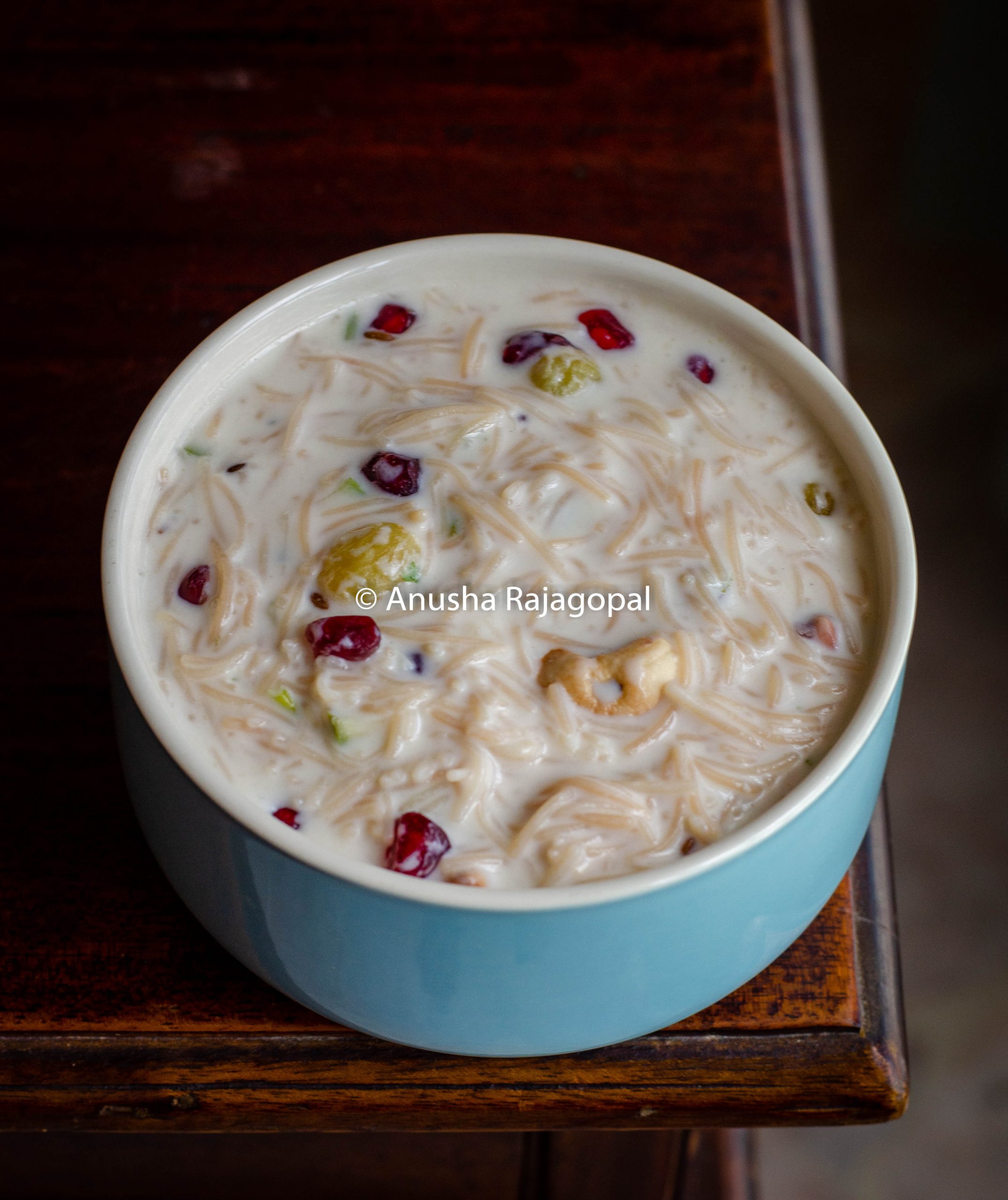 Why should you try Curd Semiya?
Let me bring you upto speed with 3 reasons. In no particular order though..
Because it has fruits and nuts.
Because its got yogurt ( think probiotic)
Because its insanely delicious on a hot summer day.
You are welcome 😀
What is curd semiya?
Curd rice with Semiya
Can I say so? I guess i can. My love affair with this humble yet very gratifying dish began when i was in grade 8. It all began when i decided to order a plate of Thayir Semiya at Annapoorna. And there has been no looking back ever since.
Creamy yogurt, Vermicelli cooked till just right, crunchy cashews, a sweet bite or two in the form of pom pearls and raisins and a spicy lemon pickle by the side. This can only translate to heaven, right?
Jump to:
Making the creamiest Thayir Semiya
Curd semiya is called as Thayir Semiya in Tamil. Semiya refers to Vermicelli. And Thayir refers to yogurt. Vermicelli is also called as Sevaiyyan in Hindi. Now, while this looks like quite uncomplicated, there are a few elements that have to be done right to get the creamiest Thayir Semiya.
Cooking Vermicelli or Semiya
The key ingredient in this recipe is the vermicelli. For the uninitiated, Vermicelli is an Indian style pasta and come in noodles. Make sure you choose thin roasted vermicelli for making Curd semiya.
I use Bambino roasted vermicelli to make mine and i strongly recommend the same. If you are not able to source Bambino, any roasted vermicelli will work.
Roasted vermicelli vs Unroasted vermicelli
How to differentiate between the two? You may ask. Roasted vermicelli is usually a beautiful golden color while the unroasted vermicelli is white or almost beige in color.
Be sure to read my recipe notes to know why roasted vermicelli is recommended and what to do if you dont find roasted vermicelli.
Yogurt – Thayir
It is not called Thayir semiya for nothing! The next key ingredient in this recipe is Yogurt. Make sure that you use fresh yogurt with a slight hint of tang. Sour yogurt does not favor Thayir semiya well. Also, make sure to whisk the yogurt till smooth before adding it to the vermicelli.
You can check how to make your own yogurt at home here- Making your own yogurt at home
Recipe Notes
Cooking the vermicelli to the right consistency is very important in this recipe.
Washing the vermicelli in cold water after it is cooked helps in removing the starch. This prevents clumping up once the dish becomes cold.
You can skip the nuts to make a nut free Curd semiya version.
If you are making this for kids, avoid chopping the green chilis finely. Instead, slit them vertically and add them.
I don't recommend frying the green chili and curry leaves because this make the Thayir semiya bitter.
Make sure the cooked vermicelli is cool before adding yogurt
Serving Suggestions
This is a fantastic dish to bring to a potluck or to serve up at party. Pair this with a spicy lemon pickle and you will be good to go!
This is also a great weeknight dinner idea for a hot summer day. Makes a great lunch too when served with a light salad by the side.
Some Salad Recipes
Semiya Bagala Bath- FAQs
Why is my curd semiya bitter?
Curd semiya can taste bitter if you add the yogurt to cooked vermicelli that is still hot. Using used oil for tempering the dish can also make it bitter.
Why is my semiya lumpy? How can i fix lumpy Semiya?
Semiya or vermicelli has starch in it. So the best way to cook vermicelli is in lots of water just like you do, pasta. Also, make sure to wash the cooked vermicelli in cold water and letting it drain fully before using it in the main dish.
Why is roasted vermicelli used in Semiya based dishes?
Roasted vermicelli does not form lumps after being cooked. So this is the best choice.
I don't have roasted vermicelli. Can i use unroasted vermicelli to make Curd semiya?
Yes! But before using it, you have to roast it. Heat a heavy bottomed pan. Add the vermicelli and roast it on low flame by stirring frequently. Roast till the vermicelli turns golden evenly. This can take anywhere between 10 to 25 mins depending on the quantity of the vermicelli. Never roast vermicelli on high flame. It burns quickly.
Prep Work/ Meal Planning Ideas
I suggest keeping the pomegranate pearls ready beforehand. You can do this upto 2 days in advance.
You can set the yogurt 2 days in advance and keep it refrigerated till ready to use.
You can also cook the vermicelli according to the recipe instructions and keep it refrigerated. Store cooked vermicelli in an airtight glass container like Pyrex. You can do this the previous night. When you are ready to assemble the Curd semiya, allow the vermicelli to come to room temperature. Wash with some warm water and fluff it up gently. The vermicelli will then be ready to use.
Making Curd Semiya or Thayir Semiya Step By Step
Cooking the semiya
Add the vermicelli, salt and water to a pan. Cook this on medium flame, stirring often to avoid the vermicelli from sticking to the bottom. Cook till the vermicelli is tender. You will know when it s done when it starts giving out a nutty aroma. This takes about 4 to 7 mins.
Once done, drain this in a colander, wash it under cold water and let it cool.
Mixing in the milk and yogurt.
When cool, add the milk and whisked yogurt along with the salt to the cooked vermicelli. Mix well.
Adding the tempering with nuts and fruits.
Heat a pan with ghee. Add cashews and fry till golden. Drain and set aside. Now add the raisins and fry till they are plump. Drain and set aside. To the same pan, in the remaining ghee, add the mustard and cumin seeds along with the hing.
When the seeds splutter, add the tempering to the curd semiya. Add the curry leaves, green chilis, coriander leaves, raw mango pieces and pomegranate pearls.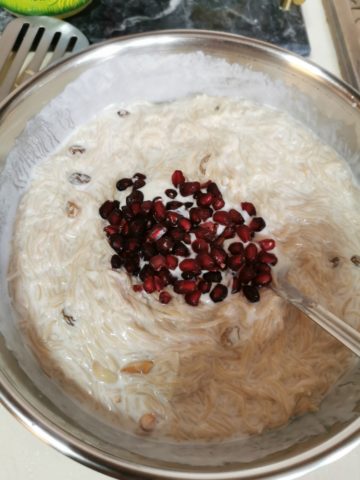 Mix well and chill until ready to serve.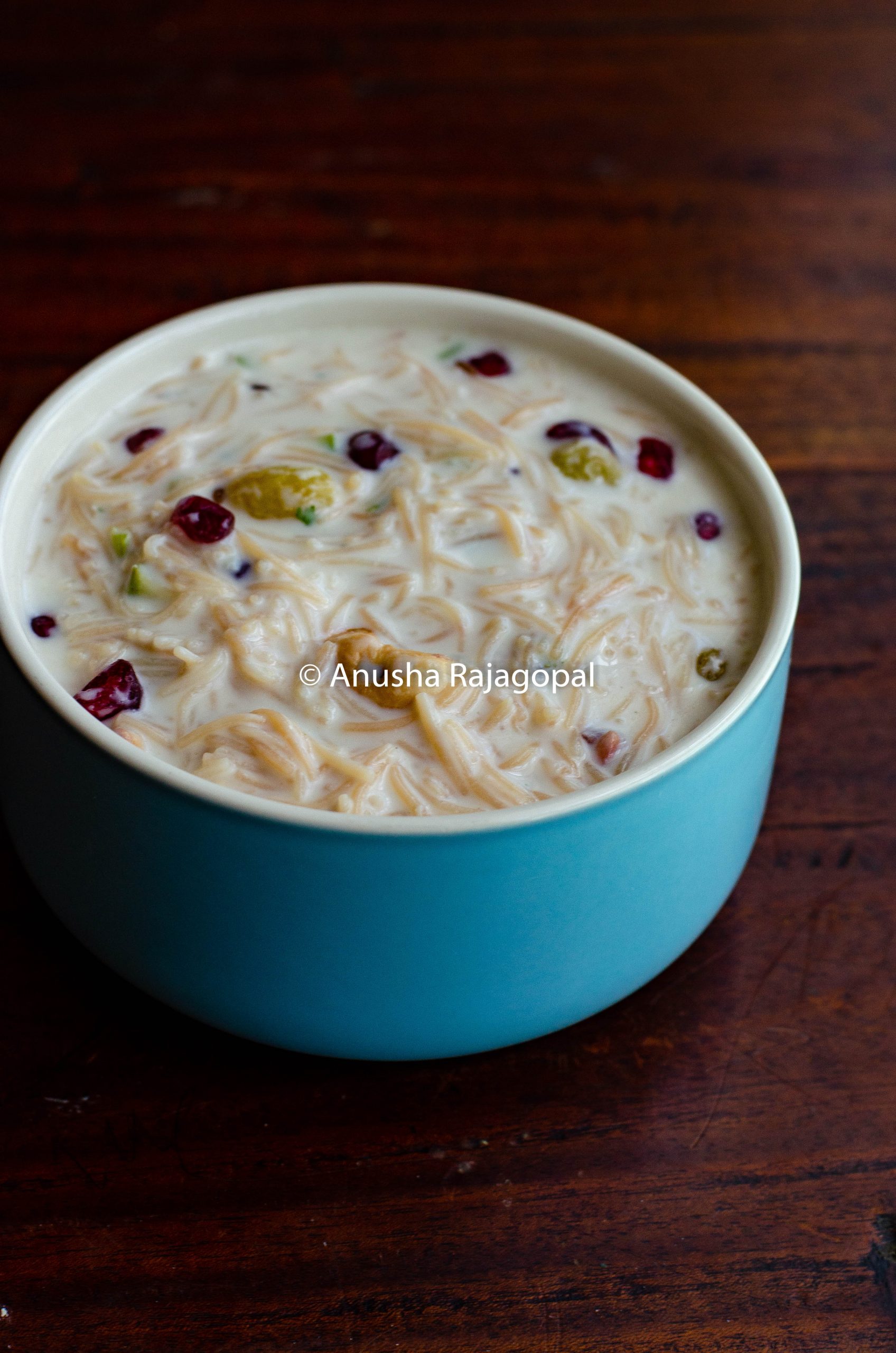 In case you have any questions regarding this recipe, leave a comment and I'll respond at the earliest possible. If you tried this recipe and enjoyed it, click a picture and share it on Instagram by tagging us @tomatoblues.
Follow me on Instagram or Facebook for regular cooking updates and short videos. Follow me on Pinterest for delicious content. Tried our Thayir Semiya recipe? Then please rate this recipe and tell us why you loved our recipe!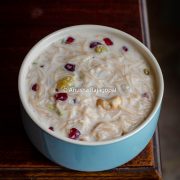 Print Recipe
Curd Semiya
Curd semiya also called as thayir semiya – Vermicelli in yogurt, tempered with spices and garnished with toppings like raisins, cashews and pomegranate pearls
Ingredients
Cooking the vermicelli
1

c

Vermicelli

3

c

water

1

tsp

Salt
For the curd vermicelli
2

c

Smoothly whisked Curd

1/2

c

Water or chilled milk

1.5

tsp

Salt or to taste

1

tbsp

Finely chopped green chili

1

tsp

Finely chopped curry leaves

2

tsp

Cilantro chopped finely 2 tbsp

2

tbsp

Pomegranate pearls

optional but highly recommended

1.5

tbsp

Finely chopped raw mango
For tempering
1

tbsp

Ghee

1

tbsp

Broken cashews

1

tbsp

Raisins 1tbsp

1

tsp

Cumin seeds

1/8th

tsp

Hing a small pinch

1

tsp

Mustard seeds
Instructions
Add the vermicelli, salt and water to a pan.

Cook the vermicelli till tender.

Once done, drain in a colander and wash the vermicelli thoroughly under running water.

Whisk the curd well and mix with the milk and add to the vermicelli and combine well.

Add salt and mix well.

Add the broken cashews and fry till golden. Drain and set aside.

Now add the raisins. Fry till they just plump up. Drain and set aside.

To the remaining ghee, Add mustard seeds, cumin seeds and wait for them to splutter

Add this to the curd vermicelli mixture.

Mix well.

Add chopped coriander, green chili, raw mango, curry leaves and pomegranate pearls to the mixture.
For Instant Pot & Air Fryer Recipes
Instant Pot timings may vary based on your geographic location. Air fryer settings and timings may vary based on the capacity and the model of the Air fryer.
Disclaimer
Nutrition values are provided here as a courtesy and are only a rough guide. Please consult a health care provider if you have any concerns.
P.S. This recipe was originally published in October 2011. This has now been updated with fresh pictures and recipe card after retesting the recipe multiple times.