Avocado Lassi is a delicious Indian style yogurt drink. Think of this Lassi like a avocado yogurt smoothie but only better because it tastes like dessert. And who can resist dessert for breakfast, right?
Come join us on Pinterest to find delicious pins.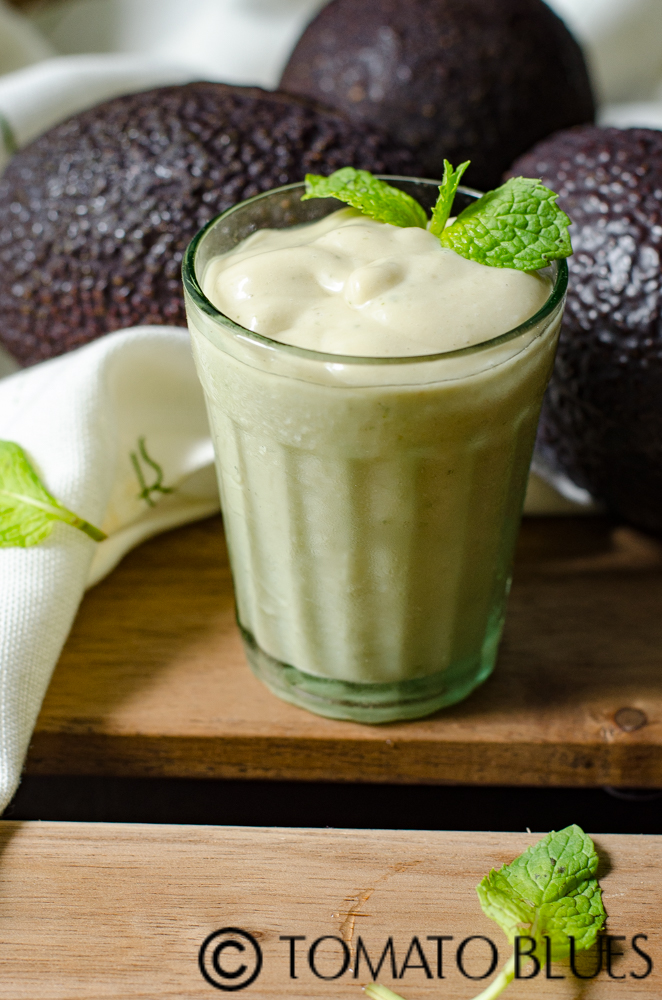 This Indian style avocado Lassi is a revelation of kinds to me. While I have always added avocados to smoothies, it had never stuck my mind to make lassi with avocado previously. Well, i guess there is a first time for everything. During my college days, I used to have avocado juice or butter fruit juice from a nearby juicing stall. I can say this Lassi is inspired by that.
Jump to:
An avocado is a powerhouse of nutrition, especially for kids and youngsters. We call avocado "butter fruit" in Bangalore, probably because of its texture. This fruit lends body to any dish to which it is added without changing the taste significantly. It is for this reason that I like to use avocado in my smoothie bowls and smoothies.
Avocado Mint Lassi
Like I mentioned before, avocado by itself lacks any taste or flavor. So in order to give this lassi a good flavor boost, I added some mint leaves and a splash of orange blossom water along with lemon juice. And I must say the combination was fantastic.
Just a word of caution though- a very small amount of orange blossom water goes a long way so do not add more of it than the recipe calls for. I used homemade yogurt to make this lassi.
Vegan Lassi
This is a naturally gluten free recipe and you can easily make this recipe vegan. Use cashew yogurt and cashew milk in place of the regular Dairy milk and yogurt for a vegan lassi. 
Ingredients
Avocado
Use any ripe avocado for this drink. My favorite avocados are the Hass avocados. I love the fact that this Indian style avocado juice recipe does not feature any bananas. These days, I m looking for banana free smoothies and this is just perfect.
Yogurt
This is a very forgiving recipe. You can use greek yogurt, low-fat greek yogurt, just plain yogurt or even low fat yogurt to make this. The more the fat your yogurt has, thicker and creamier the Lassi.
Milk
Traditional Indian style lassi recipes dont rely on milk. This is because there usually is no fruit added, with the exception of mangoes. Mango lassi is a wildly popular version of Lassi. However, this recipe calls for milk. We will be adding milk to adjust the consistency of this drink. Both regular milk and low-fat milk work well.
Aromatics
My latest love is orange blossom water. I love adding it to smoothies, juices, lemonades and even to my Biryani and Pulao. It goes without saying that I add it to my desserts and adding some to this Lassi was a no-brainer. Orange blossom water has a mild but beautiful flavor. 
Fresh mint again adds freshness to this drink. If you are not a fan of mint, add sweet basil or sage! Not traditional for a lassi but both are amazing in terms of flavors.
Sweeteners
Since I was aiming to give a fusion spin to a traditional drink, I stuck to adding sugar. Other sweeteners that you can consider include honey, maple syrup, agave and coconut sugar.
Make ahead- Shelf life
If you plan to serve this Lassi for a party, then you can make this the previous day and keep it refrigerated. This keeps well in the fridge for two days.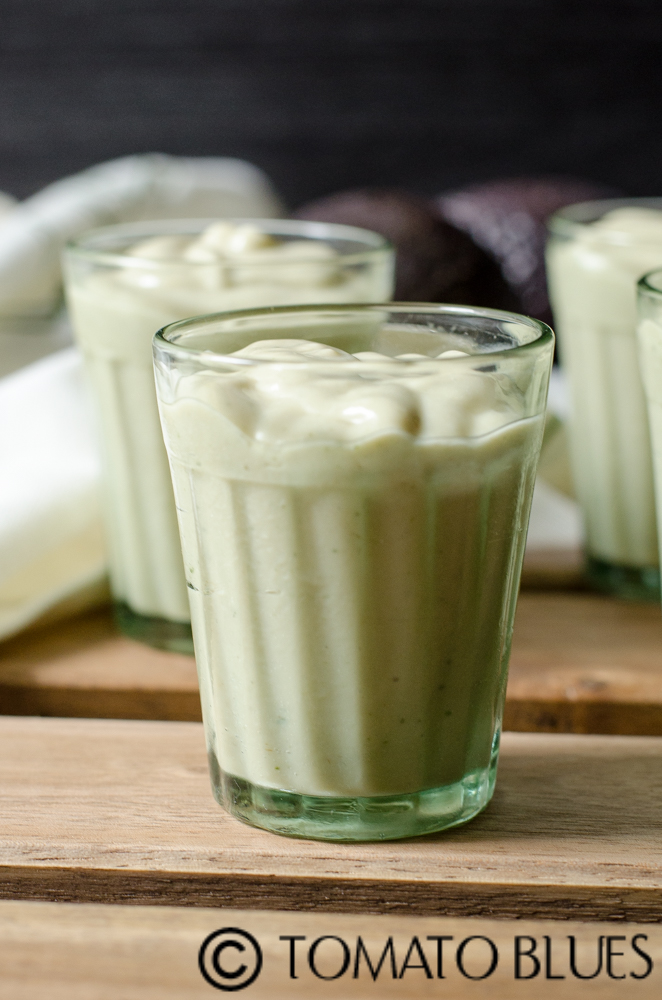 Ways to serve 
If there is one thing that I love doing, it is experimenting how to serve one dish in many ways. This easy avocado yogurt smoothie is a delight in that sense.
In a smoothie bowl
Use this creamy lassi as the base for your smoothie bowl. Make it a breakfast treat by topping it with fruits, berries, nuts, seeds, granola and a scoop of your favorite nut butter.
As a layered dessert
Skip the milk in this lassi and blend it to a thick drink. Make a biscuit base by combining crushed digestive biscuits and butter. Press this biscuit mixture at the bottom of a glass jar like how you would for a no bake cheesecake. Add chopped mangoes or berries over the biscuit layer. Add the lassi over the fruits. And you have a beautiful layered dessert ready. 
Dessert shots
This creamy Lassi is dense and heavy. You can serve this silky, smooth Lassi in shot glasses as dessert. Top them with crushed pistachios or other nuts like almonds and cashews. And serve chilled.
Variations
Add some cubed mangoes

along with the avocado to make some avocado mango lassi. Lip smacking good!
If you are not a fan of mint, I suggest adding just cardamom and a splash of rose water. This tastes just as delicious too.
Since avocado itself is rich in fats, try not to add greek yogurt. Instead, choose low fat greek yogurt which is great for making this Lassi creamier.

Make it savory.

Yes, this recipe is a sweet lassi recipe. But you can make a savoury lassi by blending avocado, yogurt, 1/2 cup water, mint, green chilies and salt along with lemon juice. Blend till smooth and the savory version is ready.
Recipe Notes
This recipe is a

great way to use up that over-ripe avocado

, you know, the ones that have a patch of brown or two? But try to avoid fully discolored avocados. When choosing avocados, make sure they are ripe. They should feel squishy when you press them gently with your palms and should look greenish brown.
If you are wary about the sugar added, you can always

use maple syrup, agave or coconut sugar.

Adding coconut sugar will change the color of the Lassi but taste will remain the same.
Feel free to replace the orange blossom water with vanilla or rose water
Method
Pit the avocado and scoop the flesh out. Place the avocado, yogurt, 1/2 the milk along with the other ingredients in a blender. Blend till the lassi looks creamy and evenly blended . If you find the lassi too thick, add the remaining milk and blend again to adjust the consistency.
Serve chilled or over ice.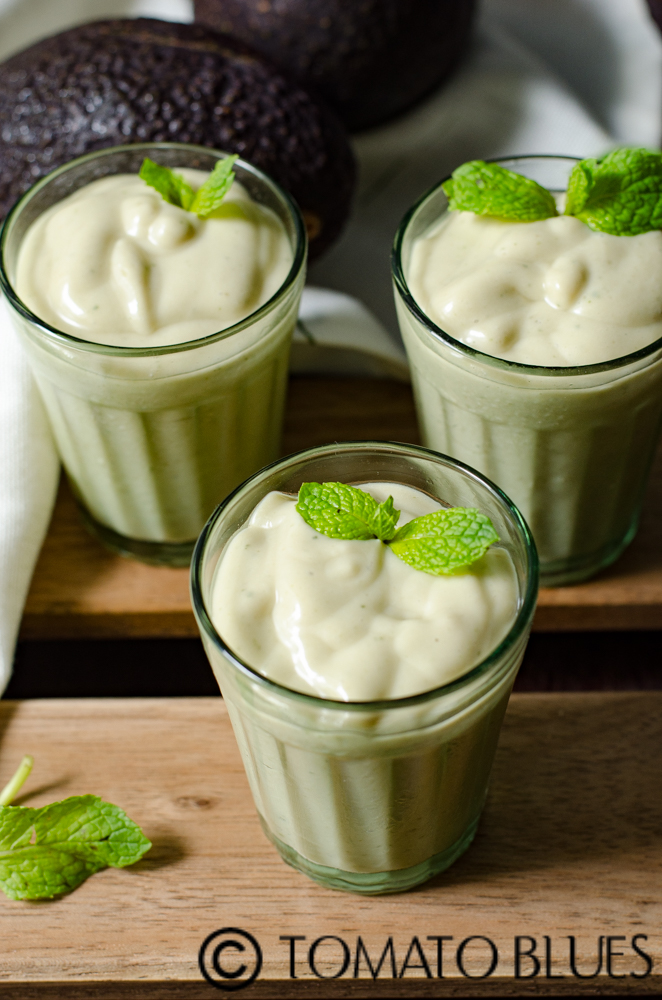 Follow me on Instagram or Facebook for regular cooking updates and short videos. Find us on Pinterest for delicious content. Tried our Avocado lassi recipe? We value your thoughts and comments! Please rate this recipe and tell us how it worked for you. Email us your questions to anusapraj@gmail.com if you need any guidance in making this recipe.
More Avocado Recipes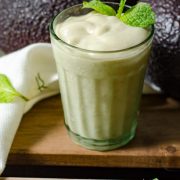 Print Recipe
Avocado Lassi Recipe
Avocado Lassi – a creamy yogurt based drink made with fresh homemade yogurt and avocados. Makes a great breakfast drink or even works well as a dessert
Ingredients
Avocado 1 largish pitted

Mint leaves 5

Orange blossom water 1 tsp

Lemon juice 1 tbsp

Sugar 4 tbsp

Fresh homemade yogurt 3/4 c

Chilled milk 1/4 c
Instructions
In a blender place all the ingredients and blend till smooth.

Serve cold over ice cubes if desired.
For Instant Pot & Air Fryer Recipes
Instant Pot timings may vary based on your geographic location. Air fryer settings and timings may vary based on the capacity and the model of the Air fryer.
Disclaimer
Nutrition values are provided here as a courtesy and are only a rough guide. Please consult a health care provider if you have any concerns.
Explore more breakfast smoothies