How To Make Chocolate Almond Chia Granola Easily At Home?
Chocolate Almond Chia Granola is an easy granola recipe that uses simple ingredients and can be made easily at home. Vegan. DIY.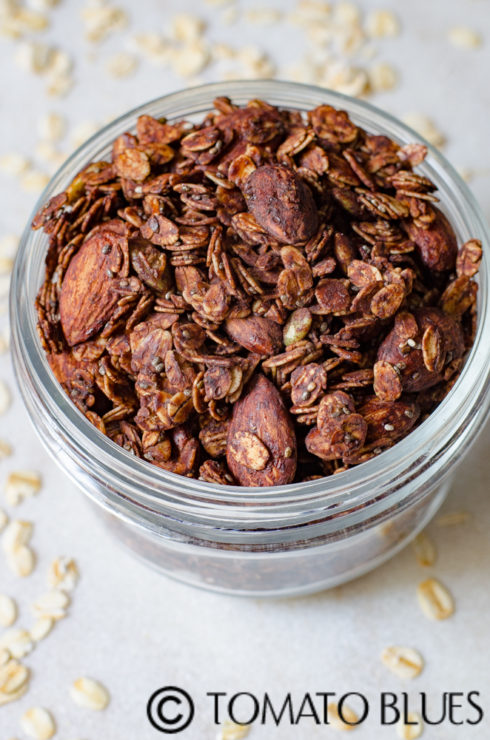 Chocolate Almond Chia Granola is my go to breakfast these days. Add some cold milk, slice up a fruit and scoop up some of this chocolate almond chia granola and my day looks brighter than it just did when i woke up. Why? Because this has chocolate and almonds and chia and old fashioned rolled oats. But mainly because it has chocolate and almonds. The almond is the single most liked food in the Praveen household. We are hungry, we reach for a fistful of almonds. Want a snack, then pop some almonds in the microwave, toast them all up and begin munching. That is how much we love almonds. Back to the chocolate almond chia granola, Mr.P doesn't eat a big breakfast these days. He carries a light sandwich mostly. So i make a batch of granola to tide me over in the mornings. My breakfast is usually very late, say around ten in the morning. So i prefer a breakfast that is not too tedious to make and yet something that will keep me going till late in the afternoon. That is probably why granola is my favorite breakfast these days.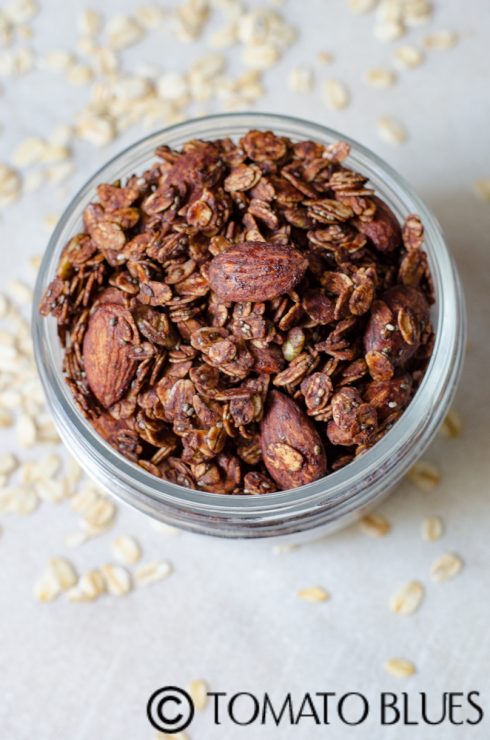 While i do love the traditional granola recipes, i wanted something chocolate a while back. And i decided to just combine all my favorite breakfast things in one recipe starting from the old fashioned oats to maple syrup. This chocolate almond chia granola uses coconut oil. It is sugar free and has maple syrup for a sweetener. In case you dont have access to maple syrup, feel free to use honey or golden syrup. I used Hershey's dark cocoa here but i believe any unsweetened cocoa should work like a charm here. You can pretty much add or subtract almonds or chia in this recipe and replace it with nuts and seeds of your choice. This chocolate almond chia granola is a vegan recipe and keeps well in an airtight container for about 10 days.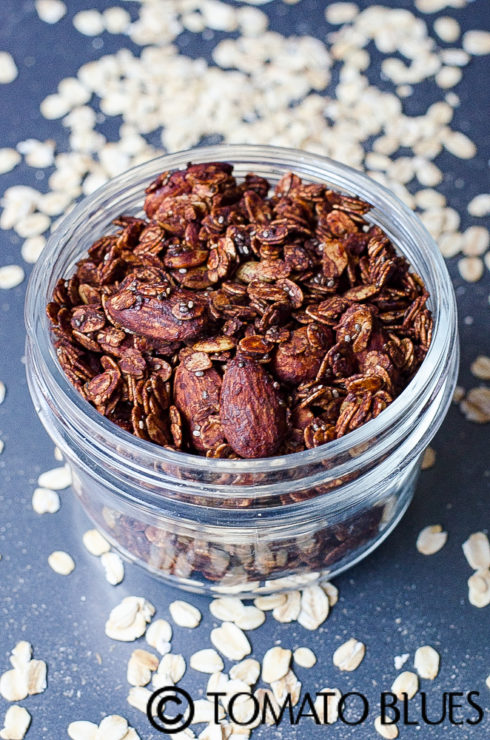 Recipe for Chocolate Almond Chia Granola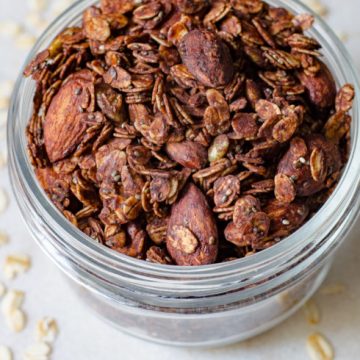 Chocolate Almond Chia Granola Recipe
Chocolate Almond Chia Granola is an easy granola made with old fashioned oats and uses maple syrup as a sweetener. Vegan. Tastes great with chilled milk (dairy/ non-dairy)
Ingredients
Old fashioned rolled oats 1 cup

Almonds ¼ cup

Chia seeds 2 tbsp

Pepita

Pumpkin seeds 2 tbsp

Maple syrup 2 tbsp

Coconut oil melted 2 tbsp

Cocoa powder 2 tbsp
Instructions
Preheat oven to 200 C.

In a large mixing bowl, combine maple syrup, coconut oil and cocoa. Whisk well.

Add the remaining ingredients to the bowl and gently toss making sure that the oats and nuts are well coated with the cocoa mixture.

Spread on a baking tray evenly, breaking down clusters with a spatula or spoon.

Bake in the preheated oven for 10 mins.

After 10 mins, toss the granola around, spread evenly and continue to bake for another 10 mins.

Let cool completely.

Store in an air tight container and use as required
Pin This Recipe
Pin this recipe and save for later