How To Make Couscous Tikki?
COUSCOUS TIKKI- DELICIOUS SHALLOW FRIED PATTIES MADE WITH COUSCOUS & ZA'TAAR. VEGAN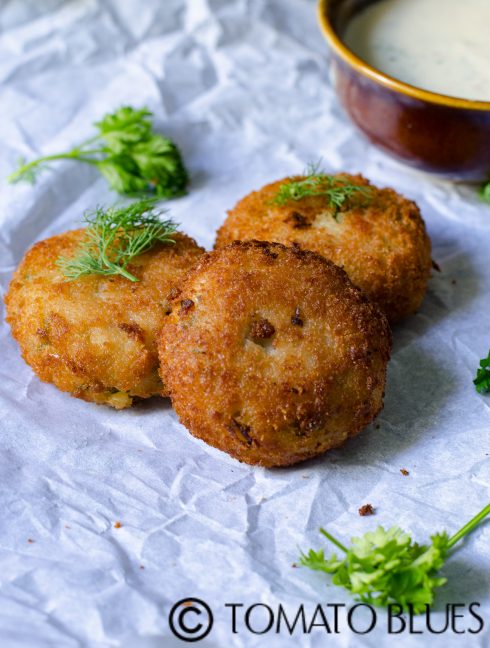 Couscous tikki is one of those party hits that you can make for your Iftaar parties. Well, the bliss in eating a good couscous tikki need not be limited to an Iftaar party alone.  You can simply make these tikkis when you crave some fried food during this monsoon season. I love giving a desi touch to global foods. While i do enjoy a good tabbouleh replete with nuts and such, my Indian roots always tend to look for some heat in any savory dish that i eat. It is for this reason that i cannot relish wine with cheese. I prefer some crispy pakoda or a good bajji if i must drink wine. Strange but true.
So i often use ingredients that i may have purchased for other dishes in a very Indian way. And that is exactly what happened to that 1/4 container of pearl couscous. Unlike regular couscous, pearl couscous takes some time to cook. It has to be cooked in boiling water for 10 mins and allowed to stand for a few mins before usage. But i found that this pearl couscous works well as a substitute for pasta because of its chewy texture. After i had successfully made upma (see, i told ya. I love adding a desi twist to a non desi ingredient), i decided to make something in tune for Iftaar and Monsoons.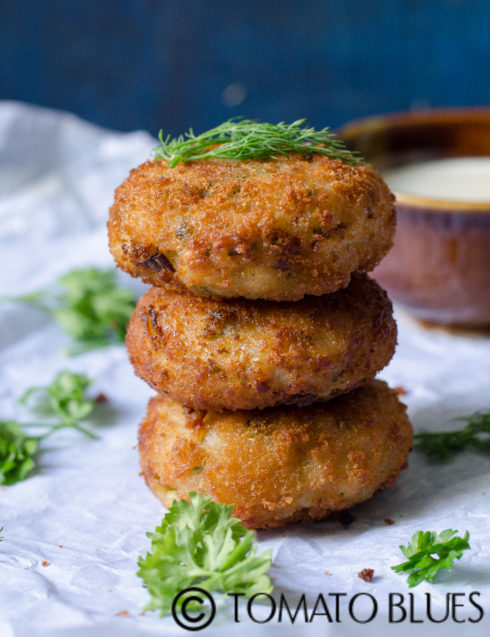 The moment the thought of monsoon hits my head, i m transported to the wonderful land of fried food.  😆 My peerkangai bajji has been a huge hit here on the blog. So this time, i wanted to do some frying but with some ingredients that i had not worked with before. I used za'atar spice, parsley and some chili flakes to flavor these tikkis. The potatoes were added for binding because i was really not sure if the couscous would hold well on its own. All in all, this couscous tikki lifted up our moods on a gloomy saturday evening a few weeks back. If you live in India and you want to buy some good quality pearl couscous, then Godrej's Nature Basket Website has plenty of options. You can always substitute the zaatar here with your choice of spice mixes.
Recipe For Couscous Tikki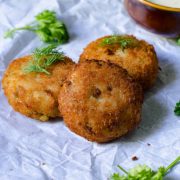 Print Recipe
Couscous Tikki Recipe For Iftaar
Couscous Tikki- Shallow fried patties made with pearl couscous, zaatar and herbs. Tastes great as a snack or appetizer.
Ingredients
Pearl couscous 1/2 c

Potato 1 medium peeled and boiled till mushy

Onion 1 small chopped very finely

Parsley 2 tbsp minced

Dill leaves 1 tbsp chopped finely

Ginger garlic paste 1 tsp

Red chili flakes 2 tsp

Za'atar 1.5 tsp

Lemon juice 1 tbsp

Salt to taste

Maida/ APF 1 tbsp

Water 1/4 c

Bread crumbs 1/2 cup

Oil for shallow frying
Instructions
Cook couscous according to package instructions. Let cool completely.

Once cool, add cooked potato, onion, dill, parsley, za'atar, chili flakes, ginger garlic paste, lemon juice and salt to the couscous.

Using the back of a ladle, mix well until the potato and the couscous incorporates into a rough looking dough. The mixture will be sticky. Use your hands if necessary but make sure to grease your hands with oil.

Once done, divide the mixture into 8 using a scoop.

Shape each scoop into a thick disc.

Mix maida with water to form a thick batter.

Dip each patty in the maida mixture ensuring that it is well coated

Now roll each patty in the bread crumbs making sure that the crumbs coat the tikki evenly on all sides.

Once done, place all tikkis on a baking sheet and refrigerate for 2 hours.

After two hours, heat oil in a shallow pan.

Place tikki in batches and fry till golden brown. Make sure you turn the tikkis while frying to ensure even frying.

Drain on a kitchen towel.

Serve hot with any dip of choice.
For Instant Pot & Air Fryer Recipes
Instant Pot timings may vary based on your geographic location. Air fryer settings and timings may vary based on the capacity and the model of the Air fryer.
Disclaimer
Nutrition values are provided here as a courtesy and are only a rough guide. Please consult a health care provider if you have any concerns.