What is this Mojili? Well, i ll tell you all in a while. In the meantime, lets talk dessert. Unlike many of those nice well meaning people ( ahem) out there think, i m a very very very dessert person. I m such a huge dessert person that i may skip eating the main course and dive into dessert heads on. You get my point, don't you? Just because i m wafer thin( well, not wafer but lets say a slice of bread thin) and just because i have a metabolism of that of a nuclear reactor does not mean i don't enjoy desserts. For instance, if you happen to see me at a buffet, you will definitely find me near the array of desserts, seriously contemplating on which one to eat and which one to ditch. So yeah, i guess we have talked enough dessert.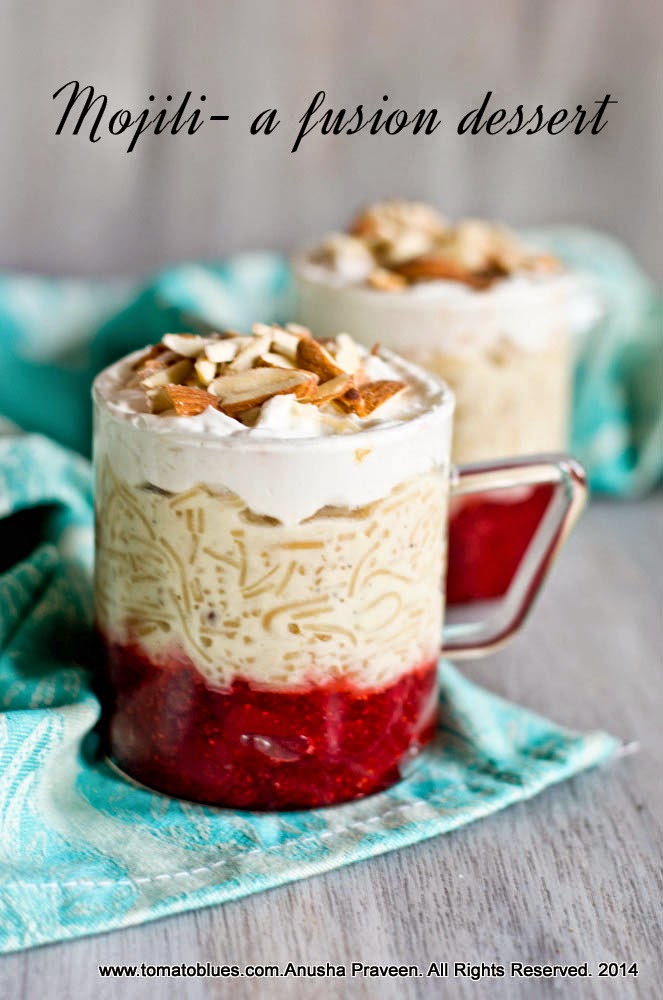 Now for Mojili. This is a recipe that i created for the Mother's Recipe Innovative Recipe Challenge contest. After racking my brains for about a week, Mr.P named it  Mojili. We thought of and deliberated on so many other 'lis" but this sort of stuck. We both liked it. I ll tell you some other time how the name Mojili evolved. That s for another day, another post. But for today, lets learn how to make and eat some Mojili.
The nice folks at Mother's Recipe sent me a packet of their vermicelli payasam. Payasam is nothing but kheer in tamil. Now, because i did not want to experiment with their various curry and rice bases and because i really really craved for some soul satisfying dessert, i decided to come up with something using that packet. Mojili is a layered dessert that uses various components including the payasam. But i have given my own touch to the regular payasam too. So the next time, you plan a party, please consider Mojili as one of your desserts.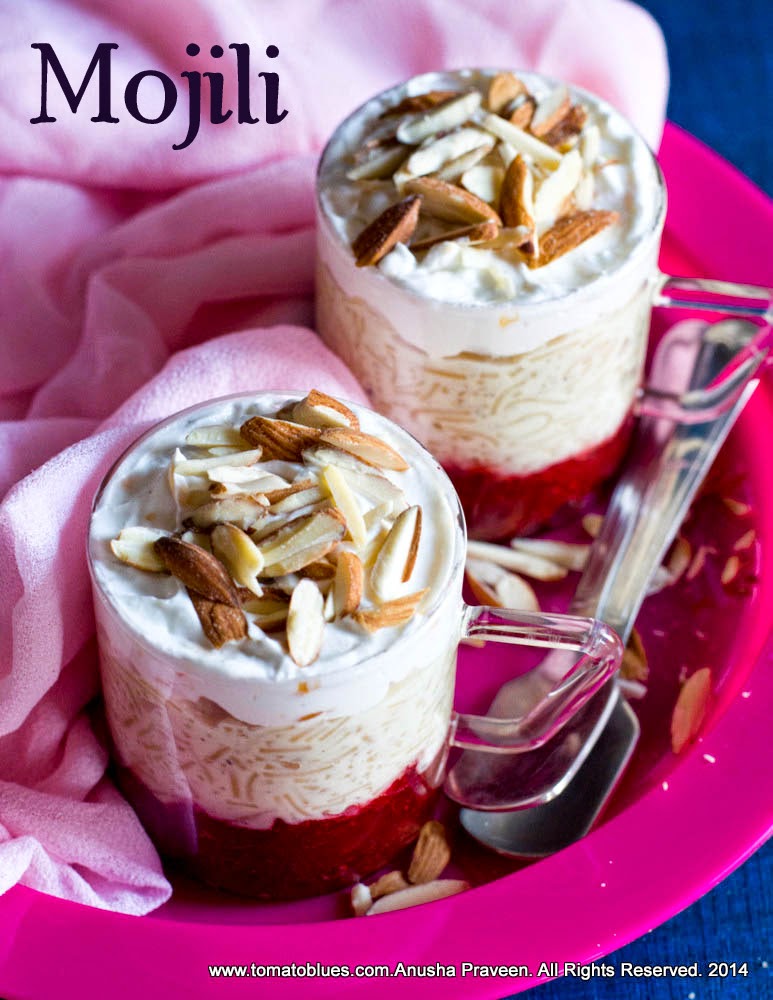 Recipe For Mojili, A Dessert With A Twist
( Learn how to make Mojili, a layered dessert with vermicelli kheer and other components)
Prep Time: 3 hours including chilling time
Cook Time: 20 mins plus 10 mins 
Serves 2
Allergy Info: Soy free
Course: Dessert
Cuisine: Fusion

Ingredients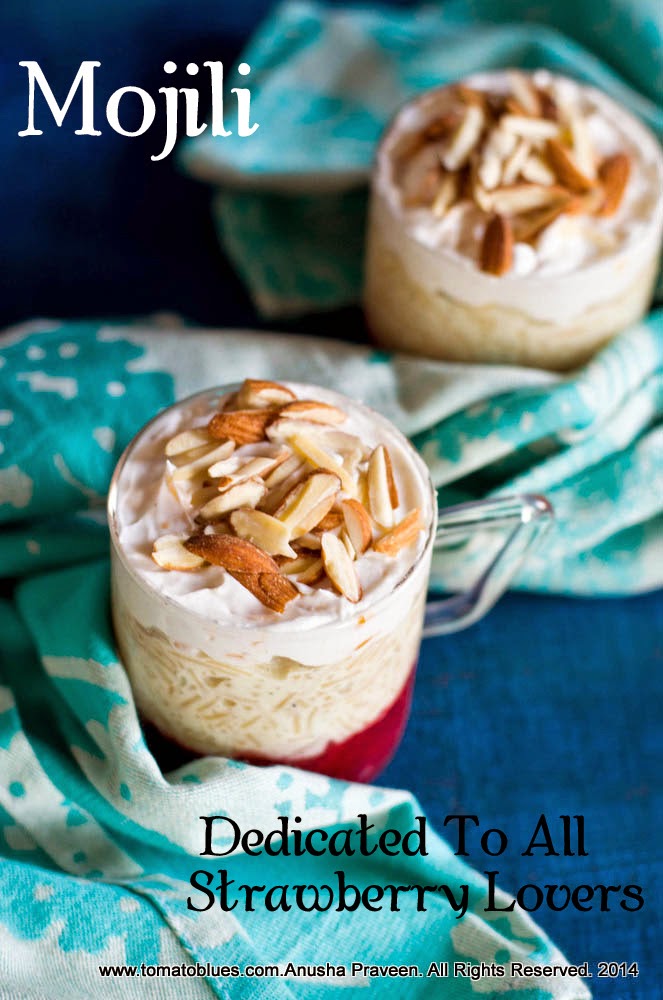 Mother's Recipe Vermicelli Kheer 1/2 packet
Whipping cream 1/4 c
Banana 1 medium sliced thinly
Orange 1 medium segments divided and seeds removed
Orange zest 2 tsp
Tender coconut flesh 1/2 c chopped into bits
Coconut essence 1/4 tsp
Vanilla extract 1/2 tsp
Strawberry Compote 1/2 c ( Click here for the recipe)
Slivered almonds 3 tbsp for garnish
Notes:
I used ready made Blue Bird Whipping cream here as i cant find whipping cream where i live
You can use any nuts of your choice in place of almonds.
You may also add other fruits like pine apple and apple too.
For strawberry compote recipe, click here
I found that the dessert tastes much nicer the next day as the flavors all come together beautifully while it chills.
Directions
In a pan, bring to boil 1 c of milk.
Add the vermicelli payasam mix into this and stir well.
Reduce the flame to a medium high and cook till vermicelli is cooked.
Add the coconut essence and the vanilla to this and mix well.
The mixture will be semi solid at this stage.
Switch off flame and let cool.
Once a bit warm, add the tender coconut bits and mix well.
Let cool completely.
In the meanwhile, whip the cream until soft peaks form.
To the whipped cream, add orange zest, orange segments and banana slices and mix well.
Chill for about 10 mins.
While the cream chills, prepare the strawberry compote if you havent already done so and let that cool down.
To assemble Mojili, take two tall glasses.
Place 1/4 of the compote at the bottom of the glass.
Next add  half of the vermicelli kheer carefully taking care not to disturb the layer of compote.
Finally, take out the whipped cream mixture and add half of it as the top most layer.
Top with 1.5 tbsp of slivered almonds
Let chill for an hour and a half or two.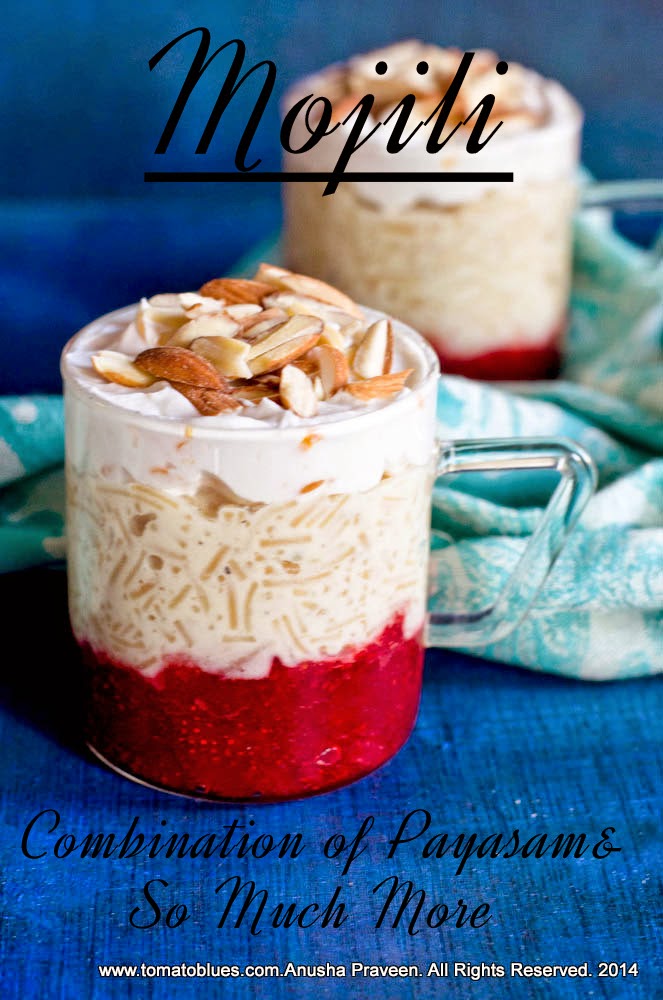 Serve cold.
For further details about Mother's Recipe Innovative Recipe Challenge, Visit the following links-
http://mothersrecipe.com/ 
https://www.facebook.com/imissmymothersrecipe?fref=ts