Vegetarian meal plan 3 is here with fresh, easy and quick meals for the summer. I cannot believe that this is the third meal plan I m sharing here. Little did I know that I would get hooked to this.
In this weekly vegetarian meal plan 3, I have some easy Instant Pot recipes. If you do not have an Instant pot, you can always make these recipes in a regular stovetop pressure cooker. We will also be rustling up healthy salad meals this week.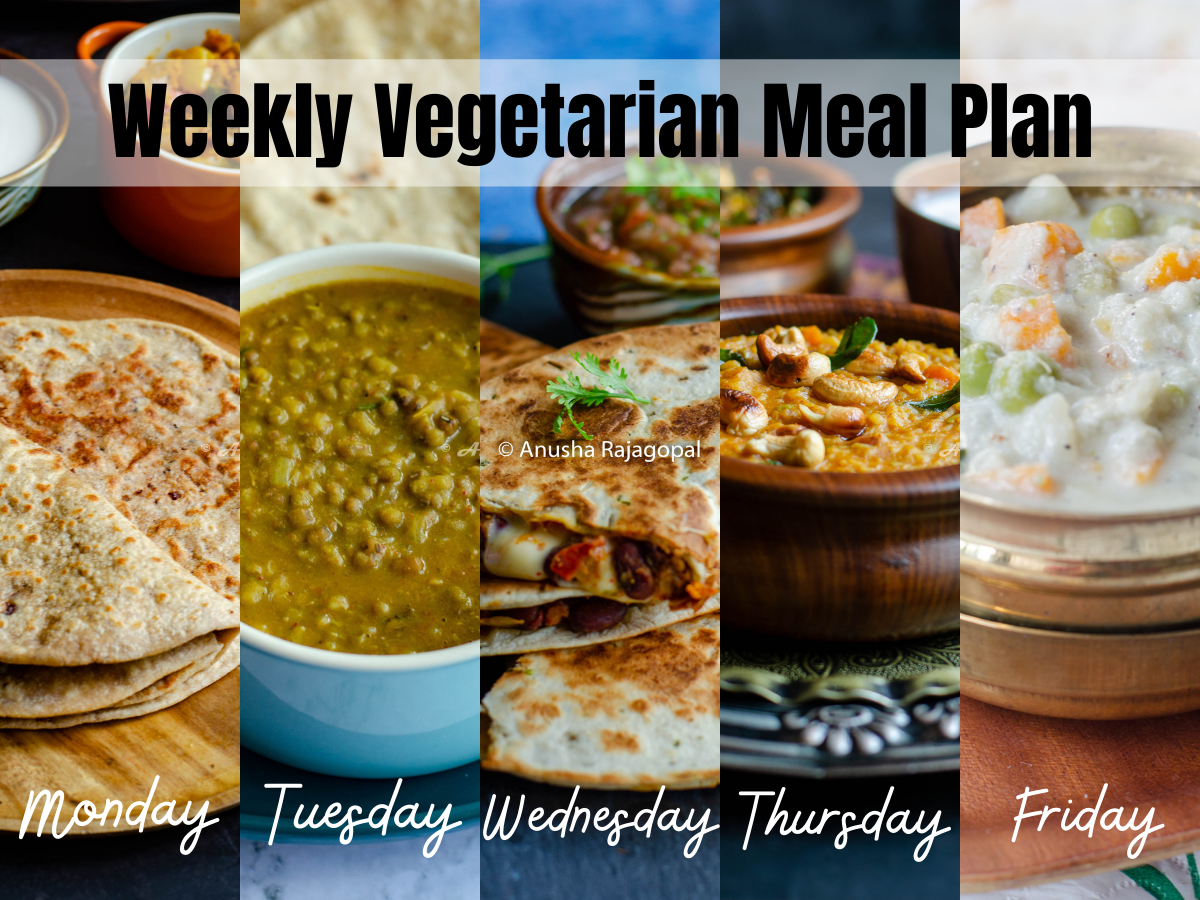 This week's meals
Monday
Breakfast- Toast, blueberry chia smoothie
Lunch- Rajma Paratha,yogurt
Dinner- Sponge dosa, Chana Ghashi
Tuesday
Breakfast- Bread upma, Chai
Lunch- Rice, Instant Pot Green Moong Dal , carrot kosambari
Dinner- Akki rotti, Coconut chutney
Wednesday
Breakfast- Mapillai Samba Adai, Jaggery and Tomato Chutney
Lunch- Barley Salad, Aloe vera lemonade
Dinner- Rajma quesadillas
Thursday
Breakfast- Sponge dosa , leftover chutneys
Lunch- Instant pot Bisi Bele Bath, mixed vegetable raita
Dinner- Mapillai Samba Adai, Yogurt
Friday
Breakfast- Toast, Mango milkshake, nuts
Lunch- Chapati, Vellai Kurma
Dinner- Multigrain Thalipeet, Yogurt
Download this week's vegetarian meal plan here
Prep work
On Sunday night
Make the batter for Sponge dosa and Mapillai Samba Adai.
Soak rajma and chickpeas.
Grate coconut and freeze.
Blend the blueberry smoothie and refrigerate.
On Monday night
Chop spinach.
Roast the rava for Kichdi.
Shred carrots.
Wash and soak whole green moong.
On Tuesday night
Make tomato chutney.
Prep the dressing for the barley salad and refrigerate.
Make aloe vera lemonade and refrigerate.
On Wednesday night
Chop veggies for Bisi Bele Bath and raita. Skip chopping the onions as raw onions must be chopped only before cooking or consuming.
Soak tamarind for Bisi Bele bath if you do not have tamarind paste.
Set yogurt.
On Thursday night
Blend the mango milkshake and refrigerate.
Chop veggies for the Kurma.
Knead dough for Rotis
That is all, peeps. It s a long and hectic week ahead for me. Do let me know in the comments if you all found this meal plan useful, if you would like me to switch things up a bit or you want me to share any other hacks and tips.
More meal plans
Also, here are the previous week's meal plans. You can always use any one of them.