This refreshing Aloe Vera lemonade is a basil seed drink with the goodness of fresh aloe juice and cooling Sabja seeds. This refreshing thirst quencher is a great way to beat the heat.Think of this like a cross between lemonade and aloe juice. When you combine the both, you have a drink that has the benefits of aloe vera and basil seeds.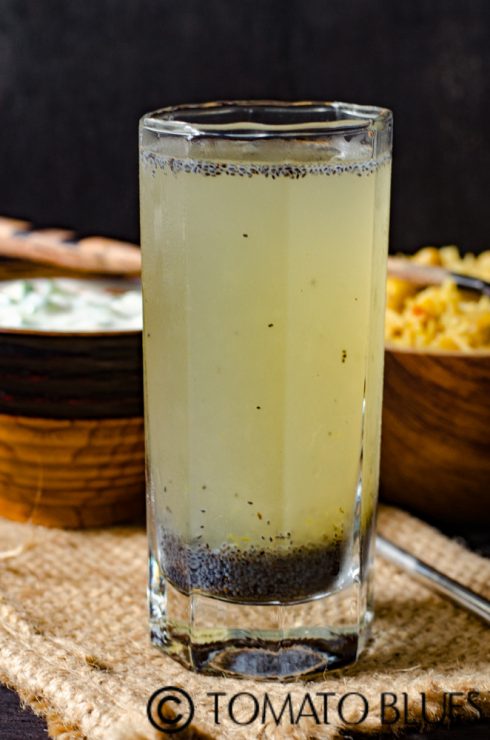 What is Aloe Vera Lemonade?
Aloe Vera Lemonade With Basil Seeds is a refreshing lemonade made with fresh aloe jelly and basil seeds also known as sabja. It is common knowledge that aloe vera is a natural body coolant and aloe jelly works wonders on burns. Aloe Vera drinks are very popular in Singapore as is Apple Aloe Vera Juice.
Lil A is fond of Apple Aloe Vera juice and enjoys eating the bits of aloe jelly in it. I was at a supermarket for my weekly errands and I happened to notice cartons of aloe juice in various flavors stacked till the ceiling. That is when I decided to use fresh aloe vera to make this Aloe Vera Lemonade with basil seeds.
Fresh Aloe Vera Juice
To make fresh aloe juice, you need to scoop out the gel from Aloe Vera leaf. Growing Aloe Vera plants is very easy. All you need is a small leaf and it can be propagated very quickly. You can either use home grown Aloe Vera or store bought aloe vera leaf too.
We find fresh aloe leaves here in most wet markets. 
Wear gloves before you begin to extract the gel from aloe vera leaf. Now, trim the thorny edges along the green aloe vera leaf. When the edges have been trimmed, slice open the leaf by cutting through it vertically. You can cut the leaf into 2 to 3 pieces to make this process easier.
When you have sliced the leaf open, use a sharp knife or spoon to scoop out the aloe gel.
To make fresh homemade aloe vera juice, just combine the aloe vera gel, 2 cups water, sweetener of your choice and some ice cubes in a blender. Blend till smooth.
Recipe Notes
I have used fresh aloe vera gel to make this recipe. Wear a gloves while you scoop out the gel. The edges of aloe vera is thorny and wearing a gloves makes it easier and safer to scoop out the gel.
When buying Aloe Vera leaf, look for thick, fleshy and green leaves. Avoid yellowish green leaves or leaves that have browned edges.
Shelf Life
This lemonade keeps well for 4 days in the fridge. So, this makes for a great party drink and a fantastic way to keep yourself hydrated through the day. You can even pack this for lunch in a leak proof bottle.
Sweeteners
While this recipe calls for caster sugar, I have used raw cane sugar, maple sryup and even honey to make this drink. Caster sugar dissolves easily and hence is my first choice if I m in a hurry or am whipping this up for guests.
You can choose honey, jaggery, maple syrup or raw cane sugar for a healthier aloe vera lemonade. The color will be brownish and not translucent white, like you see in the picture. But rest assured, there wont be any compromise in taste.
Basil seeds lemonade
Basil seeds are a natural body coolant. They swell up just like chia seeds and give a beautiful texture in any recipe. Basil seeds are called as Sabja seeds or Falooda seeds. They are easily available in most supermarkets.
In case you are not able to source this, then you can use chia seeds in place of the basil seeds. Using chia seeds in this lemonade will also give a nutrition boost to the lemonade.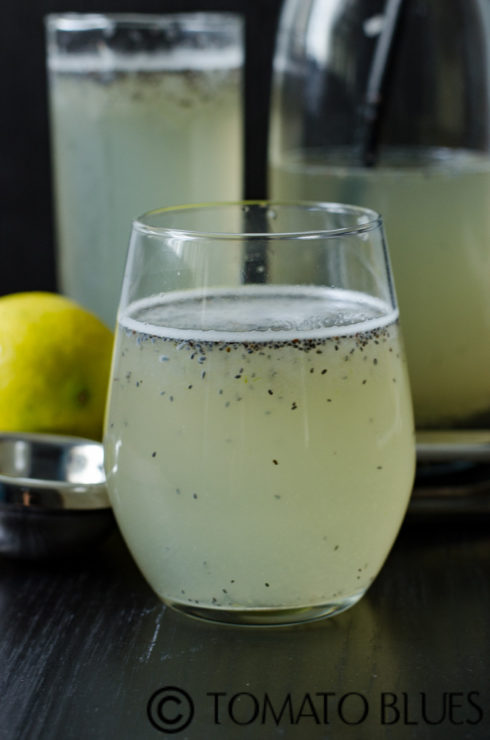 If you are wondering what basil seeds are, they are something like chia seeds. They become jelly like when immersed in cold water for a couple of minutes. They are also called as falooda seeds in India.
We usually consume a lot of these seeds during Summer and we have been eating it regularly ever since we moved to Singapore because it is always summer here. Basil seeds are also known for its cooling properties. So it was a no brainer to combine aloe vera and basil seeds to make this delicious and refreshing Aloe Vera Lemonade With Basil seeds.
Health Benefits of Aloe Vera
Not many people tend to tap into the nutrients of these commonly grown aloe vera plants. 
It reduces dental plaque, is great for controlling blood sugar levels and has a cooling effect on burns and wounds. Aloe Vera is a laxative and is great to relieve constipation. It is also effective on mouth ulcers and sores.
Variations
You can make this aloe juice more interesting by adding some rose syrup or crushed mint leaves. Thai basil or sweet basil leaves also make a lovely addition.
Adding soda water or sparkling water to this lemonade is a nice variation too.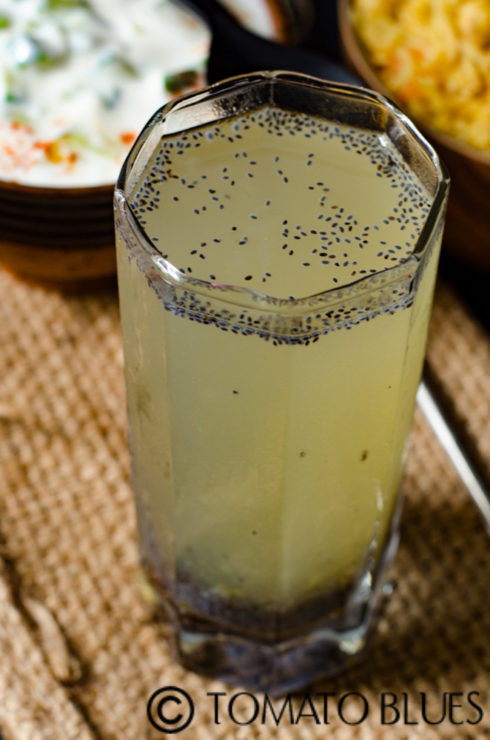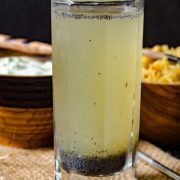 Print Recipe
Aloe Vera Lemonade With Basil Seeds
Aloe Vera Lemonade With Basil seeds is a refreshing and a healthy drink appropriate for Summers
Ingredients
100

g

Aloe Vera gel

1/4

c

lemon juice extracted from fresh lemons

1/2

c

Caster sugar

use 1/4 c maple syrup as an alternative

2.5

c

Cold water

2

tbsp

Basil seeds

10

cubes

Ice to serve
Instructions
Cut the base of the aloe vera.

Now trim the thorny sides using a sharp knife.

Using a really sharp knife, peel the green skin of the aloe vera on only one side.

Using a spoon, scoop out the jelly from the aloe vera.

In a blender, place the aloe jelly, sugar and 1/2 c of water and blend to a smooth puree.

You may choose to leave a few chunks of aloe jelly while doing this.

Once done, squeeze the lemons into this and add the remaining water.

Add 3 to 4 tbsp water to the basil seeds and let sit for 5 mins.

You will find that the seeds have bloomed and become jelly like.

Add this to the lemonade and stir well.

Serve cold topping with ice cubes if desired
For Instant Pot & Air Fryer Recipes
Instant Pot timings may vary based on your geographic location. Air fryer settings and timings may vary based on the capacity and the model of the Air fryer.
Disclaimer
Nutrition values are provided here as a courtesy and are only a rough guide. Please consult a health care provider if you have any concerns.
More Summer Recipes