Do you all know why i ve been MIA? That s cos i am watching Greys Anatomy like a freak. I watched seasons 6 and 7 and went all teary eyed and hilarious at the same time. Obviously, Mr.P who does not display much of an interest in Greys could not for the life of him figure out why i became a recluse all of a sudden. Sleep, make dinner, eat, watch. And then sleep, make a harried…..ahem…..sorry, hurried breakfast, watch, cook a lunch and then watch some more. And it continued like this for 4 days. I m not a person who takes to something easily you know. I get bored of things very quickly. But well, Greys Anatomy turned out to be an exception.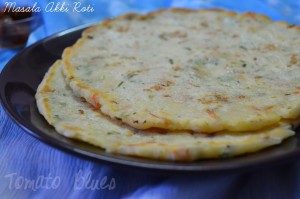 The point is, one of those things that i made on all those hurriedly harried days for breakfast is this akki roti. Living in Bangalore is everything that symbolises heavenly. And one has the privileges of eating akki roti if you live in Bangalore. Well, this akki roti is a lil unusual but nevertheless, makes a brilliant breakfast.
Recipe For Akki Roti
Prep Time: 20 mins
Cook Time: 3 to 4 mins for a roti
Yields 5 to 6 rotis
Ingredients
Rice flour 2.5 cups
Yogurt 1 cup
Carrot grated 1/2 cup
Onion 1 chopped finely
Green chilies 8 minced
Coriander leaves 1/4 cup chopped finely
Cumin seeds 1 tsp
Hing a small pinch
Salt to taste
Oil 2 tbsp
Water as required
Banana leaf or plastic sheet 1 large
Oil to cook
Directions
In a large mixing bowl, place all the dry ingredients and combine well.
Add the yogurt and mix until you get a crumbly mixture.
Check for seasoning.
Now, add water little by little and knead into a dough that s similar to chapathi dough.
Once done, take an orange size ball of the dough and place on an oiled banana leaf or a greased plastic sheet.
Now, slowly flatten the dough into a flat disc. Oil your hands a little before you begin.
The flattened disc must be as thin as a paratha. Takes time and patience but you will get it after one or two trials. Below is the picture on how i did it. I hope it helps.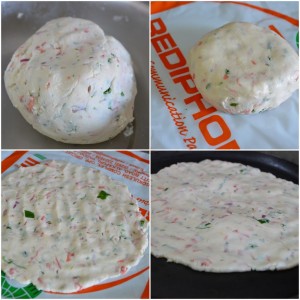 Once you flatten the dough, heat a tawa.
Now, gently invert the plastic sheet which has the flattened dough onto your palm and peel the sheet off.
Place the flattened dough on to the heated tawa.
Drizzle oil around the sides and cook on medium flame until golden brown spots appear on one side.
Flip and repeat for the other side too.
Follow the same procedure for the remaining dough too.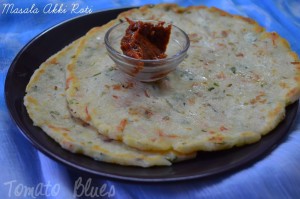 Once done, place a blob of butter and serve hot with any chutney of your choice. Even a subzi will work well. I served mine with tomato pickles sans the butter. Calorie counting, you see.
This goes to Kids Delight- Lunch Box recipes hosted by PJ for SriValli this month.