CHETTINAD SALAVAI CHUTNEY
Salavai Chutney- A lip smacking vegan chutney for the South Indian Idli and Dosa.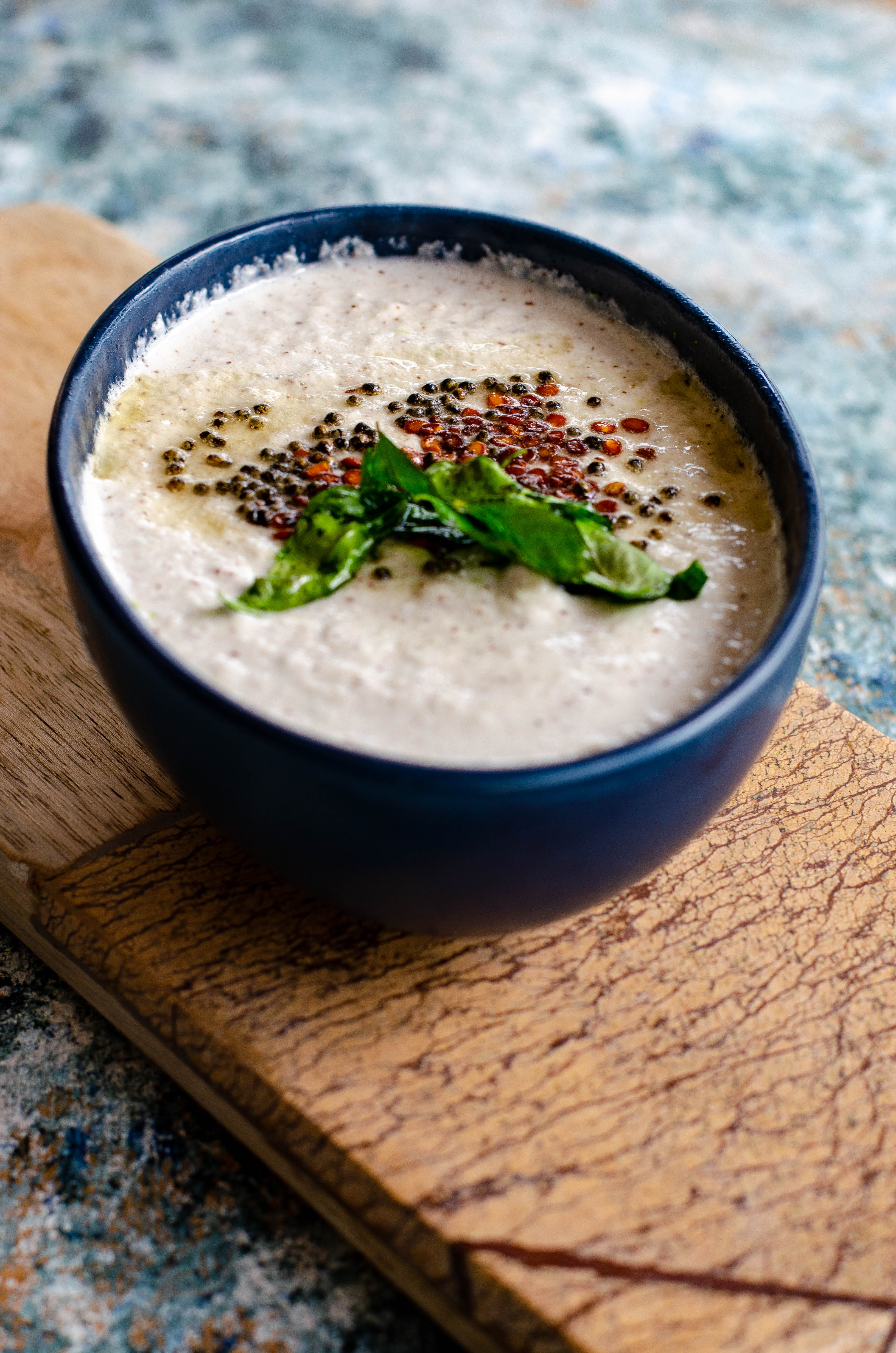 Chettinad Salavai Chutney
This South Indian style dip that has its origins in the Chettinad regions of Southern India is a vegan and gluten free recipe.
Chettinad dishes usually feature onion and garlic. But this chutney is a no onion and no garlic dish that pairs well with almost all South Indian Tiffin dishes.
Salavai
If you are all wondering why is this called Salavai chutney, then let me explain.
Salavai in Tamil means washing or whitening clothes. This chutney looks pristine white and hence the name.
5 Ingredient Coconut Chutney
This s a simple and easy 5 ingredient coconut chutney. All these ingredients are easily available in your pantry and yet, this s a rich tasting side dish that can be paired with most South Indian breakfast dishes.
Coconut
This is not your average coconut chutney. If you are looking to make your regular coconut chutney a little fancy, then Salavai chutney is your recipe.
Dry desiccated coconut will not work well in this recipe. So, look for frozen grated fresh coconut in case you dont have access to fresh coconut.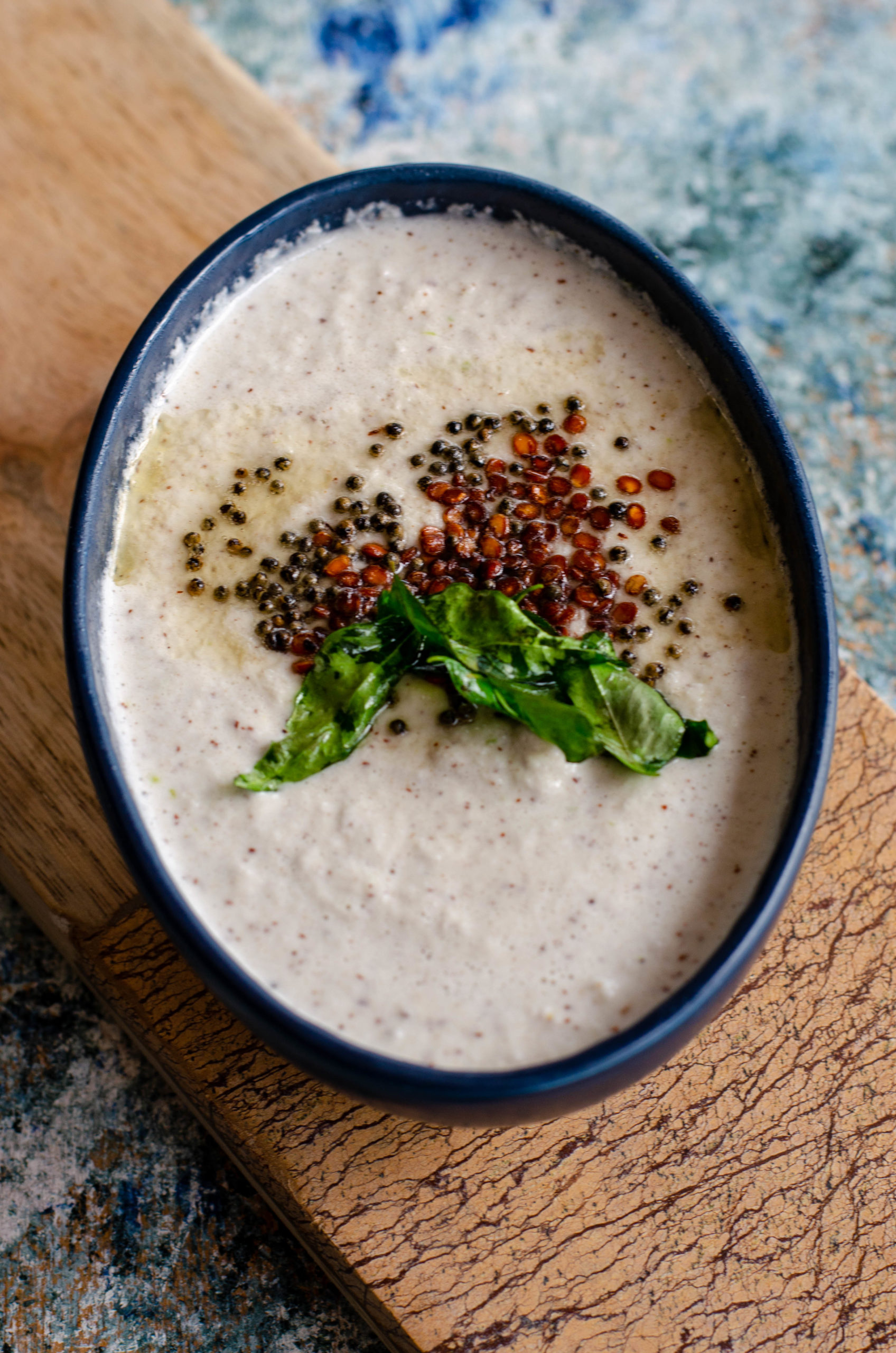 Using whole brown coconuts
Generally,  there is a coconut grating device in most South Indian homes. We call it the aruvamanai. There is a scraper attached to it which is used to scrape fresh coconut flesh.
I m sure not all of us own one of this. So this is what i do when i want to use fresh coconut.
If you do not find, frozen fresh coconut but have access to whole brown coconut, then you can try this-
Break open the coconut. Use a knife to cut out small bits of the flesh from the broken coconut.
Or let the broken coconut halves sit in the freezer till frozen. Thaw them by dunking them in room temperatture water. Once thawed, you can use a knife to gently pry out the flesh from the flesh.
The only down side to using this method is that you will have specks of brown in your chutney.
This is what i have used in this recipe too. The taste remains unchanged. So, a little brown in your Salavai chutney is not a big deal.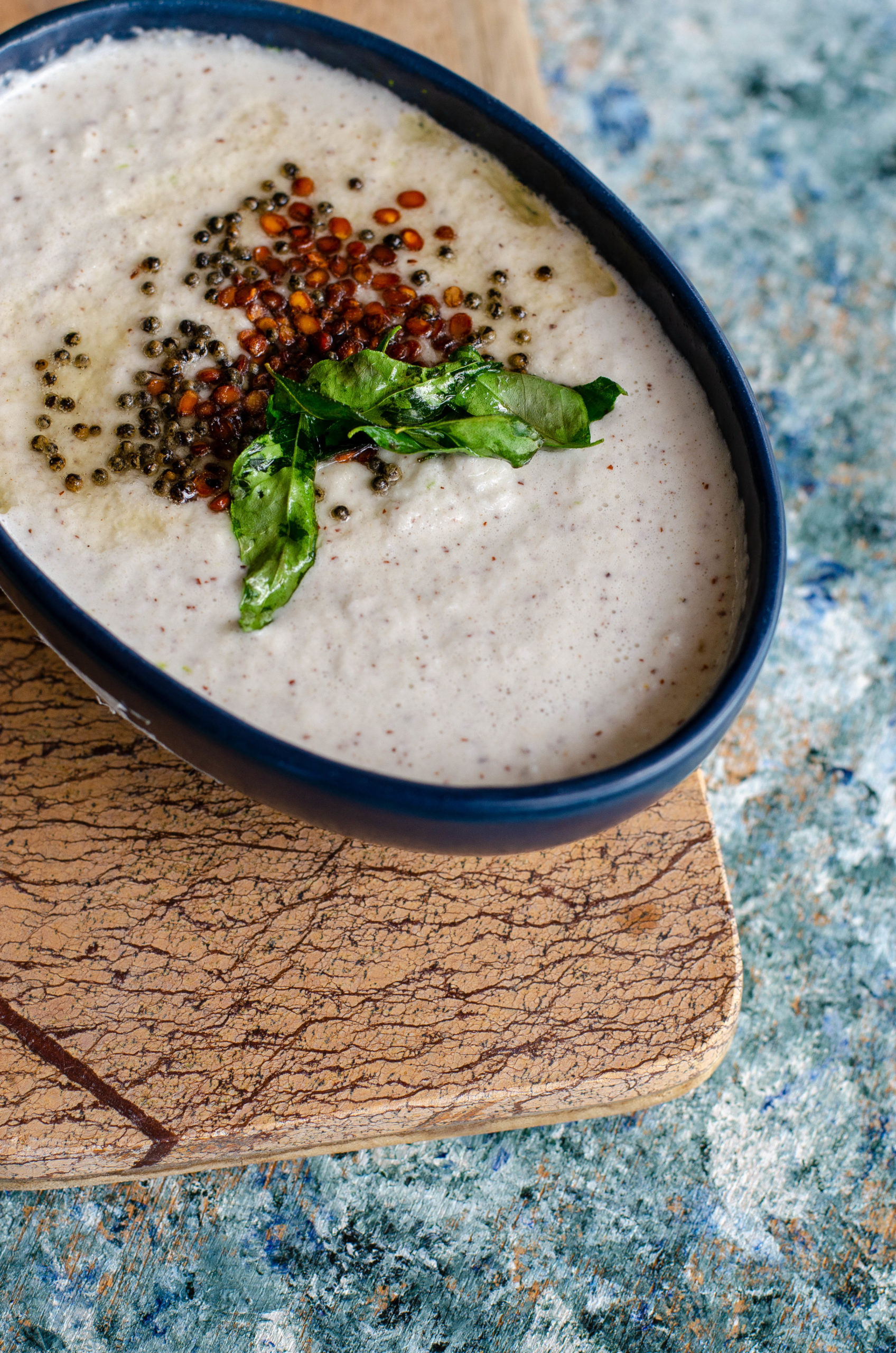 Let s see how to make this easy Salavai Chutney now.
Roasting the Cashews
We are going to dry roast cashews in a cast iron skillet for this chutney. Break whole cashews and add it to a cast iron skillet and roast on low flame for about 2 to 4 mins until crunchy.
The key thing to remember here is that the cashews should not change color after roasting.
I recommend using cashews that have been stored at room temperature for best results.
Cashews stored in the fridge or freezer tend to have moisture in them and take longer to roast.
You can roast your cashews in any heavy bottomed pan or skillet if you do not have a cast iron skillet.
Once your cashews are roasted, let them cool and in the meantime, prep the coconut.
Grinding
If you are using chopped fresh coconut like me, then combine the cashews, coconut, green chilis and salt in a blender.
Blend this without adding any water using the pulse mode for a few times to break down the coconut for easier grinding. We do not want chunks of coconut in our chutney.
Even if you are using freshly grated coconut or thawed grated fresh coconut, i recommend this step for easier grinding and a smooth textured coconut chutney.
Water
Once you have pulsed your mixture, add water and grind to a really smooth paste. I used 3/4 c of water approximately to make my chutney.
You can add less water for a thicker chutney and slightly more water for a runnier chutney.
We prefer a runny chutney for our idli, Pongal and vadai but a thicker chutney for dosas.
However, i will not recommend adding more than 1 c water to your Salavai chutney as this will dilute the flavors of the chutney.
Tempering
We are going to use very little oil, mustard seeds and urad dal for tempering our chutney today.
We want to keep the color a pristine white and hence minimal ingredients in tempering.
You can use cold pressed peanut oil or regular vegetable oil for tempering this. You can also skip the tempering process and this chutney will still be good.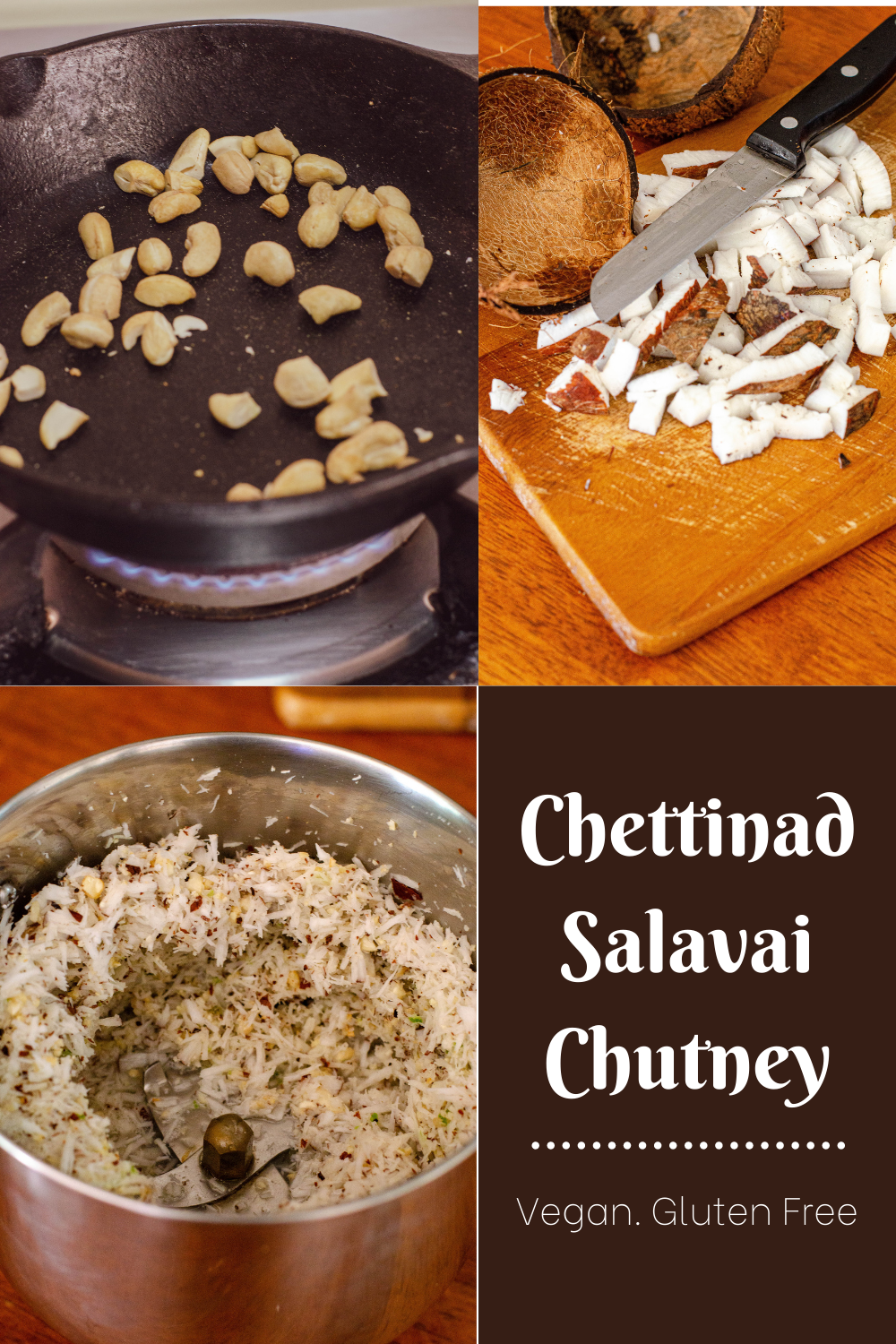 Salavai Chutney- Video Tutorial
If you are looking for more such easy Chutney recipes, then check out our
Roasted garlic coconut chutney
You may also be interested in checking out some recipes that are not Chutneys but are great accompaniments for South Indian Breakfast Dishes
Follow me on Instagram or Facebook for regular cooking updates and short videos. Follow me on Pinterest for delicious content. Tried our Salavai Chutney? Loved it? Then please rate this recipe and leave a comment.
In case you have any questions regarding this recipe, leave a comment and i ll respond at the earliest possible. If you tried this recipe and enjoyed it, click a picture and share it on instagram by tagging us @tomatoblues.
Recipe For Chettinad Salavai Chutney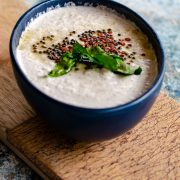 Print Recipe
Salavai Chutney
Salavai Chutney is a quick 5 ingredient vegan South Indian style chutney that makes a great accompaniment for South Indian style breakfast dishes.
Ingredients
20-23

whole

cashews broken

100

g

fresh grated coconut

3/4 c tightly packed approximately

1

tsp

salt

2

green chili

3/4 to 1

c

water
To Temper
1

tsp

vegetable oil

1/4

tsp

mustard seeds

1/2

tsp

Urad dal

10

curry leaves
Instructions
Heat a cast iron skillet. Add the cashews and dry roast on low flame for 3 to 4 mins until crunchy. Make sure the cashews dont change color.

Now, combine coconut, cashews, green chili and salt in a blender.

Using the pulse mode, grind the mixture in short bursts to a coarse paste. Do not add any water while doing this.

Once you have pulsed the mixture, add 3/4 c water and blend to a smooth paste.

If you find the chutney too thick, add some water to thin it down. But do not add more than 1/4 c water.

Heat a small pan with a tsp oil.

Add mustard seeds and when they pop, add the urad dal. When dal begins to brown, add this to the chutney.

Now, add the curry leaves to the pan, saute for 10 to 20 secs and when the curry leaves crisp up, add them to the chutney.

Mix well and your Salavai chutney is ready to be served.
Video
For Instant Pot & Air Fryer Recipes
Instant Pot timings may vary based on your geographic location. Air fryer settings and timings may vary based on the capacity and the model of the Air fryer.
Disclaimer
Nutrition values are provided here as a courtesy and are only a rough guide. Please consult a health care provider if you have any concerns.