HOW TO MAKE KUMBAKONAM KADAPPA ?
KUMBAKONAM KADAPPA- A DELICIOUS POTATO BASED STEW THAT GOES WELL WITH IDLI AND DOSA.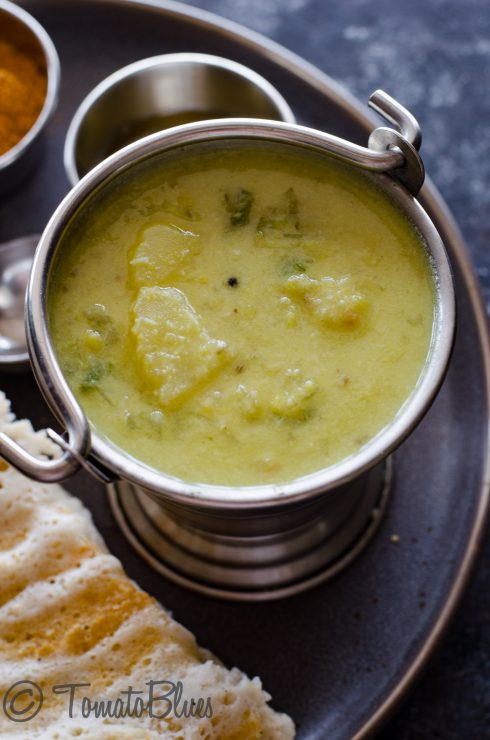 Kumbakonam Kadappa came into my life at a time when i detested eating Idli and Dosa. I was in that phase when i thought eating anything native is uncool. Yes. I was that kid for a couple of years. But well, life and Kadappa happened, i rediscovered food and the rest is history.
So, Kumbakonam Kadappa was introduced to me by my maternal aunt , Nimmi Chikki. My aunt s marital home s core was food. They discussed, lived and breathed on cooking whenever they all met. And they all religiously met every school holiday season and cooked tirelessly for a minimum of ten mouths, round the clock.
When they made idli or dosa for breakfast, Kumbakonam kadappa appeared at the table at least once a week. I happened to taste this once when i was at my aunt's place for dinner. I was hooked. My mother never makes kadappa. But my mom is my mom and i m me.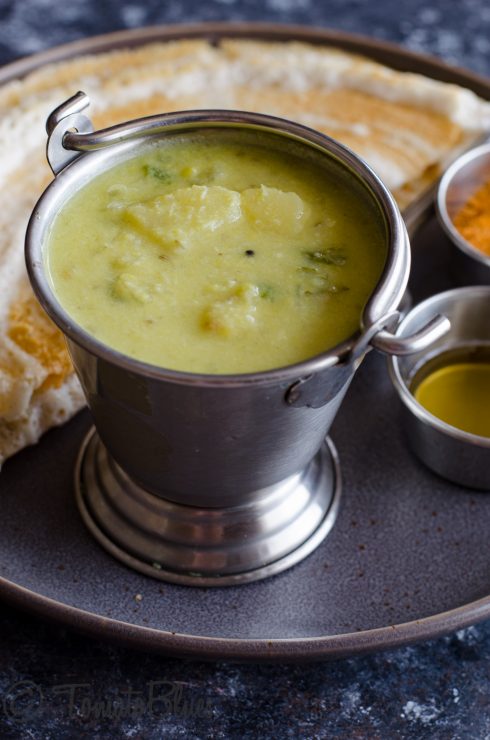 Which is why we have the recipe for Kumbakonam Kadappa here today with a small video that i shared on Instagram months ago.
If you are looking for more side dishes for idli and dosa, do check out onion thokku, potato stew, coriander chutney and onion chutney.
Shall we now check how to make Kumbakonam Kadappa in the video?
https://www.instagram.com/p/BgoJS0gB1YA/
Recipe For Kumbakonam Kadappa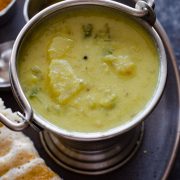 Print Recipe
Kumbakonam Kadappa Recipe- Sidedish for Idli Dosa
Kumbakonam Kadappa- a potato and moong dal stew that pairs well with Idli, Dosa and Aapam
Ingredients
Moong Dal 3 tbsp

2

largish potatoes

Coconut oil or any veg oil 1.5 tbsp

Onion 1 large chopped finely

Ginger 1 tsp chopped finely

Curry leaves a few

Bay leaf 1

Cloves

1

Cinnamon 1/2" piece

Mustard seeds 1 tsp

Urad dal 1 tsp

Salt to taste

To grind together -

Fresh grated coconut 2 tbsp

Pottu kadalai

roasted gram dal 1 tbsp

Garlic cloves 2

Green chili 3

Fennel seeds 1 tsp

Water 1/4 cup.
Instructions
Pressure cook peeled potatoes and moong dal in 3/4 c water along with a pinch of turmeric separately for 3 whistles.

Let the pressure release on its own.

Once done, mash the potato and dal well. Set aside.

Grind together coconut, pottu kadalai, garlic, green chili and fennel to a smooth paste adding 1/4 c water.

Heat a pan with oil. Add bay leaf, clove, cinnamon and pop the mustard seeds.

Add urad dal next.

Now add ginger.

Quickly add onions and curry leaves and cook till onions are just pink and soft. DO NOT BROWN THE ONIONS AT ANY COST.

Now, add the cooked dal along with the water. Give it a good mix.

Add mashed potatoes next along with salt and mix well.

Add 1/2 c of water. Simmer for 2-3 mins.

Add the ground paste at this stage and mix well.

Simmer on medium flame for about 4-5 mins.

Once done garnish with chopped coriander leaves.

Serve hot with lemon wedges by the side.
For Instant Pot & Air Fryer Recipes
Instant Pot timings may vary based on your geographic location. Air fryer settings and timings may vary based on the capacity and the model of the Air fryer.
Disclaimer
Nutrition values are provided here as a courtesy and are only a rough guide. Please consult a health care provider if you have any concerns.