I am a sucker for one pot meals. Lets just say i love anything that reduces my time in the kitchen. I know this blog doesnt substantiate that statement, but truly, honestly, i hate sweating it out in the kitchen. I prefer cooking quick, easy meals that are delicious, wholesome and to a extent, healthy too. As if God heard my prayers ( which i m sure, he did), he blessed me with a husband who loves his pulao and biryani. Ok, not biryani but pulao. So, once in a week, in an attempt to preserve my sanity and to please his taste buds, i make some kind of pulao. And when ever i make pulao, i also make some kind of raita. If you are wondering what a raita is, its nothing but a yogurt dip usually made with some veggies. This mixed vegetable raita has been my favorite ever since i ate it in a restaurant. Plus, you can make this in advance and store it in the fridge for a small party or a get together.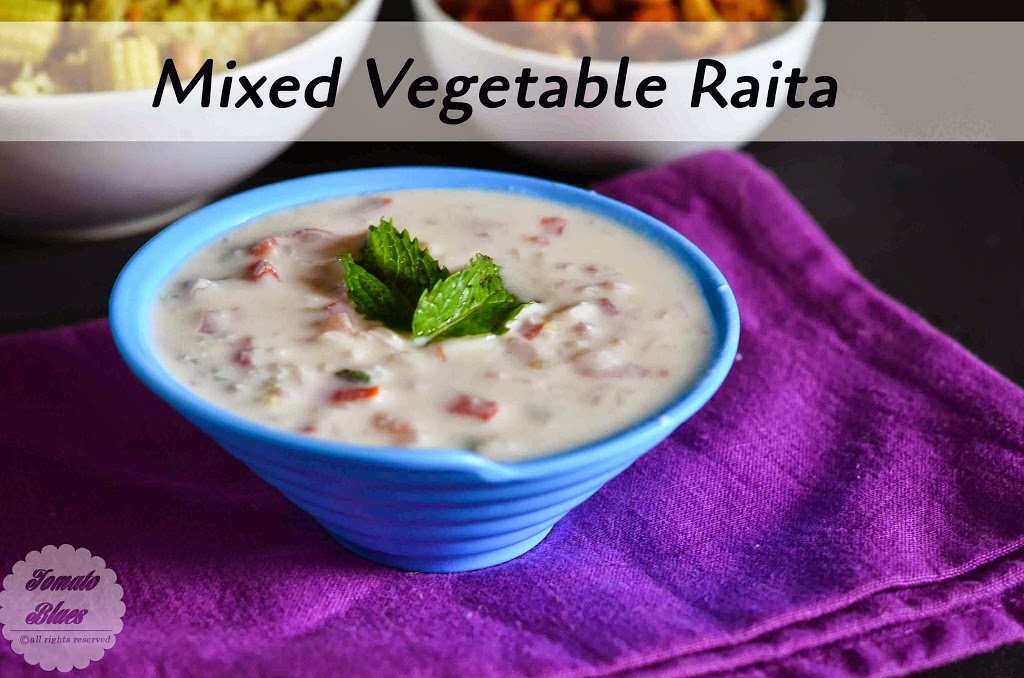 Recipe For Mixed Vegetable Raita
( Learn to make Mixed Vegetable Raita, a simple yogurt dip with assorted veggies)

Prep Time: 10 mins
Cook Time: Nil
Serves 2
Allergy Info: Gluten free, Soy and Nut Free
Course: Accompaniment
Cuisine: Indian

Ingredients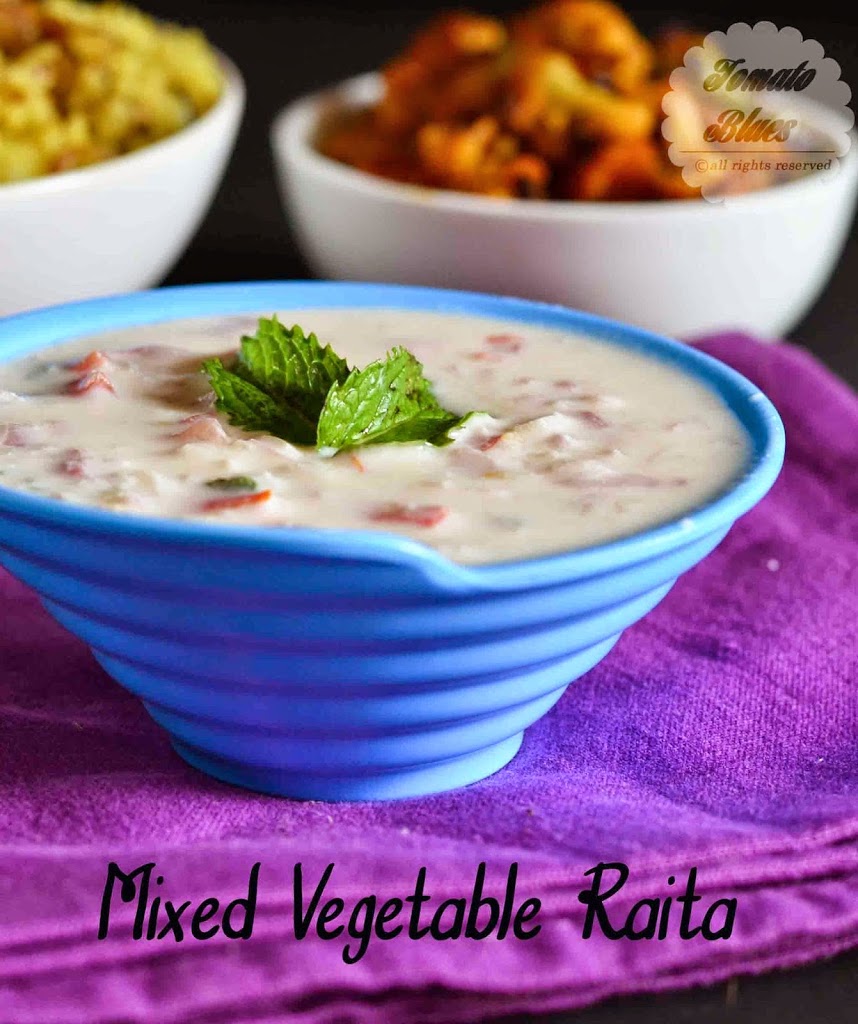 Fresh thick yogurt 1 c
Tomato 2 tablespoon chopped finely
Onion 2 tablespoon chopped finely
Cucumber 2 tablespoon chopped finely
Pineapple 1 tablespoon chopped finely ( optional)
Capsicum 1 tablespoon chopped finely
Cabbage 1 tablespoon chopped finely
Black salt ½ tsp
Roasted cumin powder ½ tsp
Salt to taste
Coriander leaves for garnish
Notes
1. Dont add water to the raita as the veggies will start leaking water on their own and lend a nice flavor.
Directions
In a bowl, whisk the yogurt thoroughly with salt, cumin powder and black salt.
Tip in the veggies and mix well.
Garnish with coriander leaves.
Refrigerate until ready to serve.
Enjoy with a spicy pulao or biryani.