HOW TO MAKE MULTIGRAIN THALIPEET?
MULTIGRAIN THALIPEET- AN UNLEAVENED BREAD MADE WITH A MIX OF FLOURS. VEGAN.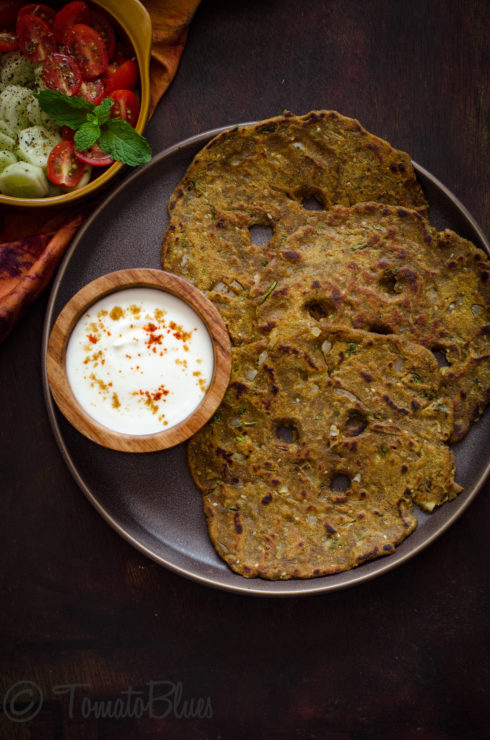 Multigrain Thalipeet was introduced to me by a dear friend, S. S and i met and became friends at our kids' schools. While S uses a flour that was customised and ground, i use flours available with me to make this multigrain thalipeet.
This healthy, rustic and tasty dish can be served as breakfast and dinner. The leftover dough can be refrigerated and reused to make multigrain dosa by making some small alterations. The possibilities are endless. I have used all those flours that i had but you can always add your choice of flours.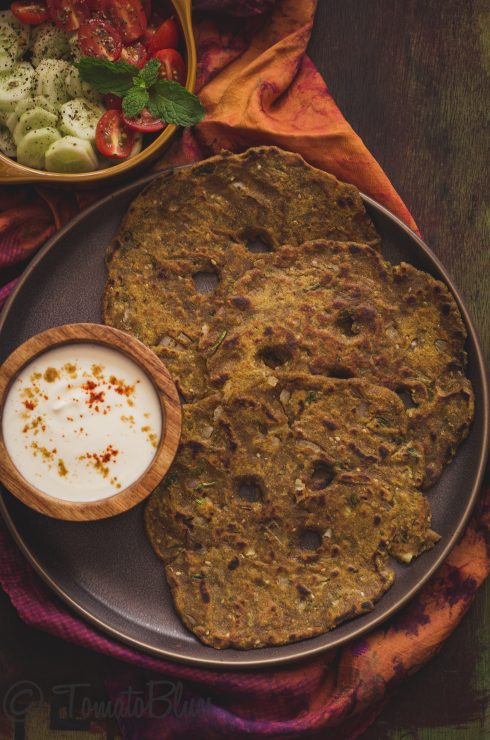 We get ground barley flour here.  I m not sure if you get them in India. However, you can skip the barley flour and add amaranth flour or even some other millet flour to make multigrain thalipeet.
If you love unleavened flatbreads and are looking for more such ideas, then check out ragi chapati, masala akki rotti
Shall we now check the video on how to make Multigrain Thalipeet?
Recipe For Multigrain Thalipeet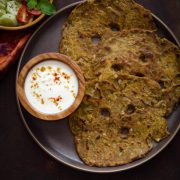 Print Recipe
Multigrain Thalipeet Recipe
Multigrain Thalipeet is an instant thalipeet made with a mix of grain and millet flours. Pairs well with yogurt.
Ingredients
Whole wheat flour 4 tbsp

Oats flour 2 tbsp

Barley flour 2 tbsp

Bajra flour 2 tbsp

Besan 2 tbsp

Ragi flour 2 tbsp

Grated garlic 1 tsp

Onion 1/2 c finely chopped

Coriander leaves 2 tbsp finely chopped

Water as required

Oil 2 tsp

Salt to taste

Red chili powder 2 tsp

Cumin powder 1.5 tsp

Coriander powder 1.5 tsp

Turmeric powder 1 tsp

Garam Masala 1 tsp

Oil for cooking
Instructions
Combine all flours in a big bowl.

Add all spice powders, coriander leaves, garlic, onion, sesame seeds and mix into the dough using your hands or a whisk.

Make a well in the center and Add 2 tsp oil to the flour.

Now add water gradually and mix into a soft dough.

The dough should be a little looser than regular chapati dough and not too sticky.

Once done, grease a banana leaf with some oil.

Grease your palms with a bit of oil and pinch a portion of dough, the size of an orange.

Place this in the middle of the banana leaf and begin patting it into a thin disc beginning from the center.

Make three holes in the center.

It should be about 1/4" inch thick.

Once done, heat a tawa.

Now, carefully transfer the flattened thalipeet on to the tawa . (Watch video)

Drizzle oil around the edges and cook on low medium flame till brown spots begin to appear.

Flip and repeat. Takes about 2 mins to cook one thalipeet.

Repeat with remaining dough.

Serve hot with yogurt.
Notes
If you do not have oats or barley flour, substitute with other millet flours.
You can skip the onion and garlic and add shredded carrot,cabbage and beetroot for a satwik version.
For Instant Pot & Air Fryer Recipes
Instant Pot timings may vary based on your geographic location. Air fryer settings and timings may vary based on the capacity and the model of the Air fryer.
Disclaimer
Nutrition values are provided here as a courtesy and are only a rough guide. Please consult a health care provider if you have any concerns.