SPONGE DOSA- NO FERMENT SET DOSA
Sponge Dosa- This is an easy No ferment set dosa style Dosa. Gluten free recipe.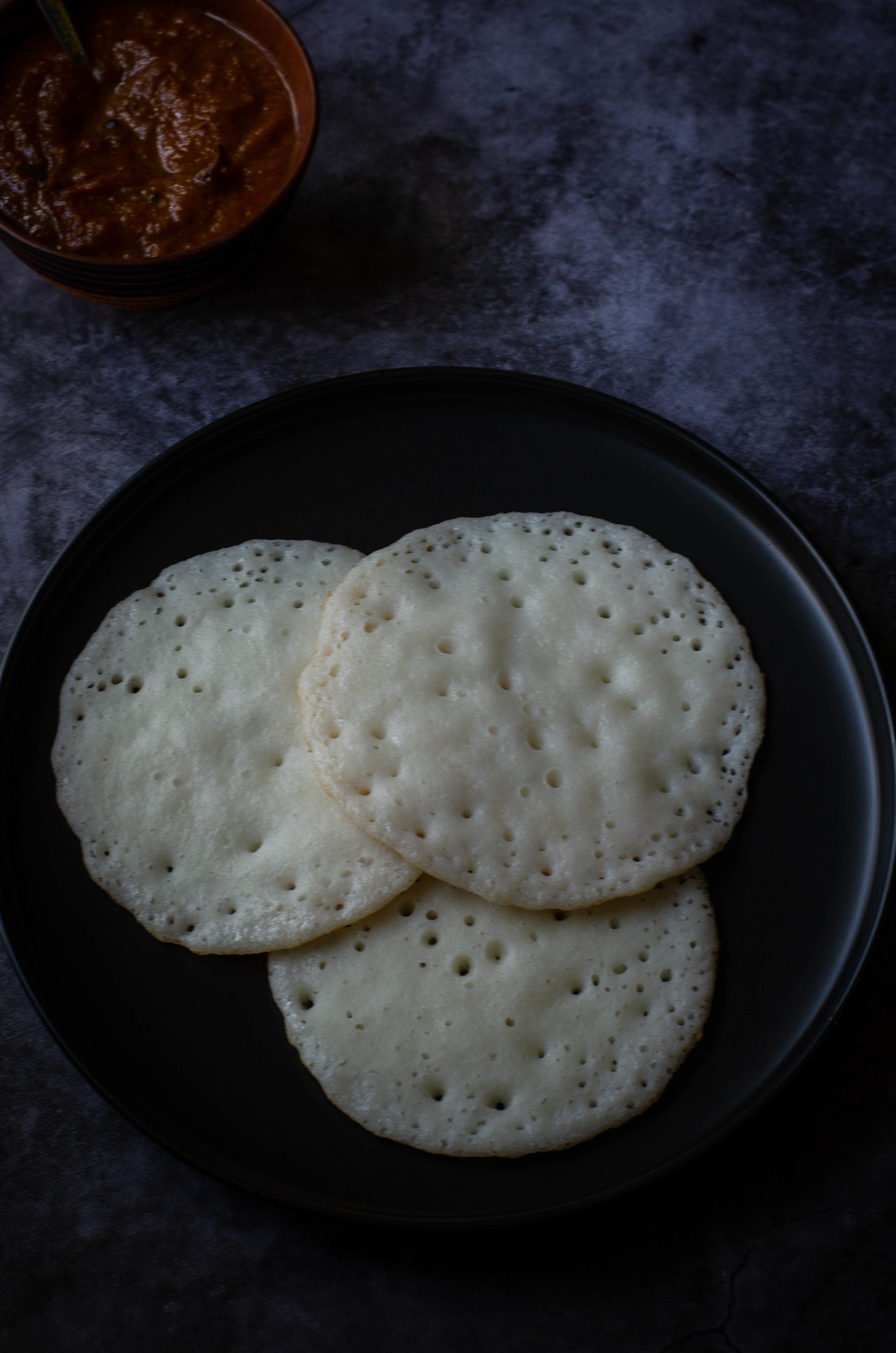 Its going to be year end soon. And my blog is almost a decade old. . I am a south Indian who loves her Idli and Dosa. If you follow me on Instagram, then you will probably have seen quite a number of Dosa and Idli meals on the feed. 
A while back, i had shared these "soft as pillows" Sponge dosa on my Instagram feed. And immediately, received so many DMs asking for the recipe. So here comes the recipe for Sponge Dosa. 
Jump to:
Set Dosa / Atukalu Dosa
This easy dosa is also called as Set dosa or Atukalu Dosa or Poha Dosa in some places. What is the difference between set dosa and regular dosa? , You may ask. A regular dosa is usually thin, crisp and lacy.
A set dosa is like a pancake and is usually served as a set of two or three and hence the name. This is a very popular breakfast option across fast food eateries in Bangalore. But Set dosas that are served in Karnataka are made with a fermented dosa batter.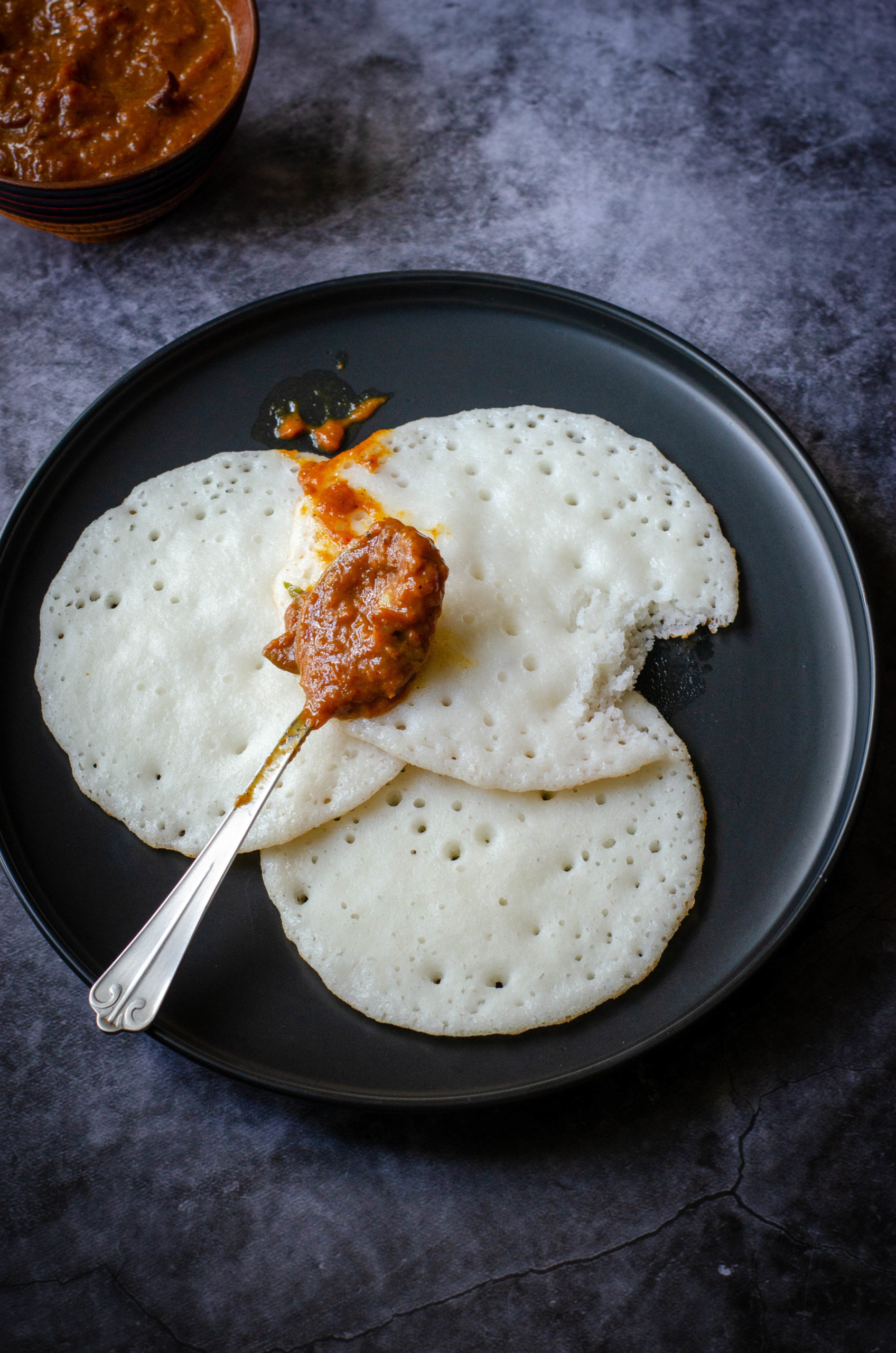 Instant Sponge Dosa Recipe
And that is exactly how this no ferment dosa recipe is different. This dosa uses simple ingredients in the batter and is gluten-free too. Instead of allowing the batter to ferment overnight, we are going to use leavening agents and buttermilk to add texture and taste to this Dosa.
No Fermentation No Urad Dal Sponge Dosa Batter
Unlike regular Dosa batter recipes, this no ferment Sponge Dosa batter does not use any Urad dal. Generally, it is the Urad dal that allows for natural fermentation in Dosa batter. The Urad dal also helps to sour the batter.
Sponge Dosa With Buttermilk
This is the reason why we ll be using sour buttermilk to soak our rice mixture in this recipe. The buttermilk will not only give a sour taste but also make this dosa spongy and soft.
Ingredients- Substitutes and Replacements
Rice– This recipe uses Parboiled Idli rice. And this is the main ingredient.
Poha/ Aval– We use rice flakes to make these dosas soft and yet crispy on the edges.
Sago– Sabudana/ Sabakki is  added for making these dosas spongy.
Buttermilk– The regular dosas use water to soak the rice and dal. This  recipe uses sour buttermilk to bring a tangy taste in the dosa.
Baking Soda– Or Soda Bi Carb is the leavening agent that is going to help in getting perfectly porous, soft and spongy Sponge Dosa.
Recipe Notes 
This recipe uses sour buttermilk. Make sure that your buttermilk is very sour for best results. Buttermilk made from fresh yogurt doesn't work well here.
Once the rice mixture has soaked, drain all the liquid from it and use that to grind the batter. This quantity of liquid itself should be sufficient to grind. If you find that you need more liquid to grind, use some more sour buttermilk for grinding.
Please don't use more liquid than mentioned here to grind the batter. The maximum amount that you can use is 1 cup. 
Baking soda is very important here. And Eno fruit salt doesn't work well in the recipe. So please do not attempt substitutions.
FAQs
Why is my Sponge Dosa not porous/ not having holes?
This means that you have not added enough Baking soda. Try adding another 1/4 tsp to the batter, mix well and continue to make the dosas. 
Why is my Dosa sticking to the pan?
Your Sponge dosa will stick to the pan if you add too much liquid to grind the batter. This s why it s important not to add too much liquid while grinding.
I dont have Sago. What can i do?
You can use 1/4 c leftover cooked and cooled rice instead of the Sabudana to make this dosa.
How long can i store this batter for?
This batter cannot be stored for more than a day after adding baking soda. If you plan to store the batter, then i suggest adding baking soda only to the portion of the batter that you will be using.
If you are going to be doing this, then add 1/4 tsp baking soda for every cup of dosa batter that you use.
I don't want to add baking soda. Can i still make this Sponge Dosa?
Baking soda leavens this dosa. But if you don't want to add this, then i suggest leaving the batter to ferment naturally for at least 4 hours.  Understandably, this will no longer be a No Fermentation dosa.
Step Wise Instructions for Instant Soft Sponge Dosa
Making the Instant Sponge Dosa Batter-
First, wash the rice, sago and Poha in water until the water runs clear. I washed the mixture 2 to 3 times. Now soak this mixture in 4 to 5 c really sour buttermilk for about 6 to 7 hours.
When the rice has soaked, drain any liquid if left. We'll be using this to grind our batter today. If there s not much liquid left, use about 1 c sour buttermilk to grind the batter. Begin with 3/4 c buttermilk and gradually increase the quantity.
Divide the soaked mixture into two. Add one portion to a blender. Add 1/2 of the drained liquid. Grind to a smooth paste. 
Repeat the same procedure with the remaining mixture.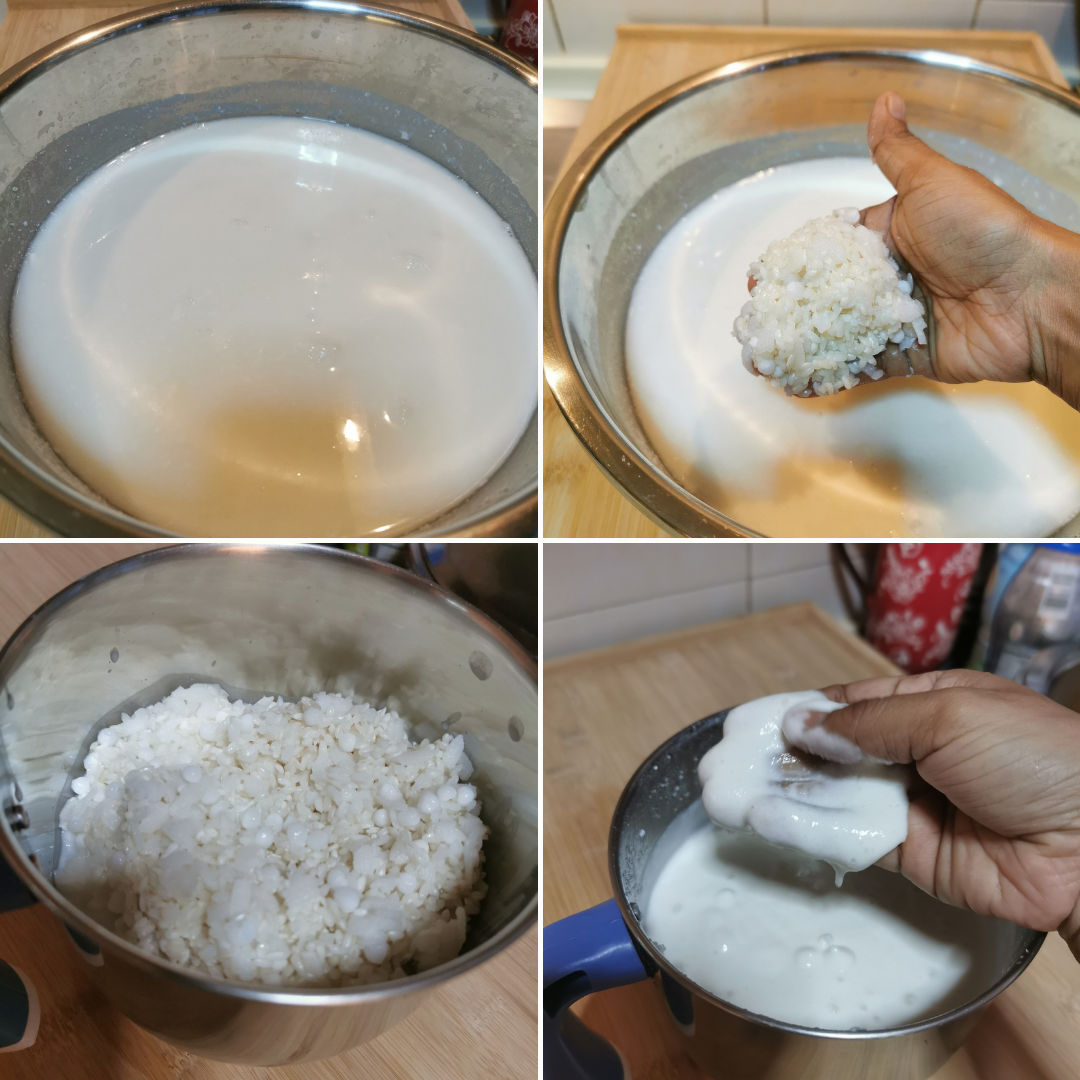 You should not be using more than 1 c sour butter milk to grind the batter.
Once done, add salt and baking soda. Mix well.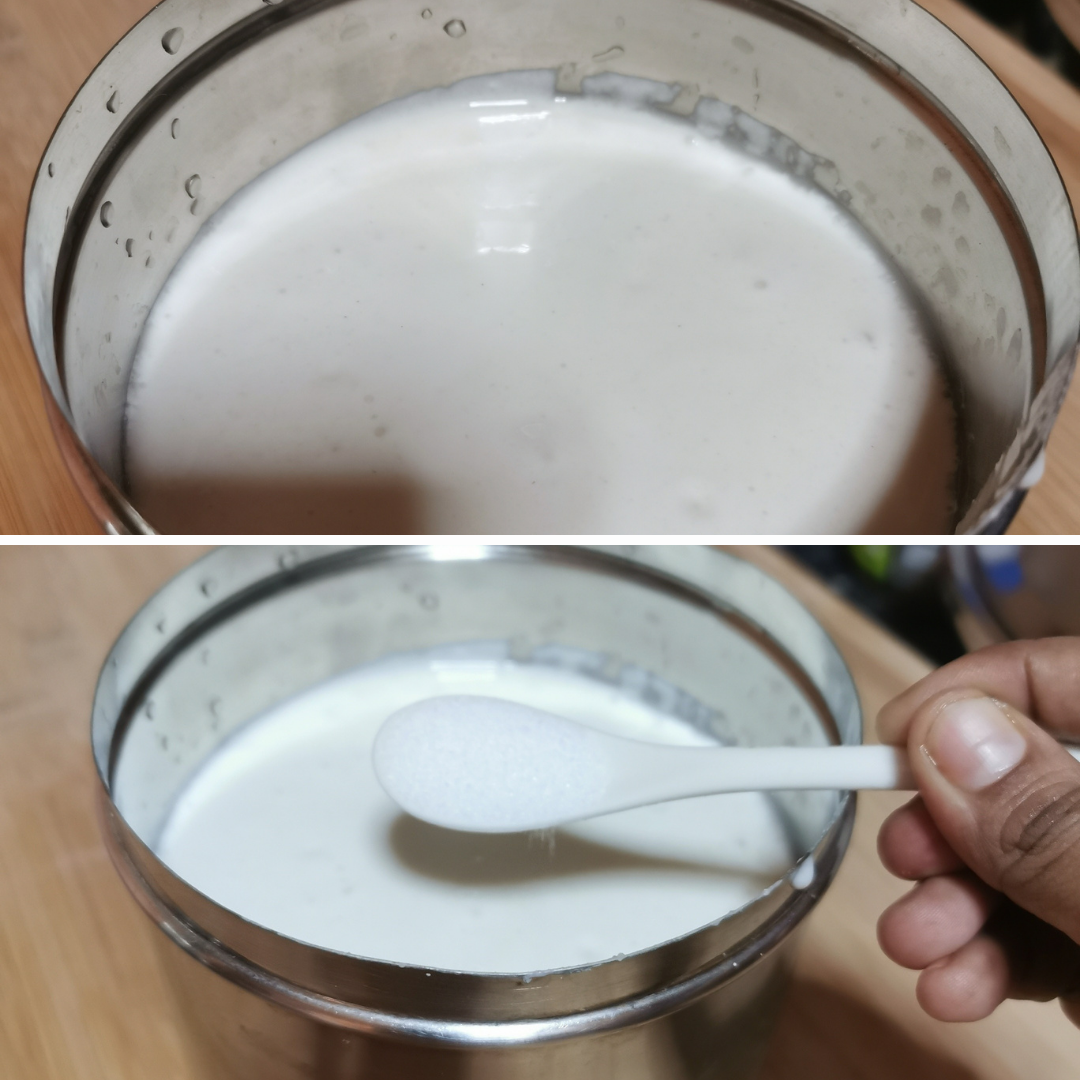 Making Instant Sponge Dosa
Heat a cast iron pan. The pan shouldn't be smoking hot. Add a ladle of batter. 
Do not spread the batter like how you would for regular dosas.
Now, turn down the heat to the lowest setting, cover the dosa and cook till you can see no raw batter on the surface. This takes about 1.5 to 2 mins on the lowest flame.
Once done, do not flip the dosa.
Remove from the pan and serve hot.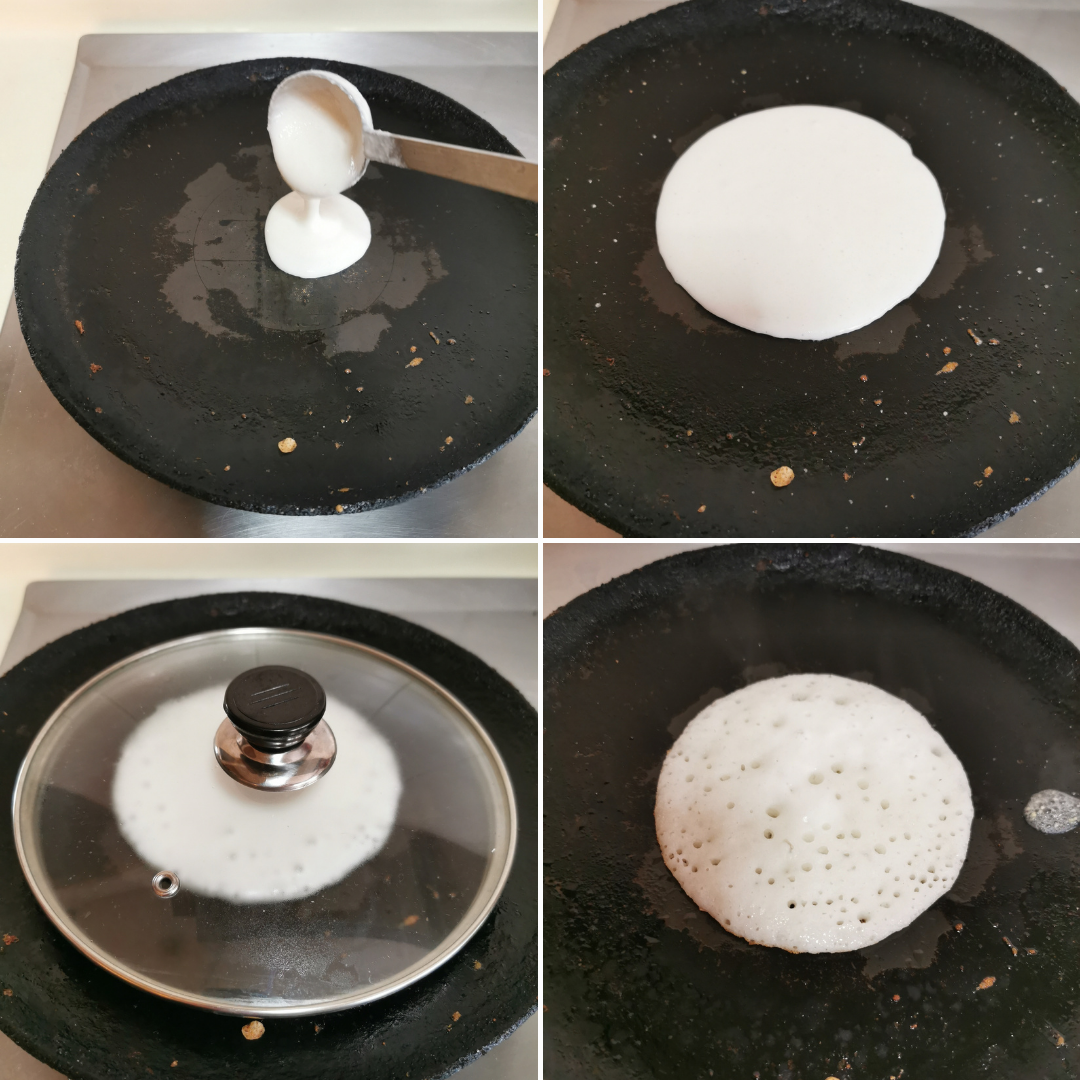 Serving Suggestions for Sponge Dosa without Fermentation
This dosa tastes best with some tangy curries or chutneys. 
I recommend serving this with one of the following accompaniments-
Some More No Fermentation Dosa Recipes
https://tomatoblues.com/ragi-dosa-recipe-pearl-millet-recipes/
Adai Recipe With Step By Step Tutorial
Follow me on Instagram or Facebook for regular cooking updates and short videos. Follow me on Pinterest for delicious content. Tried our No Fermentation Sponge Dosa? Then please rate this recipe and tell us why you loved our recipe!
In case you have any questions regarding this recipe, leave a comment and I'll respond at the earliest possible. If you tried this recipe and enjoyed it, click a picture and share it on Instagram by tagging us @tomatoblues.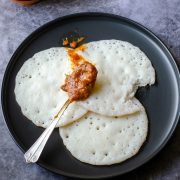 Print Recipe
No ferment Sponge Dosa
These soft and spongy Sponge Dosas do not need any fermentation. They can be made straight after grinding the batter.
Ingredients
2

c

Par boiled rice

1/4

c

Sago pearls

1/4

cRice flakes or flattened rice

4 to 5

c

Sour Buttermilk

1

tsp

Baking soda or cooking soda

2

tsp

Salt or to taste

2/3

c

buttermilk approximately

for grinding

2 to 3

tbsp

oil/ghee
Instructions
Soaking the rice etc
Soak the rice, sago and the rice flakes in the buttermilk for 6 to 7 hours or overnight after washing them thoroughly.
Grinding the Sponge dosa batter
Drain the buttermilk from the soaked rice mixture if there is any left. If not, use 3/4 c buttermilk for grinding

Use this drained buttermilk for grinding the batter.

Divide the soaked mixture into two batches.

Add the buttermilk little by little and grind to a smooth batter.

The batter should be as thick as dosa batter. So dont add too much liquid while grinding.

Grind the soaked up mixture into a smooth paste along with salt.

Add the soda just before making the dosas.
Making The Dosa
Heat a tawa and pour a ladle of the batter thickly.

Dont spread the batter.

Drizzle oil or ghee on the sides

Cook closed with a lid on medium flame until there s no raw batter on the surface.

Dont flip over the dosa.

Serve hot for breakfast or dinner.
For Instant Pot & Air Fryer Recipes
Instant Pot timings may vary based on your geographic location. Air fryer settings and timings may vary based on the capacity and the model of the Air fryer.
Disclaimer
Nutrition values are provided here as a courtesy and are only a rough guide. Please consult a health care provider if you have any concerns.