How To Make Karuveppilai Sadam?
KARUVEPPILAI SADAM- SPICY RICE DISH MADE WITH  CURRY LEAVES, CASHEWS AND SPICES. CAN BE MADE VEGAN. RICE RECIPES.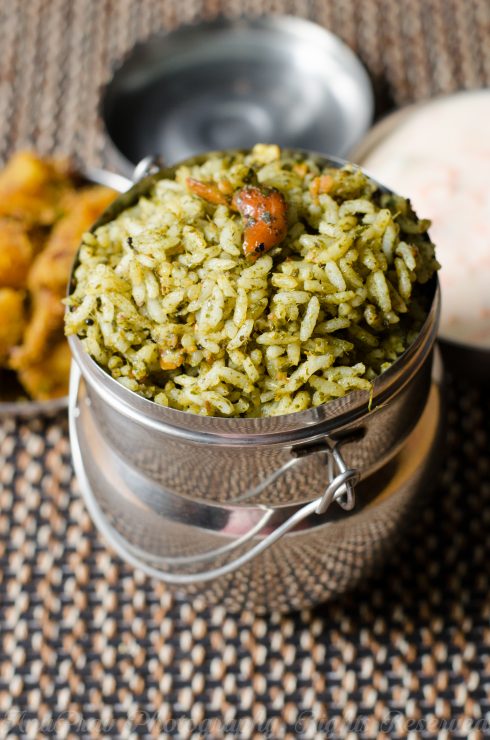 Karuveppilai sadam or curry leaves rice is a wonderful way of incorporating curry leaves to your diet. Karuveppilai or the humble curry leaf is a power house of nutrition with so many benefits. It is good for your hair and helps in weight loss to a certain extent. It is also said that these leaves help in fighting cholesterol, anemia and managing diabetes. In south Indian cooking, the tadka or the tempering is unimaginable without a sprig of curry leaves while the Northern parts of India use these leaves to flavor their signature kadhi which is probably how they got their name in Hindi- Kadi Patha.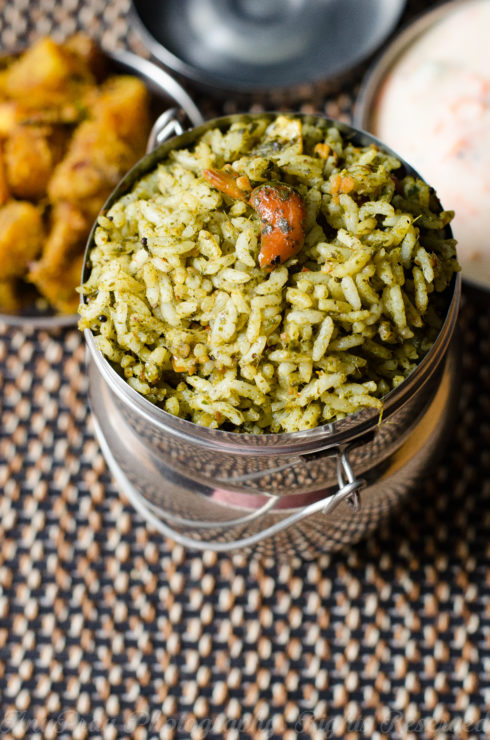 My mothers house has a jungle of curry leaf plants, yes, literally a jungle. I almost cringe every time i pay a dollar to pick up  a bunch of curry leaves here in Singapore. But i cannot imagine making rasam or mor kuzhambu without these flavorful and earthy leaves and hence i keep telling myself, someday, i ll have  jungle of curry leaves too. Mr. P, the husband man has never been serious about his weight in the past. He has been working out with a passion and is determined to shed a few kilos before this year goes by.
In order to help him with his mission and because my daughter loves picking out the cashews from this karuveppilai sadam, i make this very often. I usually pair this karuveppilai sadam with a raita and a pan fried vegetable. In the above picture, you are seeing karuveppilai sadam, carrot raita and sweet potato podi curry. While i personally love a good jodhpuri aloo with the karuveppilai sadam, i made the sweet potato curry keeping the husband man in mind.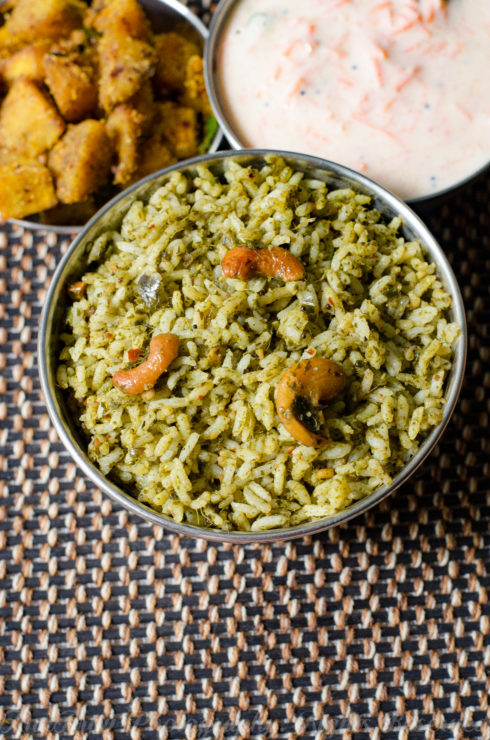 This recipe comes together in 15 mins if you have leftover rice handy. Fresh curry leaves work best here. I love adding the cashews for a nice crunch. You can also replace half the oil with ghee if you are making it for children. Like all south Indian recipes, this rice dish allows you to add anything you like to  enhance taste . You can add veggies to this if you like. The only key to making a good karuveppilai sadam is that your curry leaves need to be fresh.
Recipe For Karuveppilai Sadam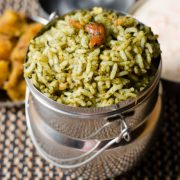 Print Recipe
Karuveppilai Sadam Recipe
Karuveppilai sadam or curry leaves rice- A flavorsome rice made with leftover rice and fresh curry leaves garnished with crunchy cashews. Tastes great with raita and chips
Ingredients
Leftover cooked rice 2 cups

Preferably short grain rice

Oil 3 tbsp

Cashews 10 to 12 broken

Turmeric powder 1/2 tsp

For The Spice Paste:

Fresh curry leaves 1 cup packed

Urad dal 1 tsp

Tamarind a small marble sized piece

Dry red chilies 4 to 5

Fenugreek seeds 1/2 tsp

Coriander seeds 1 tsp

Oil 1 tsp

Salt to taste

For Tempering:

Mustard seeds 1 tsp

Urad dal 1 tsp
Instructions
Heat a pan with 1 tsp oil.

Add urad dal, dry red chilies, tamarind, coriander seeds and fenugreek seeds

Fry these till the urad dal turns golden. Make sure that the flame is on a medium low because spices burn fast.

Once dal turns brown, add the washed and dried curry leaves and fry till the curry leaves shrink in size.

Add salt to this and let cool.

Once cool, place all of this in a blender and blend to a smooth paste using not more than 1.5 tbsp of water.

Now in the same pan that you fried the curry leaves, heat 3 tbsp oil.

Once hot, add broken cashews and fry till golden.

Drain on a kitchen towel,

Now to the remaining oil, add mustard seeds.

Once the seeds pop, add the urad dal and fry till light brown.

Add turmeric powder now and immediately add the ground paste.

Mix well and cook till the paste becomes thick.

Once done, add rice and mix well.

Adjust salt at this stage if required.

Add fried cashews and mix again.

Serve hot with raita and chips
For Instant Pot & Air Fryer Recipes
Instant Pot timings may vary based on your geographic location. Air fryer settings and timings may vary based on the capacity and the model of the Air fryer.
Disclaimer
Nutrition values are provided here as a courtesy and are only a rough guide. Please consult a health care provider if you have any concerns.