GUACAMOLE SANDWICH RECIPE
GUACAMOLE SANDWICH- AN EASY AND FILLING SANDWICH MADE WITH GUACAMOLE . AN IDEAL SUMMER MEAL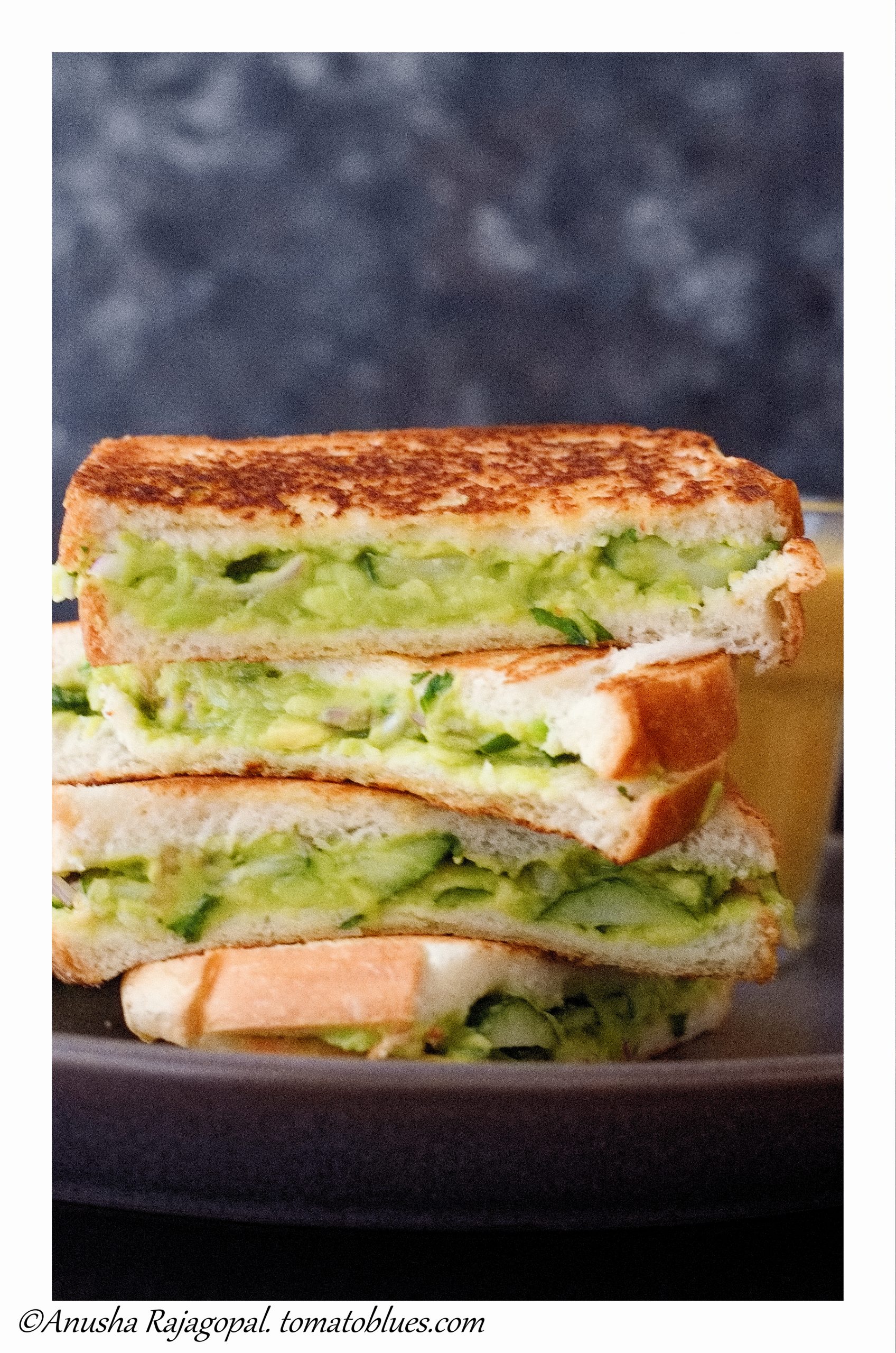 Guacamole Sandwich is probably the best thing that happened after Avocado on toast was discovered by someone on this planet. We are an avocado loving family. So there really is no second thoughts about breakfast when there are avocados lying around.
These sandwiches are the ideal summer meal. They taste like a marriage of salad and sandwich in the mouth, keeps you full and makes for a fresh breakfast.
So first things first, let s go buy those avocados, shall we?
How to choose the right avocado?
Choosing the right avocado is very important no matter what you are making with it- may it be a smoothie, salad or a sandwich or a dip. If you choose a raw avocado, it wont make for a good guacamole. Neither does it taste good in smoothies. Over ripe avocados tend to be brown. And they look and taste unappealing too.
So, how do you know if your avocado is ripe? Choose one that s greenish brown in color. It should have lots of brown but little green too. It should also feel a tad squishy when you squeeze it with your palm, like how a firm ripe tomato feels.
Look out for these signs to spot a bad avocado- 
Too green.
Too brown.
The stalk is too brown.
The stalk is puckered.
The fruit doesnt feel squishy.
How to prevent avocados from turning brown?
Now, this is something that many people struggle with. One minute your toast looks a gorgeous green and the next, it has turned to a murky brown. The trick to keeping avocado from turning brown is very simple- coat it with lemon juice as soon as you scoop it out and mash it well so that the lemon juice is well incorporated into the avocado.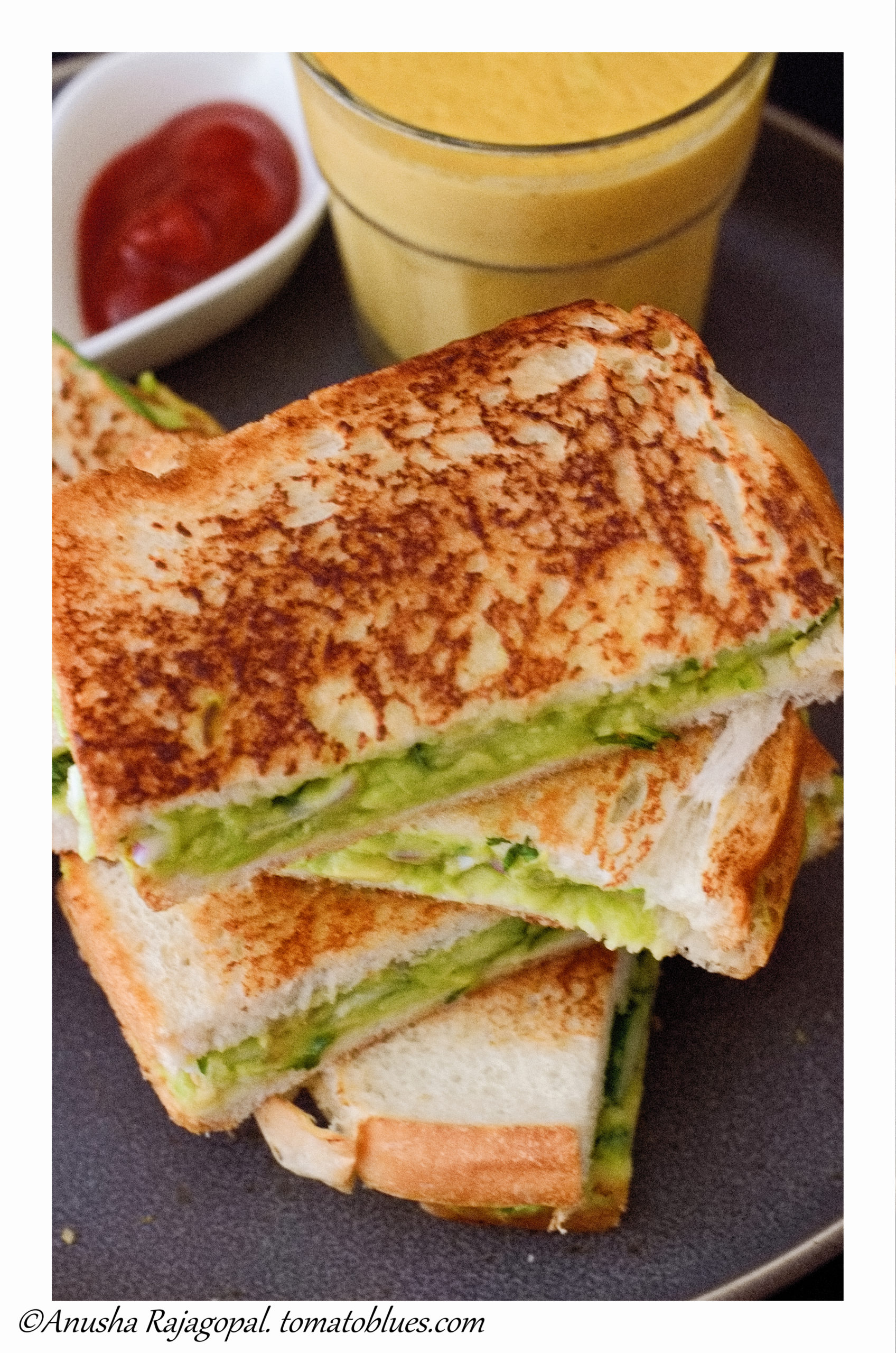 Can you add eggs to this avocado sandwich?
Yes! You can slice up hard boiled eggs, place them between the sandwiches and amp up your sandwich, nutritionally. And you will have some delicious guacamole egg sandwiches.
You can also make a lip smacking sandwich by adding minced chicken. Tofu and paneer, the grilled versions, make for an excellent filling along with the guacamole spread too.
Can you customise this Guacamole Sandwich Spread?
Yes. The recipe mentioned here is a version of the best guacamole that you can eat. Feel free to skip any ingredient but for the lemon juice.
What breads can be used to make this recipe?
We have used wholemeal bread available commercially here. But you can use this avocado sandwich spread to make sandwiches with pita bread or subway style bread or even sourdough breads. 
Are there different ways to make this Guacamole Sandwich in terms of toasting or grilling?
While toasting  on a cast iron or iron pan gives the sandwiches a great texture, you can skip this step and just serve these Avocado cucumber sandwiches as a finger food at parties by slicing them into thin fingers.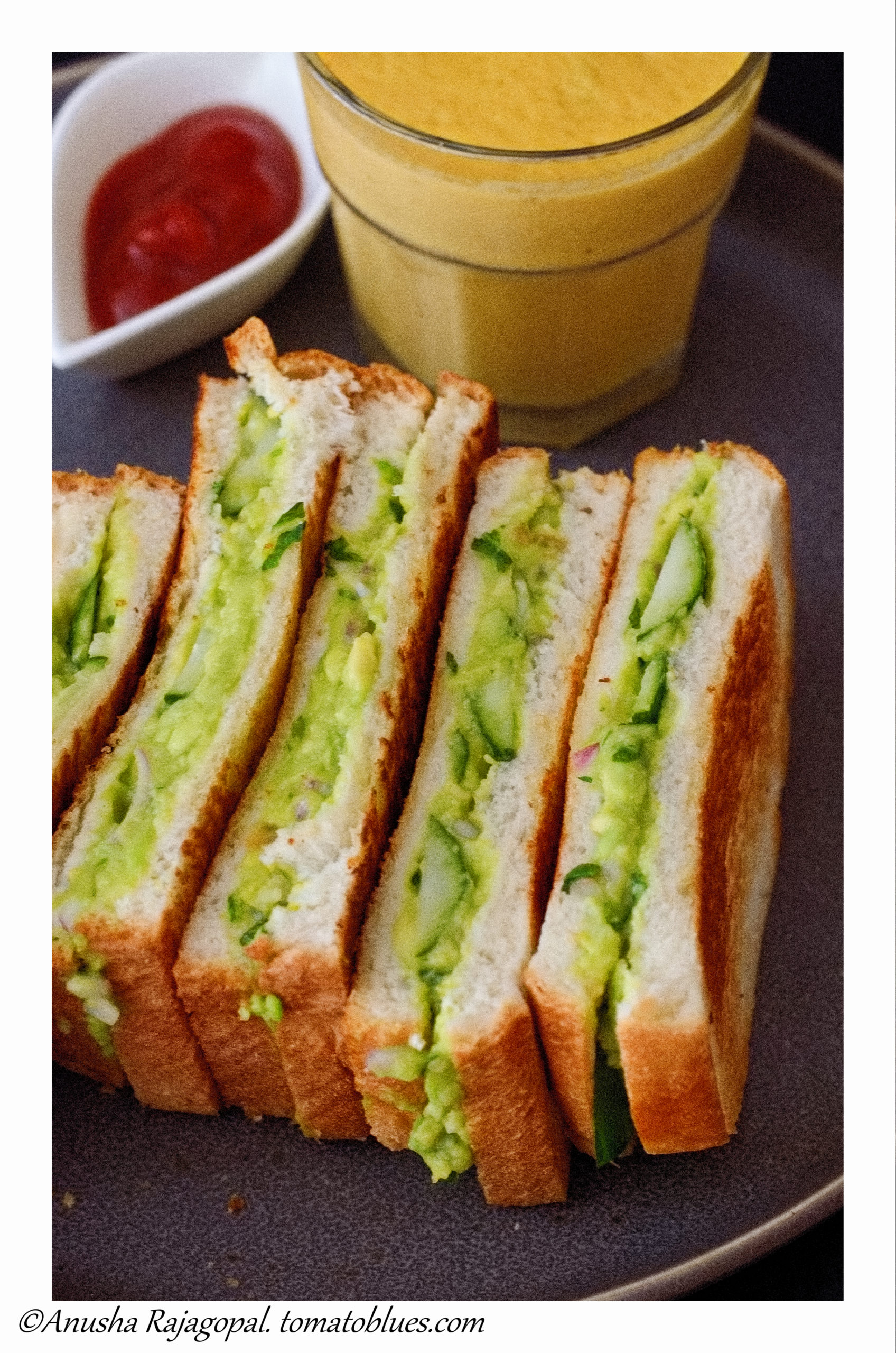 You can also check other Avocado recipes here:
You can also check out
The Perfect Chipotle Style Guacamole
https://tomatoblues.com/avocado-coconut-smoothie-recipe-drink-recipes/
Here are some other Avocado recipes too:
Vegetarian Ceviche Salad from Vidya's Vegetarian Kitchen
Vegan Avocado Milkshake By Sharmila
Here s a video on how to make Guacamole Sandwich aka avocado cucumber sandwich:
Shall we now check how to make Guacamole Sandwich?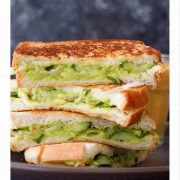 Print Recipe
Guacamole Sandwich ( Avocado Cucumber Sandwich)
An easy and ideal summer recipe using Guacamole as a sandwich spread
Ingredients
For the Guacamole ( Avocado Sandwich Spread)
2

ripe

avocados

1.5

tbsp

freshly squeezed lemon juice

1/4

c

finely chopped tomato

1/4

c

finely chopped onion

1

clove

garlic

grated

1

small

jalapeno

seeds removed and minced

salt

to taste

2

tbsp

cilantro (coriander leaves)

finely chopped
For The Guacamole Sandwiches
12

slices

bread

2 to 3

tbsp

butter

room temperature and softened

1

recipe

Guacamole as mentioned here

1

medium

japanese cucumber

sliced thinly lengthwise
Instructions
Lets Make The Guacamole Spread First
Cut open the avocado, scoop it and discard the pit.

Add lemon juice to the avocado and mash well with a fork.

Add salt to taste,jalapeno, garlic, onion, tomato and coriander leaves.

Your avocado sandwich spread aka guacamole s done.
Let s now make the Guacamole Sandwich
Spread a tbsp of guacamole on two slices of bread.

Arrange a few cucumber slices over one slice

Cover with the other slice and press gently.

Now, apply a tsp butter on each slice of the bread

Place on a heated cast iron or iron pan or grill.

Cook each side for 1 min on low flame until bread is toasted, golden and crusty.

Your guacamole sandwich is ready.
Video
Notes
Please note :
Calorie values mentioned here are approximate.
I m not a certified nutritionist or dietician.
Please use the calorie values only as a rough guideline and consult your nutritionist if you have specific dietary concerns.
For Instant Pot & Air Fryer Recipes
Instant Pot timings may vary based on your geographic location. Air fryer settings and timings may vary based on the capacity and the model of the Air fryer.
Disclaimer
Nutrition values are provided here as a courtesy and are only a rough guide. Please consult a health care provider if you have any concerns.
Nutrition