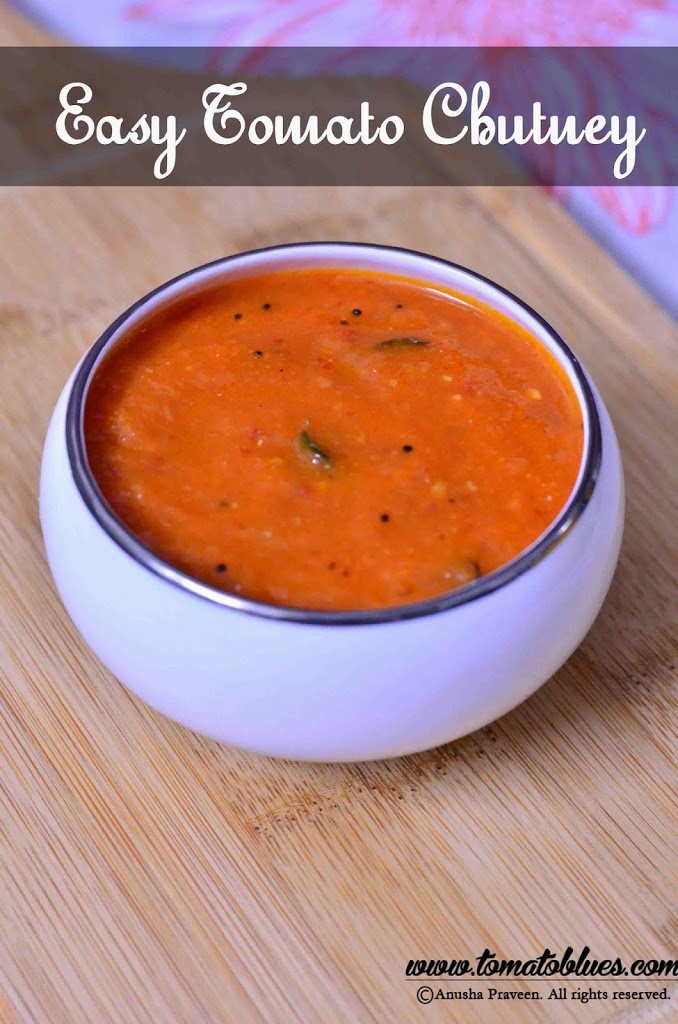 My mom and i have a regular conversation which is something like this. Ma, whats for breakfast? I dont know, kanna. says mom. And then , i say idli or dosa batter is there? Then my mom says yes but what side dish to make? So for moms like her and daughters like me, different side dishes are a fantasy. Here s one from Hyma s blog. Tomato thokku. As a part of blog hopping, i tried her recipe and my husband loved it. And i love the concept of blog hopping too. What a joy ride it was on the buffet table at the Radhika s Blog. Thanks to Radhika for making me a part of this. Anyway from Hyma s blog to the buffet table at ticklingpalates, here comes tomato thokku.
Recipe For Easy Tomato Chutney
( Learn how to make this easy Tomato Chutney, a perfect accompaniment for dosa, idly and pongal)
Prep Time: 10 mins
Cook Time: 10 mins
Source: flavoursandme.blogspot.com
Allergy Info: Vegan, Nut free, Soy free
Yields 3/4 cup
Category: Side Dish for Dosa, Idli
Cuisine: Indian( South)
Ingredients
5 ripe medium size tomatoes blanched
urad dal 2 tbsp
Tamarind marble size or 1 tbsp tamarind paste
Dry red chillis 4
Oil 1 tsp for frying the dals.
Salt as to taste
For tempering
Oil 1 tbsp
mustard seeds a few
A sprig of curry leaves
Hing a large pinch
Turmeric Powder a small pinch
Directions
First boil the tomatoes in hot water to blanch them. The peel will come off seperately and the tomato will have suffered a few cracks. Poor the vegetable. Anyway thats when you know its ready to be taken off the heat. Leave it aside to cool. Do not attempt to peel right away or you will burn your fingers. What did you think? The tomato will spare you after all the agony it suffered. I speak from experience.
Now, fry the dal and the the chillis in a kadai until light brown. There s a wonderful aroma that comes when you fry any dal. And i love it. Leave it to cool.
Now peel the tomatoes. In a mixer add all the ingredients, dal, chilli, tomato, tamarind and salt. Grind to a smooth paste.
Heat oil in a kadai. Add the mustard seeds and wait for them to splutter. Add the turmeric, hing and the curry leaves. Now add the tomato paste and simmer till oil seperates.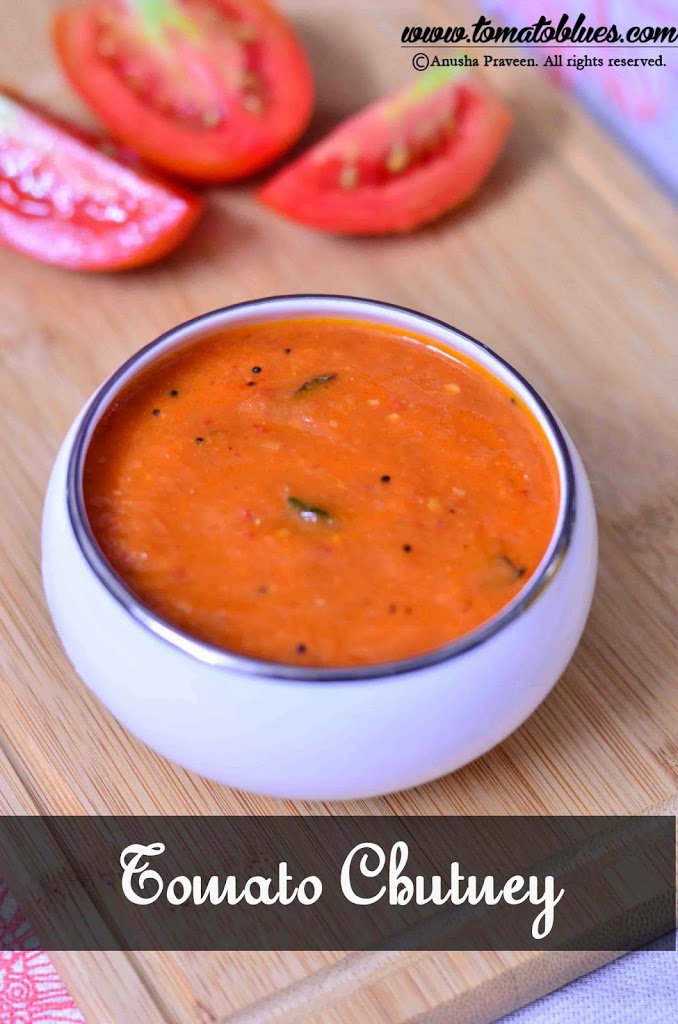 Serve with idli, dosa or even parathas. I did and they tasted delicious.