HOW TO MAKE ONION TOMATO THOKKU?
ONION TOMATO THOKKU- AN EASY AND SIMPLE ONION AND TOMATO RELISH THAT PAIRS WELL WITH IDLI ,DOSA, POORI AND CHAPATI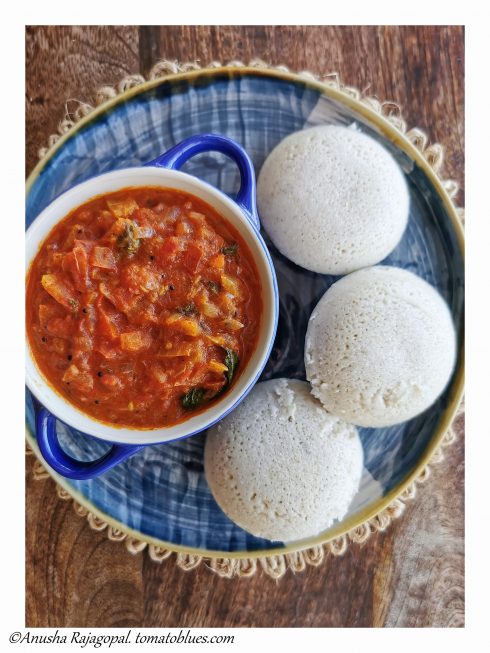 Onion Tomato Thokku is a quick and easy side dish that i make whenever i m pressed for time. This is such a versatile accompaniment. You can serve this thokku with literally anything. It tastes great as a dip with nachos, a sandwich filling, a salad topping or even a poke bowl component.
This thokku is the ideal side dish for Idli, dosa, chapati and poori. It comes together in a pinch, calls for minimal ingredients and can be made as a large batch and stored in the fridge for up to a week. 
Onions and Tomatoes:
While yellow, red and white onions all work well in this recipe, you can use red onions for best results. You can use a food processor to chop your onions if you are making a big batch.
Roma tomatoes and the regular tomatoes are the best choice for this recipe. Roma tomatoes are fleshy with a slight tang, making them just perfect for this thokku.
Shelf Life :
This onion tomato thokku is without coconut or dal. So the shelf life is longer. This thokku keeps well in room temperature for 2 days. Use a dry wooden spoon to serve and store in an air tight sterilized glass jar. This onion tomato thokku keeps well in the refrigerator for up to a week.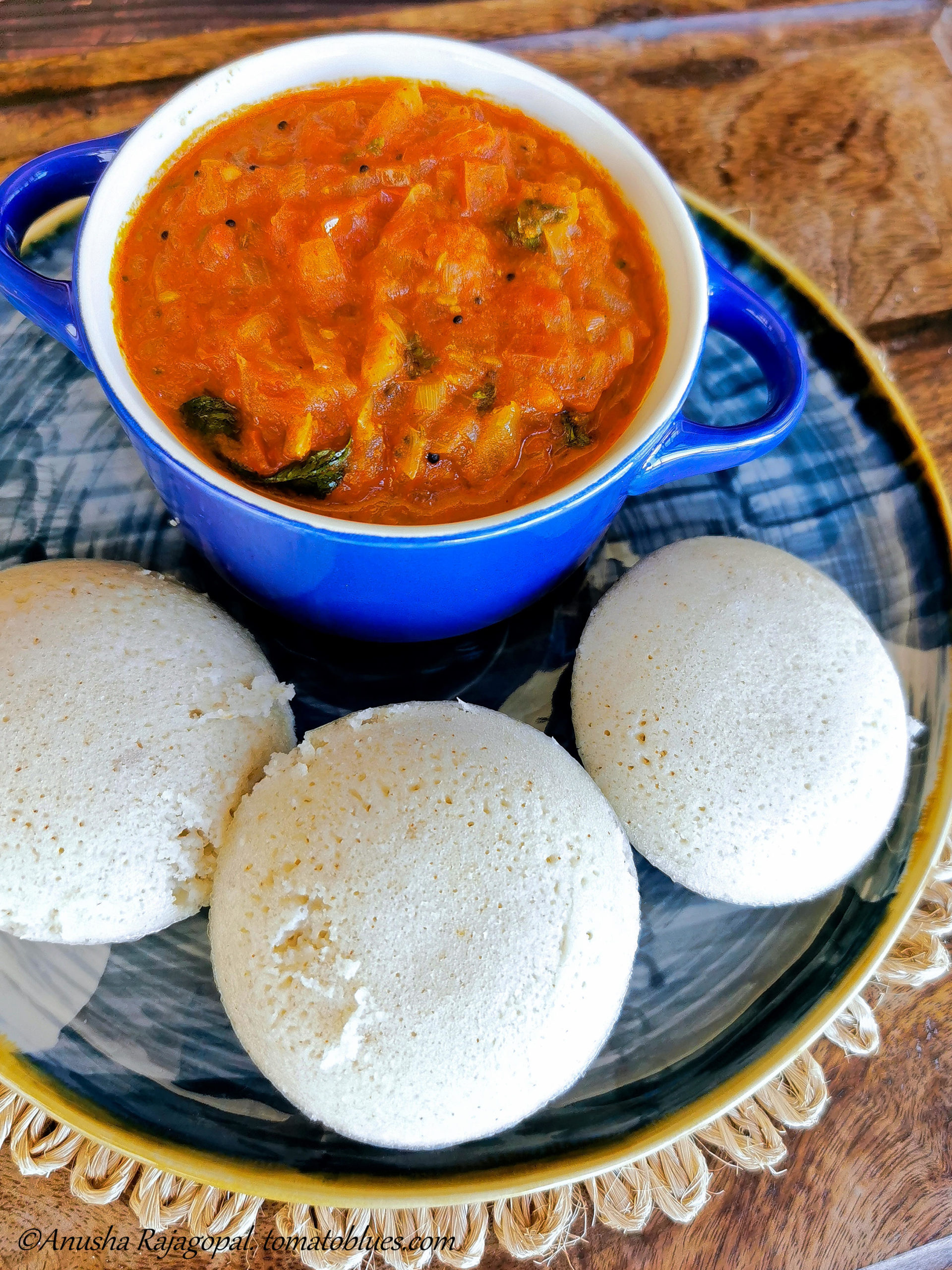 An Ideal Travel Food:
If you are going on a road trip or on a tour and looking to make something that can feed a crowd, then look no further. This onion tomato thokku is the ideal condiment to pair with chapati, poori or even slather it on toasted bread. You can even make delicious wraps using this recipe.
Cooking Methods:
This thokku can be made without any grinding. So you dont need a mixie or blender to make this lip smacking side dish that you can enjoy with pretty much everything from idli, dosa to curd rice.
Spices:
The addition of fennel in this thokku is a refreshing flavor change when compared to the regular onion tomato chutney that we make. So it is recommended that you do not skip fennel.
Sambar powder also elevates this onion tomato curry flavor wise. As this recipe does not use any coconut or dal, the sambar powder gives body to this tasty curry. You can also add a green chili to this curry for a different flavor. But please remember to cut down on the red chili powder if you are adding green chili to your onion tomato thokku.
Consistency:
You can adjust the consistency of this thokku by adding up to 1 c of water. This thokku has to be thick if you are using it as a spread on chapati, poori or bread. I have added water to the thokku in the recipe because i was serving this with idlis. You can skip the water part completely and choose to keep the thokku thick. This also increases the shelf life. 
Remember to adjust the salt if you are adding water to the onion tomato thokku.
Storing:
Please make sure that you bottle this in a clean and sterilised glass jar only after the thokku is completely cool.
You can also check out our other Thokku and pickle recipes:
Here s the video recipe for Onion Tomato Thokku
Shall we now check how to make onion tomato thokku step by step?
Heat a pan with oil. Add the mustard seeds and when they begin popping, add the fennel seeds.
Now, add chopped onions and ginger garlic. Saute well. Cook on medium flame till onions are pink and soft. Add salt and mix well. 
Lower the flame.Now, add all the spice powders except sambar powder and mix well. Cook for 30 secs to get rid of the raw smell of the spice powders.
Once done, add the chopped tomatoes. Mix well. Add a few fresh curry leaves. Mix.Add sambar powder and mix thoroughly.
Cook till tomatoes begin to lose shape. At this point, cover and cook till tomatoes are completely disintegrated.  This takes approximately 5 mins on medium flame. You can see that the volume of the thokku also reduces considerably. The tomatoes would also have released water.
When this is done, add 1/2 c to 1 c water to adjust the consistency and using a masher, mash the curry lightly. Simmer for 2 to 3 mins. 
Add coriander leaves for garnish and our thokku will be ready.
Follow me on Instagram or Facebook for regular cooking updates and short videos. Follow me on Pinterest for delicious content. If you try this Onion Tomato Thokku recipe, please rate this recipe and leave a comment. If you have any questions regarding this recipe, leave a comment and i ll respond at the earliest possible. If you tried this recipe and enjoyed it, then click a picture and share it on instagram by tagging us @tomatoblues.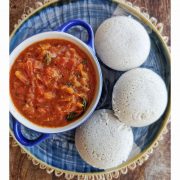 Print Recipe
Onion Tomato Thokku
An easy and minimal ingredient based Onion and Tomato curry that is ideal for travel and in finger foods. Vegan.
Ingredients
1

tsp

Mustard seeds

1

tsp

Fennel seeds

1

tbsp

oil

Any neutral flavored vegetable oil will work.

1

cup

finely chopped red onions

1

tsp

ginger garlic paste

1.5

tsp

Salt

Or to taste

1

tsp

Red chili powder

1

tsp

coriander powder

I used 1 heaped tsp

1/2

tsp

Turmeric powder

1.5

c

Finely chopped tomatoes

Approximately 4 medium size tomatoes

3/4

tsp

sambar powder

1/2- 1

c

water

2

tbsp

finely chopped coriander leaves

10

fresh

curry leaves
Instructions
Heat a tbsp oil. Add mustard seeds and when they pop, add the fennel and allow it to crackle.

Now, add the onions and saute lightly. Add ginger garlic paste next. Mix well. Add salt.

Cook on medium flame till onions turn pink and soft.

Now, add red chili powder, turmeric powder and coriander powder. Mix well.

Saute on low flame for 30 secs

Now, add the chopped tomatoes and mix well.

Next, add curry leaves and mix.

Add the sambar powder, mix well.

Cook on medium flame till tomatoes begin to lose shape and break down.

Now, cook covered for 5 mins on medium flame. Open once in between and stir to avoid burning.

Once done, add water and mash the thokku using a potato masher lightly.

Garnish with coriander leaves.

Tastes best with Idli, dosa, poori or chapati.
Video
Notes
Note: Calorie values are just an approximate value and is provided as a rough guide. I m not a certified nutrition or diet expert. Please use this at your discretion.
For Instant Pot & Air Fryer Recipes
Instant Pot timings may vary based on your geographic location. Air fryer settings and timings may vary based on the capacity and the model of the Air fryer.
Disclaimer
Nutrition values are provided here as a courtesy and are only a rough guide. Please consult a health care provider if you have any concerns.
Nutrition