HOW TO MAKE KATHIRIKAI PODI CURRY?
Kathirikai Podi Curry- Brinjal Podi curry; South Indian style Eggplants sauteed with a freshly made spice powder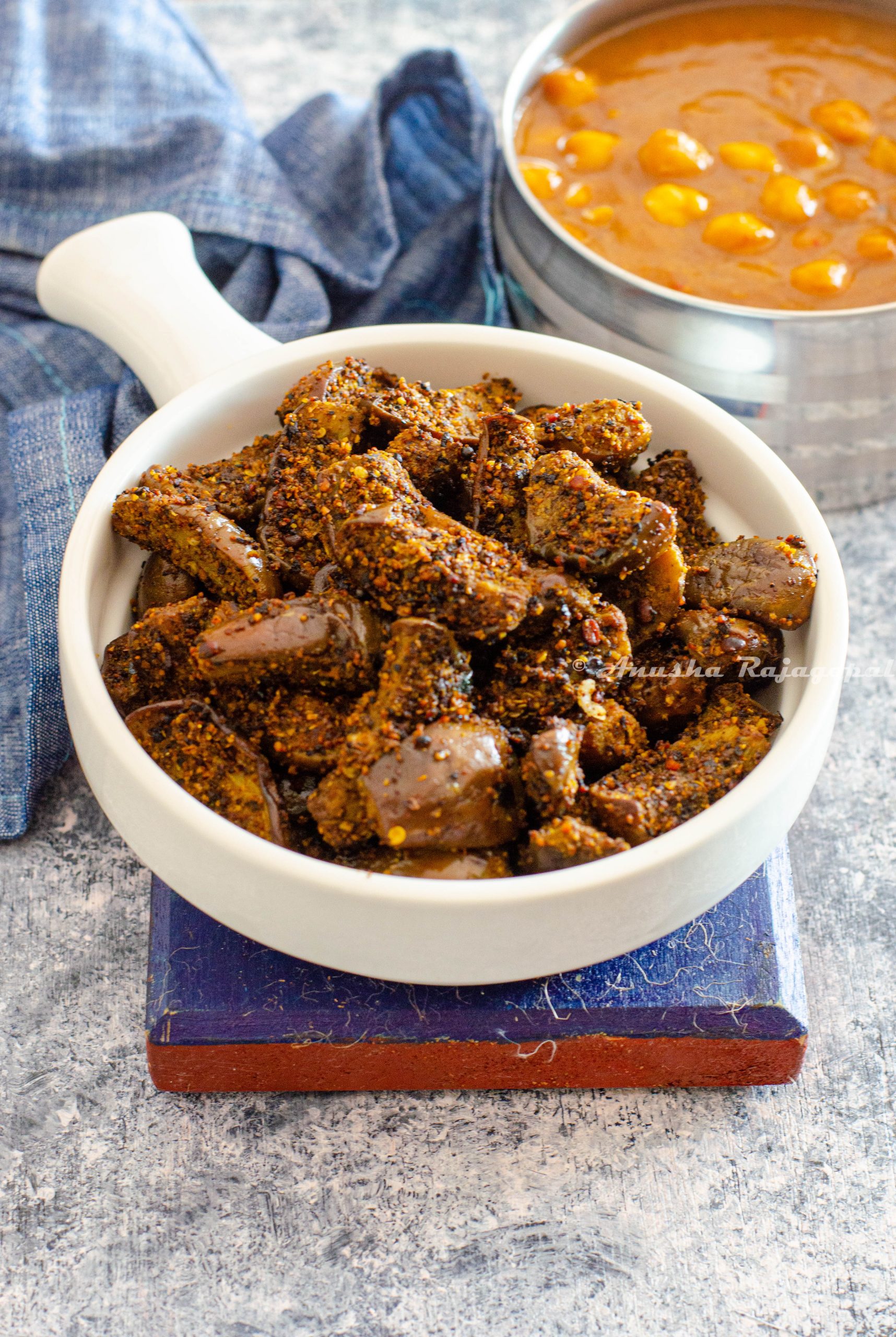 Why you should try this Kathirikai Podi Curry?
☑ Melt in the mouth buttery soft brinjals and a nutty spice powder combined together just translates to heaven!
☑ Its an eggplant lover's delight basically.
☑ If you make a double batch of this spice powder, you can use it with other veggies and make your own version of the South Indian style Podi Curry.
☑ And finally, if you eat this with some hot rice mashed with lemon rasam, then i assure you that you will be in a food coma
Sometimes life amazes me. Well, nothing new isn't it? We are two souls happily living under one roof. But the amount of food that i make sometimes really makes me cringe with guilt. Take for example, the days when i decide to cook eggplants at home. Besides some tangy ennai kathrikai kuzhambu, any form of eggplants is a total no no as far as Mr.P is concerned.
Its quite obvious that i land up making two curries when i cook an eggplant curry. But the eggplant lover that i am, i cant resist experimenting with those longish purple beauties. The small ones are a real favorite. While i love the regular stir fry with eggplants, i like to roll my sleeves up and get to some real work so that i can make this absolutely divine podi curry with eggplants.
I do make podi curry with baby potatoes which again is another love story altogether. This recipe is a win win recipe of sorts. You can eat this as an accompaniment or simply mix it with some hot rice, drizzle some ghee and begin noshing. Either ways, you will love it. The freshly ground spices makes your tongue sing and you wont be surprised if the bowls are licked clean.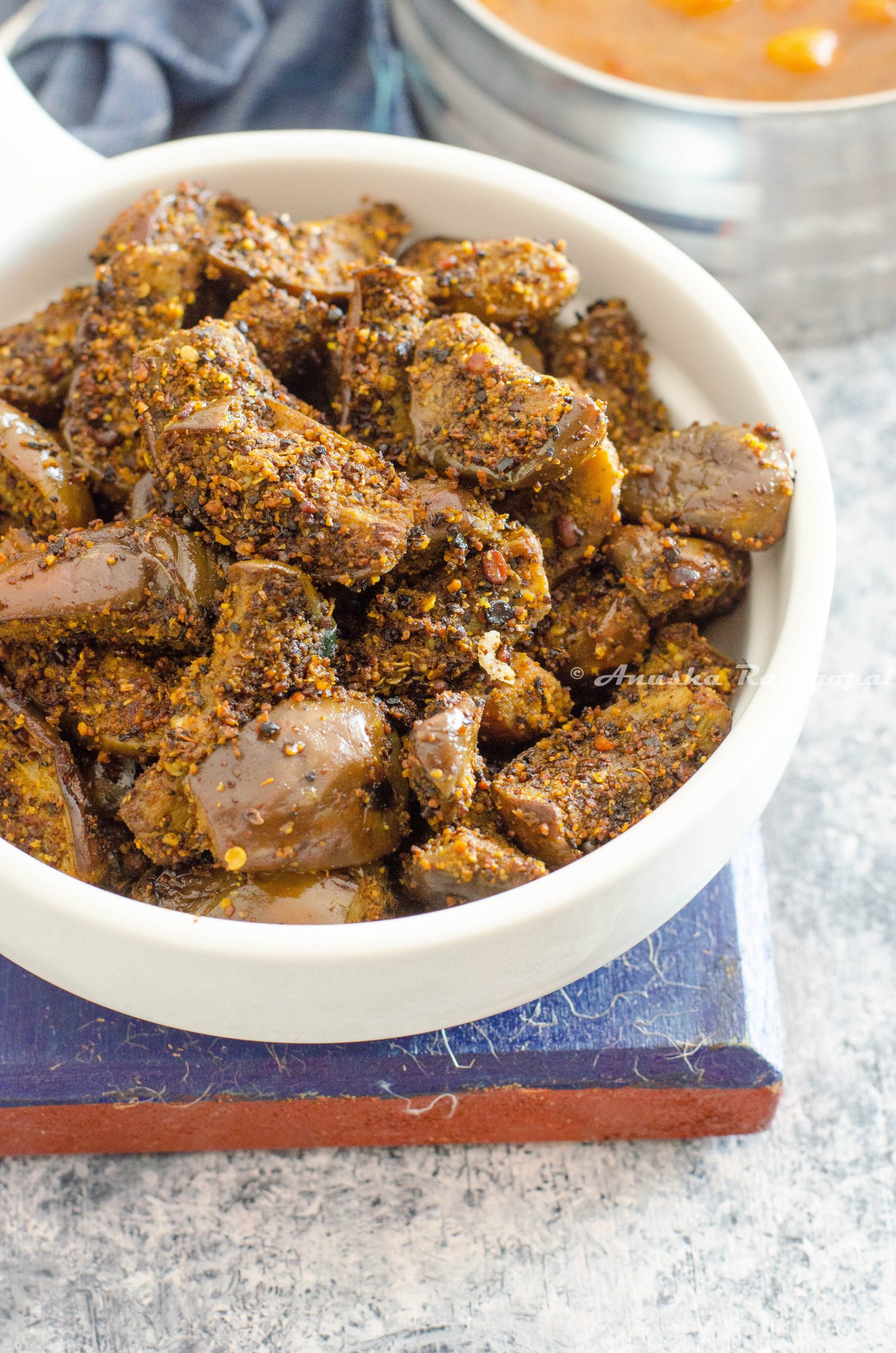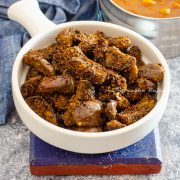 Print Recipe
Kathirikai Podi Curry
Kathirikai Podi Curry- South Indian style Eggplants made with freshly ground spice powder.
Ingredients
1/4

tsp

Turmeric powder a pinch

2

tbsp

Oil 2 tbsp

1

tsp

Mustard seeds

1

sprig

Curry leaves a sprig

1/2

tsp

Salt or to taste

12

medium

tender purple eggplants chopped into wedges

To Roast And Grind

1

tsp

Urad dal

1

tsp

Chana dal

2

tsp

Coriander seeds

4

Dry red chilies

1/4

tsp

Cumin seeds

1/4

tsp

Pepper corns

1/4

tsp

Sesame seeds

1

marble size

Tamarind a small marble size

3/4

tsp

Salt or to taste

3/4

tsp

Oil 1/2 tsp
Instructions
Making the spice powder
Heat 1/2 tsp oil and add chana dal, urad dal, tamarind, coriander seeds and dry red chilies Turn flame to medium.

When they begin to brown a little, add the remaining ingredients and roast till aromatic making sure the flame is medium low all the time.

Once done, let cool completely.

Add salt and grind to a powder. This should slightly coarse. Set aside.
Making Kathirikai Podi curry
Heat a pan with 2 tbsp oil. Pop the mustard seeds.

Add curry leaves.

Now add turmeric and eggplant wedges and salt , give a good toss, making sure the oil coats the eggplants well.

Cook the mixture covered on medium flame until the eggplants are fork tender but still hold shape. This takes roughly 8 to 10 mins.

When done, add the ground spice mix and combine gently.

Cook on medium flame for 2 mins.

Switch off flame and serve hot.
For Instant Pot & Air Fryer Recipes
Instant Pot timings may vary based on your geographic location. Air fryer settings and timings may vary based on the capacity and the model of the Air fryer.
Disclaimer
Nutrition values are provided here as a courtesy and are only a rough guide. Please consult a health care provider if you have any concerns.
P.S. This post was originally published in March, 2014. This has now been updated with recipe card and fresh photos.