HOW TO MAKE ZUCCHINI CHANNA DAL IN INSTANT POT?
Zucchini Channa Dal- Zucchini and split chickpea lentils cooked Indian style in the Instant Pot. Vegan. Gluten free.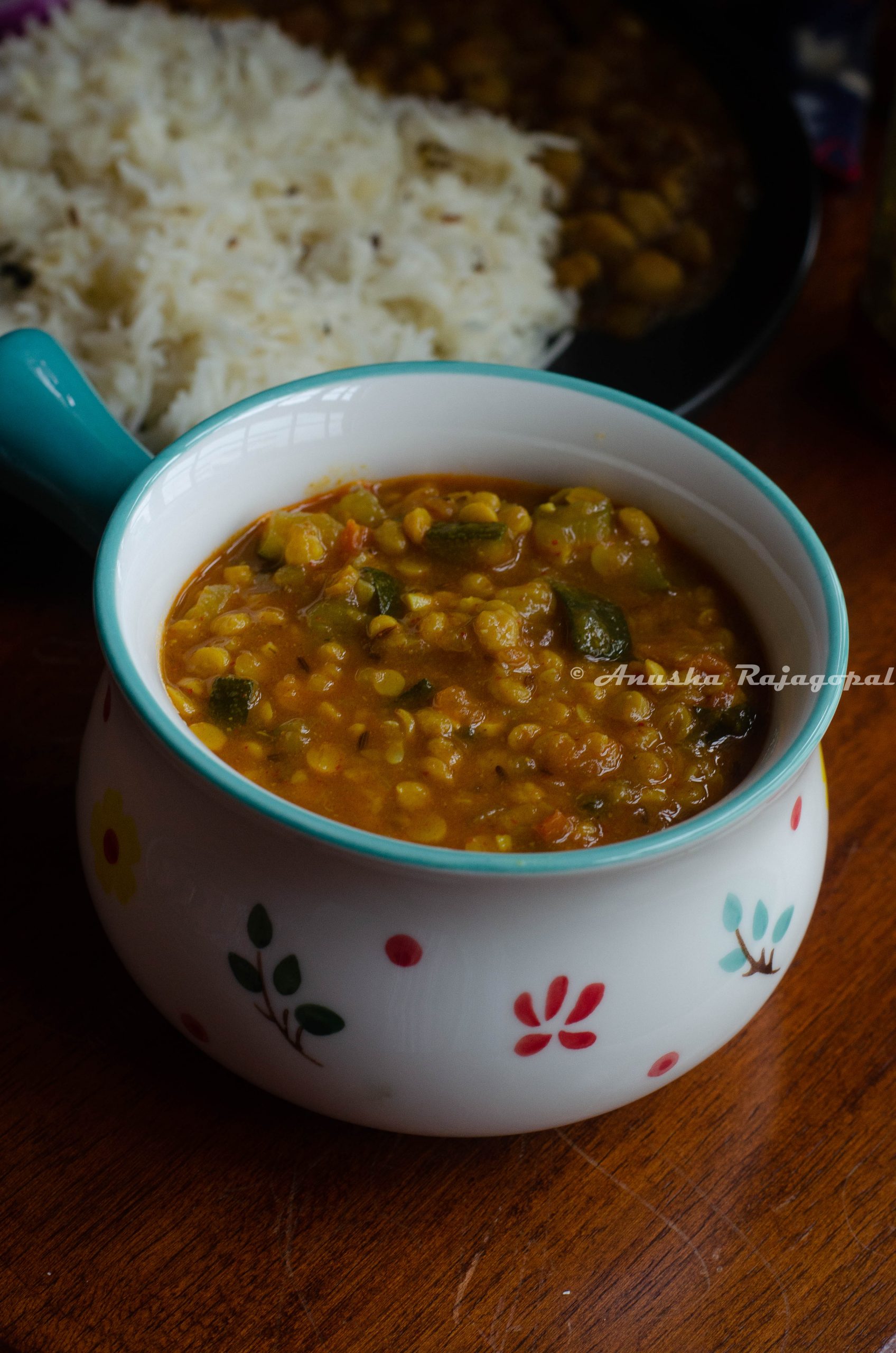 Why should you try Zucchini Channa Dal?
✔ Zucchini and lentils are a match made in heaven. 
✔ Makes for a fabulous weeknight meal. And you can repurpose leftovers by adding a dollop of yogurt, some grated cucumber, and carrots for lunch the next day. Think warm zucchini lentil salad.
✔ Chickpea lentils are not only a rich source of protein but also a great source of folate. 
✔ Packed with flavors, this vegan and gluten-free curry pairs well with anything from Naan to quinoa.
Jump to:
Zucchini Dal
Squash vegetables and lentils are so good when combined together. This Zucchini dal is a spin-off of the popular Lauki channa dal curry. I tasted this combination for the first time when my then cook, Mrs Manju made it one night for dinner.
And she insisted that I pair it with some yogurt. And oh boy! It was a brilliant meal. Because we are not huge bottle gourd fans, I tend to make this curry using Zucchini.
Channa Dal vs other lentils
Usually, Dals are cooked to a mush for lentil-based dishes in India. Take for instance, the popular Dhaba Style Dal Tadka. We pressure cook a combination of lentils until completely cooked and mushy for this.
However, the Zucchini Channa Dal is slightly different. In this recipe, we are going to cook the Channa dal just till done. We are going to keep them intact, with a bite, that will add to the texture of this curry.
While zucchini can be cooked with other lentils too, channa dal is the best bet for this curry.
Zucchini Dal- Ingredients
✔ Zucchini– I have used green zucchini here. You can also use yellow courgettes in place of the green ones.
✔ Channa dal– This dal works best because it retains shape while cooking it along with the zucchini. Other dals like Mung, Toor and Masoor tend to disintegrate and become mushy while cooking.
✔ Oil– I have used rice bran oil. Feel free to use any neutral-flavored vegetable oil in this curry.
✔ Spices– This recipe uses very basic Indian spices like ground paprika, ground coriander and cumin. You can use garam masala in place of all these spices if you don't have them.
Serving Suggestions
Here are some flatbreads that you can pair with this vegan Zucchini Channa dal curry.
Meal Planning and Prep Work
Meal Planning
Chop the zucchini and store in a ziploc bag or a fridge safe container. This stays good for upto 3 days in the fridge. 
Prep Work
Begin soaking the dal. And while the dal soaks, work on the chopping part. When done, get started with the cooking in the Instant Pot. If you plan to make parathas or chapatis, get the dough started while the IP is pressure cooking.
Recipe Notes
✔ Make sure to soak the Channa dal. Soaking it is a must. If you attempt this recipe without soaking the Dal, then there is a good chance that it does not cook properly.
✔ Avoid chopping the zucchini very finely. Smaller pieces tend to disintegrate on cooking. So i recommend chopping them to bite-size pieces.
Method
Soaking the Dal
Wash the Channa dal under running water twice. Drain all the water used for washing. Soak this in 2 c water for 20 mins.
Sauteeing the veggies
Turn on the saute mode and set the timer for 10 mins. Add oil. Now, add the cumin seeds and finely chopped ginger, and minced garlic. Saute for 20 secs and quickly tip in the finely chopped onions. 
Now, cook the onions till pink and soft. This takes roughly 2 mins. When done, add the spice powders along with the salt and mix well. Saute for 20 secs. 
When done, add the finely chopped tomatoes and mix well. Add 1 tbsp of water at this stage and mix well. Continue to cook this mixture for about 3 mins until the tomatoes turn mushy. We are adding the water here to prevent sticking to the bottom or burning of the mixture.
Adding the zucchini
When the tomatoes have cooked through, add the chopped zucchini. While I have not peeled the zucchini here, you can choose to do if it does not suit your palate. Give the mixture a quick mix. 
Adding the Channa Dal
Now, drain the water from the dal. Add this soaked dal to the pot along with the water. Mix well.
Pressure cooking
Now, switch off the saute mode. Close the IP and turn the valve to sealing. We are going to pressure cook our curry on high pressure today. So, turn on the Pressure cook mode ( Manual mode, if you are using older IP models), set the timer for 4 mins on high pressure.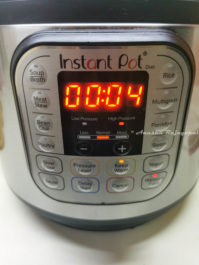 Allow the cooking cycle to complete and wait for the pressure to release naturally. 
Simmering
Once the pressure has released completely, turn the valve to venting. Now, open the lid and mix well. Mash the curry gently with a ladle once or twice. Take care not to over do this or mash the zucchini too much while doing so. Add finely chopped cilantro leaves and mix well. When done, turn on the saute mode. Simmer this mixture for 3 mins until the curry is slightly thicker.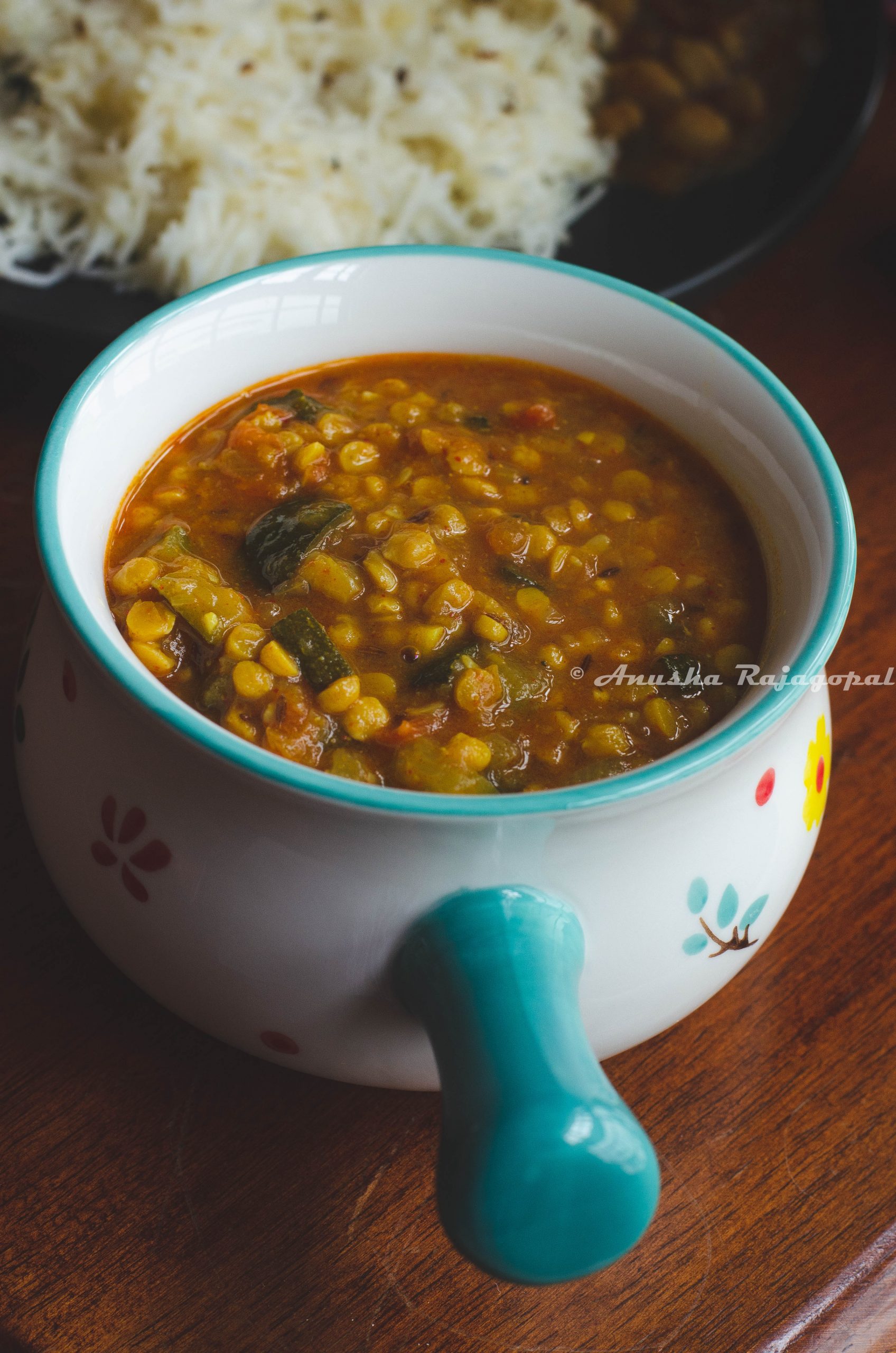 More Dal Recipes
Follow me on Instagram or Facebook for regular cooking updates and short videos. Find us on Pinterest for delicious content. Tried our Instant Pot Zucchini Channa Dal? We value your thoughts and comments! Leave a comment and tell us how it worked for you.
In case you have any questions regarding this recipe, leave a comment or write to anusapraj@gmail.com and I'll respond at the earliest possible. If you tried this recipe and enjoyed it, click a picture and share it on Instagram by tagging us @tomatoblues.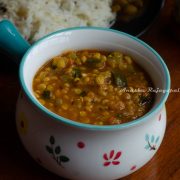 Print Recipe
Instant Pot Zucchini Channa Dal
A vegan and gluten free curry made in the Instant Pot with zucchini and Bengal Gram Dal
Ingredients
2/3

c

Channa Dal

1.5

tbsp

Vegetable oil

I have used canola here.

1

tsp

Cumin seeds

3

cloves

Garlic minced

approximately 3 g of minced garlic

1

tsp

Finely minced ginger

3/4

c

finely chopped red onions

1

tsp

Ground coriander

1

tsp

Turmeric powder

1

tsp

Paprika

Regular red chili powder or Cayenne works equally well.

1

c

finely chopped tomatoes

1

tbsp

Water

300

g

Zucchini cubes

1.25

c

Water
Instructions
Prepping the Dal
Wash the Channa dal twice. Drain all the water used for washing.

Soak the channa dal in 2 c water for 20 mins.
Tempering
Turn on the Saute mode in the IP and set the timer for 9 mins

Add oil and allow it to heat up.

Now, add the cumin seeds and allow it to crackle.

Next, add the ginger and garlic and fry for 20 to 30 secs.

Now, add the onions and mix well.

Wait for the onions to turn pink and soft. There s no need to brown the onions.

Add salt and the spice powders now. Mix well and fry for 20 secs.

Add the tomatoes next and 1 tbsp water.

Mix well and cook till tomatoes turn mushy. This takes roughly 3 mins.

When done, add the zucchini and mix well.

Now drain the water from the soaked dal and add this to the IP.

Close the lid of the IP, turn vent to sealing.

Now, set the IP to pressure cook mode on high pressure for 4 mins.

Allow the cooking cycle to complete.

When done, wait for the pressure to release naturally.

Once the pressure releases, Switch off the IP. Open the lid, use the back of a ladle mash the dal gently once or twice.

Garnish with chopped cilantro. Now, turn on the saute mode for 3 mins and allow the curry to simmer.

We can see that the curry has thickened slightly. Switch off the IP.

Serve hot with any bread or rice of your choice.
Notes
Please note that the pressure building time for the Instant Pot may differ based on the amount of liquid inside, the weather and the altitude of the geographical location.
The inactive time mentioned here is a rough guide based on my IP and my geographical location. Please note that if you live in a high altitude place, then pressure may take longer to build.
For Instant Pot & Air Fryer Recipes
Instant Pot timings may vary based on your geographic location. Air fryer settings and timings may vary based on the capacity and the model of the Air fryer.
Disclaimer
Nutrition values are provided here as a courtesy and are only a rough guide. Please consult a health care provider if you have any concerns.