I love rib gourds. Anything that is made out of them is yummy. The vegetable by itself can be eaten raw because there is some kind of sweetness to it. And this cute long veggie is available during the monsoon in gujarat.I ve known rib gourd in so many forms chutney, bajji, and kootu. This is my mom s speciality. Simple, healthy, easy and yummy. So lets get to work.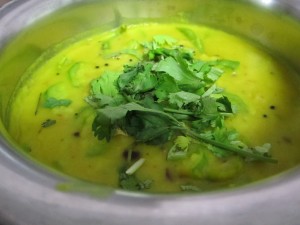 Prep Time: Under 20 mins
Cook Time Under 20 mins
Source: Amma
Serves 2
What you need?
Rib gourd- 1 long fleshy one, try getting it fresh
Moong dal/ paasi paruppu/hesaru bele-3/4 cup
Turmeric-1/2 tsp
green chillies-5 slit into halves
cilatro/coriander-a small bunch
Split chick peas-1 1/2tbsp
Mustard-1 tsp
ghee-2tbsp
hing/asafoetedia- a pinch
lemon juice of 1 whole lemon
How to make it?
Peel the skin off the gourd and chop them into little half slices. Keep aside.
Fry the moong dal in 1/2 tbsp ghee until a light brown.You get a delicious smell when its done but make sure you do all this on a low flame because moong dal burns quickly.
Boil the moong dal in the pressure cooker with a little turmeric for about 5 to 6 whistles.
Mash the dal well after its done.
Now, in a kadai, add the remaining ghee. After it s hot, add mustard and wait till it splutters. Then add the split chick peas.
Add the hing next and then green chillies.
Wait for the chillies to become a little white.
And now add the gourd and saute on medium flame for 4 mins.
Then add the moong dal and let it simmer for 5 mins on low flame. You need to be careful while adding the moong dal because it may splash.
Add salt to the dal at this point and give it a stir and let it simmer on high for half a minute.
Now, Let the dal cool well.
Add the lemon juice and the coriander and mix well.
Serve with hot rice and a little ghee. Any fried curry will taste good but my best bet is ladys finger.
Note: Sometimes rib gourds may turn out to be bitter so have a bite before you start off.