My fancy for gourds s unrelenting. Especially my love for ridge gourds. Its something like the ice cream love that you have when you are a kid. Everytime the ridge gourds make an appearance at the market, i ve to buy them. Many a times, i even turn my head away from the vendor who has beautifully arranged the gourds on his wicker basket. But no. I know i ll walk back to that guy and without a second thought buy 2 or 3 of those fleshy gourds no matter what the price. If you ask me why, i really dont know except that my love for these gourds is something special. If you ask me how i cook it, then i only have 3 ways of making it. One in a dal and the other this chutney. And then fritters. I dont know any other recipes. Nor do i want to know. Because i want to keep the memory of eating tender ridge gourd chutney unadulterated.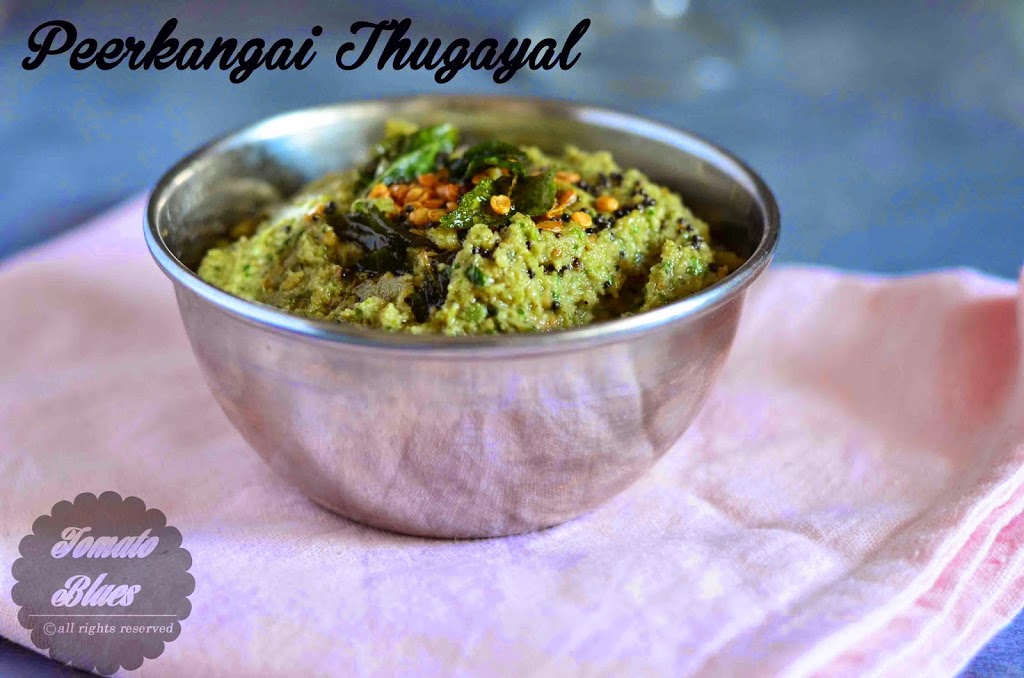 I make this chutney in 2 or 3 ways. This way is just one of them. Actually this s technically a Thuvayal or Thugayal as the tamilians back home call it. There s a lot of difference between chutney and thugayal.While a chutney s traditionally served with idlies, dosa or upma, the thugayals are made with some vegetable and are eaten along side rice.Or some people, i call them the thugayal devotees mix them with the rice itself and devour it like there s no tomorrow. I m proud to say i m one of those. These thugayals are a God send when you are short on veggies or when you really dont have the mood to whip up pot after pot of rasam and sambhar and curry. Its a terrific God send when you are just back from a tiresome day punctuated with an arm load of shopping and eating too much road side food. Try this with a cup of hot rice and generous spoonfuls of ghee and you wont be disappointed.
( You can add more coconut if you desire.You can even substitute the green chilies with dry red chilies. Saute all the ingredients separately.Use the stalks of the coriander leaves too for a nice flavor.In case you dont have tamarind, then add about 2 tsp of tamarind paste that you get ready made.)


Recipe For Peerkangai Thugayal
( Learn to make peerkangai thugayal, an easy chutney or dip with ridge gourds)
Prep Time: 10 mins
Cook Time: 10 mins
Serves 2 generously
Allergy Info: Vegan, Nut And Soy Free
Course: Side
Cuisine: South Indian
Ingredients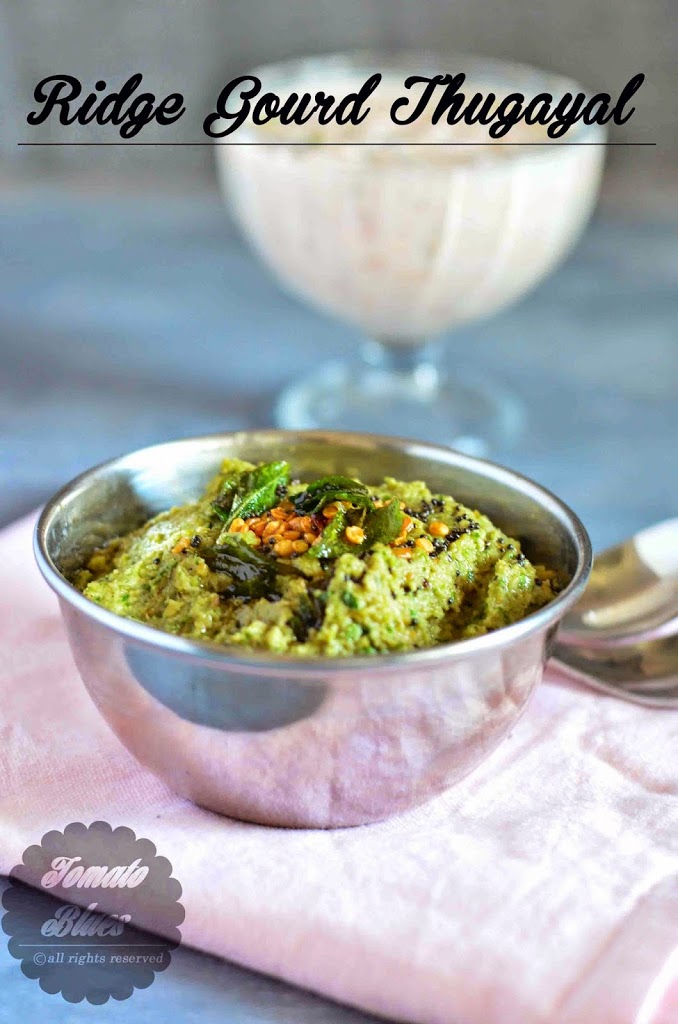 Tender ridge gourd 1 large one peeled and cubed
Tamarind the size of a marble
Coconut grated 1/4 cup
Urad dal 1 tbsp
Coriander leaves a small bunch
Cumin seeds 1/2 tsp
Green chilies 4 to 5
Oil 1 tbsp
Salt to taste
To Temper:
Mustard seeds 1 tsp
Oil 1 tbsp
Hing a large pinch
Curry leaves a sprig
Directions
Heat a kadai with 1 tbsp oil.
Saute the gourd and the green chilies until the gourds are tender and have wilted. Takes about 5 mins.
Now, transfer this to a bowl and set aside to cool.
In the same kadai, add the urad dal and cumin seeds and roast for about 1 min until the dal is a light brown. Set aside to cool.
Once cool, place the gourd, chilies, tamarind, urad dal, cumin, salt, coriander leaves and coconut in the blender and grind to a thick paste without adding any water. The water in the gourd is sufficient to grind this.
Transfer to a bowl and temper with mustard seeds, hing and curry leaves.
Serve alongside rice and rasam or mix it up with hot rice, add a spoonful of ghee or sesame oil and devour it with papadams or chips.