How To Make Peerkangai Bajji?
PEERKANGAI BAJJI- CRISPY FRITTERS MADE WITH LOOFAH OR RIDGE GOURD. VEGAN. GF. EASY SNACK RECIPES.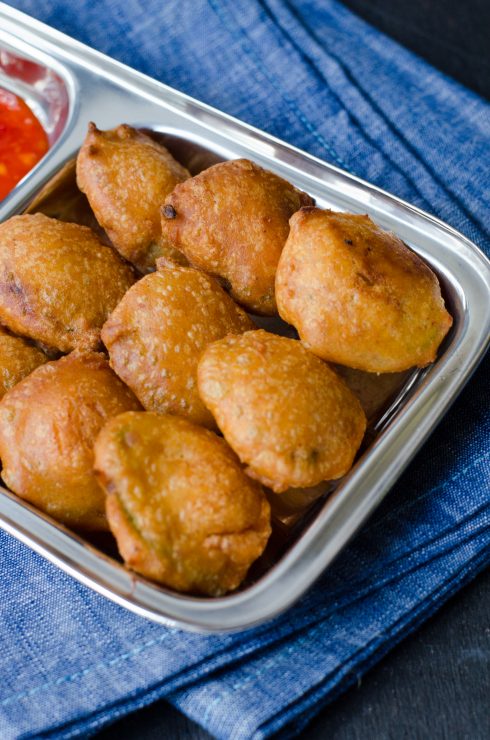 Peerkangai Bajji or heerekai bajji is a popular snack made across many Kannada homes. Tamil people mostly use onion, potato and raw plantains for making bajji. Bajji is nothing but a crispy deep fried snack which is prepared tempura style by using vegetables. Bajjis are often associated with pon parthal, a custom in which a prospective groom comes to look at his future bride along with his family. If everything goes well, the marriage is finalised. Usually, a snack of bajji or bonda along with some kesari and hot piping coffee is served for the guests during this time. The first time i heard about peerkangai bajji was from Mr.P. He told me that during his brief stay in Bangalore during his internship days, there used to be an aunt who used to make peerkangai bajji and serve it with some delicious coconut chutney. I had never heard of peerkangai bajji before that. And i m really glad i did. Because it changed my bajji perspective. Now, i make bajji whenever i buy ridge gourd. The recipe is pretty simple. Mr.P s granny used to make bajji with freshly ground wet batter made with soaked gram dal and rice. I will share that method very soon. In the meanwhile, let us see how to make crispy on the outside and soft on the inside peerkangai bajji.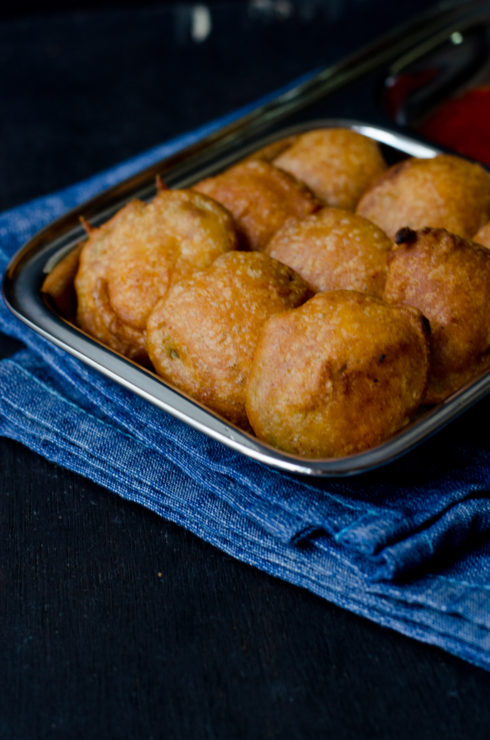 Recipe For Peerkangai Bajji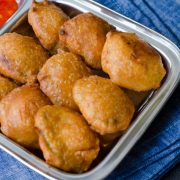 Print Recipe
Peerkangai Bajji Recipe
Peerkangai Bajji- Crispy tempura style fritters with ridge gourd. Vegan. Tastes great as a snack or as a side dish with rice and sambar or curd rice
Ingredients
Ridge Gourd/ Loofah 1 long peeled and sliced into 3mm discs

Besan/ chickpea flour/ Kadala Maavu 1/2 c + 1 tbsp

Rice flour 1 tbsp

Red chili powder 1.5 tsp

Hing a small pinch

Salt to taste

Oil for deep frying
Instructions
In a large mixing bowl, sieve together chickpea flour, rice flour , salt, hing and chili powder.

Add water gradually and make a thick batter. The batter should be slightly runnier than dosa batter.

Heat oil in a pan.

Drop a small spoon of batter into the oil. If it floats quickly to the top, the oil is ready for frying.

Now, dip discs of ridge gourd in the batter until well coated.

Fry in batches until golden on medium flame.

Serve hot with any chutney or dip.
For Instant Pot & Air Fryer Recipes
Instant Pot timings may vary based on your geographic location. Air fryer settings and timings may vary based on the capacity and the model of the Air fryer.
Disclaimer
Nutrition values are provided here as a courtesy and are only a rough guide. Please consult a health care provider if you have any concerns.