Peanut Chutney or groundnut chutney is a popular South Indian accompaniment for Idlis and Dosas. This creamy, naturally vegan chutney uses a combination of roasted peanuts, garlic cloves, chana dal, dried red chilli and curry leaves among other things.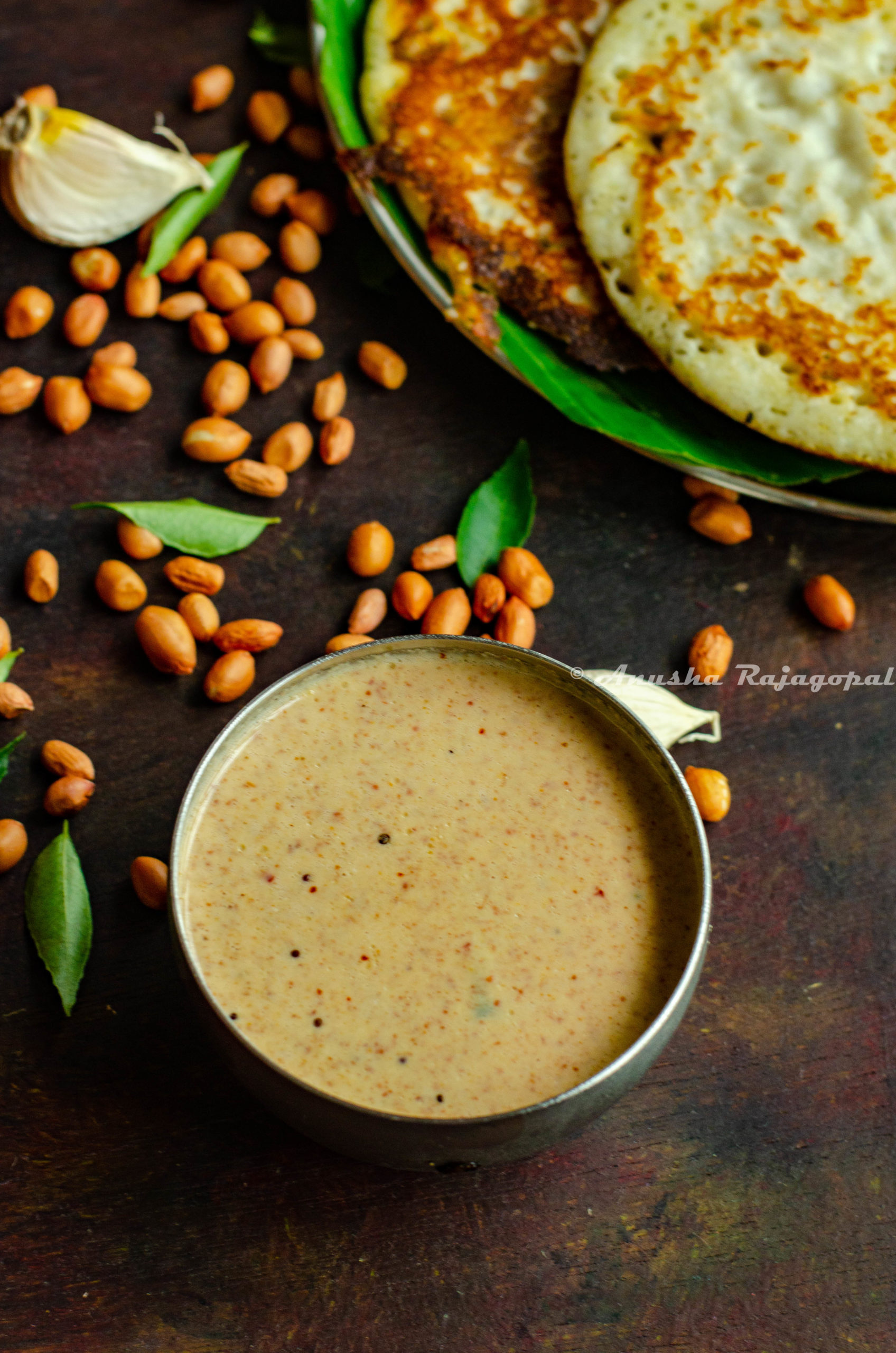 Why should you try this chutney?
☑ This is a protein-rich chutney that pairs well with just about anything even though the heading reads as "sidekick for idlis and dosa"
☑ This is a ridiculously easy chutney to put together if you have roasted peanuts on hand, which i assume you do, because its a fabulous snack 
☑ And this chutney is so addictive that you will probably be eating spoonfuls of it or have an extra Dosa or two just because this chutney sits on the table. Don't tell me i didn't tell ya.
Jump to:
Palli Chutney 
This peanut chutney is called as Palli chutney in Telugu. As weird as it sounds, Palli in Tamil means lizard. So needless to say, I was bewildered the first time i came across the term. But let me reassure you, if someone whose tongue is Telugu offers you some Palli chutney, rest assured that it is nothing but this creamy deliciousness of a peanut chutney. 
Groundnuts – Which ones to use and how to use?
I was introduced to this chutney by my very talented MIL. And in my MIL s wise words, use only roasted and unsalted peanuts for best results in this recipe. Also, make sure your groundnuts are not rancid.
Peel them or peel them not?
While this is a choice, I do not remove the skin on the peanuts to make this recipe. There is some evidence showing that peanut skin is rich in antioxidants. And peeling is just another step. It truly doesn't alter the taste much and so I like it this way.
If you do choose to peel your peanuts, you will have a beige color groundnut chutney. 
So whichever route you choose doesn't matter, really.
Prep Work- Meal Prepping
Like i mentioned earlier, this recipe is a breeze to make if you have roasted peanuts on hand. I tend to roast a large batch in the oven over the weekend if this recipe figures in my meal plan for the next week.
You can also peel the garlic in advance and store in them in air tight boxes in your fridge. Though, you need to be really careful about storing them in the fridge because the smell of garlic can be quite overpowering and also latches itself on to other foods in the fridge.
Pro Tip: Use a cast iron pan to roast your groundnuts on stove-top. You can also use the oven to roast them. If roasting a large batch, then place them in a single layer on a cookie tray and roast them in a preheated oven for 8 to 10 mins at 200C. Make sure you stop midway, shake them up well and proceed roasting.
Peanut chutney with rice
You can use the same recipe to make peanut chutney for rice. That will become a tasty thogayal. To adapt this recipe into a rice-friendly version, make sure you grind this into a thick paste and skip adding water to dilute it.
Palli Chutney- Variations
Like any self-respecting chutney worth its salt, this recipe is one with you can make so many variations. 
You can also add 1/2 c freshly grated coconut to the peanut chutney for a different taste in the groundnut chutney. However, adding coconut reduces the shelf life. You can also add 1 tbsp roasted sesame seeds to this. Sesame seeds give an earthy flavor and improves its nutrition profile too.
Shelf life and Storage
I store all my chutneys in the fridge in an air tight glass storage container. Pyrex works very well for this and so does Borosil.
As for the shelf life of this chutney, this keeps well for two days in the fridge. It develops a slight bitter taste after this. 
Method- step by step
Roasting peanuts
Heat a cast iron pan. Add the peanuts and begin roasting them on low flame till you hear a pop or two. Make sure you keep stirring every now and then. It takes about 8 mins to roast a cup of peanuts on low flame.
To know if they are roasted, pick one and slightly rub the skin. If the skin comes off easily, then its all roasted and good to go.
Pro Tip: Peanuts tend to be soft and chewy when hot after roasted. Don't panic. They become crunchy once they cool down. Also, never grind the peanuts to a chutney while they are hot. Wait for them to cool down fully before grinding. Grinding hot peanuts means bitter chutney.
Roasting the dal etc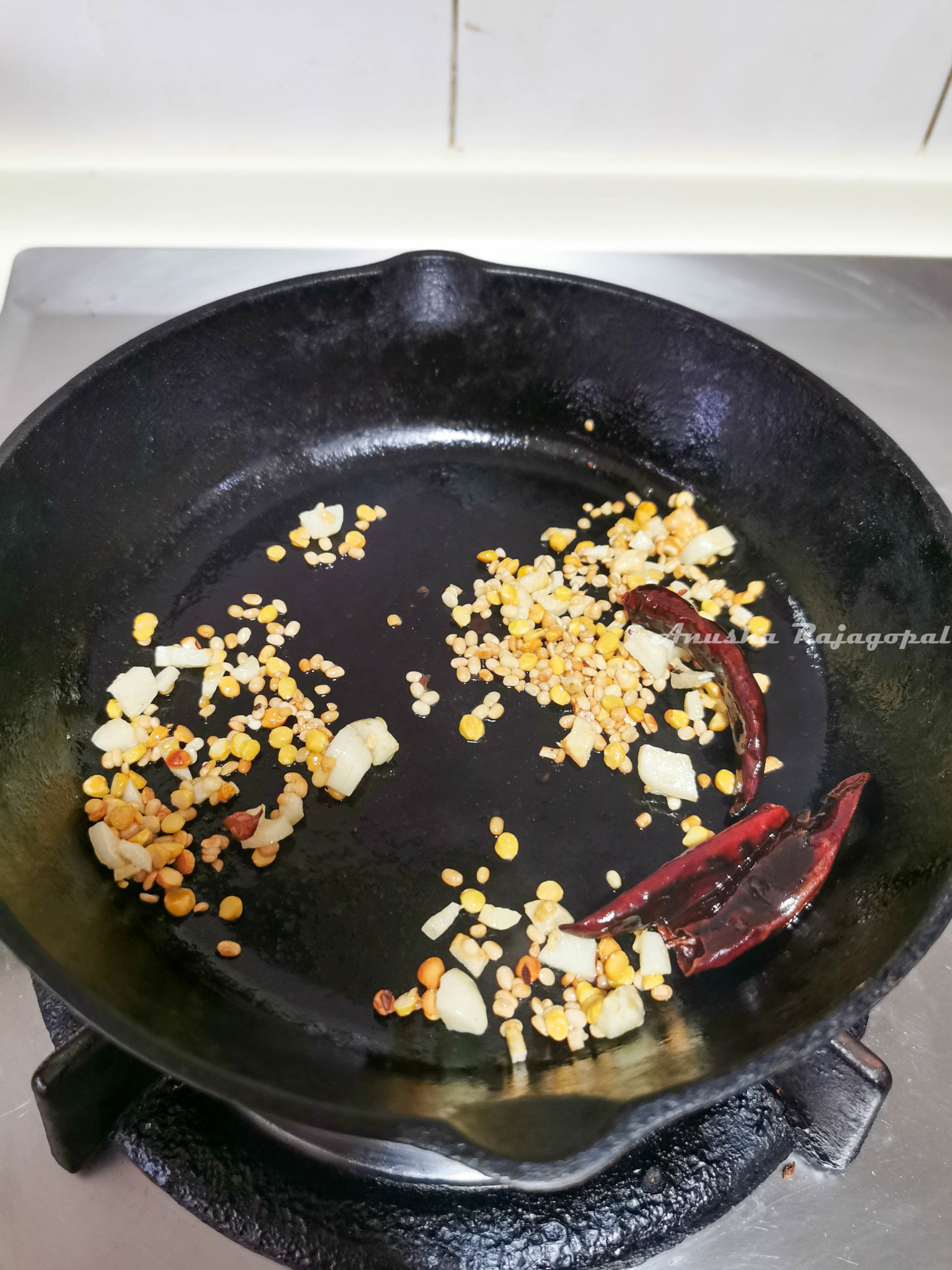 Once the peanuts are roasted, transfer to a plate and allow them to cool. Heat oil in the same pan and add channa dal, dry red chili and urad dal along with peeled garlic cloves.
Fry on low flame till the dal turns golden. This takes about 2 mins. When done, transfer to the same plate as the peanuts and allow it to cool.
Grinding
Once the roasted and fried ingredients have cooled down, transfer them to a blender. Now, add tamarind paste and salt. Pulse this using the pulse mode for a few times.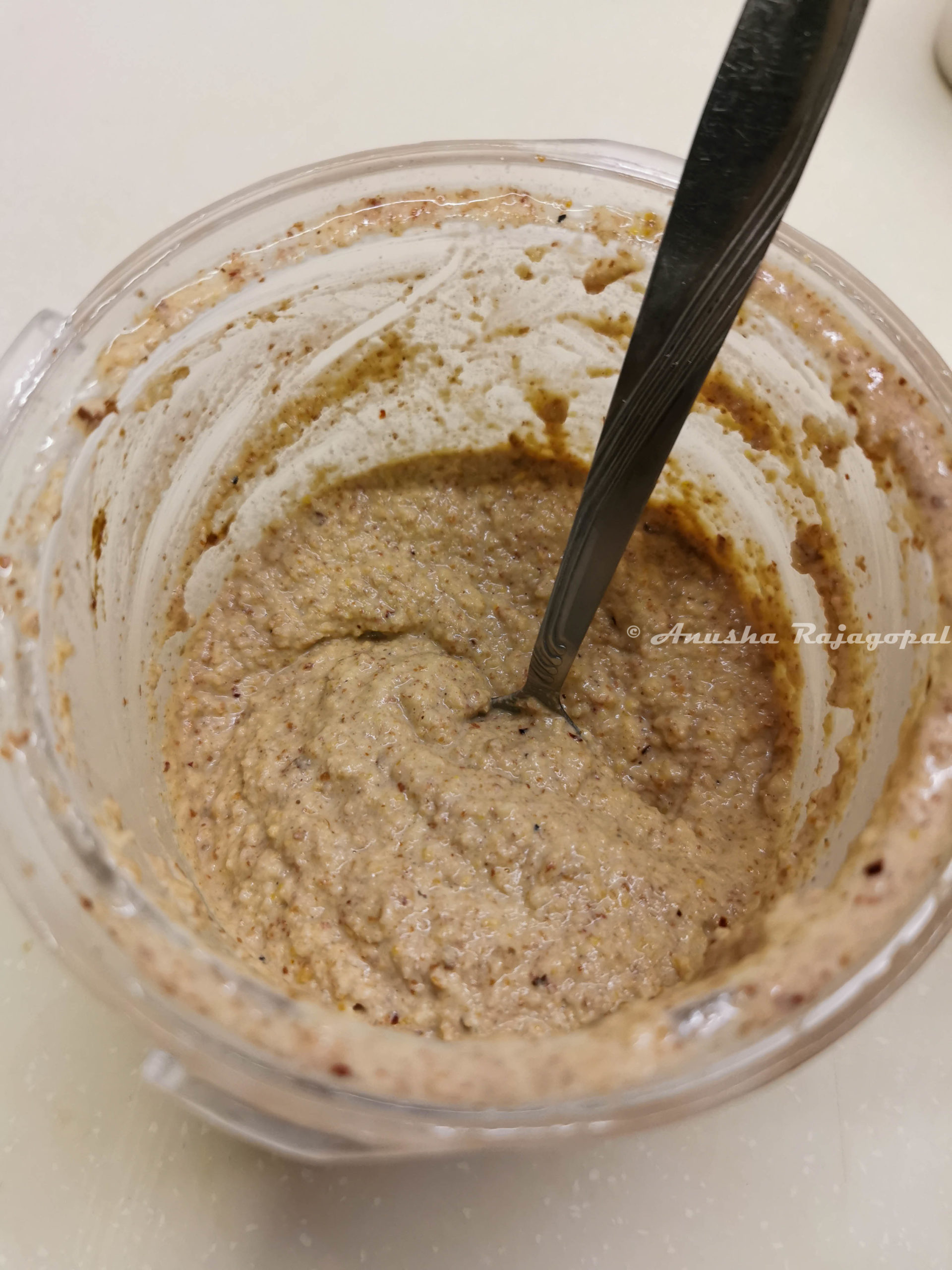 Once done, add 1/2 cup water and grind to a paste. If you want a thick Thogayal like consistency in the chutney, then add very little water. If you want a runny chutney to dunk your Idli or Dosas in, then you can add more water.
Tempering
Now for the aromatics part. Heat a small pan. Add the oil for tempering. Once the oil has heated up, add the mustard seeds and wait for them to splutter., tip in the urad dal and add curry leaves. Allow the dal to become a golden brown. 
When done, add the tempering to the chutney and mix well.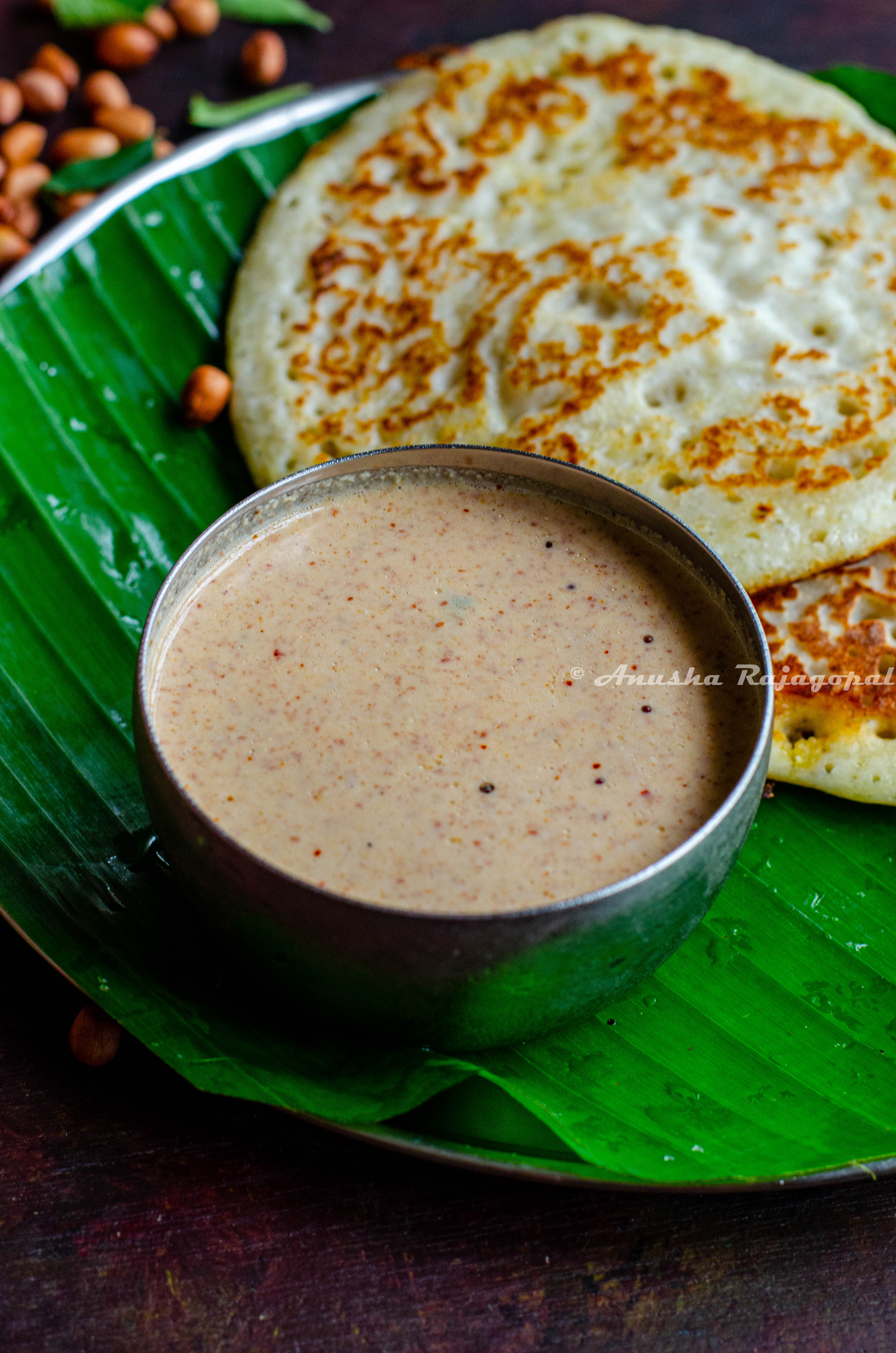 More Chutney Recipes
In case you have any questions regarding this recipe, leave a comment and I'll respond at the earliest possible. If you tried this recipe and enjoyed it, click a picture and share it on Instagram by tagging us @tomatoblues.
Follow me on Instagram or Facebook for regular cooking updates and short videos. Follow me on Pinterest for delicious content. Tried our Kanda Batata Poha? Then please rate this recipe and tell us why you loved our recipe!
Recipes featuring Peanuts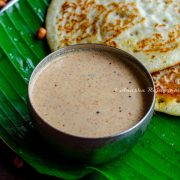 Print Recipe
Peanut Chutney
Peanut chutney or groundnut chutney- An easy to make sidekick for Idlis, Dosas and Uthapams. Made with roasted peanuts and
Ingredients
3/4

c

Peanuts

2

tsp

vegetable oil

1

tbsp

Channa dal

1

tbsp

Urad dal

2

big

garlic cloves peeled

4 to 5

dry

red chilis

2

tsp

tamarind paste

1.25

tsp

Salt or to taste

1/2

c

Water
Tempering
1

tbsp

peanut oil

1

tsp

mustard seeds

1

tsp

Urad dal

1

sprig

curry leaves
Instructions
Roasting the peanuts
Heat a cast iron pan and add the peanuts to it.

Roast the peanuts on low flame until you hear a few pops. You will also be able to rub off the peel easily when you rub a peanut with your finger. That s when the peanuts are roasted. This takes 8 to 10 mins on low flame.

Transfer to a plate and let cool.

To the same pan, add 2 tsp oil.
Frying other ingredients
Now, add channa dal, urad dal, chilis and garlic.

Fry these on low flame until dals turn golden.

Add to the roasted peanuts and allow to cool
Grinding
Once cool, transfer all this to a blender along with tamarind paste and salt

Using the pulse mode, pulse this mixture a few times.

Now, add the water and grind to a smooth paste.

Adjust consistency by adding more water if desired.
Tempering
Heat a small pan with the peanut oil.

Add the mustard and allow it to pop.

When the mustard pops, tip in the curry leaves and urad dal.

When the dal becomes golden, add the tempering to the chutney.
For Instant Pot & Air Fryer Recipes
Instant Pot timings may vary based on your geographic location. Air fryer settings and timings may vary based on the capacity and the model of the Air fryer.
Disclaimer
Nutrition values are provided here as a courtesy and are only a rough guide. Please consult a health care provider if you have any concerns.