How To Make Vengaya Chutney?
Vengaya Chutney or Chinna Vengaya Chutney is a spicy chutney that goes well with idli, dosa and aapam. This keeps well in the fridge for 3 to 4 days and also makes it ideal for travel times.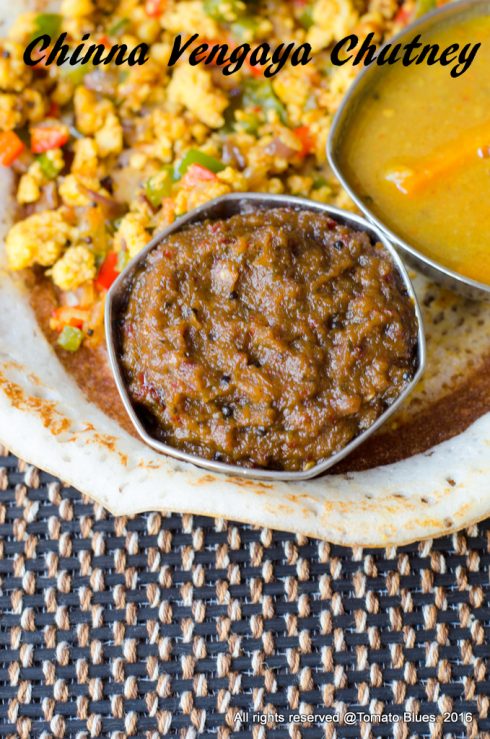 Vengaya Chutney or Chinna Vengaya chutney as they call it at my In- Laws', is a delicious and spicy chutney made with pearl onions or shallots. I learned how to make this chinna vengaya chutney from my Mother In Law during the first few months of my marriage. My maternal home does not have the tradition of having a big sit down breakfast. We are the cereal and toast kinds on weekdays and weekends are always meant for poori and kizhangu or poori and kuruma. But Mr.P's folks are big breakfast eaters and go to all extents to eat a fantastic spread in the morning. Needless to say, this kind of stumped me in the beginning. I simply could not adjust to the idea of eating ghee laced crispy dosas along with an array of colorful chutneys as early as 8 in the morning. You get the drift here, right? Right. So when the MIL came to stay with us for a few months when we were newly weds, she used to make different chutneys and this one was a keeper. So i learnt to make this vengaya chutney and have been making it ever since.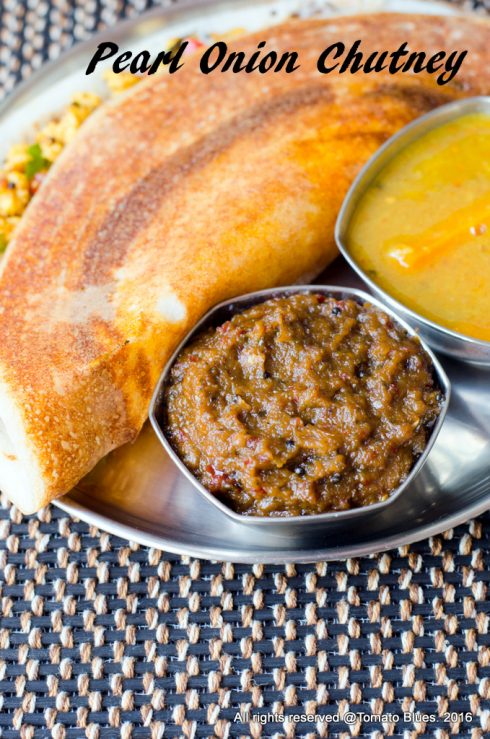 For me, finding a bag of pearl onions here in Gujarat is like going to pixie land and coming back. I love the flavor pearl onions  give to anything in which they feature.I top my 
Paruppu Urundai Kuzhambu
 with pearl onions  fried in sesame oil sometimes. Duh!! i feel like eating that kuzhambu right away.  I love my pearl onions in Kathirikai kara kuzhambu ~ a tangy eggplant gravy with which i devour steamed rice and ghee. Heck.. i love them in anything. Lets just say i am always falling in love with pearl onions. Not so much of a chemistry with the normal red onions though. 🙂 I recently chanced upon pearl onions in a small store here. I bought them without a second thought. And then, as usual, forgot about them. Until, my maid pointed out to the basket of pearl onions and asked me, " what are you going to do with those?" and rolled her eyes at me. Thus the pearl onions got chutnied. And boy, they tasted simply scrumptious.
Recipe For Vengaya Chutney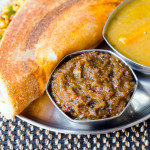 Print Recipe
Vengaya Chutney Recipe For Idli And Dosa
Vengaya chutney is a spicy and tangy dip made with pearl onions. Tastes great with idli, dosa, aapam and poori
Ingredients
Shallots 1 cup peeled and chopped roughly

Dry red chilies 5 to 6

Tamarind the size of a big marble soaked in warm water for 10 mins

Salt to taste

Sesame oil 2 tbsp

Tempering :

Mustard seeds 1 tsp

Hing a large pinch

Curry leaves a sprig
Instructions
Grind the shallots, tamarind, chilies and salt to a fine paste without adding any water.

Heat a kadai with oil and add the mustard seeds.

Once the mustard seeds crackle, add the hing, curry leaves and the ground paste.

Now, let the paste simmer till the raw smell of shallots disappears and the oil separates from the mixture.

Takes about 10 to 12 mins on medium flame. You will know its done when the mixture leaves the sides of the kadai.

Remove from heat and let it cool.

Add about a tsp of sesame oil to the chutney just before serving and serve with Idlies or dosas.
For Instant Pot & Air Fryer Recipes
Instant Pot timings may vary based on your geographic location. Air fryer settings and timings may vary based on the capacity and the model of the Air fryer.
Disclaimer
Nutrition values are provided here as a courtesy and are only a rough guide. Please consult a health care provider if you have any concerns.