How To Make Chocolate Peanut Butter Also Called As Peanutella. Vegan. Gluten and Soy Free.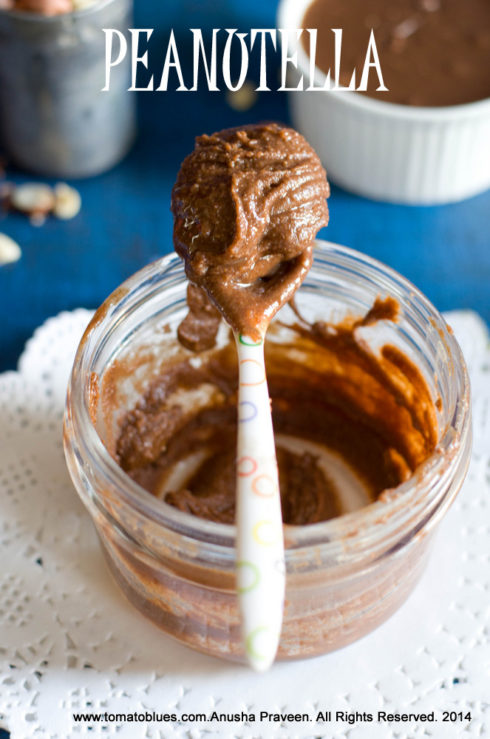 Chocolate Peanut Butter Or Peanutella, is another addictive way to relish peanut butter. Initially, i wanted to share the recipe of regular Peanut butter. Later i realised that i must make it a wee more sinful by throwing in some luscious dark chocolate into that heavenly mixture of peanuts, salt and some sugar. And then pulse it up in a blender to get this deeply dark chocolate flavored peanut butter. That is the story of how the Chocolate Peanut Butter was born in my kitchen.We enjoyed the whole jar of this delight by slathering it on to pretty much everything on which you slather something. ( Well, its got to be edible) So, we did chocolate peanut butter with rotis, chapathis, dosas and finally this gorgeous, dense and rich Vegan Chocolate Loaf Cake. And then we went on to lick the jar clean. And i must say Little A participated in this with much delight. So let us now learn how to make Chocolate Peanut Butter at home. I must tell that you will never buy that ominous jar of peanut butter again from the super market after doing this.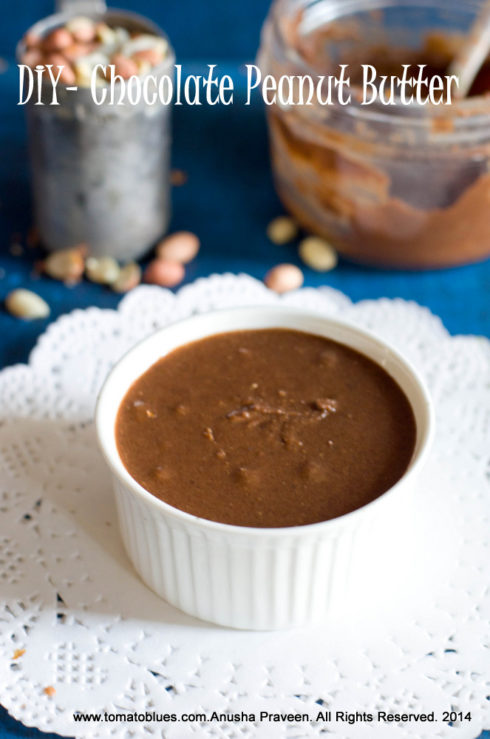 How To Make Chocolate Peanut Butter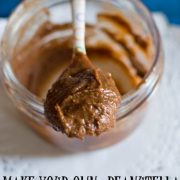 Print Recipe
How To Make Chocolate Peanut Butter
Chocolate flavored peanut butter that pairs well when served along side breads, loaves and roti.
Ingredients
Salted roasted peanuts 1 c

Dark chocolate chips 1/2 c

Sugar 2 tbsp

Vanilla extract 1 tbsp

Canola oil 1 tbsp
Instructions
Place the peanuts in a food processor and blend to a smooth paste.

The peanuts will first clump up into a ball.

Be patient, rest the processor a few times between grinding and make sure you break that ball into a smooth paste.

This took me about 15 mins of grinding.

Once the peanuts have become a smooth paste, add the vanilla,chocolate chips and the sugar and give the mixture a nice blitz.

Now, add the canola oil and blitz once more.

Transfer to a clean sterilised jar.

Stays well for 2 weeks without refrigeration.
Notes
1. Use different flavored peanuts for variations.
2. I used roasted peanuts in this recipe and they were salted. In case you dont have roasted peanuts, roast 1 cup of peanuts in a microwave on high for 2 mins.
Let it cool completely. And proceed with the recipe. In this case, you may have to add about 1/2 tsp of salt while adding the chocolate, vanilla and sugar.
For Instant Pot & Air Fryer Recipes
Instant Pot timings may vary based on your geographic location. Air fryer settings and timings may vary based on the capacity and the model of the Air fryer.
Disclaimer
Nutrition values are provided here as a courtesy and are only a rough guide. Please consult a health care provider if you have any concerns.