How To Make Vazhaipoo Thogayal?
VAZHAIPOO THOGAYAL- BANANA BLOSSOM RELISH. VEGAN. GF.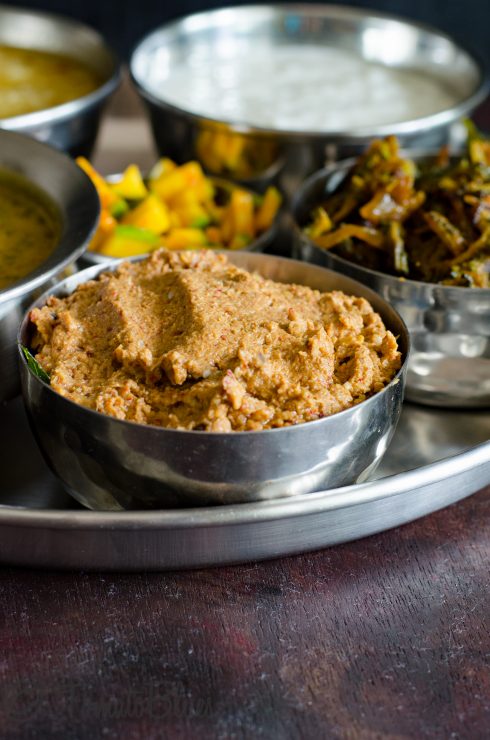 Vazhaipoo thogayal is something i discovered three years back. I love plantain in any form- fruit, vegetable, flower, root, stem. Getting idea, huh? I was told by my doctor to include more plantain blossom in my diet when i was trying to conceive a while back. And when i had tired of making vazhaipoo usili, poriyal and kootu, i resorted to making some vazhaipoo thogayal that i discovered on Aps blog.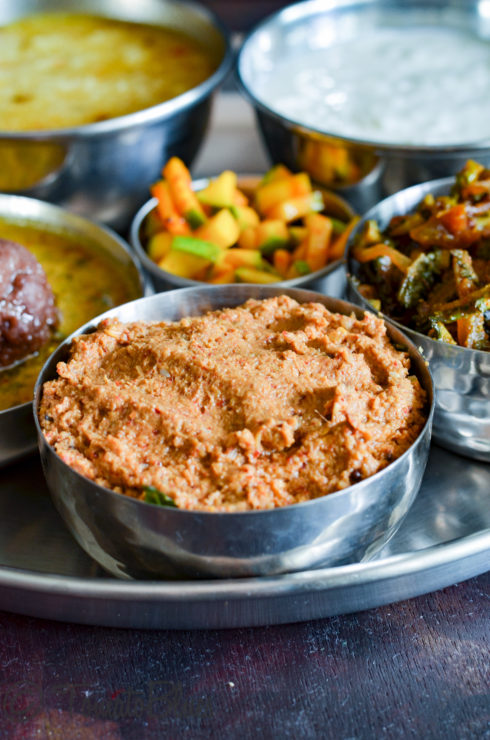 So, what is thogayal? Thogayal is nothing but a spicy relish. This vazhaipoo thogayal uses the simplest of ingredients and yet packs a punch in terms of flavor and nutrition. For those of you who are unaware, vazhaipoo aka plantain blossom is a wonderful powerhouse of nutrients that are beneficial for women trying to conceive or for those who has menstrual irregularities.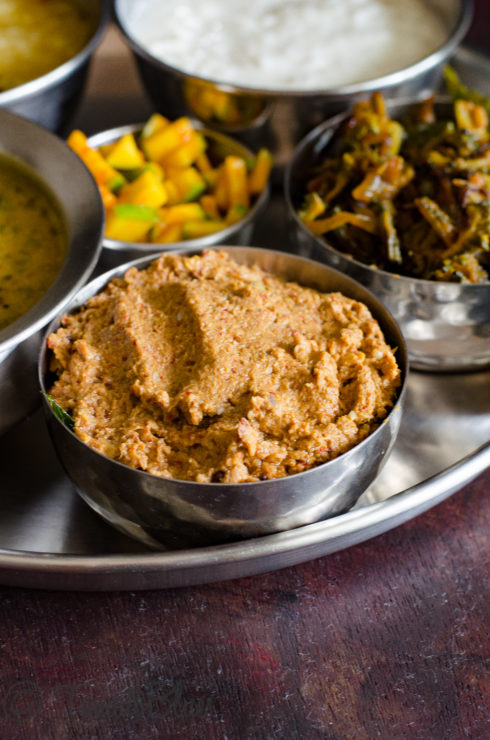 Shall we now check how to make Vazhaipoo thogayal step by step?
Before we begin making the thogayal, let me give out a caveat. It is a pain cleaning plantain blossom. Yes, your fingers may become sore and numb. But trust me, its well worth the trouble. It is very important that you clean the blossoms well before cooking. Otherwise, the dish will turn bitter. Also i highly recommend soaking the chopped vazhaipoo in sour buttermilk to prevent discoloration and to remove bitterness. Please follow the pictorial below to know how to clean vazhaipoo.
Remove the purple outer covering. You will see the white part inside with little flowers. Pick out each flower. And discard the center black stamen part from the flower. Once, chop the flowers finely and dunk in sour buttermilk.
Wash the chopped vazhaipoo thoroughly in running water. Place in a vessel with water and turmeric powder and cook till tender. Once done, drain and set aside.
Heat a pan with oil. Add dry red chilies, a marble size tamarind and 2 tsp urad dal. Fry till dal turns golden. Once done, let cool.  Place in a blender along with shredded coconut, salt and cooked plantain blossom. I do not get shredded coconut here. So i add bits of coconut to the blender and pulse it once to shred it. If you have freshly shredded coconut, use that instead of my method. Grind to a coarse paste. Temper with mustard seeds and curry leaves using sesame oil. Mix well. Serve with hot rice.
Recipe For Vazhaipoo Thogayal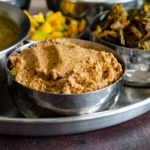 Print Recipe
Vazhaipoo Thogayal Recipe
Vazhaipoo Thogayal- A delicious vegan and gluten free relish made with banana blossom
Ingredients
Banana blossom aka vazhaipoo 1 plucked

cleaned and chopped

Urad dal 2 tsp

Tamarind a small marble size

Dry red chilies 5 to 6

Freshly grated coconut 2 tbsp

Salt to taste

Sesame oil 1 tbsp

Mustard seeds 1 tsp

Curry leaves a sprig
Instructions
Clean the banana blossom properly and chop finely.

Add this to a pan of water along with turmeric powder and cook till tender.

Once done, drain completely and let cool.

In the meanwhile, heat a pan with 1 tsp oil.

Add the urad dal, tamarind and red chilies and fry till dal turns light brown.

Once done, remove and let cool.

Once everything s cool, place the dal mixture, cooked banana blossom and grated coconut along with salt in a blender. Grind to a coarse paste.

Heat a pan with remaining oil.

Add mustard seeds and once they splutter add curry leaves.

Pour this over the ground paste and mix well.

Serve with hot rice and sesame oil or ghee.
Notes
If you find that the vazhaipoo doesnt grind well, first pulse it in the blender before adding the rest of the ingredients.
For Instant Pot & Air Fryer Recipes
Instant Pot timings may vary based on your geographic location. Air fryer settings and timings may vary based on the capacity and the model of the Air fryer.
Disclaimer
Nutrition values are provided here as a courtesy and are only a rough guide. Please consult a health care provider if you have any concerns.