How To Make Rainbow Fruit Salad With Citrus Mint Dressing?
Rainbow Fruit Salad With Citrus Mint Dressing is made with all kinds of fruits. Vegan. Gluten Free. Navratri Recipes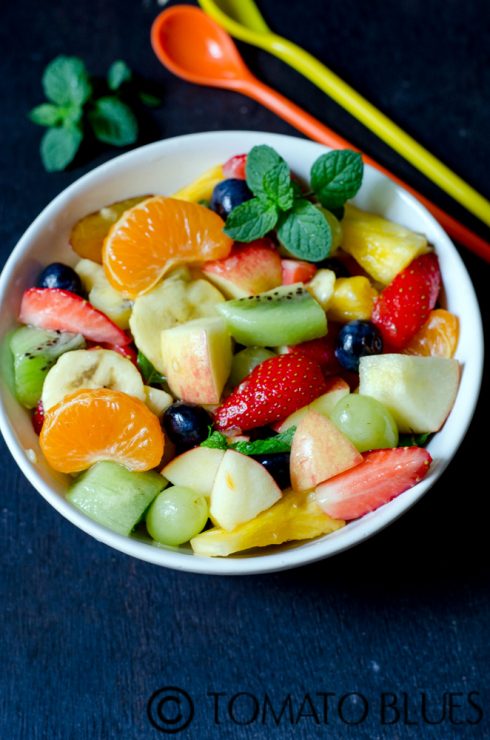 Rainbow Fruit Salad with Citrus Mint Dressing is an easy fruit salad that can be made with any combination of fruits including berries. The salad uses a citrus mint dressing which only has three ingredients and is a breeze to whip up. This rainbow fruit salad which is colorful and bright is a kids' delight. This salad is also appropriate during this Navratri time and makes a filling meal on hot days too.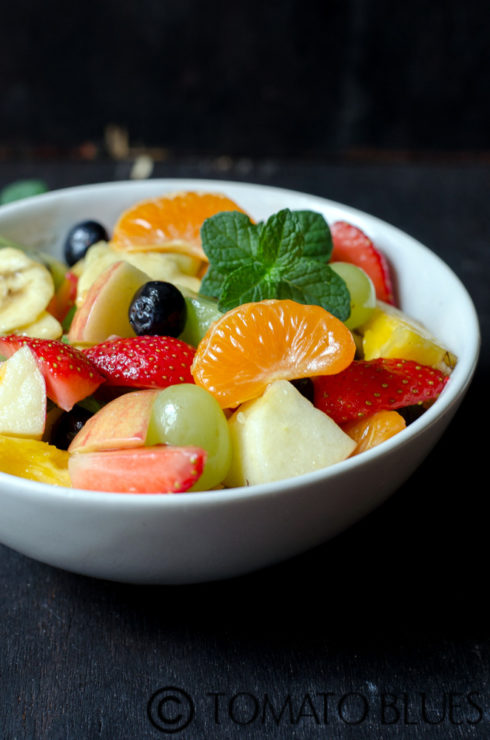 I sometimes go overboard when i go fruit shopping. And this rainbow fruit salad happens when i m left with too many fruits but too few smoothies or milkshakes to make. I used a very simply citrus dressing to make this colorful salad as i wanted to enjoy the flavors of the fruit without any other flavors interfering with the real taste of the fruits. I seem to be making too many salads these days because Mr.P carries salads along with his regular lunch. It is just that there is really very little time to share those salads here but i will still make an attempt. This salad tastes best when eaten cold. And it also works as a great dessert in case you are pressed for time. Just add some frozen yogurt or ice cream with a bowl of this rainbow fruit salad and your dessert is ready. Of course, it wont be vegan then.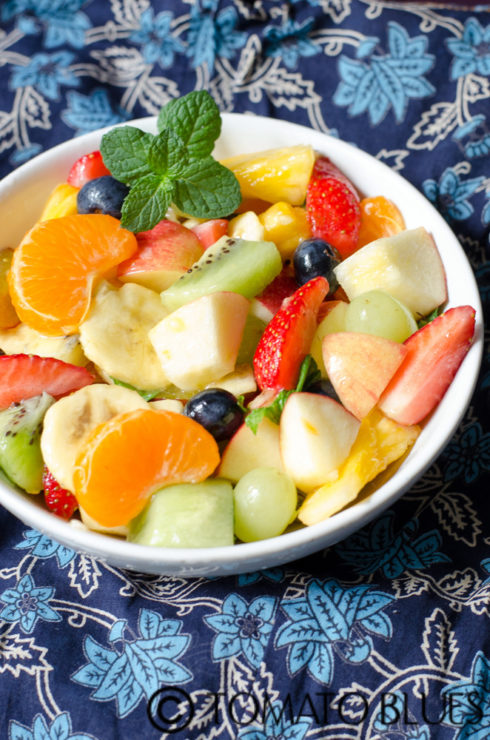 Recipe For Rainbow Fruit Salad With Citrus Mint Dressing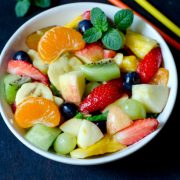 Print Recipe
Rainbow Fruit Salad
Rainbow Fruit Salad is a mixed fruit salad with a simply citrus mint dressing. Works well as a dessert when served with frozen yogurt or ice cream
Ingredients
Mixed fruits 1.5 c

Kiwi, Banana, Apple, Pine Apple, Orange,Pear, Strawberry, Grapes and Assorted Berries used here

For The Citrus Mint Dressing

Orange juice 2 tbsp

Lime juice 1 tsp

Lemon juice 2 tsp

Maple syrup or white sugar 2 tbsp

Mint leaves 5 to 6 chopped finely

Mint leaves for garnish
Instructions
To make the dressing, combine the maple syrup, orange juice, lemon juice and lime juice along with the chopped mint leaves and whisk thorougly.

Once done, add the dressing to the fruits and chill for an hour in the fridge.

Garnish with mint leaves and serve.
Notes
1. If you do not have access to maple syrup, use white sugar or honey. But if you use honey, then the recipe wont be vegan
For Instant Pot & Air Fryer Recipes
Instant Pot timings may vary based on your geographic location. Air fryer settings and timings may vary based on the capacity and the model of the Air fryer.
Disclaimer
Nutrition values are provided here as a courtesy and are only a rough guide. Please consult a health care provider if you have any concerns.