I know its been a very very long while since i actually posted a recipe here. Somehow, i didnt feel upto doing a round up post for 2013. And i wanted to kick off the new year with a dessert. As a matter of fact, i wanted to post the recipe for carrot halwa as its winter here and those orange carrots are aplenty in the markets. But it seemed too ordinary a dessert suddenly.Its the devil in me talking by the way. And i had this Falooda calling out to me every time i open my folders on the comp. So i thought, its going to be get warmer in a few weeks.Why not some falooda fun?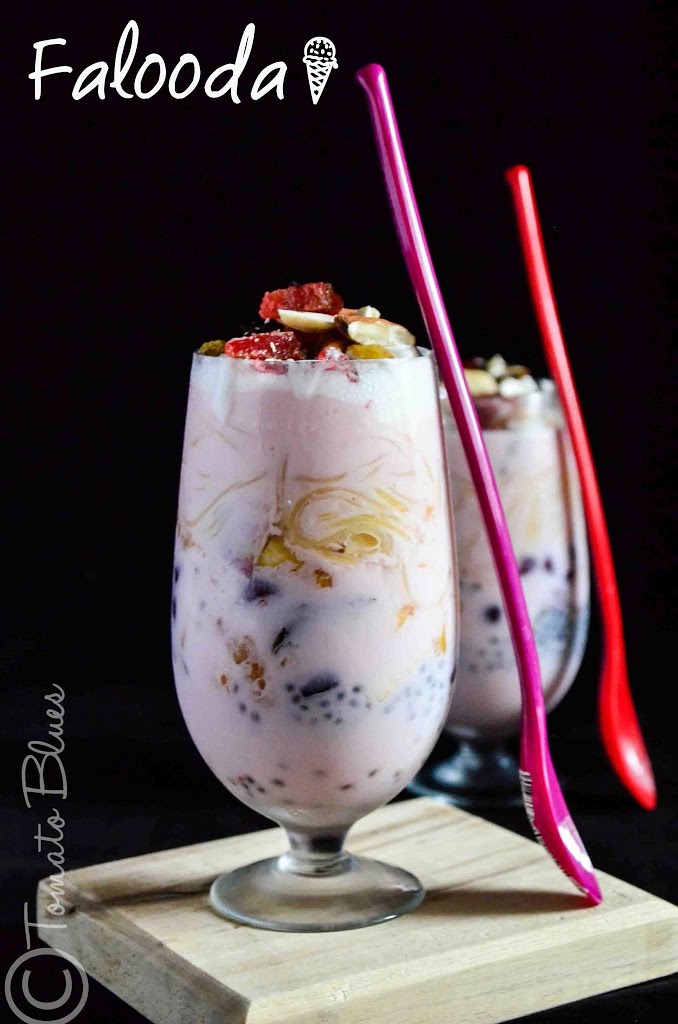 What can i say about falooda except that its the first dessert that i tasted as a kid and it has always remained my top dessert choice, no matter where i go. I still remember eating falooda for the whole meal when i was taken out by my dad and mom. While i grew up, i somehow forgot about this amazing dessert. One day, suddenly, just like that, the craving to down a falooda hit me hard in the belly and from then on, its never ended. I made an attempt to make falooda at home a while back and i must say, it felt so good to gorge on more than one falooda.

Falooda
(Learn to make falooda, a dessert with assorted fruits, vermicelli and ice cream)
Prep Time: 10 mins plus 1 hour chilling time Cook Time: 20 mins Allergy Info: Contains nuts and milk
Cuisine: Indian Course: Dessert Yields 2 large glasses
__________________________________________________________________________________
Ingredients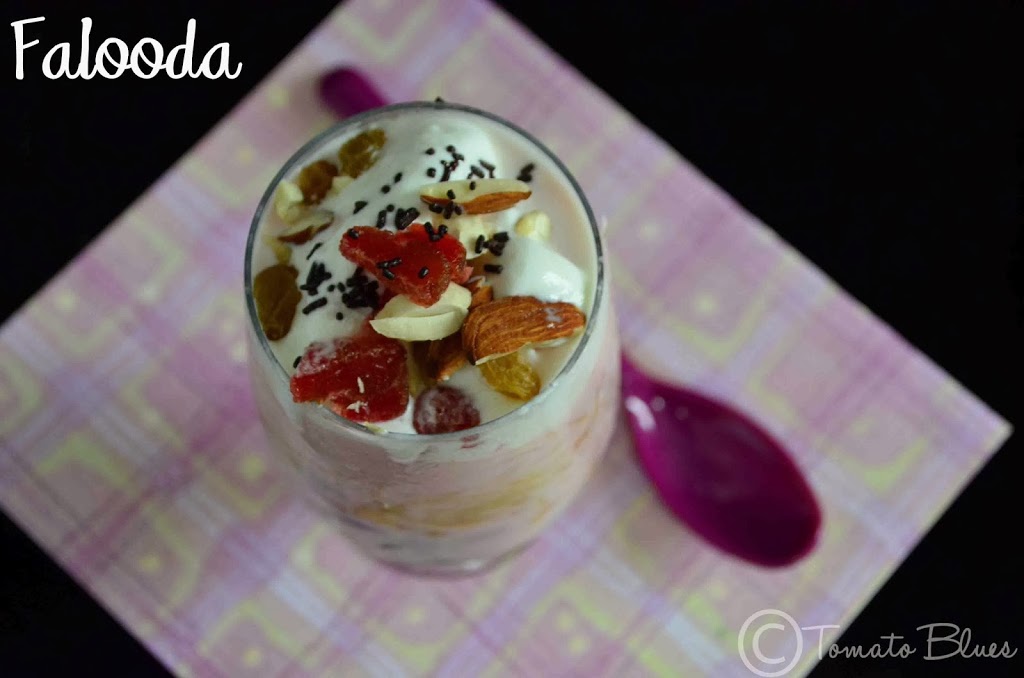 Milk 2 cups boiled and cooled.
Assorted fruits (apple, banana, strawberry, mango, pineapple, grapes) cubed 1 c
Vanilla ice cream 2 big scoops* ( see notes)
Nuts ( cashews, almonds) 2 tbsp*
Basil seeds 1 tbsp soaked in 1/2 c water.
Falooda sev 1/4 c*
Sugar 1/ 2 c
Rose syrup 2 tbsp
Notes
1. You can use any flavor of ice cream that you like. Feel free to experiment with two or three flavors. I ve tried mango and banana. Also mango and chocolate work well. In case you use a flavor other than vanilla, dont use rose syrup.
2. You can roast the nuts and add them.
3. Soak the basil seeds for 1/2 an hour.
4. In case you dont find falooda sev, use the very thin roasted vermicelli available in the market.
5. Dont use orange or other citrus fruits as they will make the falooda bitter.
6. Assemble the falooda just before serving.
7. You can also use any fruit jelly available in the market. Add the jelly after you place the fruits in the glass during the assembling.
Method
Preparation
Soak the basil seeds in 1/2 c of water for half an hour.
In the meanwhile, Cook the falooda sev as per instructions on the packet. Drain and let cool.
Boil milk and add sugar while it is still hot. Let cool completely.
Add rose syrup to the milk and mix well. Refrigerate.
Also, refrigerate the cup fruits too.
Assembly
To assemble the falooda, you need two tall and considerable big glasses.
Divide the fruits, nuts, ice cream, basil seeds and sev into two portions.
Place the fruits in the bottom of one glass.
Now, add the sev.
Next add ice cream.
Add the soaked basil seeds to the top of the ice cream.
Sprinkle nuts and raisins.
Pour one cup of milk slowly from the sides.
Repeat with another glass.
Serve cold with a spoon and generous sprinkling of chocolate vermicelli if you desire.