How To Make Mango Jalapeno Taco Sauce?
MANGO JALAPENO TACO SAUCE-  A SWEET AND SPICY MANGO BASED TACO SAUCE. VEGAN. GF. MEXICAN RECIPES.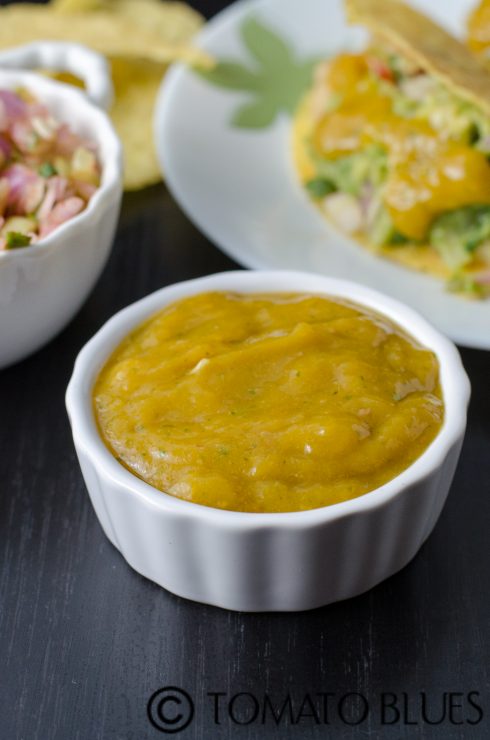 Mango jalapeno taco sauce is something that i blitzed up because i was too bored of the regular tomato based taco sauce and because i did not want to buy a bottle of taco sauce, only to let it sit in the pantry until it reaches its BB date. Come on, admit it. You have been there, done that too. Many of us mindlessly buy jars of condiments just to use them in one single recipe and then let them die a glorious death in the trash. That i religiously scrub the jars clean and upcycle them as props is another thing, totally. This time around, when my taco craving struck, i decided that i ll make my own sauce and i also decided that it s not going to have tomato in it. Nothing wrong, right? Right. My love for tacos began when Taco Bell opened its doors to Indian folks for the first time in Bangalore way back in 2009. And then i broke up with tacos for logistic reasons, until recently. I decided that i ll make tacos with an Indian touch so that the ever loyal Indian cuisine fanatic aka Mr.P will also be placated. This mango jalapeno taco sauce is an ode to my Indianised Taco making attempts. And you must trust me, you will not miss the tomato one bit.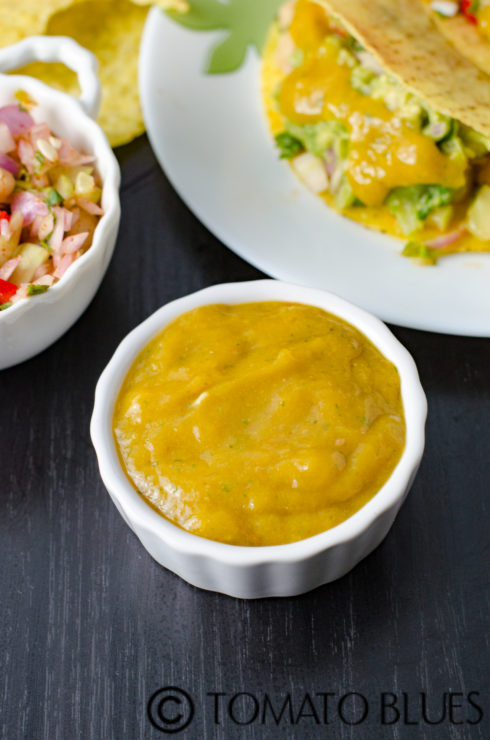 Coming to the mango jalapeno taco sauce, this sauce is simply a myriad of flavors in a spoon. Ok,bowl. Fine? When i hoarded up my fridge with the mangoes from my last visit to Little India, little did i know that i would be making this taco sauce with them. Because i wanted my taco sauce to have a sweet note, i resorted to mangoes. And they worked perfectly fine because of their pulpy texture. Also, i did not use Alphonso mangoes here. I used a semi ripe Banganapalli because i felt an Alphonso would make the sauce too sweet. I guess i have talked enough here. Shall we get on with recipe?
Recipe For Mango Jalapeno Taco Sauce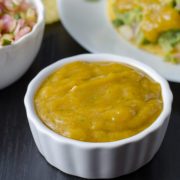 Print Recipe
Mango Jalapeno Taco Sauce
Mango Jalapeno Taco Sauce- a refreshing take on the ubiquitous tomato based taco sauce in which mangoes are the star. Vegan. GF.
Ingredients
Semi ripe mango 1 smallish peeled

stoned and cubed

Jalapeno 1 medium stalks removed and minced

Cilantro leaves 2 tbsp chopped finely

Cumin powder 1/2 tsp

Garlic powder 1/2 tsp

Onion powder 1 tsp

Pimento powder 1/2 tsp

see notes

Lemon juice 1 tbsp

Salt to taste
Instructions
Place all the ingredients in a high power blender and blend till smooth.

Add about 2 tbsp water if you find the sauce too thick and blend again.

Store in an airtight container in the fridge.

Use within 2 days.
Notes
Pimento is a type of chili powder. If you do not have it, substitute with 1/2 tsp of regular red chili powder.
For Instant Pot & Air Fryer Recipes
Instant Pot timings may vary based on your geographic location. Air fryer settings and timings may vary based on the capacity and the model of the Air fryer.
Disclaimer
Nutrition values are provided here as a courtesy and are only a rough guide. Please consult a health care provider if you have any concerns.