First and foremost, my apologies. This post has been in the doing for a long time now and it also happens to be the one that announces the winners of my birthday 
giveaway
. I am not going to give any excuses in the name of Little A. Lets just say, this post did not happen because i had some sort of writers' block. Or simply because i did not know what to write. So, before i get on to the recipe, here are the winners. Hearty congratulations to
Beulah Arun of Full Scoops 
 for winning the Pondicherry Kitchen book and
Sathya Priya
of My Kitchen Odyssey for winning theSanjeev Kapoor cookbook "Biriyani and Rice Recipes". Thank you everyone who participated in the giveaway.
Now, for the recipe part. This recipe is a classic example of fusion indian cooking. A few days back, 
Mother's Recipe
 sent me a hamper with some of their product samples and asked me to come up with an innovative recipe using one of them. Among the many samples that i received was the Gujarati Gor Kheri pickle. Now, honestly, i m that super spicy eyes and nose watering pickle sort of girl. So, a sweet pickle doesnt appeal much to me. In the pickle sense that is. Which is when i decided to use the pickle in a recipe of my own and give it a sort of middle eastern touch. This dip is the outcome of all that thinking. I also used this in another recipe which i ll be posting very soon. In the meanwhile, if you all have some Gor kheri at home, then do try making this dip.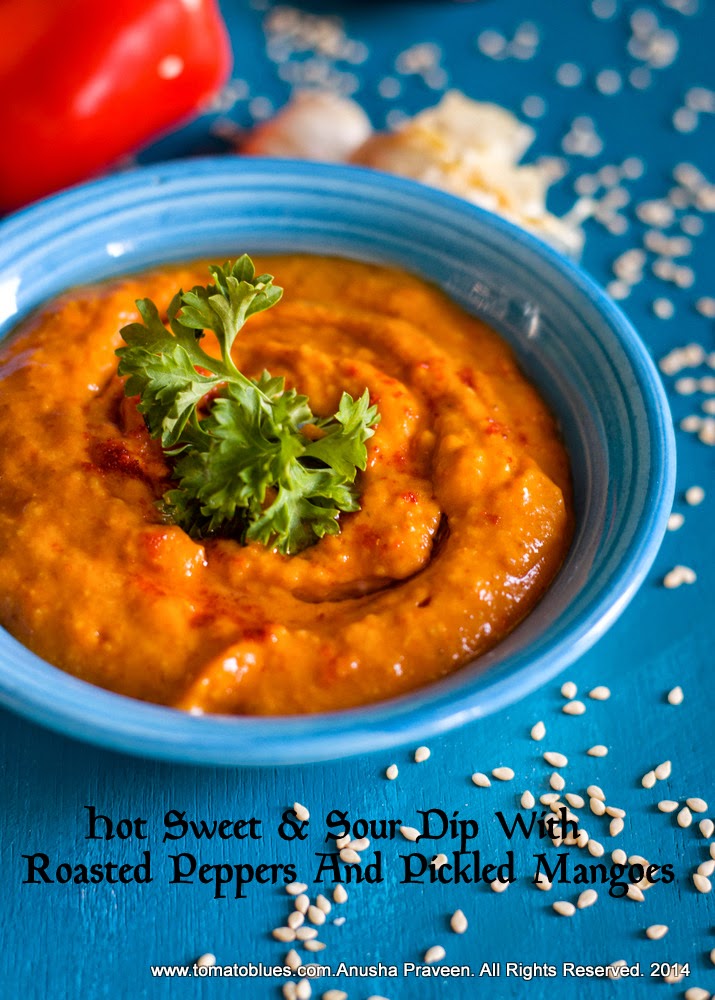 ( Learn how to make a Hot Sweet And Sour Dip with Peppers and Gor Kheri Pickle)
Prep Time: 10 mins
Cook Time: 20 mins
Serves 2 to 3 
Allergy Info: Vegan, Gluten free, Soy free
Course: Dip, Spread, Accompaniment
Cuisine: International ( Fusion of Indian and Middle Eastern Cuisine)
Ingredients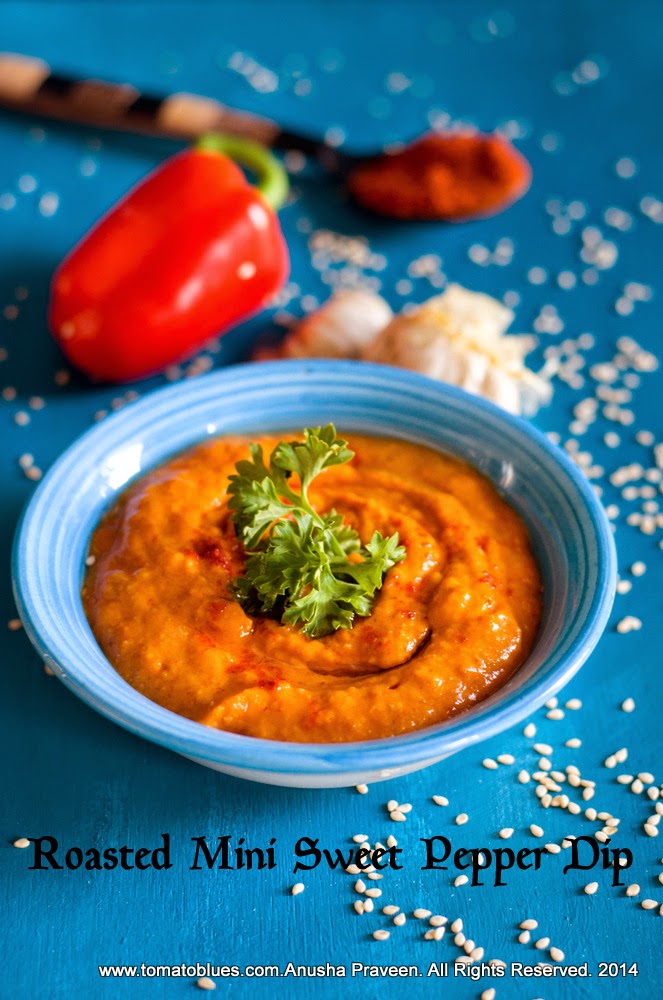 Mini sweet peppers 4 to 5
Garlic 1  small bulb
Almonds 1/4 c
Sesame seeds 1 tbsp
Paprika 1 tsp
Parsley 1 tbsp chopped finely
Mothers Recipe Gor Kheri Pickle 2 tbsp
Olive oil 2 tbsp
Lemon juice 1/2 tbsp
Salt to taste
Note:
In case you dont find mini sweet peppers near where you live, you can substitute them with regular red and yellow peppers.
You can use any other toasted nuts like pistachios or walnuts in the place of almonds for a variation.
Add lemon juice just before serving.
This dip keeps well for 4 days when refrigerated
Directions
Preheat oven to 180 C.
Coat peppers with oil generously and wrap them in foil.
Chop heads of the garlic bulb and drizzle olive oil on the exposed head.
Wrap the garlic in foil.
Place the peppers and garlic on a baking tray and roast in the preheated oven for about 20 mins.
Once done, remove peppers and garlic from foil.
Peel the roasted garlic and keep aside the cloves.
Let cool the peppers and garlic.
Toast the almonds and sesame seeds on high in the microwave for about 2 mins.
Let cool.
Once cool, place the roasted peppers, toasted almonds and sesame seeds, 1/2 tbsp chopped parsley, Gor kheri pickle, paprika and salt in a blender and blend to a smooth paste.
Once done, transfer to a bowl.
Mix in the remaining parsley leaves and lemon juice to the dip.
Drizzle some olive oil and sprinkle 1/4 tsp paprika.