How To Make Rava Ladoo?
RAVA LADOO- SWEET BALLS MADE WITH SEMOLINA. GOKULASHTAMI RECIPES.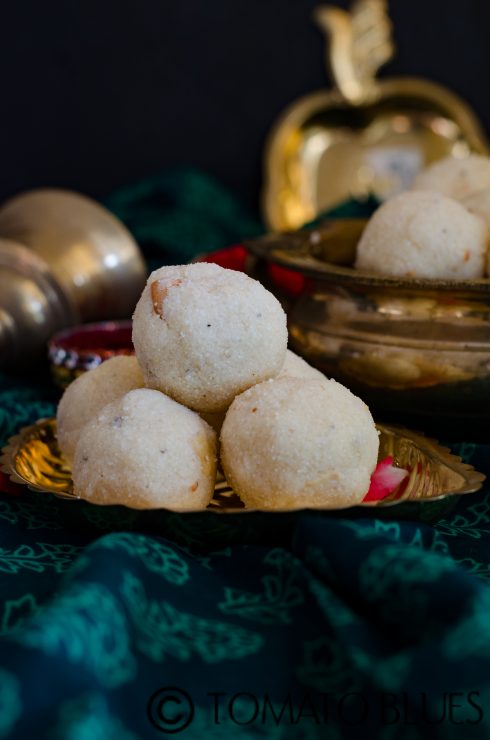 Rava Ladoo or Rava Laddu, however you want to call it, is one of those ridiculously easy sweets that you can whip up in no time. I make these mostly during the occasion of Sri Krishna Jayanthi. I ve seen many recipes for rava ladoo. Those which use coconut and milk. But these dont keep well for a long time. My MIL s version s one without milk and it tastes heavenly. Whats more, it keeps well for 20 days.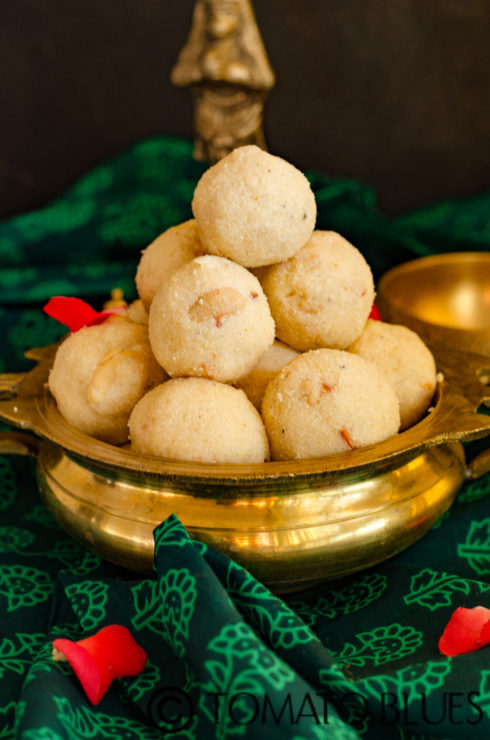 Rava Ladoo is the first sweet that i attempted after getting married. No, wait. Let me think about it. It is the first sweet that i attempted any time ever. And because this involves no string consistency, etc , it is a very beginner friendly recipe. There are two key steps involved to make the perfect rava ladoo. One is roasting the rava correctly. If you under roast your rava, then the rava ladoo will taste raw and smell weird. If you over roast the rava, the ladoo will have a brownish tinge and taste a bit burnt. The second thing is to make sure you powder the rava once you have roasted and cooled it.
Step By Step Instructions For Rava Ladoo
Heat a pan with 1 tsp ghee. Once the ghee melts, add the semolina to the pan and roast till light brown and aromatic. Make sure you do this on medium flame to avoid burning. Once done, transfer to a wide plate and let cool. Once cool, place in a blender and powder the semolina to a fine powder. Do this in two batches in the smaller jar to get better results.
Now, powder the sugar along with the cardamom pods to a fine powder. Add this to a large mixing bowl along with the powdered semolina. Mix well using a wooden spatula.
In the same pan that you roasted the rava, add the remaining ghee and wait till hot and completely melted. Once melted, add broken cashews and fry till golden. Drain the cashews and add to the semolina sugar mixture. Once again, mix well using a wooden spatula.
Now, add the melted ghee to the bowl and mix well. Your mixture should resemble a crumbly mass of dough. Wait for the mixture to become warm enough for you to handle. Once warm to the touch, shape into ladoos. Make sure the mixture doesnt become cold altogether. You will not be able to shape ladoos if the mixture is completely cold.
Your rava ladoo is ready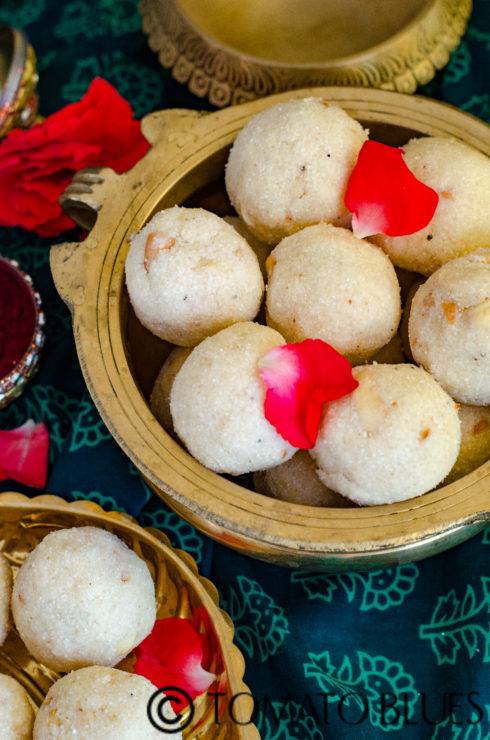 Recipe For Rava Ladoo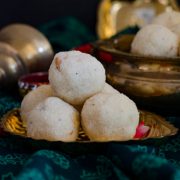 Print Recipe
Rava Ladoo Recipe
Rava Ladoo- Sweet semolina balls made with roasted semolina, sugar , ghee and cashews. Makes a great dessert of its own or can be served as prashad
Ingredients
Semolina or sooji 1 cup

Ghee 1/4 cup melted

Sugar 2 cups powdered

can be reduced if you want less sweetness

Cashews 20 broken

Cardamom pods 3
Instructions
Dry roast the sooji in a pan until aromatic and light brown. Takes about 5 to 7 mins

Keep aside and let it cool.

In the meanwhile, add 1 tbsp of ghee in a pan and saute the cashews until light brown.

Remove the cashews from the ghee and toss the raisins in and saute till they puff up.

Keep aside both the cashews and raisins.

In a mixer, powder the rava to a not very coarse powder. Do this in 2 batches.

In a large mixing bowl, add the rava, sugar powder, cardamom powder and the melted ghee.

Mix well into a lightly moist mixture. Make small balls while the mixture is warm.

Enjoy the ladoos this diwali. They are such a breeze to make.
For Instant Pot & Air Fryer Recipes
Instant Pot timings may vary based on your geographic location. Air fryer settings and timings may vary based on the capacity and the model of the Air fryer.
Disclaimer
Nutrition values are provided here as a courtesy and are only a rough guide. Please consult a health care provider if you have any concerns.