When i first became upon falafel, i dint take a fancy plunge into it. Maybe that s where acquired taste comes in. But the second time around, when i ate it, tucked away in a nice sandwich, i thought, hey! this is good.
Falafel
is a popular middle eastern dish that s usually sold on the streets. Its a popular stuffing for pita breads and other sandwich breads too. But why i like falafel is because of the rich protein that it has.
Being a vegetarian, i always struggle to get my share of proteins even though i make
dals
quite often. I try and include other legumes such as chickpeas, black eyed beans etc but that somehow never appeals to neither of our palates. So i m always on the lookout for delicious ways in which i can include legumes and lentils in our diet. And i found falafel a perfect way to do just that.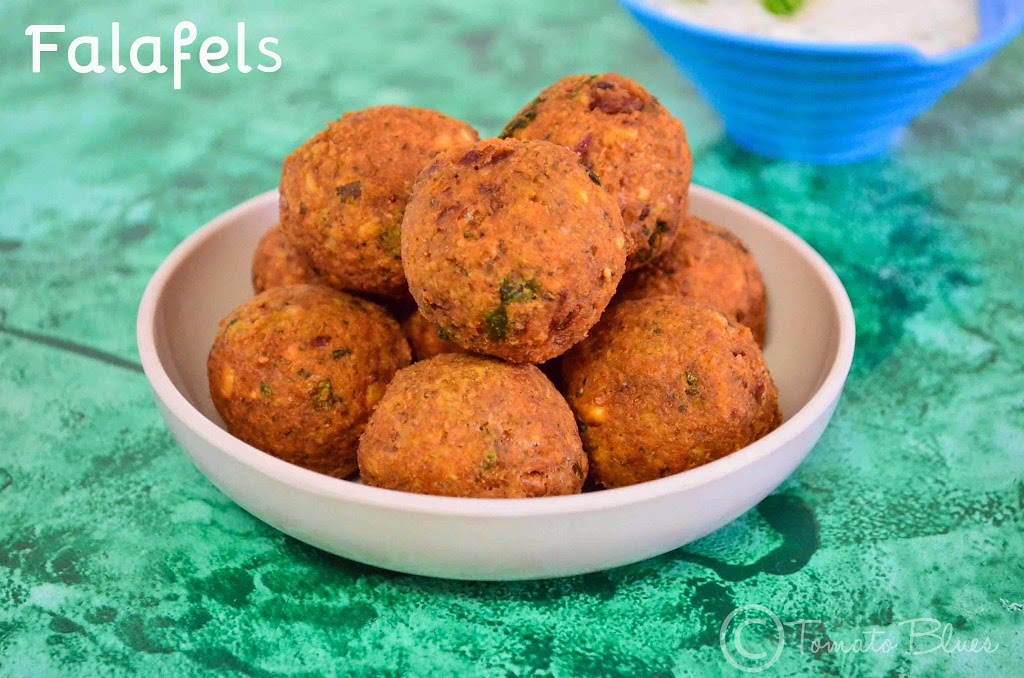 Now, the internet is crawling with so many falafel recipes that i really dont know how to conclude on one particular way to cook these. My version has been adapted from here. While i have tried my hands at various other falafel recipes, i must say, this version seems the best bet till date. The falafels hold shape, are crunchy on the outside and soft on the inside- precisely, just how a falafel must be. I did deep fry these but you can, by all means, use an abelskeiver pan and shallow fry them as well. If you ask me about baked falafels, i really wont say yes. Because i dont believe in baking deep fried stuff all the time. Hey, i make deep fried food about once in two months, so i allow myself to indulge. In case you happen to bake them, do let me know the results.
Recipe for Falafels
( Learn to make falafels- a middle eastern snack with garbanzo beans and assorted herbs)
Prep Time: Overnight for soaking
15 mins for the rest
Cook Time: 30 mins
Makes 15 medium size falafels
Allergy Info: Vegan, Soy and Nut free
Course: Snack, Appetiser
Cuisine: Middle Eastern

Ingredients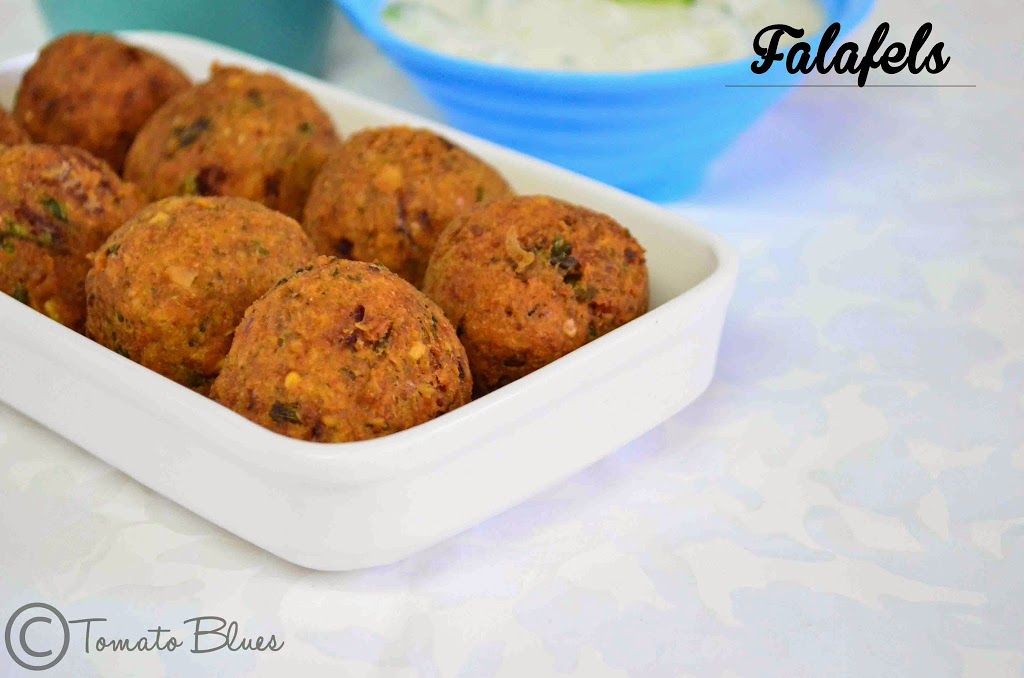 Garbanzo beans 1 c soaked overnight
Shallots 5 to 6 chopped or Onion 1 med chopped finely
Garlic 5 cloves
Grated ginger 2 teaspoon
Cilantro a small bunch chopped finely
Flat headed parsley 2 tablespoon chopped finely
Chives 2 stalks chopped finely
Cumin powder 1 teaspoon
Coriander powder 1 teaspoon
Chili powder 2 teaspoon
Green chili 2
Flour 1 tablespoon
Cinnamon powder ½ teaspoon
Salt to taste
Oil for deep frying
Notes

1. Adding too much flour to the falafel batter will make them hard and chewy.
2. You can skip parsley in case you dont find it and use mint instead for a refreshing taste.
3. Adjust spice levels according to your palates.
4. Make sure the oil is hot enough for frying or the falafels tend to turn soggy.
5. Canned beans works well for this recipe too.
6. While grinding, do not add more water than mentioned.
7. In case you find it difficult to grind the whole batch at once, divide the beans and grind. Later combine everything using your hands or a spatula.
Directions
Drain the beans completely.
Now, place the beans along with the chopped cilantro, parsley and chives in a blender or food processor.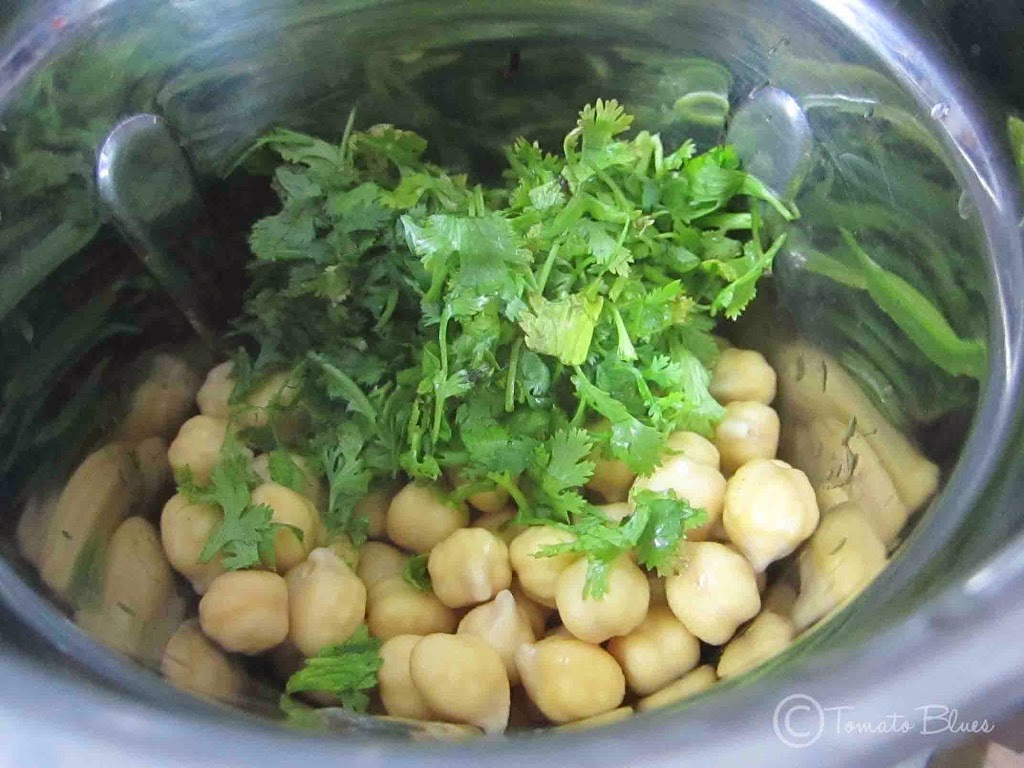 Heat a pan with a teaspoon of oil and roast the garlic to a golden brown. Now add the roasted garlic along with the oil and ginger next to the blender.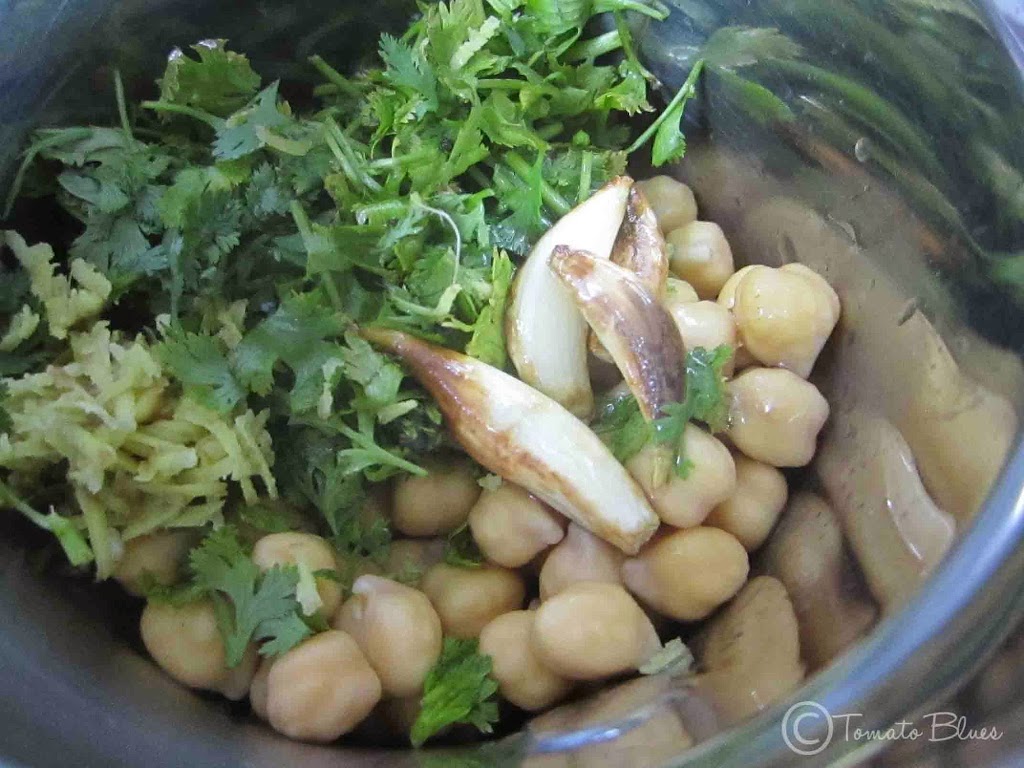 Now add the remaining ingredients except the oil and chopped onions to the blender.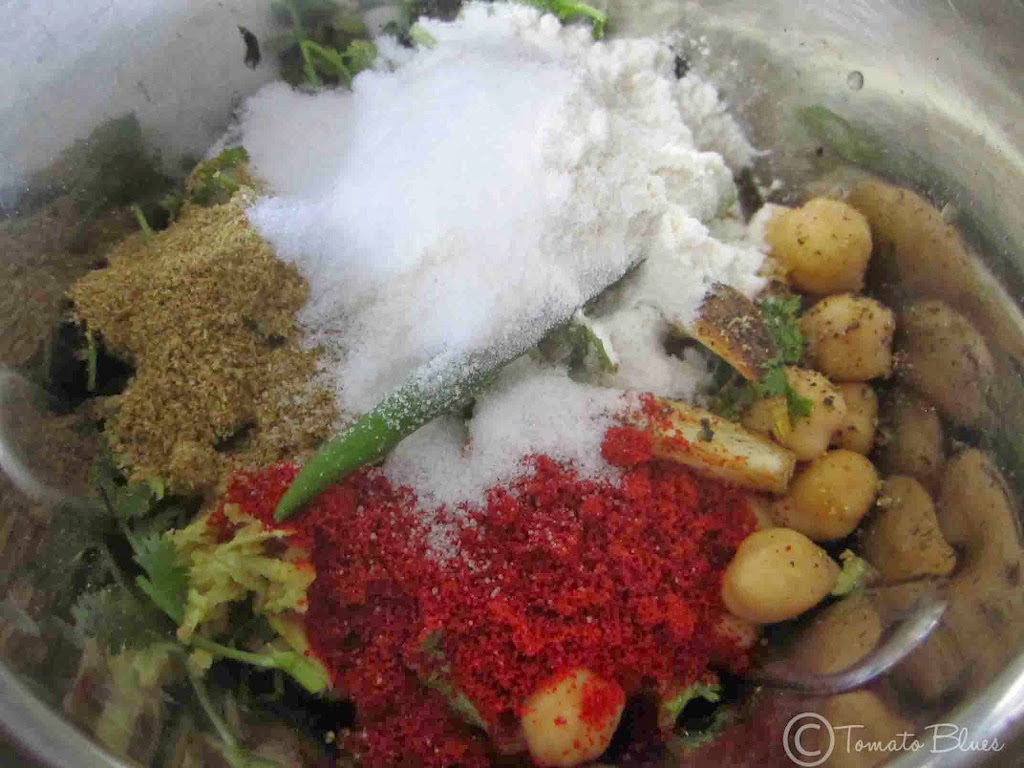 Blend the mixture to a not very coarse but not very smooth mixture using about 2 tablespoon water. Make sure you stop every now and then and give the mixture a turn and then continue to grind.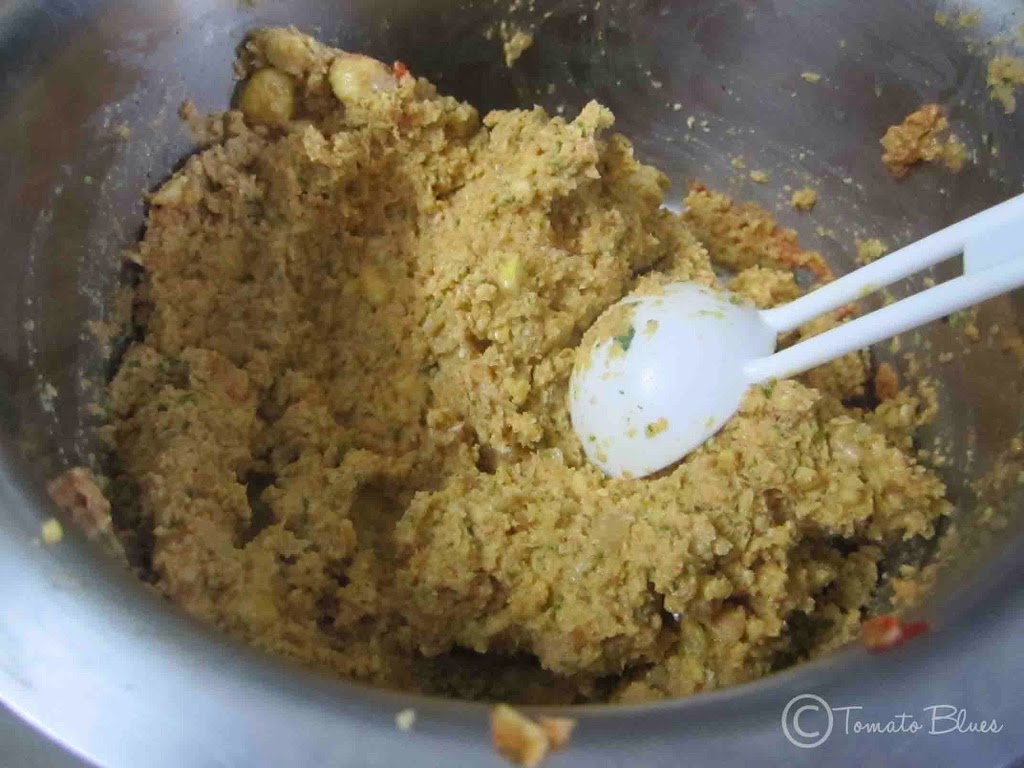 To the ground paste, add the chopped shallots or onions and mix thoroughly. At this stage, you can refrigerate the mixture for about an hour or go ahead and fry them as usual. I found that refrigerating reduces oil consumption and also the falafels hold better shape. Make sure you remove any stray bits of unground garbanzo from the mixture.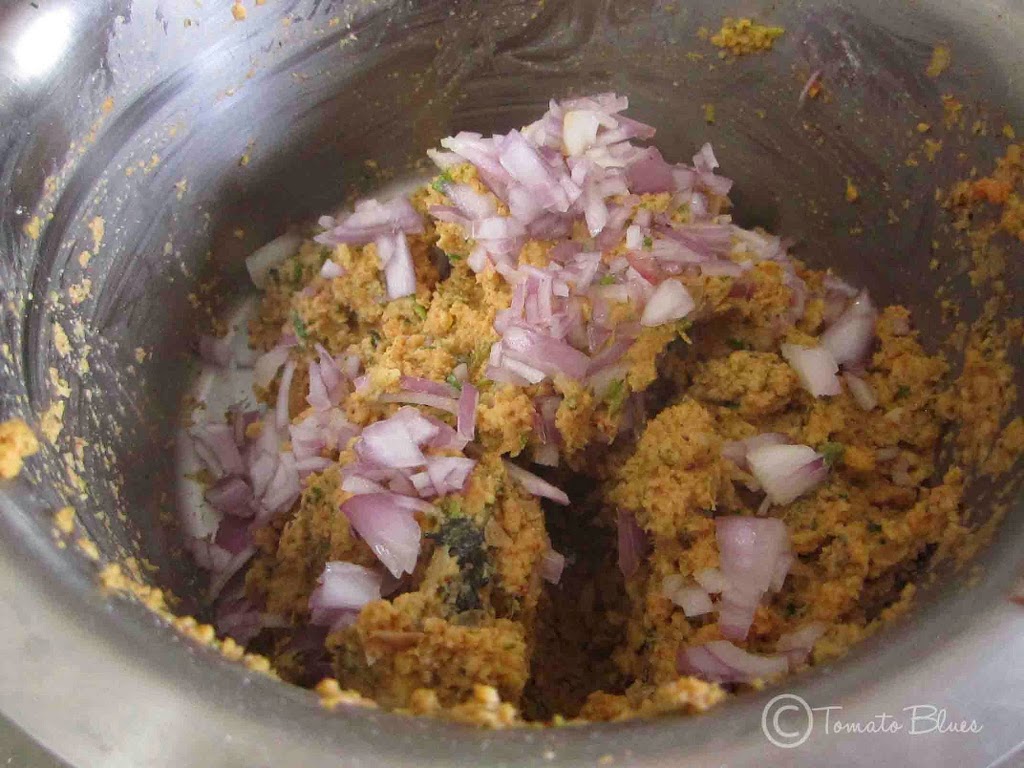 Take about 2 tablespoon of the mixture and shape into a ball. If you find that the mixture doesnt hold, add 1 tablespoon of flour more, mix well and shape again.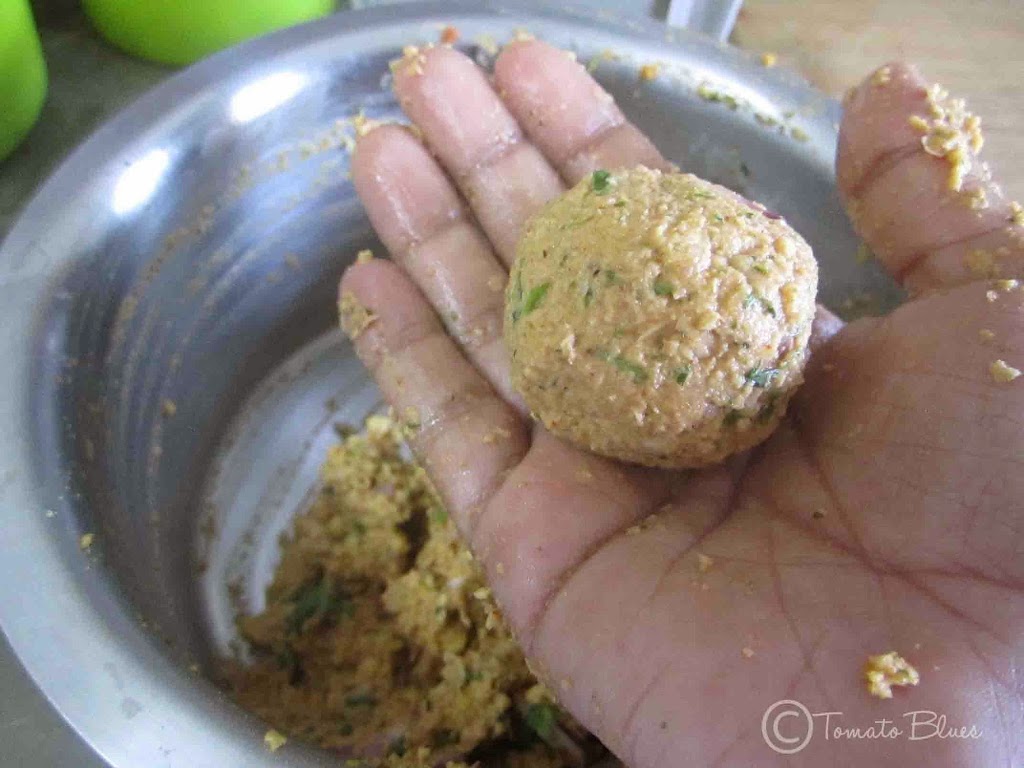 Heat oil in a frying pan. When the oil is hot enough, drop the shaped ball into the hot oil. If you find the mixture disintegrating, refrigerate for an hour more or add about 1 tablespoon more flour and try again. Always test with one falafel before dropping a large batch. You will know that the oil is hot enough if you drop a small ball of mixture into it and the ball comes up floating immediately. Once the oil is hot enough and the falafel is ok, shape the remaining dough and fry in batches of 3 to 4.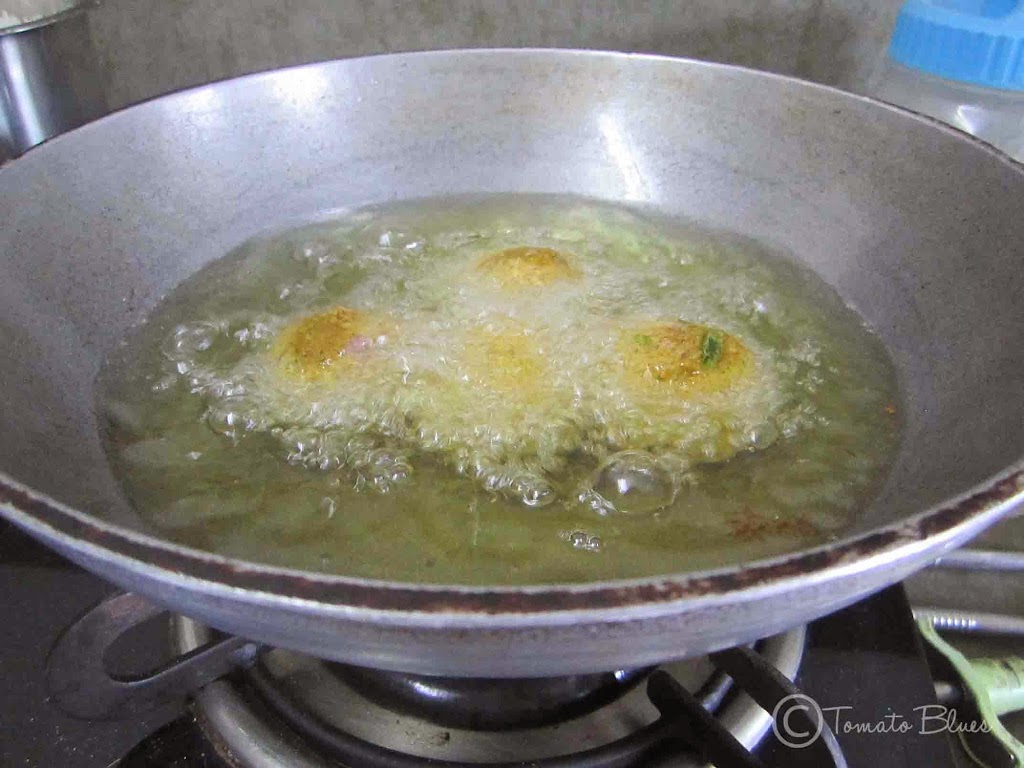 While frying, make sure you do it on medium low flame. Also keep turning them every once in a while until golden brown evenly. Drain on a kitchen towel.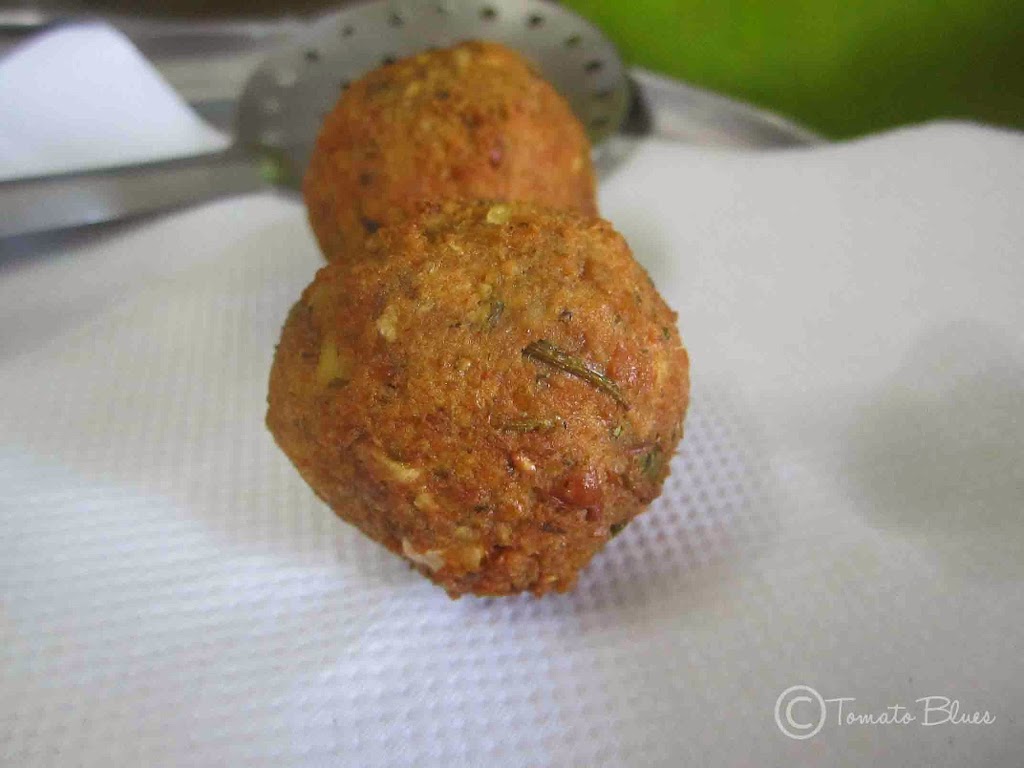 Serve hot with any dip of your choice. We enjoyed this with a minty cucumber dip. Recipe coming soon!