HOW TO MAKE STUFFED PAVAKAI (BARVAN KARELA)?
STUFFED PAVAKAI- BABY BITTER GOURDS STUFFED WITH AN ONION PEANUT STUFFING AND PAN FRIED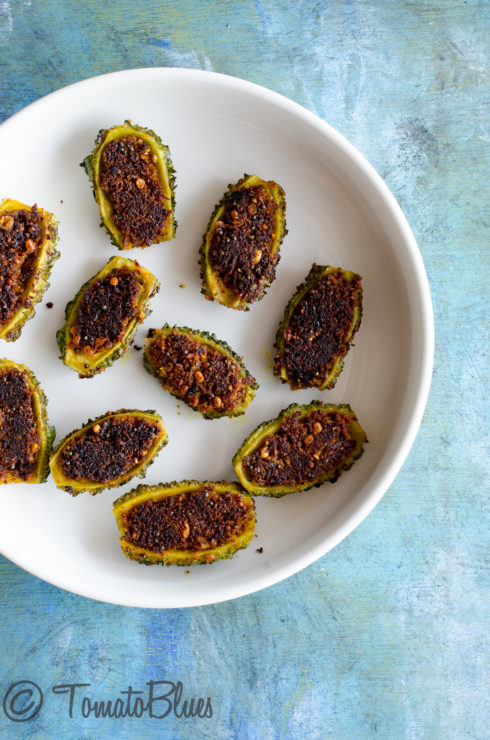 Stuffed Pavakai is my favorite way to enjoy bitter gourds. I like making stuffed pavakai as a side dish for sambar sadam in particular. Not that, its welcome only then. Everyone at home loves pavakai with the exception of the tiny human who only likes to eat bitter gourd chips.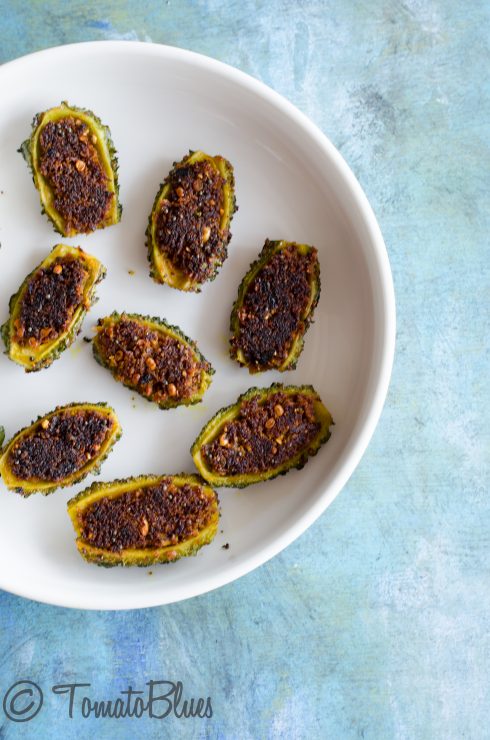 This stuffed pavakai is made with midi pavakai or baby bitter gourds. My mother makes an amazing gojju with these and i really hope i can share the recipe with you all soon. Now, this pavakai has a sweet, sour and spicy filling to balance the bitterness in the vegetable. Make it and i assure you, any bitter gourd hater will fall in love with this vegetable.
Recipe For Stuffed Pavakai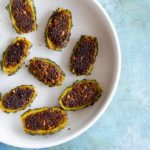 Print Recipe
Stuffed Pavakai Recipe- Barvan Karela Recipe
Stuffed Pavakai- Baby bitter melons/ bitter gourds stuffed with a sweet, spicy and tangy filling and pan roasted.
Ingredients
Baby bitter gourds 10 - 12 split and seeds removed

Onion 1 medium chopped finely

Dry dessicated coconut 1 tbsp

Tamarind pulp

tamarind paste 1 tbsp

Jaggery 1 tbsp

Roasted peanuts 2 tbsp

Chili powder 1 tsp

Sambar powder 1 tsp

Salt to taste

Oil 2 tbsp
Instructions
Heat a pan with 2 tsp oil.

Add onions and fry till pink.

Add roasted peanuts and cocounut .

Mix well.

Add tamarind pulp ,salt, jaggery, sambar powder and chili powder.

Mix well.

Cook for 30 secs on low flame.

Once done, let cool and grind to a paste without adding any water.

Now, stuff each half of the bitter gourd till full.

Once done, heat remaining oil.

Pop the mustard seeds and add urad dal.

Allow the dal to become golden brown.

Add turmeric powder.

Once done, place the bitter gourds one by one filling side up and cook on medium flame for about 2 mins.

Then flip the gourds over and roast on the stuffing side till edges are golden. Takes about 5 to 7 mins.

Serve hot.
For Instant Pot & Air Fryer Recipes
Instant Pot timings may vary based on your geographic location. Air fryer settings and timings may vary based on the capacity and the model of the Air fryer.
Disclaimer
Nutrition values are provided here as a courtesy and are only a rough guide. Please consult a health care provider if you have any concerns.
Shall we now check how to make Stuffed Pavakai step by step?
Once done, let cool and grind to a paste without adding any water. Stuff this filling in each bitter gourd half till full.
Now, heat a pan with oil. Pop the mustard seeds and add urad dal. Add turmeric powder. Once the dal becomes golden,  place the bitter gourds gently stuffing side up. Cook for 2-3 mins. Once done, flip over and cook till the other sides are all evenly golden brown.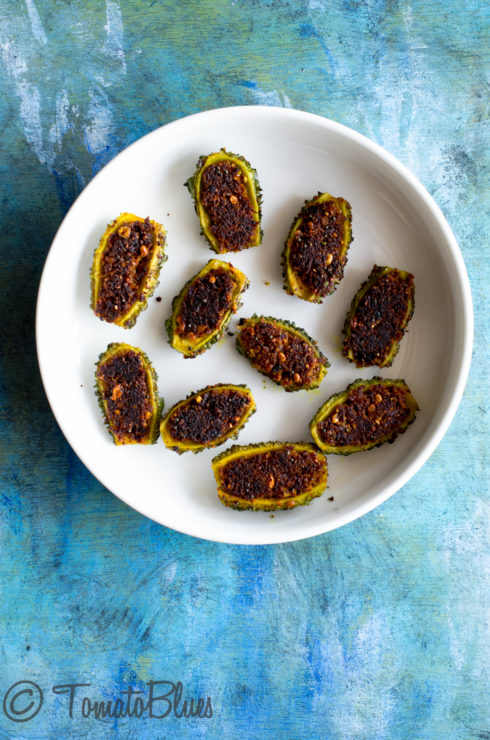 Your stuffed pavakai is now ready to be served.