Well. 2013 has been a revelation of sorts to me. I realised that my blogging skills has just been so trite. There has been no much variations or new cuisines that i tried in the last few months. So i decided to take the bull by its horns. I sure did start reading on a lot of cuisines and i m slowly trying my hands at various cuisines across the globe. I must accept that some cuisines intrigued me right from the beginning. Because they were not a huge fanfare yet very pleasing in terms of flavor. And it did not involve buying some random jar of ingredient for a hideous 400 bucks. Well, i wouldnt even know if i would use that jar again. Why, for that point, i m quite sure that that jar will lie in some lonely corner of my pantry, ignored and unopened until a day will dawn when i realise that i must atleast check its expiry. By which time, i m doubly sure, it must have kicked the bucket. So, i dont believe in picking up that random jar and spending 400 bucks on it. See my point?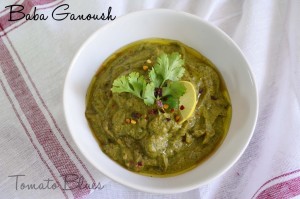 So what are those cuisines that i m actually romanticizing about? For starters, the middle eastern cuisine is a burst of flavors and is very similar to Indian cuisine. While the ingredients in both the cuisines are almost identical, i find that the combination of them is much more exotic in the middle eastern recipes. And then there s the greek and the moroccan cuisine. I must accept that Greek food makes me imagine the weirdest of combinations that taste divine and Moroccan is no less. While i was on all this reading spree, i zeroed in on a few recipes to try. And the first one that i gave a shot was the persian dip- Mast O Khiar which was a runaway success at my house. So, i was doubly confident about Baba Ganoush and boy! was i glad that the bowl was licked clean. Simple, quick and easy to make, Baba Ganoush is a plethora of flavors that come together onto your tongue when you least expect it. Have them with your crackers or spread them on your pita. Either way, you will love it.
Recipe For Baba Ganoush
( Roasted eggplants with garlic and herbs)
Prep Time: 5 mins
Cook Time: 15 mins
Source: Adapted from David Lebovitz s Version
Yields 1.5 cups
Make ahead and store for 3 to 4 days
Ingredients
Eggplants 1 large globe variety
Green garlic 3 stalks with the bulbs in the end
Cilantro 1/2 cup chopped finely
Chili flakes 2 tsp
Lemon juice from 1 large lemon
Tahini 2 tbsp ( recipe follows)
Olive oil to drizzle
Salt to taste
For The Tahini
Sesame seeds 2 tbsp
Olive oil 2 to 3 tbsp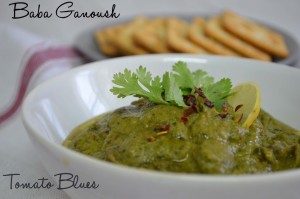 Directions
Prick the eggplants with a knife and slather generously with oil.
Roast them on stove top until fork tender. Takes about 10 mins
Let cool completely
Once cool, remove the charred skin and keep the pulp ready.
In the meanwhile, prep the tahini.
Dry roast the sesame seeds until brown and fragrant.
Let cool.
Once cool, place in a blender and powder them finely
Add olive oil to the powdered sesame seeds and blend until you get a fine paste.
Set aside.
In another blender, place the green garlic, cilantro, lemon juice, chili flakes, salt and tahini and blend to a coarse mixture without adding any water,
Now, add the roasted eggplants and blend for about 20 secs if you want a chunky baba ganoush. In case you want a smooth dip, blend for 30 secs longer.
Once done, transfer to a bowl, drizzle olive oil and garnish with fresh sprigs of cilantro.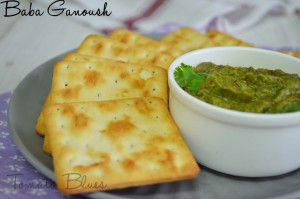 Serve with crackers or pita.
This is my entry to this week s Dips And Spreads Theme at Avant Garde Cookies. Check out our other cookies Radhika, Jayanthi ,Kavi, Priya, Priya Mahadevan, Roshni and Veena for their dips and spreads.
P.S My baba ganoush is green because i used green garlic and went heavy with the cilantro.
Feel free to use 2 cloves regular garlic instead.
For a more exotic version, try replacing 1/4 cup of cilantro with 1/4 cup flat headed parsley. No not the curly ones, please!