How To Make Chickpea Salad Tacos?
CHICKPEA SALAD TACOS- TACOS FILLED WITH A FLAVORFUL NUTRITIOUS CHICKPEA SALAD &TOPPINGS. VEGAN. MEXICAN RECIPES.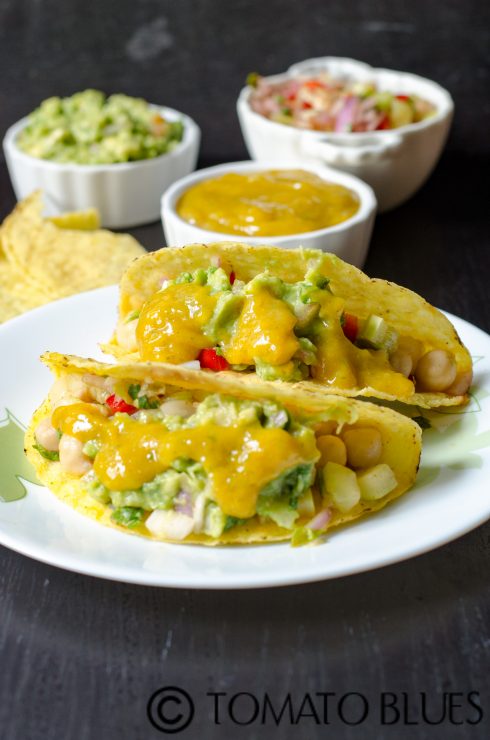 Chickpea Salad Tacos is a filling taco meal that has a nutritious flavor packed chickpea salad, guacamole and a delicious mango taco sauce. I love tacos and its probably my favorite Mexican food closely followed by a Burrito bowl. But Mr.P is not a big fan. Come to think of it, Mr. P is not a fan of anything that is not Indian. So, when i do usually make some things that are not definitively Indian, i resort to adding an Indian touch to get the man eat and save myself the trouble of making dosa. Thankfully, Mexican food can easily be adapted to make it look deceptively Indian and the man enjoys a taco or two. But this chickpea salad tacos was made when he was not around. And hence the addition of guacamole and such.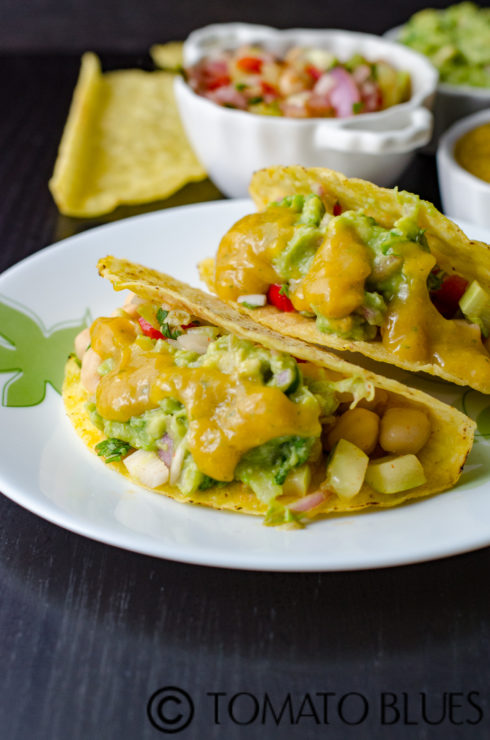 I have used a robust salad chock full of veggies and chickpeas tossed in an assortment of spices for the filling. The toppings are this mango taco sauce and guacamole. These chickpea salad tacos made such a filling meal and was a welcome change to my roti subzi routine. If you live in India, then  Godrej Nature Basket s online store sells a range of taco shells including this12 piece taco shell box. They also stock a variety of taco sauce and seasonings.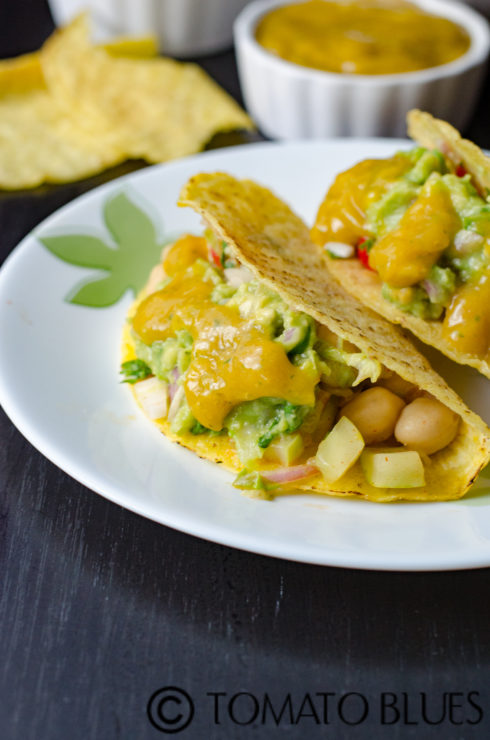 These chickpea salad tacos involves three recipes and cooking the tacos either in the oven or in the microwave. I microwaved the taco shells for 1 min 30 secs. Honestly, i was really not in a mood to fire up the oven because i was just putting these together for myself. If you are making a large batch, then the oven route is worth the trouble. You can find the recipes for the mango jalapeno taco sauce and the guacamole below.
Perfect Chipotle Style Guacamole- Click the picture to get the recipe.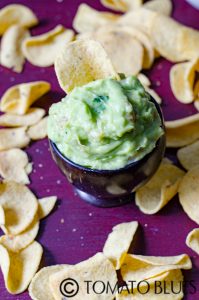 Mango Jalapeno Taco Sauce- click the picture to get the recipe.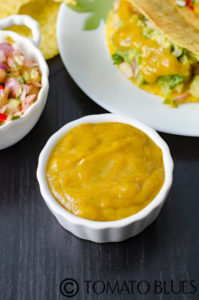 You can use any filling to create a different version of tacos. And your toppings can also include this mango salsa or this slightly sweet and mostly tart strawberry salsa. So shall we now check out how i made these chickpea salad tacos with an Indian touch?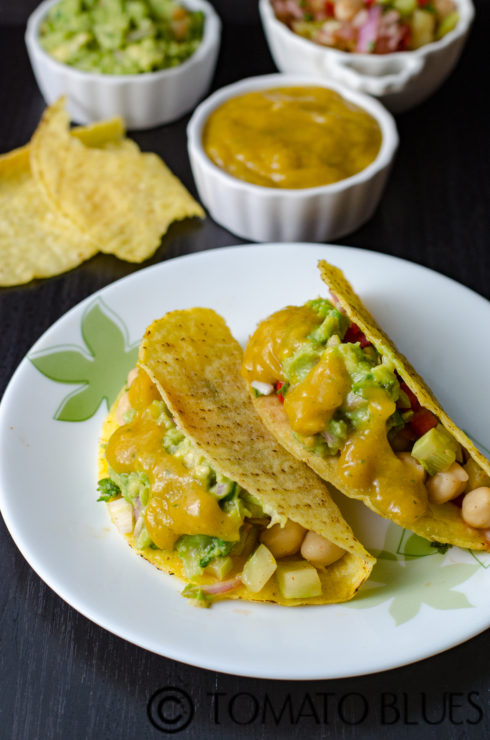 Recipe For Chickpea Salad Tacos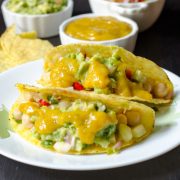 Print Recipe
Chickpea Salad Tacos
Chickpea Salad Tacos- A healthy taco recipe with a robust chickpea salad filling topped with a mango taco sauce and guacamole
Ingredients
Taco shells 3

Cooked chickpeas 1/3 cup

see notes

Butter head lettuce 2 tbsp shredded

Red bell pepper 3 tbsp finely chopped

Red onion 1 small finely chopped

Cucumber 1 small peeled and chopped finely

Cilantro leaves 1 tbsp chopped finely

Cumin powder 1 tsp

Red chili powder 1/2 tsp

Jalapeno 1 small minced finely

Lemon juice 1 tbsp

Salt to taste

Guacamole 5 to 6 tbsp

Mango Jalapeno Taco Sauce 3 tbsp

get recipe from the post
Instructions
In a bowl combine cooked chickpeas, onion, red bell pepper, lettuce, cucumber, cilantro, jalapeno, lemon juice, cumin powder and red chili powder along with salt.

Mix well or toss once.

Place the taco shells in the microwave open side facing down and cook on high for 1 min and 20 secs.

Remove and place open side up on a plate.

Place equal portions of the chickpea salad on the three taco shells.

Top with guacamole.

Drizzle the mango jalapeno taco sauce.

Serve warm.
Notes
1. I used leftover chickpeas that i had from another recipe. But you can also use canned chickpeas. Make sure you drain the water completely before mixing up the salad.
For Instant Pot & Air Fryer Recipes
Instant Pot timings may vary based on your geographic location. Air fryer settings and timings may vary based on the capacity and the model of the Air fryer.
Disclaimer
Nutrition values are provided here as a courtesy and are only a rough guide. Please consult a health care provider if you have any concerns.